How to Prepare for the Threat of Garbage
It's all about how to prepare for the threat of garbage today. When the SHTF, the preppers have their food, water, and a game plan of what to do.
However, one thing we all tend to not think about is what we will do with the garbage. Globally, we produce 2.12 billion tons of waste every year.
If that garbage was put into trucks, it would circle the globe 24 times! That's a lot of garbage. Of course, as food and supplies start to dwindle, the amount of garbage will diminish, but we should still know how to prepare for the threat of garbage.
What is The Threat of Garbage?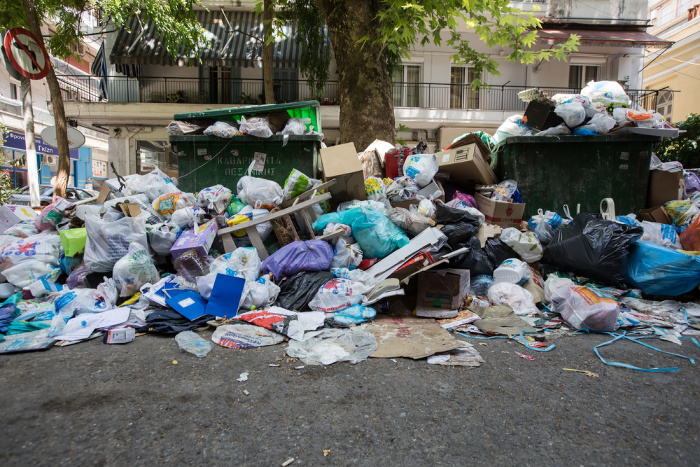 Garbage is probably one of the biggest threats you will face during a long-term disaster or collapse. This is especially true in areas around the world that do not have regular trash collection. This can happen here as well.
So, what kind of threats can you expect during a disaster or collapse? Read below to find out.
The Threat of Illness
As waste stops being collected the threat of illness increases. The frequency of illnesses such as diarrhea and respiratory infections will skyrocket.
Think about the areas where waste management is non-existent. In many parts of Africa, there are devastating epidemics of mosquito-borne malaria, Lassa Fever, Yellow Fever, and other grave diseases. 
Bugs and Rodents will Come in
First, you will see fleas, flies, and gnats moving in. Next, you will begin seeing more ants, cockroaches, and then rats and other rodents moving in. Not only do these bugs and rodents become a huge problem, but they carry disease.
The Stench will Be Unbearable
As you can already imagine, the stench will become unbearable. Even if you are taking care of your own garbage, you have to think of all the other garbage that is just getting tossed out by other people. The stench will be enough to keep you from wanting to walk outside.
Toxic Chemicals
When SHTF, the garbage disposal is not going to be happening. This means toxic materials that were once getting buried at the landfill or disposed of properly will not be taken care of.
One toxic chemical produced by garbage is methane emissions. Methane is a gas that is 86 times more potent than carbon dioxide.
Water Contamination
Even landfills have been known to contaminate our water today in some places. Garbage leaks into the ground and into our water supply. The toxins and bacteria contaminate the water making our already small amount of water undrinkable.
Related: How to Store Water for Drinking and Cooking
Land Contamination
Additionally, garbage contaminates our land. This means that the soil will not have the proper nutrients that it needs to properly grow food. It also means that food that is grown in the soil could be contaminated with toxins harmful to your body, such as carcinogens.
How to Prepare for the Threat of Garbage
From pollution issues and dirty waterways to the toxic discharge and disease, the issue of garbage is very real and will hit Americans very hard during a long-term disaster. Here are some ways you can prepare for it!
Related: 37 Vintage Homestead Skills You Need to Know
Burn Your Garbage
Burning your garbage isn't the healthiest solution in the world, but it has been done for thousands of years. If you want to begin preparing for the threat of garbage, it is a good idea to start the habit of burning the garbage that you can if it is allowed in your area. Most urban areas won't allow it.
To this day, many people in rural areas of the U.S. still use this as a primary source of waste removal.
When SHTF, you will want to burn your trash late at night. This way you do not draw attention to your bug out location. When you burn at night it makes it harder for people to see the smoke so it's harder for them to find your location.
Bury Your Trash
If you have a long-term disaster, it is in your best interest to bury the trash you can't burn. If you live in the city, you will want to bury trash that is around your location as well.
To prepare for this, search out a location on your property or near your property that would be a good place to bury garbage. 
You'll need to determine if that location is a temporary one that will allow you to at some point return and dig up to remove the materials, or if it will be more permanent.
Local laws and regulations should also be part of your decision making.
Burying your garbage helps prevent the spread of disease and keep rodents and predatory animals at bay. However, NEVER bury trash next to a water source and never dig a pit below the water table level. You can find the depth of the water table level in a certain location, here.
Get Creative
Start getting creative with your garbage, now. Stuff that you would normally throw away during the good times, you may want to hang on to when SHTF.
A good way to prepare for the threat of garbage is to start brainstorming ideas of what you could do with the things you throw away.
There will be no recycling bin when SHTF, so you will have to find creative uses for things that can't be burned or buried.
Feed Your Animals Scraps
Most of the things that you don't normally eat now, such as certain scraps, vegetable peels, and damaged fruit can be used as animal feed. This will help to minimize your waste, as well as offer you an alternative feed for your animals.
Scraps are great for animals like chickens, goats, and rabbits, and may even be ok for dogs and cats. 
Make a Compost
You can easily start a compost pile now. You don't have to wait until SHTF. Even if you live in the city, composting is an easy way to turn your organic waste into a valuable resource.
Composting produces a nutrient-rich material that can be used to make your gardens thrive without having to purchase fertilizer from the store. If you want to be prepared for the threat of garbage, start a compost pile, today.
How to Prepare for the Threat of Garbage in the City
Although many of these things can be done in rural areas, it is a little more difficult if you live in the city. In fact, even during the short-term disaster of Hurricane Katrina, garbage became a huge issue for those living in the city of New Orleans. However, you can do a few things to help you prepare for the threat of garbage even if you live in the city.
Talk to Your Neighbors: Yes, I get that most people do not want to listen to preppers and our craziness. However, you can talk to them about starting a compost, recycling, and limiting the amount of trash that they generate, and thus help the environment.
The less trash you have around you when SHTF, the better it will be.
Start a Compost Now: You can always start a compost no matter where you are, unless in a highrise apartment. So, start doing that before things get bad.
Create a Plan: Look into places where you can bury garbage. Have a plan to get rid of as much garbage around your location as you can. Keep in mind, you will be dealing with thousands of other people's garbage pollution as well, not just your own.
Have a Bug Out Location: If you live in a place where garbage could literally bury much of the city, consider having a bug out location out of the city. Talk to friends, family, or find a cheap place to buy where you can go.
Final Word
Although garbage may be the last thing on your mind, it is still a big threat to our survival when SHTF. Many people can die from the disease and toxicity of garbage that we can't get rid of.
You need to have garbage disposal built into your plan, especially if you live in the city.
What is your plan? Share it in the comments below! Thanks for being prepared for the unexpected. May God bless this world, Linda
This is on my wish list: Galvanized Metal Garden Incinerator Can