15 Items to Stock Up On For Winter
As the temperatures start to drop, it's time to start thinking about these 15 items to stock up on for winter. From weather-proofing your home to stocking your pantry with comforting winter foods, a little advance planning can go a long way towards making sure you're prepared for whatever Old Man Winter throws your way.
We've really enjoyed this fall so far. The weather here in Utah has been sunny, warmer than usual, and with very limited wind. Mark tells me this is his favorite time of year. Besides the great weather for his golf outings, he says the crisp morning air, the college football on Saturdays, NFL on Sunday evenings, and the MLB playoffs add to his fall-time pleasures.
Based on some weather reports on the news today, I don't think we're too far away from our first winter storms to usher in winter weather conditions. It's been interesting to see how the weather report anchors on TV announce some of the pending storms, with a variety of names from winter weather advisories, winter weather warnings, winter storm warnings, and winter weather watches. I guess it reflects a matter of severity expected.
In the short term, I'm not expecting anything that may prove life-threatening with super heavy snow to deal with, but I plan to respond to these warnings by checking out my inventory of winter weather prepper gear to make sure we're as prepared as possible. I'd like to help my readers do the same.
Here are a few of the things you should make sure to have on hand as the temperature starts to dip.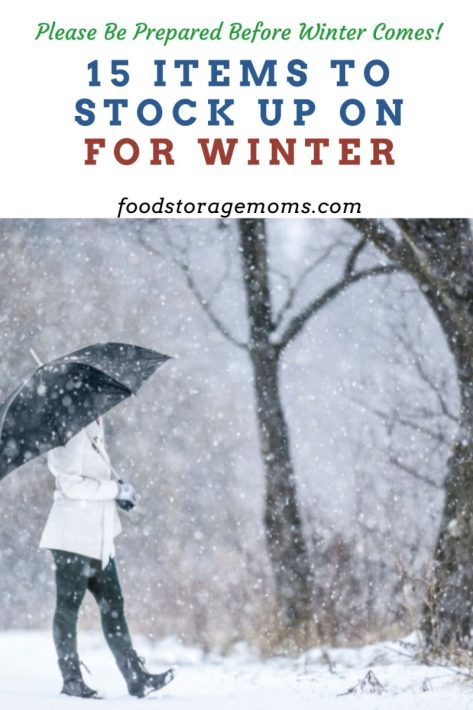 15 Items to Stock Up On For Winter
1. Weatherproofing Materials
One of the best ways to prepare for cold weather is to make sure your home is properly insulated and weatherproofed. This means caulking any cracks or gaps in your exterior walls, windows, and weather-strip doors to keep the cold out and the warmth in. Other steps could include possibly installing storm windows, ensuring that your attic has proper ventilation, and checking out and possibly replacing your installed alarms so your family isn't subject to carbon monoxide poisoning.
Doing this work now will help you keep your energy bills down when winter arrives in earnest, and will also help prevent any damage that could be caused by freezing temperatures or excessive moisture. When it comes to your windows, some people will also cover windows with materials like heavy blankets to provide an extra layer and add to the insulating value of their winterizing efforts.
2. Warm Clothing and Extra Bedding Covers
Another must-have for cold weather preparation is a supply of warm clothing and bedding. If you don't already have a stash of winter clothes, now is the time to buy some new sweaters, hats, and coats as these outer garments can add to your need for the prevention of hypothermia which can be an issue in cold weather and related excessive wind chill from those winter storms.
It's also a good idea to invest in some heavy blankets and quilts for your bed so you can stay cozy, even on the coldest nights. We are often told that layers help to protect the skin, keep the body temperature at normal levels, and if outside, eliminate the fear of frostbite of hands and feet. If you experience a loss of feeling in your extremities, get proper coverings in the short term, and visit a medical professional as soon as you can.
3. Comfort foods
Winter is the perfect time to cozy up with some comfort food. Whether you like to make soup, bake pies, or just drink hot cocoa, make sure you have all the ingredients you need on hand so you can enjoy your favorite comfort foods all season long.
Stocking up on non-perishable items like canned soups, chili, and pasta sauce will also give you some quick and easy meal options for those nights when you just don't feel like cooking. I would stock up on a few of these, 18 Meals In A Can I Recommend
Make sure your food storage includes things that are healthy, and filling, and includes those foods that your family enjoys eating.
4. Weatherproof Backpack
If you live in an area that gets a lot of snow, a weatherproof backpack is essential. No one wants to be caught in a blizzard without a way to carry their belongings. A weatherproof backpack will protect your things from the elements and keep them dry all winter long.
Make sure that the backpack has some items that will add to your comfort and confidence as you experience things outside, like a flashlight, some extra batteries, mittens and/or gloves, a car windshield scraper, sunglasses to improve visibility and protect your eyes at the same time. Also, don't forget a winter hat, and possibly some earmuffs.
5. Winter Tires
If you live in an area where it snows regularly, winter tires are a must. They provide better traction and handling in snowy and icy conditions, which means you're less likely to get into an accident (and less likely to spend money on repairs).
I know some places in Northern Utah require snow tires and even chains in some areas like the canyons where people go skiing. My point is, to check your tires before you take an extended drive somewhere or a road trip for sure.
Mark and I have always made it a point to have a mechanic check out our car before the winter weather sets in. We want to make sure anything that needs attention is found before it becomes an issue. Nothing worse than getting caught in a snowstorm or one of those ice storms and having the car break down somewhere.
Making sure your car's heater and defroster systems are working is critical. If you become stranded somewhere it could be a while before help arrives, and you want to be able to stay as warm as possible. If you are stranded in a snowstorm, make sure you don't back into a snow drift that could cause your exhaust pipe to get clogged and cause a dangerous situation inside the car.
6. Emergency Kit
It's always a good idea to be prepared for the worst, and an emergency kit can help you do just that. Stock up on non-perishable food items, water, blankets, and first-aid supplies so you're ready for anything winter throws your way. In case you missed this post, 10 Things You Need In Your Disaster Emergency Kit.
I've always told my readers to carry a car emergency kit when traveling any significant distance. That is especially important during any winter travel. That kit would for sure include some jumper cables, kitty litter for tire traction, extra blankets, a window scraper, gloves, tire chains, and a small shovel to clear the snow around your car.
It may sound crazy, but you should consider having a bag of sand in the car too. Kitty litter works great, but you may need more materials available to get the traction you need on slippery roads. All these precautionary steps should be followed any time you hear of winter storm watches on the TV or radio.
I've also always suggested my readers keep their car's gas tank above half full at all times. It should go without saying, mixing drinking and driving is always high-risk behavior. The combination of alcohol and winter driving after that company party or family get-together is a trip down disaster lane.
7. Space Heater
Space heaters are great for taking the chill out of a room without cranking up the heat (and your energy bill). Just be sure to choose one that's safe and Energy Star-certified so you don't have to worry about it using too much electricity. Please review this post if you missed it, How To Heat Your Home In An Emergency
Heaters and furnaces can take the chill from a room or office, but if you come in from the cold with wet clothing, they don't do much good for a quick warm-up. Get those wet clothes off and either dress in dry clothing or wrap up in a blanket as soon as possible.
8. Hot Water Bottles/Hand Warmers
A hot water bottle is a great way to stay warm all winter long (without spending a lot of money on electricity). Just fill it up with hot water and place it under your covers before going to bed. You'll stay cozy all night! Hot Water Bottles and Hand Warmers
I usually put mine near my feet, it seems to do the best job for me. I have hand warmers next to my coat, hat, and gloves. You can put them inside the gloves, in most cases. They sure help if you're outside for an extended period, and they help stave off the chance of finger frostbite.
9. Snow Shovel
There aren't too many things worse in life than being stuck in your home with no clear path to get out. A good snow shovel will help you clear your driveway, walkways, and any other areas around your property so that you can safely get to where you need to go.
Be sure to take frequent breaks when out shoveling snow. That white stuff can get pretty heavy, and we don't want to see anyone experience a heart attack while they work on their own property or when helping a neighbor.
If you are one of those who are past your prime you may consider a good-quality snow blower. They are a lot cheaper than a trip to the hospital, and they last a long time if maintained properly.
10. Rock Salt/Or Other Safe Ice Melter
Rock salt is essential for melting ice and keeping your sidewalks and driveways clear and free of dangerous slick spots. Some winter warriors know that over time salt and commercial deicers harm the concrete. It's tough to clean the concrete with your hose to protect the concrete during those cold winter days.
If you live in a very cold climate you may want to consider having your concrete that is subject to snow and ice to be professionally sealed so the moisture and chemicals don't get into the porous concrete surface. If an ice storm is part of your winter challenges, I'd for sure be getting that concrete sealed since it also acts as a water repellent, in many cases.
11. Generators
Don't allow your family to be cold and in the dark during a power outage in the dead of winter. A generator, if it has the right capacity, can help you heat your home, allow you to still cook food, and continue living comfortably. But don't forget to also stock up on plenty of fuel as well.
Keeping the fuel fresh can prove to be a challenge. Talk with the generator manufacturer for guidance to keep it properly maintained.
12. Firewood/Charcoal/Butane/Propane
For those of you that have a wood stove or fireplace and don't plan on going the generator route, a stockpile of firewood would be an absolute must to help keep your family warm if the power were to go out. In case you missed this post, Emergency Fuel To Store For Survival
There are many ways to start a fire, one of the easiest is to have one of those small fire starters. You'll want to practice using kindling and learn how to grow the fire using progressively larger pieces of wood. This could be a fun family activity for all to learn together. 15 Different Ways to Make Fire Starters
13. How To Start A Fire
Fire is essential for warmth, light, and also for cooking. Make sure that you have matches or a lighter, as well as some kindling and fuel so you can get a fire going even during wet conditions. In case you missed this post, How To Start A Fire In A Fire Pit
14. Tent For Shelter
Having a shelter is crucial in any survival situation, but it's especially important in the winter. If you have to be outside during stormy conditions, a good tent can help protect you from the elements and help you conserve body heat. Tarps and blankets can also be used to create a makeshift shelter if you don't own a tent.
15. Water Filters
Clean water is vital for survival, no matter what time of year it is. But in winter, rivers, and lakes may be frozen over, making it difficult to find clean water sources. That's why it's important to have a water filter with you so you can purify any water you find. These are my favorite, LifeStraw Go Water Filter 22 oz Bottle
I also recently did a post about Portawell, a great portable water filtering system. The Best Portable Water Filtration UnitThe Best Portable Water Filtration Unit
Final Word
As the temperature starts to drop, it's important to make sure you're prepared for whatever winter weather throws your way. Weatherproofing your home and stocking up on warm clothing and bedding are essential first steps, but don't forget about stocking your pantry with comforting winter foods as well. By taking a little time now to prepare for colder weather, you can make sure that you're ready for anything once winter finally arrives. May God Bless this world, Linda
Copyright Images: Snow with Umbrella Woman AdobeStock_320874793 by Milan