10 Things You Need In Your Disaster Emergency Kit
I thought it critical to talk about getting your disaster emergency kit updated today, so I'm updating this post from some years ago. You may be thinking about 72-hour kits or bug-out bags, they are one and the same. Here's the deal, you may or may not have to leave your home. Either way, we need these items in our disaster emergency kit. The recent news reports about Hurricane Ian and all the devastation in Florida have reminded us of what can happen to those in harm's way, and why we should do our best to be prepared.
Here in Utah, we have had so many fires people have been evacuating their homes and some have lost their homes, particularly those who live in or near the mountains. It is so sad and devastating. I've heard about fires in several other states, particularly California. Some have been human-started, and some may have been started by lightning.
Sometimes, we need a friendly reminder to get at least these items in our home ready to use or take with us. Of course, the more you have right now the better off you'll be.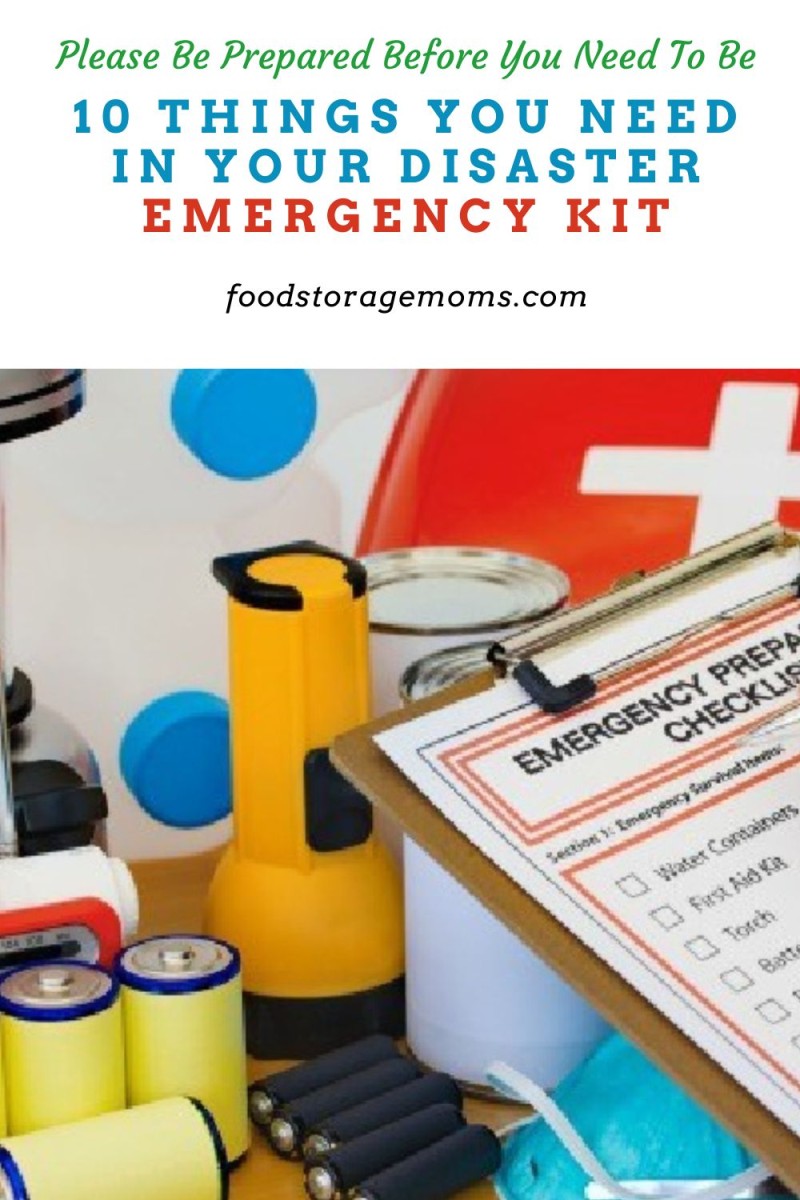 10 Items You Need In Your Disaster Emergency Kit
1. Water:
The very first thing you'll need will always be water. The American Red Cross suggests one gallon of water per day per person. I highly recommend four gallons of water per person per day. Yes, that's a lot of water. You never know if you'll have to hunker down in your home or have to leave. This is why you need a plan.
You need to carefully pack your belongings and make sure you have enough. You need smaller items to pack if you're going to evacuate. If you can accommodate three days' worth of water per person per day in your car, have it ready to grab. Plan on some water for your pet as well.
Some people think they only need water to stay hydrated, and that is the most important. But, personal hygiene is also important since we don't want to get sick while we're dealing with other challenges. Being able to wash our hands, take even a sponge bath, and possibly due a little laundry of at least our underwear will make us feel more clean and confident we'll get through things.
There is also the issue of possibly having to cook a few meals, and water is a critical part of meal preparation.
WaterBricks and WaterBrick Spigot
2. Food:
I would plan on a minimum of three days' worth of food if you need to evacuate. Keep your pantry stocked with food for at least 30 days or more, you may need it if you are homebound. Please add a can opener to your food inventory, as well as paper plates, plastic silverware, and a few paper towels. If I need to evacuate I'm eating foods that don't need cooking, if possible. I'm not hauling a butane stove to the school or church in my neighborhood. Please choose the canned foods you and your family will eat, not junk food.
I suggest cold cereal, and canned goods like beans, ravioli, beef stew, fruit, green beans, and corn. These foods wouldn't need refrigeration. Granola bars or protein bars are a great addition. Just add some of the foods you know your family will love to eat. Peanut butter and crackers are always popular.
If you have a pet, add some dog food to your 72-hour disaster emergency kit. While I'm talking about pets, make sure you have a water and food dish, a leash, and a copy of the pets' immunizations.
3. First Aid Kit:
If the stores are closed, then the over-the-counter (OTC) medications you have this very minute in your home are the ones you can use. It may be days or weeks before stores open, and this makes it possible for you to replenish your first aid stash from what you already have on hand. I would consider fever reducers, cough suppressants, anti-diarrhea medication, allergy medicine, and some items for cuts, and bee stings. This list is short, I have my full-fledged first aid kit list right here: First Aid Kit by Linda
If you have some Band-Aids, Neosporin, bandages, hand sanitizer, baby wipes, and sunscreen you are a step ahead of the game. Please throw in some N-95 masks. Always consider those in your home who may have special needs, like young children and the elderly.
4. Prescriptions:
If it's critical for survival for you to have your everyday prescriptions available, put them in your bag. If you have to evacuate at midnight and it's dark, be prepared to grab that extra pair of glasses.
5. Personal Hygiene Products:
This is a really quick one to put together. The next time you go to the grocery store, stock up on small containers of shampoo, conditioner, (or use the ones you bring home from hotels when you're on vacation), toothpaste, toothbrushes, a razor, a small can of shaving cream, and a bar of soap. This is where baby wipes come in handy for cleaning our private parts. You can never have too much hand sanitizer since you never know what those hands might be expected to do.
6. Tools and Supplies:
You may need a small tool kit, a 4-in-1 tool to turn off water and gas lines, a sewing kit, a flashlight with extra batteries, an all-purpose knife, matches, and a small fire extinguisher, to name a few unique supplies. I love my solar flashlights since batteries seem to run out faster than we ever expect.
If you have access to a crank radio that would be nice too. Get one that allows you to tune in to weather information, you'll want to stay informed about what's going on in your area, particularly, close to your home. The best flashlights, Solar Flashlights, Olight Flashlights, or Goal Zero Lanterns
7. Important Documents:
If you need to evacuate, please have all your important documents in a zippered binder. Some of the things you will want to have with you are your passports, birth certificates, marriage certificates, insurance information, doctors' names, and phone numbers, social security cards, copies of the critical pages of your will or trust, and contact information of all your close friends and family members.
If you have to leave your home, who knows how long you'll be gone and what you might need to prove or negotiate before you can gain access.
8. Cleaning Supplies:
If you have to evacuate, be sure and take some garbage bags, dish soap, a bar of soap, hand sanitizer, some cleaning towels or rages, and bleach.
9. Clothing/Boots/Jackets:
You may not be coming back to your home soon if the authorities say you're to be evacuated for days or weeks. If you have some extra underwear, at the very least, then an extra shirt and socks, you can get through almost anything. Having a set of clean clothes will uplift your spirits, I promise.
10. Misc. Items:
A blanket or two would be awesome. If you have some sleeping bags, those would be great. A water filter in case you run out of water no matter where you end up after leaving your home. Be sure and have a few one and five-dollar bills, since banks and ATMs possibly won't be working or available. Bear Spray would be a good addition to our supplies.
Final Word
Let me know what you would add to my disaster emergency kit, we all learn from each other. Please be prepared before you need to be. May God Bless this world, Linda
Copyright pictures:Emergency: AdobeStock_43557390 by Pixsooz