Shipping Containers: 14 Fascinating Things You Should Know
When you think about shipping containers, what comes to mind? Maybe you think about large boats that transport goods all over the world. Or maybe you think about the giant metal boxes that are used to store and move cargo on railroads and long-haul trucks. Shipping containers are an essential part of the global economy, and they can be a valuable resource for preppers.
In case you missed this post, 7 Unique Uses For Shipping Containers
What Are Shipping Containers?
Shipping containers are large, steel boxes that are used to transport goods by ship, train, or truck. They come in a variety of sizes, but the most common type is the 20-foot container. Shipping containers are made from strong and weather-resistant materials, and they can be stacked on top of each other for easy storage.
In recent years, shipping containers have become popular in the backyard of homes and in office spaces. They can be easily modified to meet your needs, and although higher in price currently, they're relatively inexpensive. If you're looking for an alternative to traditional construction, shipping containers might be the answer.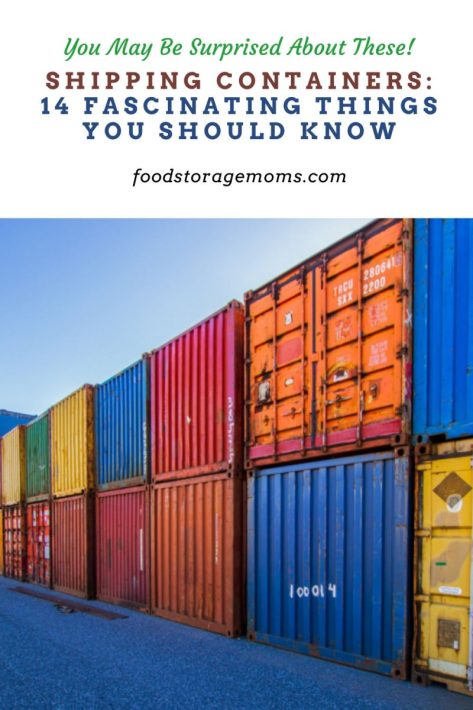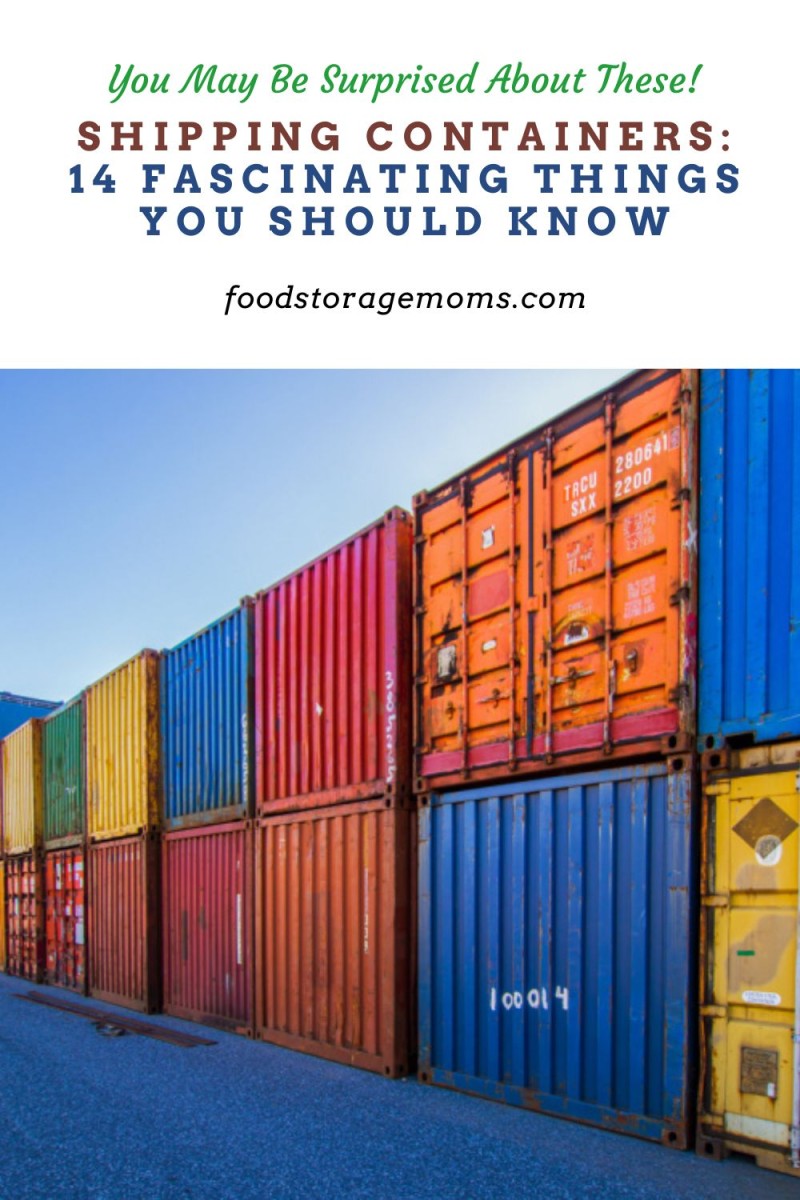 7 Things You Should Know About Shipping Containers
Shipping containers have been used for everything from homes to offices to restaurants, and there are plenty of reasons why. Here are 14 things you should know about shipping containers:
1. Shipping Containers Are Strong
Shipping containers are made from strong, durable steel. According to a standard rigidity test, shipping containers can withstand wind speeds of 180 mph. They're designed to withstand the rigors of shipping and transport, so you can be sure they'll be up for the job, no matter what you use them for.
2. They Come in a Variety of Sizes
These containers come in a variety of sizes. The most common size is the 20-foot container, but there are also 40-foot containers available. You'll need to choose the size that's right for your needs.
3. You Can Use Them For a Variety of Purposes
A shipping container can be used for a variety of purposes. They're often used as storage units, but they can also be converted into tiny homes, offices space, both portable and stationary, and more. There's really no limit to what you can do with shipping containers.
4. They are Made From Recycled Materials
Shipping containers are often made from recycled materials. This means that they're an environmentally friendly option for your next project.
5. Prices Vary
Shipping containers aren't always cheap. They can range in price depending on their size, age, and condition. However, they MAY prove to be cheaper than some traditional construction methods. In years past, A 40-foot container could cost anywhere from $2,000 to $4,000 depending on whether it is new or used and what condition it was in.
Now that same container may cost double that or more. Containers have seen a significant increase in cost and value, particularly with the challenges facing our global supply chain. Whether a 20 or 40-foot model, check your local supplier for current pricing, and don't be surprised if they cost more than you expected.
One other source to check is Ritchie Bros. Auctioneers. They often have used models available and you could bid on them. 
6. Shipping Containers are Easy to Transport
Shipping containers are fairly easy to transport by trusted shipping professionals. This isn't a product you through in the back of your pickup truck. They can be transported by truck, train, or ship, and can be stacked on top of each other for storage.
7. They Are Convenient
Shipping containers are convenient. They can be delivered right to your doorstep. Most come already assembled and ready to go. Others may need some cleaning and touch-up. If you're planning to retro and make a tiny house or small office out of one then there is major work ahead, and the related expenses.
8. You Can Store Food in Them
If you are a prepper like me, a shipping container is a great way to store non-perishable foods. Having a dry space is important when stocking and storing food. In fact, many companies choose shipping containers as portable pantries to help them stay stocked and organized. 
It would be a great idea to have the unit properly insulated or the stored items may not last as long as expected. That shouldn't be a very expensive step to keep things in better condition.
9. Don't Put Certain Things in Them
You should avoid putting flammable and toxic items in your shipping container. Batteries, aerosols, household cleaners, solvents, nail polish, nail polish remover, fireworks, chemicals, oils, and fertilizers should not be stored in them.
10. Don't Put It On Grass
As with any heavy container, I strongly recommend that you don't put your container on grass or soft ground. This is because the container is heavy and likely to sink over time, and it would definitely kill the grass.
Your HOA or city government probably has some restrictions regarding what can be stored on your property. Check things out BEFORE you move a container on your property and possibly save some hassle. 
11. You Can Use Them as a Garage
Did you know you can put a car in a shipping container? According to research, you can put vehicles in a container, depending on the size of the vehicle and the container.  
12. You Can Find Shipping Containers on Craigslist & eBay
Save money and buy a used shipping container. In the past, I was able to find a 40-foot for $1,900, a 20-foot for $1,800, and a 10-foot for $1,500. And, one listing even offered free delivery within a 50-mile radius and a 3-year warranty. I'm sure those prices have gone up significantly, but you might find a seller who is anxious to get their's moved. 
13. Material Matters
Not all shipping containers are made from the best material. You want to look for shipping containers that are made from Cor-Ten Steel. Cor-Ten Steel lasts the longest and can stand up to inclement weather and rust. 
14. You Will Need to Keep Them Dry
Shipping containers can handle rain and snow, but you still want to keep them dry. You don't want pools of water and snow on top of its roof for long periods because that can create rust. Consider some protective overhead covers to keep the snow and water from pooling. 
Where Can I Get Shipping Containers?
If you're looking for shipping containers, there are a few places you can check.
Check your local shipping or storage company. They might have some containers that they're not using and would be willing to sell or rent to you.
Look online. There are websites like Advantage Structures that specialize in selling shipping containers, and you might be able to find a good deal.
Check with construction companies or other businesses that use shipping containers. They might have some that they're not using and would be willing to sell.
Do I Need Permission?
If you want to have a shipping container delivered to your property, you may need permission depending on where you live. This mostly depends on whether you are in an Urban area or Rural area and if there are any neighborhood or local regulations.
Most shipping container suppliers are familiar with the requirements in your area, so you can ask them, or you can check with your local authorities or city hall.
What Do You Put Under A Storage Container?
You want to place your container on a level base. You can create one by laying a concrete foundation. Or, you can place concrete slabs at each corner. However, many people use railroad ties, placing one under each end of the container. 
How Do You Ventilate A Shipping Container?
To ventilate your shipping container, you can use shipping container air vents. These vents work best when they are installed on opposite sides of the container. This allows the wind to blow fresh air into one vent and hot air to exit from the other vent.
If electric power is available, you can also install some fans to help move the air.
How Much Clearance Space Do I Need For Delivery?
This depends on what size container you are having delivered. If you are having a 20-foot container delivered, you will need about 75 feet of straight clearance. However, a 40-foot container will need about 100 feet of straight clearance.
More Interesting Things to Consider:
Final Word
Shipping containers can be used for a variety of purposes. Check out my post: Unique Uses for Shipping Containers for more information on how to use them. If you're a prepper, these containers make great storage units for your supplies. Just make sure to check local ordinances to ensure you can place them on your property.
Have you used shipping containers? What did you use them for and how did they work out? Let me know in the comments below! May God Bless this world, Linda
Copyright Images: Row of Shipping Containers AdobeStock_498776691 by Anders