Prepping for Beginners: A Guide to Get You Started
Many of us have been prepping for a long time. We may not know everything, but we are learning each day. Since the pandemic, I have seen more newbies that just aren't sure how to get started.
So, I decided to write a prepping for beginners guide that will get those who are just starting out on the right path.
I can tell you right now, the price of #10 cans shown above are totally over-priced. If I was starting out I would not buy #10 cans, at least not now.
The prices have quadrupled, at the very minimum, in the last ten years. One of the reasons is that you can't get empty #10 cans right now, and fruits, vegetables, meat, and dairy are in short supply.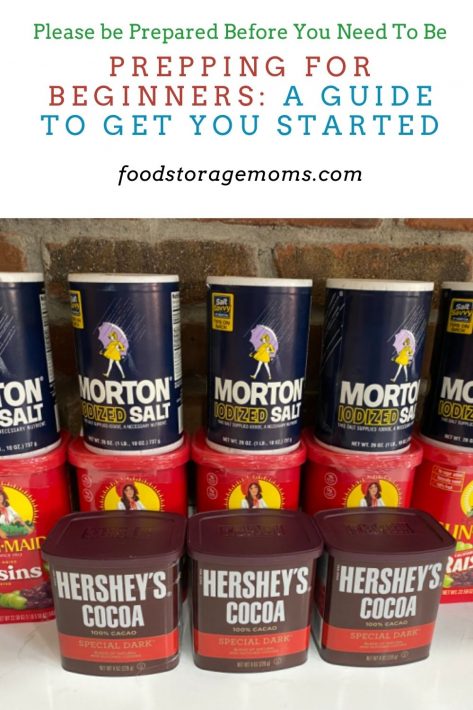 Prepping for Beginners
The first thing I can say is that you just have to start! You can start with limited money, you can start with $100, but you just have to start. Below, I am going to share with you how to get started! My friend, Matt, just told me about this company for #10 cans. Be sure and look for the #10 section for the best prices. MRE Depot Food Storage
Prepping for Beginners – Water
When you start out, the first thing you want to do is start storing water! You can only live 3 to 5 days without water. That means if the water supply is tainted, such as in Flint, Michigan, you need to have water to drink.
The American Red Cross recommends storing 1-gallon of water per person per day. That means if you have 5 people, you will want 5-gallons of water stored for each day. When starting out, I would begin by having at least a 3 week supply of water. So, you do the math for your family.
BUT, you know I like to store 4-gallons of water per person per day. My calculations for a family of five would be 20 gallons for one day. Three days would be 60-gallons, so please do the math for your family.
Be prepared the right way with enough water to live safely. We need water for drinking, cooking, washing clothes and dishes, to name a few. Just start slowly storing water for your family.
Do you have to buy all this water at once?
Absolutely not! Figure out how many gallons you need for 3 weeks. You can buy extra water each week for several months until you build up a good supply. As you store and get more water, I recommend reading my post: Water Do You Have Enough so that you know the safest way to store it. In addition to this water post, you can learn more about water storage in my other posts:
Once you get to 3 weeks, DON'T STOP!
Prepping for Beginners – Food
The second thing you need to think about when you begin prepping is food! In an emergency, you may not be able to get to the store, the stores may have shortages, or it's just too dangerous to go to the store. Again, I would try to have at least 3 weeks of food stocked up.
Do you have to buy all this food at once?
Depending on your age, you can live 8 to 21 days without food. Even a small amount of food can be rationed to keep you alive. So, don't worry about getting all that food at once. Just Start!
What Food Items Should I Start With?
I wanted to show you this picture because I store these food items in their original containers. Of course, you will need to place them in plastic buckets if you have critters in your neighborhood. I store these in my pantry, as is. This way, Mark and I know at a glance what we have, and yes, we rotate them as needed.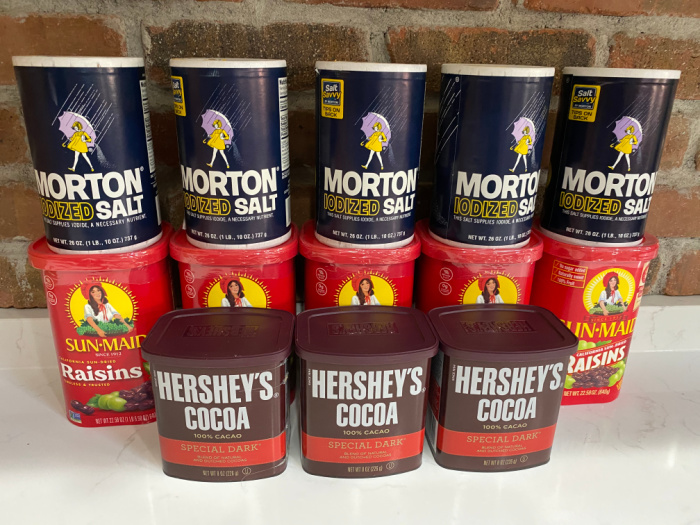 Typically, I tell people to store what they eat. However, there are a few items that I think everyone should start storing because you want food that you can rotate, as well as having items you store for a long time. Here are some food items to start with on your next grocery trip!
These items you can store indefinitely, if they are in proper containers:
Wheat
Salt
Sugar
Honey
Rice
Beans (they will get harder every year and will take longer to cook)
These items you can store for about a year:
Canned condensed meat and soups
Canned fruits, fruit juices, and vegetables
Ready-to-eat cereal and uncooked instant cereal
Peanut butter
Jelly
Canned nuts (please keep in your freezer)
White flour (12-18 months)
Raisins
These items you can store for 6 months:
Prepping for Beginners – Medications
Another thing many new preppers don't think about is medications. A big reason we are seeing an increase of beginners wanting to prep is because of the pandemic. Obviously, we all get sick, from time to time, and we need to make sure we have a few items stocked away. Here are some of the basics to start with:
Prescription medications- if you can, get extra scripts from your Dr.
Tylenol-fevers that won't go away require you to alternate Tylenol and Ibuprofen.
Benadryl-this is the best for any allergic reaction.
These are just a few medications to start with. If you want a more extensive list, please check out my post: 35 OTC Medications You Should Store.
Other Items New Preppers Need to Have
In addition to water, food, and medications, there are some other things you may want to make sure you have. Here are my beginner basics:
First aid kit-start with a simple premade one.
Toilet paper– This was definitely hard to find!
Menstrual pads, tampons, or whatever you use
Soap
Shampoo
Baby supplies, if needed
Pet supplies, if needed
Trash bags
Cleaning supplies
Related: 30 Things You Need to Stock
Storage Tips
The best way to prep is to make sure what you prep isn't being wasted. Nobody wants to waste money when prepping! Here are some storage tips to keep in mind:
Keep food in a cool, dry place. Darker is best.
Wrap perishable foods in plastic bags. Keep them in sealed containers.
Store sugar and flour in air-tight canisters or buckets.
Throw out canned goods that are swollen, dented, or corroded.
Rotate your food. Use food before it goes bad, then write it on your list to replace it.
Date everything when you purchase it!
Related: 25 Important Items You Should Have in Your Home
Your First Shopping List
So, to break this down for you, I am going to give you your first shopping list. Obviously, you will have to buy what works for you and your family. This list should be in addition to your regular grocery list. But, this is a good place to start:
An extra gallon or case of water
2 extra cans of meat
2 extra cans of fruit
4 extra boxes of pasta
2 extra cans of vegetables
White rice
White flour
Instant Milk
An extra jar of Peanut butter
Tylenol
Bleach
1 extra container of shampoo, body wash/soap, and conditioner
An extra container of dish soap
Extra toilet paper
First Aid kit
Toothbrushes and toothpaste
After you completed this list, begin adding more to your stockpile. If you can't afford to get everything on the list, pick a few items you can afford and grab those.
Final Word
If you are a beginner, I can't stress this enough..START! Start today! You can start with 1-gallon of water and 1 extra canned good. Just start wherever you can. Start with a 72 hour supply, work up to 3 weeks, then just keep going! You've got this! May God Bless this world, Linda