30 Things You Need To Stock
Today I'm going to talk about 30 things you need to stock when things go back to normal. Here's the deal, this is a simple list that made me aware of how quickly things can disappear on the grocery shelves.
The last few months have made a lot of people aware of the need to stock up supplies. Some families were well stocked, and a few had bare shelves. Either way, it has impacted all of us.
I have stocked my pantry for over 50 years. Some years they were lean, and some years I was blessed with an abundance on my shelves.
If any of you purchased my book, "Prepare Your Family For Survival" you know why keeping my home grocery store stocked is so important to me.
I thank you from the bottom of my heart if you bought my book, it means a lot to me.
This Is Why I Stock Up
Let me explain what I wrote in my book about being prepared. When I was 16 years old, I was asked to help my aunt who had just had a baby and needed some assistance.
I grew up in Las Vegas, Nevada and never owned a coat. Then I moved back East near Chicago where they had snow and ice storms. That's where I bought my first coat, winter boots, and gloves.
One ice storm was extreme, the streets and roads were not drivable for about two weeks. My cousin and I had to walk to the grocery store and we were only allowed one pound of hamburger a week and one quart of milk.
My mother always had a pantry filled with food. Not overflowing, but enough for our needs growing up.
We cooked from scratch and made bread every week. It was a way of life for us. She taught me the skills I needed to raise a family.
Well, my aunt grew up wealthy and was unfortunately not taught the skills I was blessed with. When I searched her cupboards they were bare, maybe a can or two of a few things, that was it.
She was used to going to the store every day or so to buy groceries for a few days.
Now, the stores were limiting the items you could buy. This sounds familiar, doesn't it? This was 54 years ago, I turned 70 this year.
So you can see we must prepare for the unexpected, whatever it may be. Now onto the items I found in my area that was in short supply the last few months.
**Note: Water is a given in this post, let me make that clear, I did not add that to the list.
30 Things You Need To Stock
Pantry /Refrigerator Items
1. Rice
I went to Costco, Albertsons, Harmons, and Walmart to check out their rice shelves. Mark and I had heard there was a shortage, and yes indeed, there was and still is a shortage today.
Oh my goodness, just think of all the recipes we make with rice, right? I can't find my favorite Jasmine rice, I have some, but I always like a little extra in the pantry.
2. Pasta
At my home, we love bowtie pasta in a spinach salad. I bought the last two boxes in the store, and some spaghetti.
We don't eat a lot of pasta, but it feels good knowing we have some in #10 cans and some on my pantry shelves.
The funny thing is I couldn't find any egg noodles, you know the kind that we make tuna noodle casserole with? There were none to be found.
3. Beans
As of today, you can't buy any large 25 bags of beans where I live. I used to buy large bags when I had kids at home, but not anymore.
But large families would love to have them. Thank goodness, there are several cans of different kinds of beans available.
I wouldn't say there are a lot, but there are a few cans on the shelves. My daughter in California called me one day and mentioned her roommate tried to make chili one night.
Well, he had to go to three stores in order to get six cans of beans to make chili because they had a limit of 2 cans per store. I really think we will laugh looking back at these stories. Two cans per store, who would have guessed?
4. Cheese
One thing I noticed, I couldn't get my Tillamook brand of mild cheddar cheese in the 2 lb. size block. I use it for grilled cheese sandwiches and sliced with crackers, and so much more.
You can imagine when my grocery store pickup said two of them were available for purchase.
It felt like Christmas, I'm not kidding. When you try for six weeks and every store is sold out, it makes for a celebration of sorts, right?
5. Canned Goods
You know I have talked about canned goods before. I wrote a few posts on the subject, in case you missed them. How to Save Money on Canned Goods and Canned Foods I Highly Recommend You Store
Baking Staples
6. Flour
When there is a bread shortage, people start making bread. So, then we had a flour shortage. I'm not sure they were just making bread, but we need it for bread, biscuits, cinnamon rolls, and tortillas.
Please remember, white flour has a shelf-life of 12-18 months. All my recipes are FREE and no-fail if your ingredients are fresh.
7. Yeast
Because yeast was in short supply I wrote a post on how to make a sourdough starter and sourdough pizza. Stay tuned, I'm going to show you how to make pizza with the sourdough starter.
Here is the post in case you missed it. How To Make A Sourdough Starter + Bread and Soda Bread: Step By Step How To Make It
I freeze a few packages of SAF Yeast in my freezer because I'm an avid bread maker. When it becomes available again I suggest you do the same, if you make bread very often. Bread is a real staple at our house.
8. Eggs
Here's the deal, eggs became in short supply for a few weeks. Now, I can skip scrambled eggs for breakfast, and use one of my egg substitutes I wrote about in this post: What Can You Use as an Egg Substitute?
I actually mentioned to Mark, maybe we need that little hobby farm I've wanted for years. Just think we could raise chickens, rabbits, and possibly have a cow.
My farm hero is Janet Garman from Timber Creek Farm. She is the real deal, my friends.
9. Milk
I understand that powdered milk and instant milk quickly disappeared off the grocery shelves. One day milk was $5.00 a gallon in the dairy section.
Mark uses it for his cereal and bananas in the morning. And you could only buy one gallon, which was fine for the two of us.
But what about large families? Once it comes back in stock I highly recommend you pick some up a dry form of milk for your pantry, just in case.
Pet Supplies
10. Dog Food
I hadn't heard about a shortage of dog food, but where I live it was curbside delivery only. So, here again, please stock up at least 90 days of dog food.
Better safe than sorry, we don't want to change out their food during a disaster.
Personal Hygiene
11. Toilet Paper
Need, I say more? I'm still not sure why there was, or still is, a TP shortage. Did the pandemic make people think "I need TP" because of the pandemic or just because they felt secure knowing they had toilet paper stocked? We may never know.
Did you see that Costco had a HUGE sign saying NO RETURNS on toilet paper at the entrance? I got the giggles, because one day I went to pick up a prescription there and EVERY CART had 1-3 packages of toilet paper, I kid you not!
Don't forget about Family Cloth-How To Make Reusable Toilet Paper For Survival
12. Paper Towels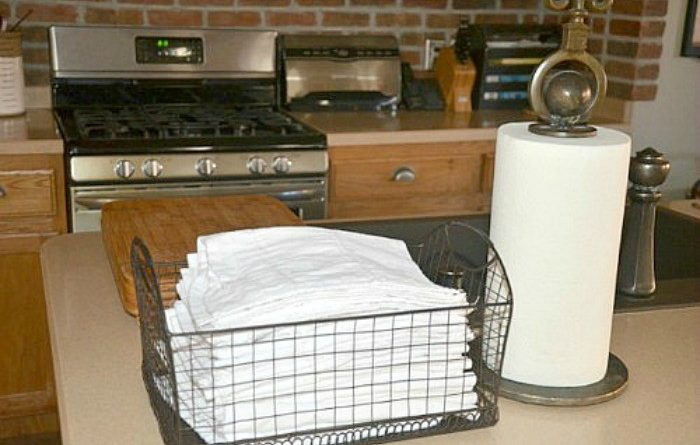 This was and still is a product in short supply as far as I know. A few years ago, I wrote a post about giving up paper towels, except for draining the bacon I cook.
Here it is in case you missed it How To Save Money On Your Paper Products
13. Menstrual Pads
My family comes to visit occasionally and I like having those monthly items the females might need, so I stock a few. Well, one of my granddaughters told me they were not available anywhere in her hometown.
So, I checked where I lived, sold out. Here again, stock up when you can.
How To Make Reusable Menstrual Pads
14. Tampons
These had the same story as the menstrual pads. I thought maybe we could buy some online through Amazon. It took three delivers to get the three boxes I ordered.
Interestingly, even Amazon had trouble stocking them. Lesson learned for all, stock a few boxes for that what-if moment.
15. Bars of Hand Soap
Just so you know, I don't like the word, hoarder. I saw on Facebook a few people mentioned that some prepared folks were hoarders, nope, nada. No way, it's called prepared for the unexpected.
I may or may not have 20+ bars of hand soap. It's called preparedness, so please stock up if you need to when supplies become available.
Cleaning Supplies
16. Laundry Soap
Wow, then laundry soap or detergent was in short supply. When you get the supplies, I highly recommend making your own detergent. Here is my recipe How To Make Your Own Laundry Detergent. It's good stuff, cleans well, and saves you money.
17. Clorox Wipes
Oh my goodness, thank goodness for these wipes. Luckily, I had enough to hand out to family and friends so they could keep their surfaces clean. Please stock up when available.
18. Kitchen Dish Soap
Who would have guessed that the grocery stores would be depleted of kitchen dish soap? If nothing else, I hope a few families learn from this experience, please stock up items you use frequently.
19. Bleach
Some people are totally against bleach, I am not. If you have ever cleaned up a sewer mess you would understand. I lived through a flood in 1983, and sewer water was everywhere in our neighbor's basement.
Bleach is one of my best friends. Bleach: Everything You Need to Know
Yes, in 1983 we had commercial clean up crews in the neighborhood, but we needed bleach to clean down the sewer backups before they got to certain homes. Glad I had N-95's to hand out back then too.
20. Lysol Spray
I'm so glad I found a few cans of Lysol in my stash, with sickness going around, I use it almost daily.
OTC Medications/Vitamins/First Aid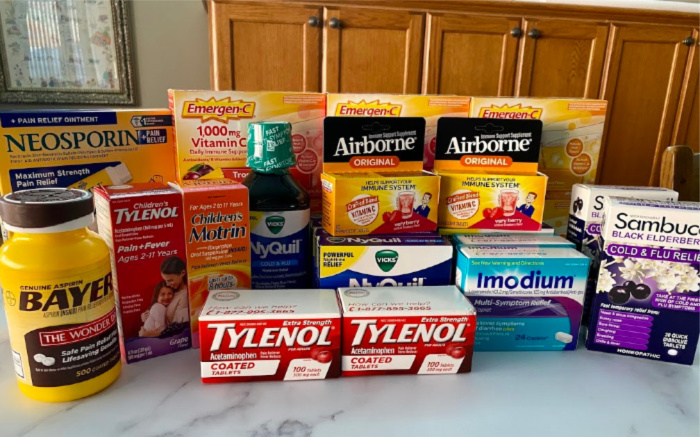 21. Fever Reducers
If we encounter the Influenza, a Pandemic or whatever, a fever is fighting the infection, which is a good thing. But when the fever goes too high we need to be prepared to reduce the fever.
This is why we stock up and rotate as needed.
22. Emergen-C
My daughter ended up in the hospital a few years ago from being dehydrated with the flu. She was in the hospital for three days and probably should have stayed a few days longer.
Anyway, the doctor recommended she always have a few packages of Emergen-C on hand. Our entire family stocks it now. It's high in Vitamin C, but does include sugar, just giving you the heads up.
23. Vitamin C, B-12 Vitamins, Multi-Vitamins
Who would have guessed that all the above vitamins would be stripped from the grocery store shelves? Even the Costco where I live didn't have any of Vitamin C for weeks, yes weeks. Zinc is another one I was glad I had in my preps.
24. First Aid Supplies
We all need first aid supplies. If you need a list, here is one of my lists First Aid Kits-What You Need To Survive. Please stock up when these items become available.
25. N-95 Masks
This one is really quite sad, I have family members and friends working at hospitals where the masks are in short supply. Then all of a sudden, there are a million patterns online to make them.
But the fabric stores are closed. Another reason we need to learn to make them or stock them.
26. Thermometers
You can't get any thermometers in my town. I lent mine to my grandson who is going to school in my town. So, I thought I would pick up another one, none are available where I live. I found one on Amazon for $100.00. Yeah, that's not happening.
Baby Supplies
27. Disposable Diapers
I you haven't stocked up on cloth diapers, I highly recommend you do. My girls were raised with cloth diapers and rubber pants.
Now they make really nice cloth diapers. Yes, they are expensive to start with, but will more than pay for themselves over time.
28. Baby Wipes
These are not only great for babies, but great for mini-showers for you when the water is shut off. Please stock up when you can.
Garden Supplies
29. Garden Seeds
Some seed stores, even the one where I buy my Non-GMO seeds from, Seeds Now, is overloaded because the local stores are unable to sell garden seeds. If they can sell them the garden seed section is empty.
30. Vegetable Plants
It's interesting that some stores taped off the garden centers. Yes, indeed they did in some states. Who would have ever guessed this?
Final Word
I hope you realize this post about 30 things you need to stock is just the beginning. I have written many posts on items to stock up on. Today you may see some items you forgot about.
Either way, it's my friendly reminder to be prepared for the unexpected. You only need one can at a time. Please only stock what you will eat and rotate it. May God bless this world, Linda
Copyright Images: Blue Pitcher Deposit photos_24071893_s-2019