How To Make Your Own Laundry Detergent
Have you been wanting to know how to make laundry detergent? Kendra, a friend of mine, has made it for years and taught me. We decided to see exactly, or pretty darn close, how much a 5-gallon bucket of homemade laundry detergent would cost us. Kendra actually figured out approximately how long the 5-gallon bucket would last each of our families based on estimates of how often we would wash a batch of clothes.
This would be a great group get together to save money by making your laundry detergent and have fun with friends at the same time.
Here is the laundry detergent cost for 11 batches:
11 Bars Fels-Naptha =$11
***Please note I realize people have different allergies, but I think you could replace this bar of soap with your own favorite bar of soap if you like. I just like the Fels-Naptha bars for stains. I no longer have to use any stain remover. I actually cut my amount to use in my HE washer to 1/2 tablespoon, or less, per load and I have an over-sized HE washer. Remember, there are no fillers in this detergent. No bubbles. Fewer chemicals compared to the stuff you buy boxed stuff at the grocery store. I have heard from readers who use Ivory soap, Zote soap and many people make their own soap bars.
2 Boxes Super Washing Soda = $6.48
1 Box Borax Detergent Booster= $3.38 ——Total cost – $20.86 plus tax
This much makes 11 batches of detergent which is 33 cups = 528 tablespoons = .04 Cents a load
We made a 5-gallon bucket with 25 batches (give or take a couple) 105 cups or 1680 tablespoons
Kendra: If I do 2 loads a day (which I do) that is 730 tablespoons a year
This should last me 2 and 1/3 years!
Linda: does 4 loads a week, there are 52 weeks in a year.  So she will do 208 batches a year so it should last her a little over 8 years!! Crazy!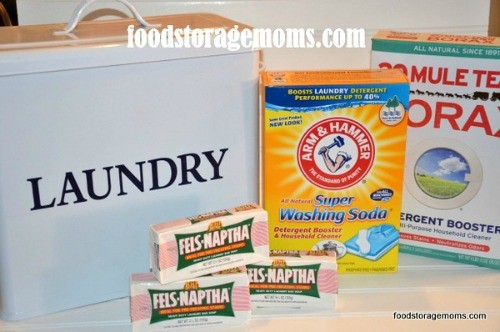 Great tip from Kristi on making homemade starch: I also put 5 drops of Lavender or Lemon essential oil in the rinse water to give your clothes a nice fresh clean scent. Also, if anyone still irons I make my own spray starch from 1 heaping tablespoon of organic cornstarch, 1 small plastic spray bottle (one from Dollar Tree costing $1), 10 drops of Lemon essential oils then filling to the top with distilled water, put the spray nozzle on and give it a good shake and you have homemade spray starch. Just remember to shake the bottle every so often while ironing. Thanks for all your good posts.
Homemade Laundry Detergent/Soap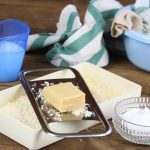 Laundry Detergent/Soap by Food Storage Moms
Ingredients
1

Fels-Naptha Bar-grated either by hand, food processor, or salad shooter

1

cup

Borax Detergent Booster

1

cup

Arm and Hammer Super Washing Soda (not regular baking soda)
Instructions
Instructions:

Put these 3 ingredients in a blender to blend and grate the Fels-Naptha even more. After doing this, it will look just like the store purchased detergent, but will not include all the "fillers." You will use less product per load and will have less "bubbles." Remember, just having bubbles doesn't mean clean. I use 1/2 to 1 teaspoon per load. I have a HE-High Efficiency washer, and it works great in regular washing machines as well. ***Please note: I now use only 1/2 teaspoon per load in my large capacity HE washer.