How to Save Money on Canned Goods
It's all about how to save money on canned goods today. I felt I should update this post since a visit to the store over the weekend brought two things to light for me. First of all, many of the shelves, particularly in the canned goods area, we empty. I've noticed that trend for weeks now, and it certainly isn't getting better.
The second observation, food prices, in general, are going up, and that includes some our your favorite soups, canned veggies, and the canned fruits you like. We've heard a lot about supply chain challenges, but I also think the weather, sickness with farmworkers, and limited available harvesting help are also to blame.
As a prepper and one who likes to plan ahead and have food on hand under any situation, one of the best things about having canned goods in your storage stash is that they last for what seems like forever. You can buy them at case lot sales and you don't have to worry about eating them right away.
If you don't have case lot sales where you live, please ask your managers to order them. Here's the deal, IF we can get them 3-4 times a year in Utah and Nevada, why can't other states? First of all, the stores must see a need for it or why would they order them, right? People must ask for them, enough said.
I've been buying case lots for over 40 years. I do not buy off brands as some store sells in other states. We get NAME brands like Campbell's Soups, Hunt's, Green Bean Giant, Del Monte, etc. The prices on the case lot sales are cheaper than store brands (per can). This is why these sales are so important. People are buying 10-12 cases if not more because the prices are the best all year.
All you have to do is learn to have patience and be smart about when you buy them. Here are the best times and ways of saving even more money on canned goods the next time you plan on stocking up. Here is how to save money on canned goods. Please stock up on these.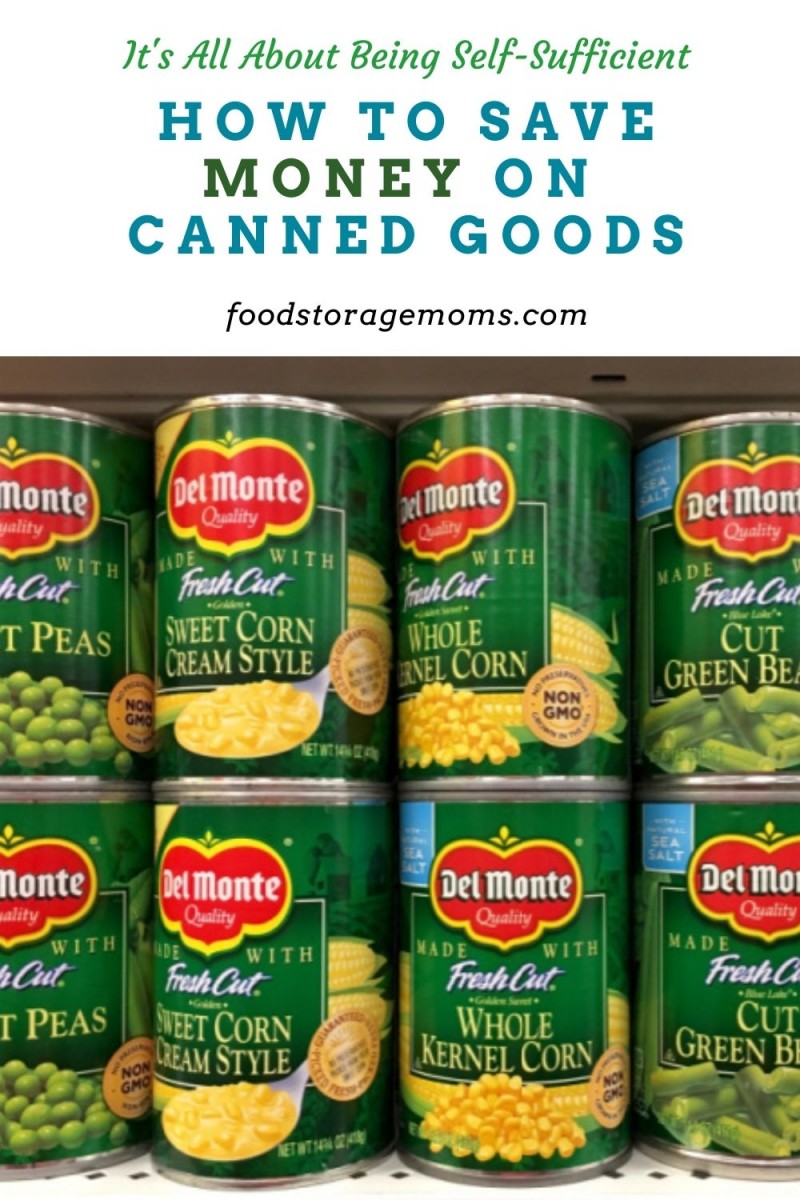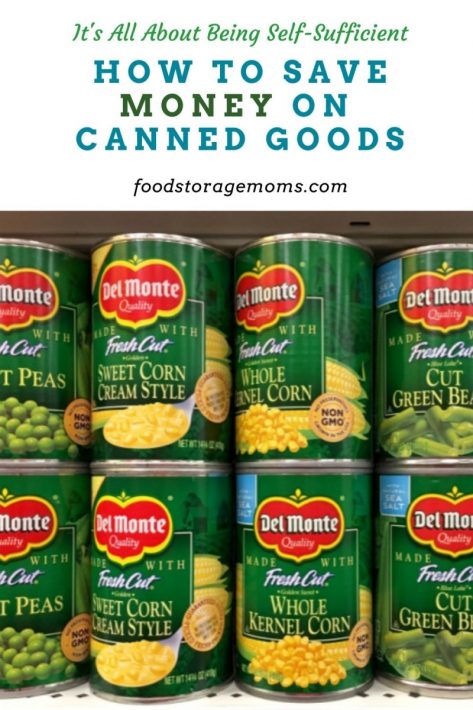 Saving Money on Canned Goods
Pay Attention to the Flyers
The first trick to saving money on canned goods is to pay close attention to the ad flyers and purchase the items you like when they are on sale. Throughout the year most every store will have canned goods on sale at some point. When you find a deal that's too good to pass up, make sure you get into that grocery store sometime during the week while the stock is more robust.
Don't Count Out the Drug Store
You're probably thinking, "yeah, right." No, seriously, many of our local drug stores have had become more competitive to get shoppers in their stores, and one way to do that is to improve on their offerings, including canned goods and other foods.
Their focus is not limited to your pharmaceutical needs in these tough competitive times. Stores like CVS and Walgreens have sales on canned goods at certain times of the year too.
Stock Up During Price Drops
Sometimes grocery stores have great in-store price drops that might not show up on their ad flyers. Again, if you see an awesome price on certain canned goods while you're in the store, be sure to stock up.
Be sure to pay attention to "must-buy" quantities and "limits" that they put on certain items to avoid any frustration at the register during checkout.
Buy in Bulk
Buying in bulk is also a great way of saving money long-term on canned goods. Don't be afraid to buy a year's supply, as most canned goods will last you two to three years. Make sure you have room to store what you buy. Also, it only makes sense to purchase those cans that contain what your family likes to eat. It isn't a good price if it sits on your pantry shelf unused!
If you buy a large quantity while products are on sale, you might look a little crazy, but who cares, you just found a great deal. Just be sure to have a designated space to stash away your huge savings.
Family-Size Cans
Resorting to family-size cans on canned goods can save you a chunk of change too. Most families need to use two cans for their meals, and smaller cans are usually pricier. If you have any leftovers, you can always freeze them.
Sign Up For Store Loyalty/App
Another great way of saving money on canned goods is by getting signed up for your local store's loyalty program or downloading their app. This will help you save even more money on loss-leader canned goods that require a loyalty card.
Check Unit Prices
When you're looking for the best value on a can of green beans, look at the unit pricing that most stores put on their shelf tags. This is a helpful tool that the stores provide to help you take advantage of the best values. You can see the price on a per once basis and then compare that to other brands or can sizes. It really helps with your decision-making while shopping.
Generic Brands are Just as Good
While shopping for great deals on canned goods, you don't have to turn to the national leading brands for great quality canned vegetables and fruits. Believe it or not, in most cases, the generic store brands of canned food taste just as well, and at discounted pricing.
While they might be preserved and seasoned slightly differently than Campbells, Dole, or Del Monte, you can always throw an extra dash of sugar, salt, or pepper to add flavor as needed.
Don't Forget Coupons
Several grocery stores allow you to use manufacturer's coupons on top of their already great prices on canned goods. Some grocery stores will even let you go as far as stacking coupons to have even further savings. This can be huge!
You could end up paying just a few cents a can if you go to extreme measures on your couponing skills.

You might also want to check up at the front of the store and see if they have any coupons in their coupons booklets that might help you even further.
Marked Down Canned Goods
This one you might just have to get lucky. Grocery stores change up their store shelving about once a year and get rid of any items that might be slower movers.
Keep your eyes peeled for clearance or last-chance canned food items that will cost less than half or more of the original retail. Sometimes digging through massive carts piled with goods is like a treasure hunt where you might very well strike gold. Be sure to check for dented cans, you don't want any of those on your pantry shelves.
Avoid Expensive Canned Foods
Another money-saver tip, you also want to be cautious when buying certain canned goods such as canned meats, sauces, stocks, soups, and chili. These items often cost more per ounce. If you have extra time at home for meal preps, and if you have some experience in the kitchen, you can make these homemade yourself.
Not only will you save more money, but it can also prove to be much healthier this way too. If you have a lot of leftovers, you can always throw them in the freezer for a later time.
Organize Your Pantry
How is this one supposed to save you money? Organizing your food pantry by dates can help you use old cans you've had for a long period of time. This will keep you from throwing out cans that have long since expired. As the end result, you'll save money since you won't be replacing expired items you end up throwing away.
Consider Preserving Your Own Canned Goods
Preserving your own canned goods is one of the best ways to save you money. Yes, this requires some time and energy on your part, but you can make large batches for a fraction of the price and store the canned products on your pantry shelves. I can remember enjoying canned fruits and veggies my parents provided as I grew up.
I'm not sure why, but homemade canned goods are just that more flavorful than eating canned goods from the grocery store. Plus, you'll be making grandma proud as you follow the tradition of home canning. My kids still talk about the peaches, pears, and apple sauce they enjoyed with breakfast, and it was fun doing the canning as a family. I highly recommend this USDA Canning Guide.
Final Word
You see, there's more than one way to save money on your canned goods as you plan your grocery visit. Which one on our list did you not know about before and will consider trying when you go to stock up on canned goods? If you're the canned goods savings expert, what other ways have you found to save money on the supply of your canned goods? May God bless this world, Linda