25 Easy Homesteading Skills We Need To Be Self-Reliant
I've been thinking about 25 easy homesteading skills we need to be self-reliant, at the very least. It's really all about taking care of ourselves and not depending on the government or anyone else to take care of our family. We have all been homemakers in different ways. It doesn't matter if we have worked professionally outside our home to put food on the table or not. We do what we can to teach our children and grandchildren to be self-reliant.
It's a little frustrating when I hear there are so many people that have been living in low-income housing for 10-15 years or longer. Many families are on food stamps. I get it if someone needs help occasionally, keyword, occasionally. Please do not teach your children that receiving food stamps is a way of life. I know a few families that have been on food stamps for 10-15 years. Can someone please explain this to me? Were they not taught how to support themselves?
I wish the schools still had Home Economics classes, you know like cooking, sewing, etc.? If the schools are not teaching it, are the parents? Are these easy homesteading skills a thing of the past? I believe we would have fewer families on government assistance and less enabling if people were taught to take care of themselves. I may sound very strong today, but we have got to teach the world they CAN take care of themselves.
Mark and I have always been self-sufficient, has it been easy, no it has not. But, we need to bring back the skills to teach people to save money, budget, cook at home and so much more. Please tell me how many of these simple skills you have taught yourself or your family. I love hearing your stories.
Easy Homesteading Skills
1. Budgeting Income
Let's be perfectly frank here, if families would teach their young children to spend less, buy less and live on what they make, we as taxpayers will hopefully pay less in taxes. As you know, there are so many ways to budget, but the easiest is to write down what you make and monitor what you spend. If you make this much——-you spend less than that amount.
2. Eat At Home
If we can learn to cook from scratch, just think of the money you can save. LOTS of money. Plus, it isn't hard, and you know what you are eating. You can borrow grandma's cookbooks and start today!
3. Learn To Sew
If you can learn to use a sewing machine you can at least mend the clothes you have when you need to repair a seam. If you can afford to send your children to sewing classes please do it. Sewing is a skill they can use their whole life.
4. Quilting
Do you remember your mother or grandma quilting? I remember my great-grandmother using every scrap of an old dress, shirt or blouse to make a "pieced" quilt. It was so fun to see a bit of my old dress that I loved built into a quilt here or there. A quilt tells a story, right?
5. Gardening
If you learn to grow just even a few vegetables really well and practice year after year you can be self-reliant. Just think about picking freshly grown vegetables from your garden for almost every meal. If you plant some fruit trees and bushes, can you just imagine the harvest? Prepare Your Soil 
6. Learn To Make Bread
By now you know that I love making bread, any kind of bread. I would have to say my favorite bread that I make is freshly ground whole wheat bread. Here is my post to help you make bread.  Linda's Breadmaking Tips  I promise that YOU can make bread, any bread, if you have the right ingredients. They MUST be fresh ingredients.
7. Fishing is Awesome
Have you ever gone fishing? Oh my gosh, my grandkids love throwing the fishing line after they have hooked the worm on the end. I have such great memories of my little daughters fishing and learning to filet a fish to cook.
8. Chopping Wood is an Adventure
Mark and I were lucky to have a wood burning stove for many years. We taught our daughters to haul and chop wood. It didn't stop there. We taught them how to heat the house with chopped wood and coal. Great memories and teaching them skills at the same time.
9. Learn To Use Tools
If you learn to use the various tools available to us, you can save so much money by fixing your car, finishing a basement or even helping to build a home. You can "fix" just about anything, one item at a time.
10. Learn to Store Food
If you learn to store the right food you can cook from scratch, it's like having a grocery store in your home. These are the basics that may help you get started. Pantry Items
Junk K. mentioned Carnation Instant Milk, great one!
11. Learn To Store Water
In order to be self-reliant, we must store water in case of an emergency. It could be our water lines that are contaminated, or a major water line break. If you have at least one gallon per person per day for your family stored you can survive for as long as the water lasts. I personally store four gallons of water per person per day. Thanks for being prepared for the unexpected.
12. Preserve Your Bounty
If you have one book it should be this one for canning or preserving your food. I have my Master Canning and Preserving Certificate. It is the ONLY one I would trust or recommend. Trusted Canning Book
13. Learn to make Jam and or Jelly
If you can grow strawberries or raspberries you can make jam!!! There is nothing better than freshly baked bread with butter and homemade jam. Linda's Recipe
14. Cook From Scratch
If you have the tools you can cook from scratch. If you stock your pantry you can easily make just about any meal from scratch. Cooking from Scratch
15. Learn to cook with Cast Iron
Cooking with cast iron is awesome! They make food taste even better! I grew up watching my mom fry everything in a cast iron pan. Please don't be afraid to use cast iron, those pans will last a lifetime. If you have issues with your cast iron pans please read this article Cast Iron Pans by Linda.
16. Learn To Use A Vacuum Sealer
If you want to have less waste with your groceries try using a Food Saver. It removes the air from the jars or bags and keeps the food fresher in the refrigerator or freezer. How to use a Food Saver
17. Make Your Own Laundry Soap/Detergent
You can make laundry soap for pennies on the dollar, literally. Have some friends over and make it a fun night. Laundry Soap/Detergent
18. Hang Your Clothes Outside
Can you remember seeing your grandmother's sheets blowing in the wind on the clothesline? I sure do!! I finally found a clothesline that I love.
If you are looking for the best clothespins, these are the ones I recommend: Kevin's Clothespins. I also found the best clothespin holder made by Praire Pin Pouch (.net)
19. Learn How To Deal With Weeds
If you start with organic soil and keep on top of the weeds, you may never have excessive weeds.
20. Build a Fence
I must say one of the best things to teach your kids to work is to build a fence. They will learn how to dig a hole, place a post (vertically straight) and fill the hole with a concrete mix. Then you hang the rails and then the fencing. Yay, for teaching the family to work.
21. Build a Fire
If you can build a fire, you can survive. You'll need some kindling to help start the fire, some small pieces of wood or shredded paper, then some larger branches, and finally a few logs to keep the fire going and to stay hot. Always have some matches around the house to use when starting that fire. Be sure to only set fires where it is safe to do so. This is also a good time to teach kids cooking on an open fire, but also fire safety tips.
22. Cook over a fire
If you have a Dutch oven you can cook over a fire. If you have some long sticks you can also cook over a fire. The possibilities are endless. And oh, so fun!! If you can find some used cast iron Dutch ovens or skillets at your local thrift store, buy them. Dutch oven cooking
23. Learn Natural Remedies
I use essential oils and try my very best to figure out what I need before going to a doctor. Let's be honest here, there is a time when you MUST see a medical profession. These are my favorite essential oils. Favorite Essential Oils
24. First Aid Kit
If you need a list to fill your first aid kit, here is the one I put together. Linda's First Aid Kit I highly recommend this book for emergencies. The Survival Medical Handbook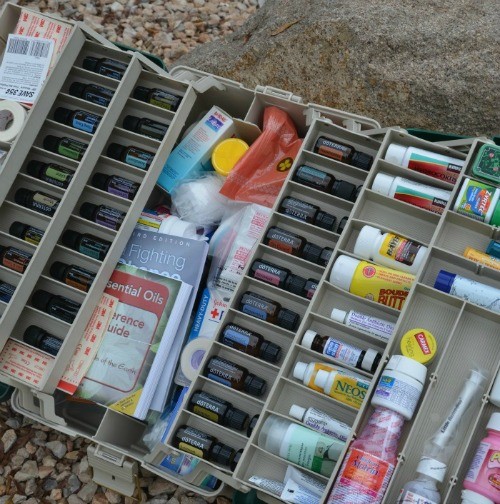 25. Learn CPR
You can learn to save a life by learning this skill. Please check your local American Red Cross or some local government agencies for classes that are available. American Red Cross CPR Classes
Thanks again for being prepared for the unexpected. Today's post gives you 25 easy homesteading skills you can learn or teach others. May God bless our world.
Copyright pictures:
Sewing machine: AdobeStock_109112259 by Smiltena