Cooking From Scratch Is It A Thing Of The Past?
Cooking from scratch is it a thing of the past? This last weekend I had part of my family here for Thanksgiving. Ellie wanted to make creamed chip beef on toast or homemade rolls. I tried making a video with my granddaughter making a roux.
I'm not good at editing videos YET, but I'm working on it. Anyway, I was using my iPhone and of course, at the end of the filming, someone screams "what?" Well, we all laughed and then I tried to "edit the video" to get the loud word removed.
I own it, I cannot edit videos as of today. So I do not have a video on how to make a roux. Life is life, we just roll with it.
Every time my family comes to our home or I go to their homes, I try to teach them the skills I have by cooking from scratch. Most of my daughters cook from scratch even though all four daughters have one or two jobs each. Proud mama here that my daughters know how to work. My one daughter is a single mom and her son enjoys cooking from scratch, I love it!
Netflix Documentaries
I have watched a few Netflix documentaries that have opened my eyes to the quality of the food we are able to buy and prepare at home. It's not good, my friends to see all the people around us dealing with weight and other health issues.
We must grow our own food or buy from local Farmer's markets if at all possible. I have watched some documentaries that show how overweight people are in the US. Here's the deal, when we eat out the food tastes yummy because they sometimes add more butter, salt and sugar than we may realize on that oversized plate of food. We are what we eat.
Dinner Plate Sizes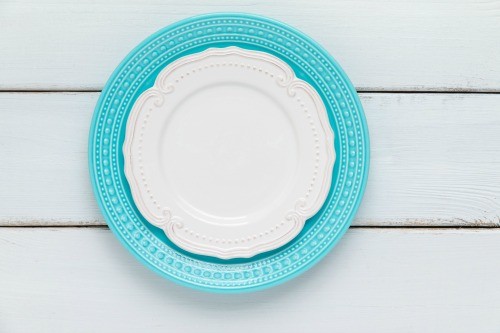 I love comparing dinner plate sizes to the pioneer plate sizes. They used salad size plates and they worked on farms. Hard work, six or seven days a week. Picture eight-inch plates to the 12-inch plates we are using today. I swear, they bring out a platter of food at a local Mexican food restaurant here in Southern Utah for one person. The plates above show approximately the white eight-inch plate sizes years ago and the cute 12-inch turquoise plate size today.
Cooking From Scratch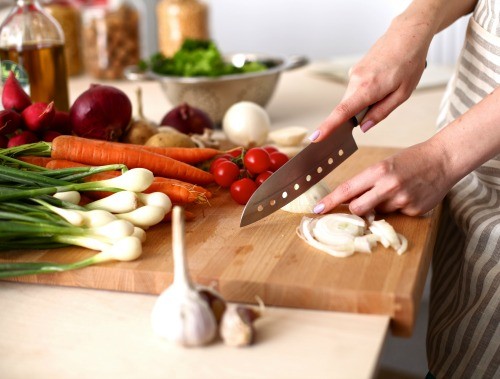 Here are my favorite basics you need in order to cook from scratch. Feel free to tell me some items I should add to my list.
Beans
Rice
Soups
White bread flour
Yeast
Crackers
Peanut butter
Jams and jelly
Powdered eggs
Instant milk
Popcorn
Dehydrated onions
Lemons juice
Cocoa
Garlic
Raisins
Spices
Tortillas
Chicken broth
Olive oil/Coconut oil
Dehydrated or fresh potatoes
Pasta: who loves spaghetti?
Tomato paste or flakes
Salt
Sugar
Honey
Baking soda
Baking powder
Cream of tartar
Canned meat
Wheat
Dehydrated carrots & celery
Salsa and green chilies
Water
Fruit
Vegetables
Oatmeal
Cornstarch
Fresh produce when possible
Vinegar
Cheese
How To Make A Roux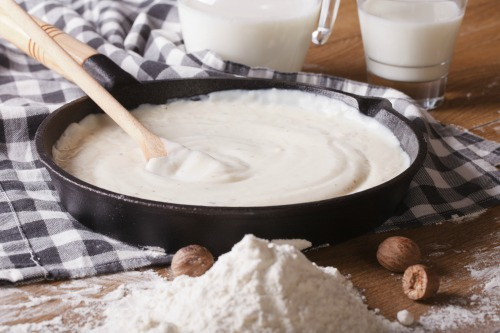 If you are wondering how to make a roux (pronounced roo) all you do is take a saucepan and use equal amounts of butter and flour. Then add milk according to how thick you want your cream sauce or roux. For instance, melt one cup of butter in the saucepan and then add one cup of flour. Stir quickly with a whisk. Whisk until smooth and add milk slowly. Sometimes it takes 2-quarts of milk or more. You must stir or whisk constantly. I add salt, pepper, and sugar.
Yes, sugar, it makes my sauce taste fabulous! You can cook it for 20-30 minutes to make the flavors stand out and to reach the full flavor and thickening. Again, you will add more or less milk depending on how thick you want your roux or creamy white sauce to be.
If you make a roux, you can make creamed chipped beef on toast or biscuits, add cheese to make mac and cheese, or add clams simmered with onions and celery to make clam chowder. The possibilities are endless. You can make just about any creamy soup you can think of with leftovers, love this recipe!
Beans
You can buy dried beans in a bag or purchase ready to use canned beans. You can make soups, hummus, side dishes, or chili, and you have a great protein meal at the same time. I can make a meal with beans and my favorite spices then add some tortillas and salsa.
Rice
White rice has a longer shelf life than brown rice, so I store very little brown rice. I can use rice to stretch so many frugal meals, love it! It's fairly inexpensive even in smaller bags. I like to buy white rice in #10 cans, the shelf life is 30 years (unopened) because it is commercially packed compared to the bagged rice from supermarkets. I prefer not to use mylar bags. I only want to buy food storage once with zero waste. Brown rice lasts about 6 months from the grocery store because it has a higher fat content over white rice. You can store brown rice in the refrigerator for 2-3 months longer if kept in an airtight container.
Soups
Some people make their own creamed soup from scratch. I buy Campbell's cream of chicken by the case. I can make just about any casserole or soup with it. I watch for the case lot sales in the fall. Be sure and check the expiration dates.
White Bread Flour
If you can make bread you can barter and survive. Trust me, people love hot bread right out of the oven. You can make muffins, pancakes, waffles, cookies, cakes and so much more with flour of any kind.
Yeast: I purchase the brand SAF Yeast for my bread and biscuits. Period. I have not had good luck with other yeast brands. I store the amount of yeast I will use for a month in the refrigerator. The rest of the packages I store in my freezer. They have lasted three years for me in the freezer if unopened. If you can't find it where you live, you can buy it online: Saf Instant Yeast, 1 Pound Pouch
Crackers
Need I say more. Crackers are great with chili, soups and topped with your favorite chicken salad made with mayonnaise.
Peanut Butter
Sometimes my husband and I have peanut butter and jelly sandwiches for lunch. I make homemade whole wheat bread which is a bonus for my budget.
Jams and Jelly
These are great for sandwiches, biscuits, rolls, and bread.
Powdered Eggs
These are great for baking only, it's nice to have a can of powdered eggs in the pantry if you run out of eggs. Of course, fresh eggs are better, but if you have an ice storm you can still make cookies and stay off the icy roads if your egg cartons are empty. My favorite shelf-stable egg product is: OvaEasy
Instant Milk
This is a bonus for every family. I store my opened #10 can of instant milk in the refrigerator so it's ready in a flash if I run out of milk. It's good for two years opened. Check the date on the milk you buy because every manufacturer is different.
Popcorn
Popcorn is a great tummy filler and comfort food in a bad storm. Add some melted butter to popped corn with a smidge of salt and you have a great treat for everyone! You can add other spices as well and flavor the popcorn to your preference.
Dehydrated Onions
I personally rarely buy fresh onions except maybe in the summer if my garden hasn't produced enough yet. I love knowing I can add a scoop of dehydrated onions to taco meat, soups, chili, casseroles, omelets and not have to peel, cut or chop them. I also love stocking 10-12 bags of frozen chopped onions in the freezer, no waste ever.
Lemon Juice
I do buy lemon juice for the refrigerator, but I also buy these packets I use every day and for emergencies: True Lemon Bulk Pack, 500 Count
Cocoa
Can you smell the chocolate cake baking or relish the taste of hot chocolate right now?
Garlic
Now you can buy a HUGE jar like my daughter, Heidi and store it in the refrigerator or buy some fresh garlic.
Raisins
These are great for snacks, muffins, bread pudding, etc.
Spices
Be sure and keep your pantry full of your favorite spices. I can't get by without vanilla, chili powder, and cinnamon. You know the ones you need, right?
Tortillas
I can make my own tortillas with the stuff on this list, except my corn tortillas. Keep a few tortillas on your pantry shelves (check the expiration dates) and a few in the freezer. If you feel so inclined, learn to make tortillas. They taste yummy and fresh!
Chicken Broth
If I have some leftover from cooking a chicken I will freeze it, but I prefer to use: Better Than Bouillon Chicken Base 8 oz. Of course, you will need water. If I see a good buy on canned or boxed chicken broth I will pick up a few for the pantry.
Olive oil/Coconut Oil
We can make so many things with oil. I just added it to the list because we know we need some.
Dehydrated or Fresh Potatoes
We can mash, fry or bake potatoes. I love dehydrated potatoes to add to soups and chowders. No peeling, chopping or dicing. I can add them right from the can to my soups.
Pasta
Who loves spaghetti? Oh, and mac and cheese. Everyone needs pasta in a pantry, right?
Tomato Paste, Flakes or Diced
You can make soups, spaghetti, chili, stews, etc.
Salt
It's all about flavor.
Sugar
I have to have sugar to make my bread, cookies, cakes and to put on certain cereals.
Honey
You can make bread with honey, peanut butter with honey sandwiches, make cookies and all kinds of other baked goods. I only buy honey from Cox's Honey because it's pure, raw honey. Honey is a natural food and is so good for you. Give it a try in place of sugar next time.
Baking soda
I need it for baking muffins, cookies, etc.
Baking powder
I need it for baking, muffins, biscuits, etc.
Cream of Tartar
I know this is a spice, but I need to make my biscuits and play dough for kids.
Canned Meats
If you pressure can your own that's awesome! I buy mine at Costco. I like chicken and tuna with water. I stock up big time when they go on sale.
Wheat
If you can grind wheat and make bread that is awesome. You can also make hot cereal with just the wheat and water to make a wholesome meal. Here is how I make hot whole wheat cereal: 1 cup washed whole wheat berries, 3 cups water, 1/4 teaspoon salt (optional), place all the ingredients in a slow cooker at night for 12 hours and you will have hot cereal in the morning.
Drain off excess water and store unused wheat in the refrigerator. Add a little milk and honey when serving, if desired. You can double or triple the recipe if your slow cooker will hold it. You can add the cooked wheat to many meals as you do rice or quinoa.
Dehydrated Vegetables
Carrots, onions, and celery are always in my pantry. I can throw them in soups and stews.
Salsa and Green Chilies
I can eat these on everything, just saying.
Water
Store as much as your budget allows. We need water to survive and to make most meals out of our pantry stash.
Fruit
Cans of fruit, freeze-dried fruit (longer shelf life), or dehydrate your own for one-year shelf life.
Vegetables
Canned, freeze-dried or dehydrated.
Oatmeal
Typically lasts about 2-3 years depending on the type you buy whether it's steel cut, old-fashioned or instant (quick). Always store these in airtight containers in a cool place.
Cornstarch
We can always use a thickener, right?
Fresh Fruits and Vegetables
This is where a garden would be awesome or a Farmer's Market.
Vinegar
I have written a few posts about the awesome benefits of vinegar. It's inexpensive and has so many uses.  35 Reasons Why You Should Store Vinegar 
Final Word
Let me know if you have ideas to bring back cooking from scratch, we need to keep these skills going. Thanks again for being prepared for the unexpected. If you have time to teach classes to your neighbors, please do it. We will all need to know how to cook from scratch, I promise.
Back To Basics Bread Making by Linda
Back To Basics Emergency Kitchen by Linda
Please be prepared: "Prepare Your Family For Survival"  by Linda Loosli, thank you!