18 Food Processing Plants Burned to the Ground?
While we are watching Elon Musk buying Twitter, and the trial of Johnny Depp, did you know that several Food Processing Plants Burned to the Ground? What is going on?
I was concerned seeing several people posting pictures and whatnot on social media about food processing plants burning, or otherwise destroyed. Well, I did some research to get to the bottom of it.
People were questioning on social media why the news reporters were not making a big deal about all these fires. Okay, let's see what really is going on. Is it as BIG as people are making it out?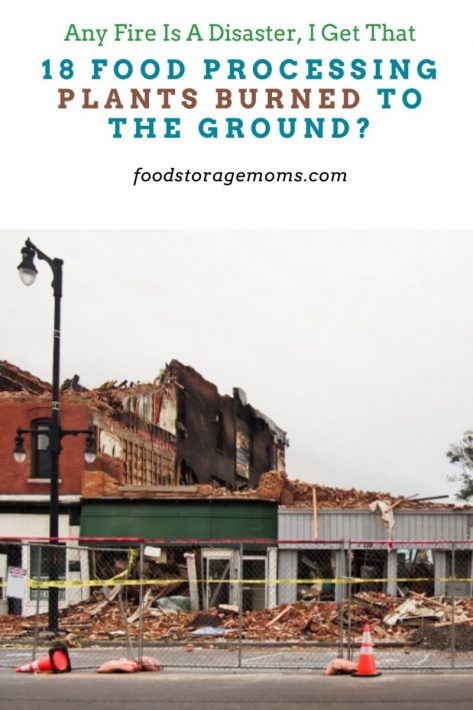 Food Processing Plants Burned to the Ground
These fires have been devastating for local communities, disrupting crucial food production, and leaving thousands of workers without jobs. While the cause of these fires is not yet known, many experts believe that it may be related to issues like poor maintenance and outdated equipment.
Regardless of the cause, these fires are a major concern for all of us who depend on the food processing industry for our livelihoods and to provide much of the food we eat every day. Here are some of the biggest fires that have occurred this year:
In January 2021, a fire at a chicken processing plant in Georgia killed five workers and injured dozens more.
In February 2021, a fire at a meatpacking plant in Nebraska killed one worker and left another with life-threatening injuries.
In March 2021, a fire at a bacon processing plant in Iowa killed two workers and injured four others.
In May 2021, a massive fire broke out at a food processing plant in Texas, destroying the facility and leaving over 1,000 workers without jobs.
A few weeks later, another large food processing plant in California was completely destroyed by a fire, resulting in hundreds of layoffs.
And just recently, two more food processing plants in Ohio and Pennsylvania were ravaged by fires, leaving thousands of workers unemployed.
Food Processing Plant Conspiracy
There is a lot of speculation as to whether or not these food processing plant fires are part of a larger conspiracy. Some believe that the fires are being started intentionally to sabotage the food supply chain and create chaos. Others believe that the fires are simply the result of negligence and poor safety standards.
Is The Conspiracy True?
Here is a good reference: FACT FOCUS: Food Plant Fires Fuel Conspiracy Theory by US News
I quote, "On Monday, the National Fire Protection Association pushed back on the rumors in a story in its magazine titled "Nothing to See Here." "Susan McKelvey, an NFPA spokesperson, noted in an email that national data show the country averaged more than 5,000 fires annually at manufacturing and processing facilities, not just food plants, between 2015 and 2019. She estimated that there have "been approximately 20 fires in U.S. food processing facilities in the first 4 months of 2022, which is not extreme at all and does not signal anything out of the ordinary."
Additionally, food processing plant fires are not uncommon. In fact, several dozen occur every single year, and there were over 2 dozen that happened back in 2019 (3 years ago)!
There could be many reasons for these fires, poor maintenance, poor training, fewer employees, and thus less supervision.
According to a 2019 report from the USDA, the U.S. has 36,000 food and beverage processing plants. Thus, even 18 fires would not cause significant disruption to the food supply.
And, many of the fires that have made various lists, such as the 18 food processing plants burned to the ground, have actually happened in 2021. This gives a false impression that more fires are happening in a shorter time.
What Fires Have Happened in 2022?
While many tweets going around mention 18 fires in 6-months, only 12 of them actually happened in that time frame, and one was in Canada.
Of the fires that did happen in 2022, they did little or no damage and have already been cleared as not suspicious. Here are just two examples:
What is Causing the Food Shortages Then?
The main cause of the food shortages was the COVID-19 pandemic. The virus caused a decrease in production capacity, as well as an increase in demand as people were stocking up on food items since they were preparing more meals on their own at home.
Many food processing plants have had to close down due to workers getting sick or having to quarantine. This led to a decrease in production, and therefore, a shortage of food.
The increase in demand is due to people hoarding food and other household supplies during the pandemic. This has led to empty shelves in many stores across the country.
While the food processing plant fires are not the cause of the current food shortages, they are a major concern for the future of our food supply. These fires underscore the need for more stringent safety regulations at these critical facilities and highlight the need for adequate emergency planning to ensure that we are able to keep our food chain up and running during difficult times.​
How Can We Prepare For More Food Shortages?
If you are concerned about future food shortages, there are some things that you can do to prepare:
Start a garden
This is a great way to have a constant supply of fresh fruits and vegetables. Even if you don't have a lot of space, you can still grow a garden to provide some of the food you need. Check out my posts below to learn more about growing your own garden:
Stock up on non-perishable items
When grocery shopping, always pick up an extra can or two of food. Check out my posts below to learn what you should be stocking up on:
Support your local farmers
Buying food from local farmers helps to support the agriculture industry and can be a great way to get fresh, healthy food. Check out my post: Why You Should Support Your Local Farmer's Market to learn more about it.
I heard today that one of my favorite fruit orchards in southern Utah was going out of business. They were leasing orchard land that is now being converted and developed into residential housing property. There goes agricultural land that provided delicious peaches to families like mine for over 20 years.
Be proactive
The best way to prepare for food shortages is to be proactive. Make sure that your emergency plan includes steps to keep your food supply inventory as complete as possible so you can respond during a crisis, and take advantage of resources like gardening and stockpiling that can help you weather difficult times.​
Report Safety Concerns
If you see something wrong, say something. Report any food safety violations to the appropriate authorities to ensure that these issues are addressed and prevented in the future. You can contact the USDA Food Safety and Inspection Service at 1-888-674-6854.
If food isn't protected during the planting, growing, and harvesting seasons, it could go to waste before it can be processed and delivered to stores. That goes for the birds and animals, besides the plants.
Stay Informed
In order to be prepared for any future food shortages, it is essential to stay informed about events and government policies. This includes following news outlets and social media pages that focus on agriculture and food supply issues, as well as staying up-to-date with the USDA Food Safety and Inspection Service. By being informed, we can all work together to keep our food supply safe and secure.​
Overall, while the fires of 2021 and 2022 have not caused significant damage to our food supply chain, we must be prepared for future outbreaks and shortages. By taking steps now to support our local farmers and food producers, we can help to ensure that our food supply is secure for years to come.
Final Word
Despite the impact of food processing plant fires, we can all take steps now to prepare for future shortages as we all try to learn how to be more self-sufficient. Whether it's supporting local farmers, stockpiling non-perishable foods, or simply staying informed about the latest developments in our food supply chain, there are many ways to help ensure that we have a stable and secure food supply.
What do you think is causing the food processing plant fires? I'd like to hear from you. May God Bless this world, Linda
Copyright Images: Aftermath of Fire AdobeStock_244372635 by debramillet