Back to Eden Gardening Steps
Are you new to gardening, or just don't have a green thumb? Start your vegetable garden with these Back to Eden Gardening Steps to assure you of the best results possible! The Back to Eden Gardening method is the easiest way to start having fresh produce right in your backyard.
What is the Back to Eden Gardening Method
Have you ever seen a wild bush that's blooming with berries? Nobody weeds or waters these wild berry bushes, but they still grow and produce lots of fruit we can enjoy. Well, with this method, you can have fresh produce that grows without all the blood, sweat, and tears.
Those wild berries can grow because nature works its magic without us. Leaves fall from the trees every year which provides natural mulch for the winter to protect plants. Then, they break down into compost. In addition, branches, and even whole trees that die, eventually turn into compost that gives plants an abundance of natural fertilizer and helps hold moisture that's watering the plants even during a drought. In your Back to Eden Garden, you'll use many aspects of this method to create your garden.
With almost no watering, weeding, or tilling, the Back to Eden Gardening Method is perfect for anyone who wants to start a garden the easy way! The Back to Eden Gardening Method is all about gardening the way God does, using nature in its true form. Where I buy my garden seeds: SeedsNow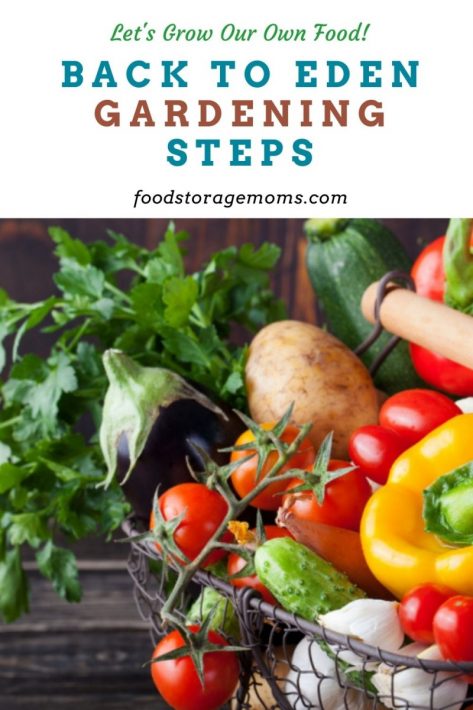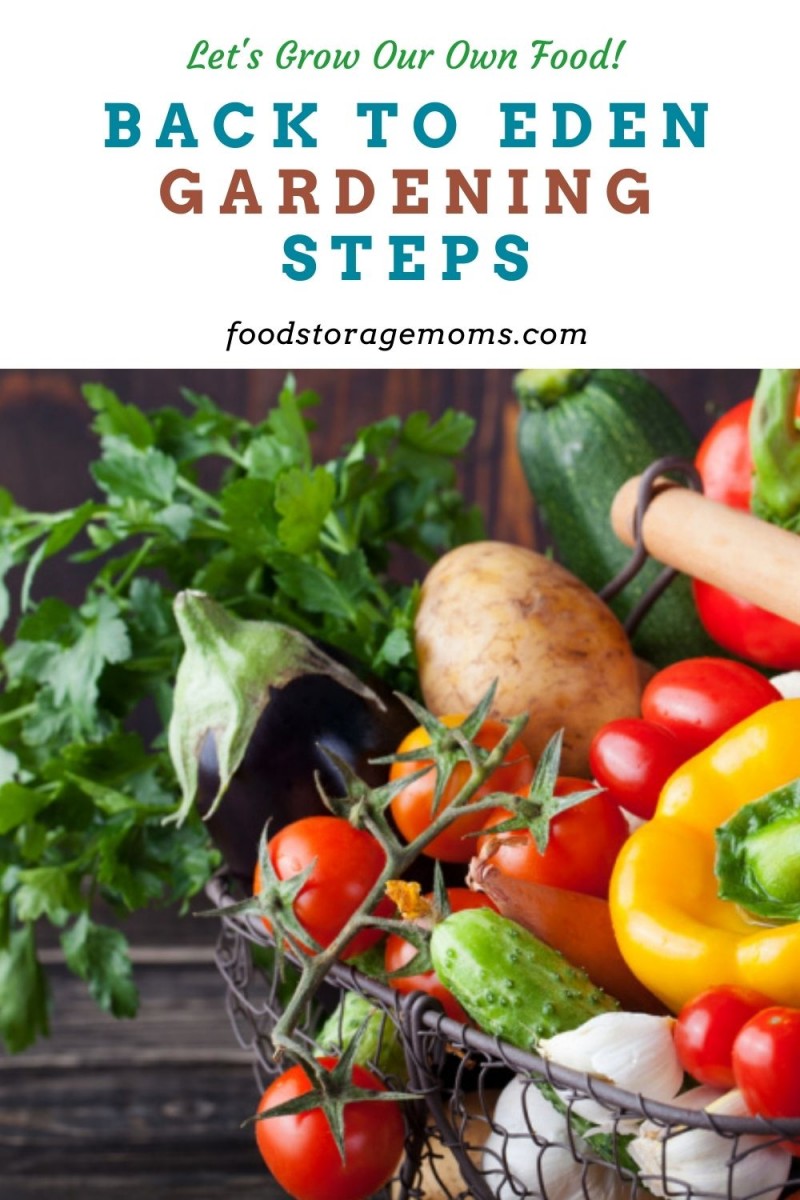 How I store my garden seeds:
Plastic Photo Container and Label Maker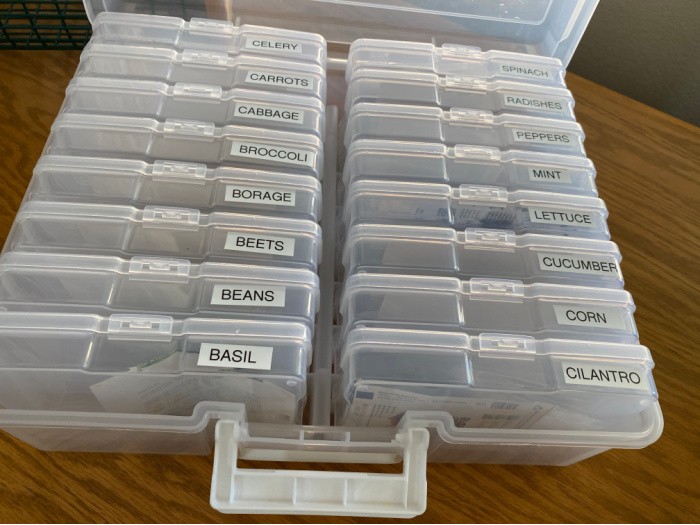 Benefits of Back to Eden Gardening
Using the no-dig approach, a mulching method like you do in the back to Eden Gardening Steps, means lots of benefits. Here are just a few of the benefits of using this method:
Less weeds: Most if not all annual weeds will be eliminated using this method, so you won't be breaking your back pulling weeds all season.
Less watering: You may still need to do a little watering, especially if you haven't had enough rainfall for the week, but this method drastically reduces the amount of watering you'll need to do.
Fewer weather problems: Whether it's a wet or a dry season, this method helps to lock in moisture and keeps the soil from getting too wet.
Back to Eden Gardening Steps
Whether you struggle with getting things to grow, don't have the time to take care of a garden, or just can't get out there to weed like you used to, the Back to Eden Gardening Method is just for you.
As I get older, weeding, tilling, and watering get harder to do, but I love having fresh produce that I don't have to buy from the store. Not only is it better for you, but it's a great way to save money on your grocery bill. And, as a prepper, we should always be able to grow our own foods.
If you want the easiest way to grow a garden, here's how you can do it with these Back to Eden Gardening Steps:
Step 1: Pick a Spot
The first thing you need to do is figure out where you want your garden to be. You can simply cover an existing garden, or start a new one. Either way, you want to remember that plants grow best in full sunlight, so look for an area that gets about 6-8 hours of direct sunlight a day.
Step 2: Cover Your Spot with Newspaper
Next, you will want to cover the spot you chose with newspaper or cardboard. This step helps to smother, and hopefully kill, the grass and weeds from that area. Contact your local recycling center to see about getting these supplies for free.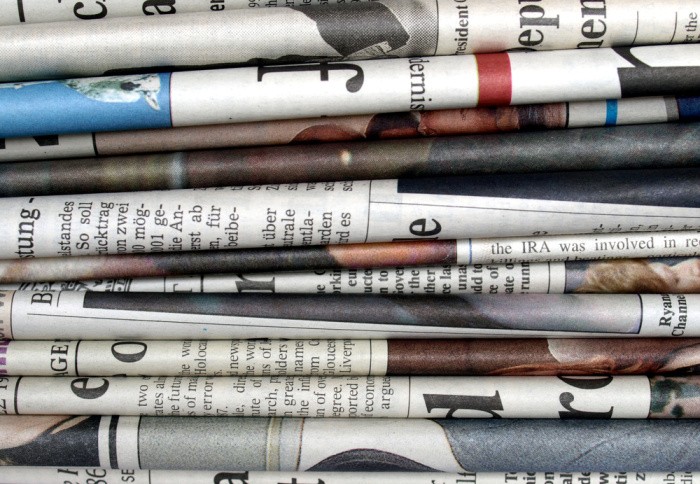 Step 3: Cover the Newspaper
After you've laid your newspaper, you'll want to cover it with 3-4 inches of compost. Compost is basically soil. It's important to lay compost because plants will need to be planted into the soil, not wood chips. If you have good soil in that location, you can use that, or you can use Premium Organic Compost for this step.
Step 4: Add Wood Chips
Then, add wood chips or mulch over your soil. You want to cover the entire area with 4-8 inches of mulch or wood chips. 6-8 inches of mulch helps to suppress the weeds, but it does make it harder to plant. If you have a nice weed-free area, you can go with 4-inches, but go deeper if you have a lot of weeds.
When picking your wood chips, you want to be selective. Do NOT get the large bark mulch that is sold at most garden centers. Instead, you want wood chips made from whole tree branches that have a mixture of sizes and leaves. This mixture is ideal because the chips will compost quicker resulting in a beautiful layer of compost that fertilizes your plants.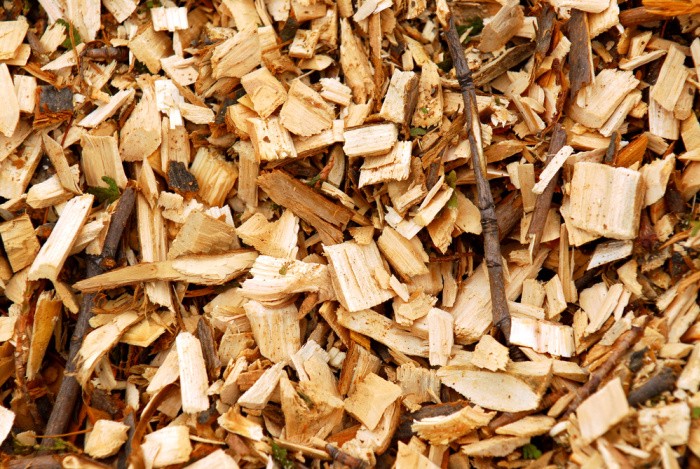 Step 5: Plant Your Garden
Finally, you can start planting your seeds or transplants. I like to rake the wood chips from each row to make them easier to plant into the compost. Then, I plant my seeds or transplants right into the layer of compost. Once they are in the compost, I push the wood chips back so they are covering the planting rows lightly. As your plants begin to grow, you can push the wood chips around them.
Back to Eden Gardening Tips
Use fine mulch if you are planting small seeds like carrots, radishes, or lettuce.
Start with 4-inches of mulch your first year, and add more the following year if you notice weeds.
Newspapers work better than cardboard. Newspaper forms to the ground and doesn't leave air pockets for the weeds to grow.
Water your garden when needed. Stick your finger down into the soil near the plants about 2-3 inches deep. If the ground feels dry, you should water it.
Don't mix or till the wood chips into your soil. If you do, the plants won't have access to the nitrogen and may become sickly.
What Can I Plant in My Back to Eden Garden?
You can plant anything you want in your Back to Eden Garden. However, I would encourage you to grow for survival. Grow what you will eat and grow plants that will provide you with well-rounded nutrition in the event of a disaster scenario. Some ideas include:
Beans– Beans provide you with plenty of nutrients and protein if you can't get meat.
Corn– You can grow sweet corn or corn flour corn.
Squash-Both winter and summer squash are great because they are quick to grow and provide a food source right away.
Cabbage- Jam packed with nutrients, cabbage is a long storing vegetable when fermented.
Potatoes- So easy to grow, potatoes have helped people around the world survive during famines.
Kale- Perfect for soups, stews and salads, kale is packed with nutrients your body needs.
Sweet potatoes- Calorie rich, sweet potatoes offer even more nutrients than regular potatoes. Plus, they are filling.
Lentils-Lentils are protein powerhouses, so they are ideal to grow, especially if you don't have options for other protein.
Onions- Who wants to try cooking their food without any onions? Onions are great in soups, stews, as seasoning and more.
Tomatoes- Tomatoes are in everything from soups and stews to ketchup that goes on your fries.
Spinach– Like kale, these leafy greens are packed with vitamins and minerals and should be incorporated in your garden.
Peas- Freeze or dry your peas to throw into a variety of meals.
Carrots- Packed with antioxidants and minerals, carrots make great snacks, and are great in stews.
Berries-Raspberries, strawberries, and most other berries are all good!
Garlic-Garlic is an essential flavoring for many dishes, and great to have in your garden.
Peppers- I like to grow bell peppers because I love to saute them up in butter.
Cucumbers- Cucumbers are great for pickling, putting in a salad, and eating as snacks.
Melons- Summer isn't summer without melons! Honeydews, cantaloupe, and watermelon are all great to plant.
Herbs- Herbs and spices are great for seasoning.
If you haven't seen it yet, I would recommend watching the Back to Eden Film. You can stream it from Amazon! It's a documentary about Paul Gautschi who is the founder of the Back to Eden Gardening Method. You'll take a walk with Paul as he teaches you everything you need to know about organic gardening methods that can be implemented in climates all around the world!
More Gardening Ideas
I've tried most of the following garden methods and suggestions. You need to check out each approach and see which ones will work in your location with the weather, space, and foods to be produced that best fit your family's preferences:
Final Word
When it comes to preparedness, gardening is a top consideration, along with water storage. Out of all the gardening methods out there, I think this is by far the easiest one to do. What do you think? Let me know in the comments below! May God Bless this World, Linda
Copyright Images: Assorted Vegetables Depositphotos_125518094_S, Wood Chips Depositphotos_4947374_S, Newspapers Depositphotos_3533871_S