Wasps: What You Need To Know
Today, it's all about Wasps: What You Need To Know. Wasps are giant insects with similarities to both bees and ants, although they're not classified as either because they're different from both of those insects in other ways. The closest relatives to regular wasps are hornets, yellow jackets, and paper wasps.
These insects can fly at fast speeds! It's not uncommon to see them zipping around at about 25 mph. If you've ever come in contact with a wasp, there's a good chance that you were scared of it because of how big it looks and how fast it moves when flying through the air.
However, there are a lot of things you may not know about wasps. Whether you're dealing with them in your backyard garden or anywhere else around your property, continue reading to learn more about these insects than ever before.
Wasps: What You Need To Know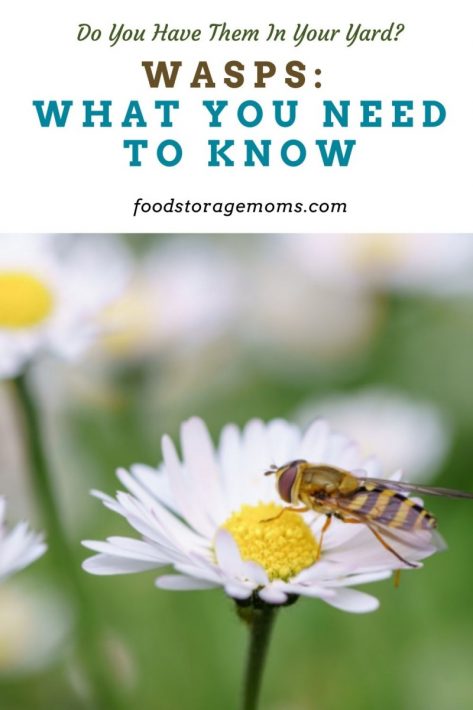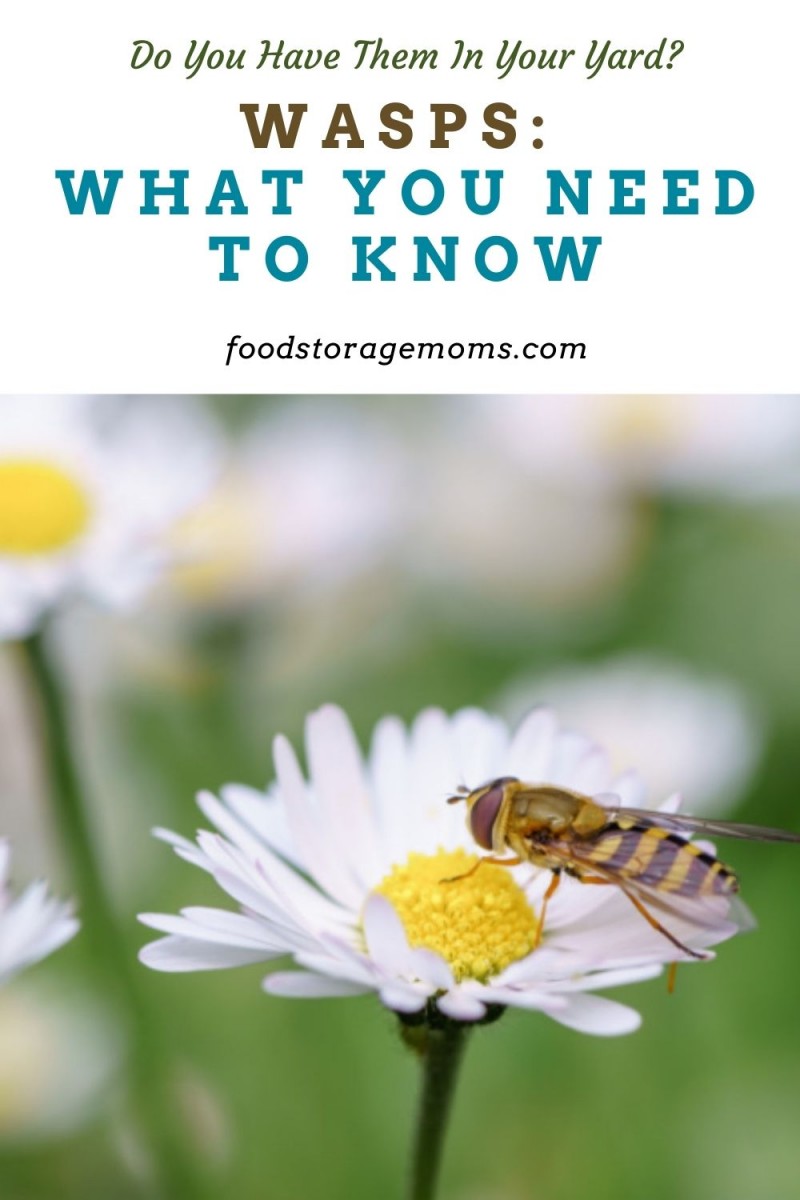 Honey Bees: Everything You Should Know
I purchase all of my garden seeds from this company: SeedsNow
These Insects Live Short Lives
While some people don't like wasps because of their size, appearance, and speed, these insects typically don't live long lives. The average wasp will live for a minimum of 12 days and a maximum of 22 days. However, it's essential to know that there are queen wasps that live a bit longer.
The queen wasps tend to live for up to 12 months before dying, while the workers have a lifespan of less than a month! So, while these insects are annoying to some, it's helpful to know that they don't have a long lifespan like many of the other insects out there.
They're Good to Have Around Crops
When you see wasps in your garden, you may naturally worry that they're going to attack some of your crops and destroy them. However, that isn't the case. Although they're a sight to see, and some people are scared of them, there's much more to these wasps than what meets the eyes.
Wasps are predatory insects that feast on other small insects that can destroy your crops. For that reason, some people choose to keep wasps around as a form of natural pest control.
If you have small insects feasting on your crops, having wasps around could stop that as the wasps will begin eating those insects in no time.
You're probably wondering what types of insects they'll eat. Wasps will often feast on caterpillars, aphids, and arthropods, all of which can eat plant leaves and destroy the crops that you've worked hard to maintain and grow.
Another reason to have wasps in your garden area is that they also eat parasites that can prey on your flowers, fruits, and other plants growing in the garden. Wasps can make a real difference of whether you end up having a successful crop to harvest.
So, if you're dealing with such a problem in your backyard, you may want to reconsider hiring pest control experts to get rid of the wasps. On the other hand, having them around could do your garden some good.
It's something to consider if you're having a serious caterpillar problem or problem with other insects that the wasps will eat and take care of for you.
Probably the most important reason to attract wasps to your garden area is so they can help polinate those desirable plants, particularly flowers and fruit trees. We need these helpers!
Redeo Solar Powered Wasp Trap (I plant Perennial Salvia to attract bees-so put these far away from your flowers)
The Wasps Have a Four-Stage Life Cycle
The life cycle of a wasp is relatively simple. The wasps lay eggs that will eventually hatch and turn into larva. The larva then forms into pupae that will ultimately transform into the adult wasp.
The life cycle takes place relatively quickly. The process begins with a queen wasp that mates and then flies off to start the next colony in a new area that will support her offspring.
It's not uncommon for the queen wasps to start their new colonies on tree trunks and in other heavily forested areas surrounded by trees, plants, and shrubs. It may be the reason you're spotting wasps in your backyard.
If you have plenty of trees, plants, and shrubs, it provides the perfect opportunity for the queen wasp to start the colony by laying eggs that will eventually hatch and transform into adult wasps.
There Are Different Types of Wasps
Believe it or not, there is more than one type of wasp you might experience. When you see a wasp flying over your garden, you never know which type of wasp it might be. Some of the different types include the Asian Giant Hornet, German Wasp, and Red Paper Wasp.
Asian Giant Hornet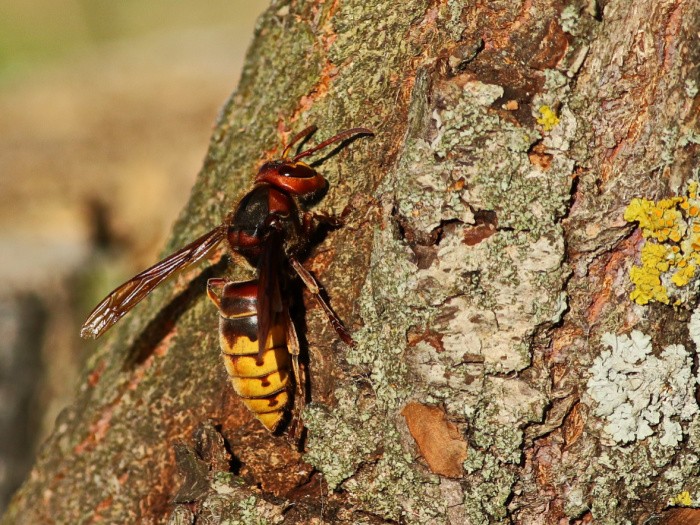 German Wasp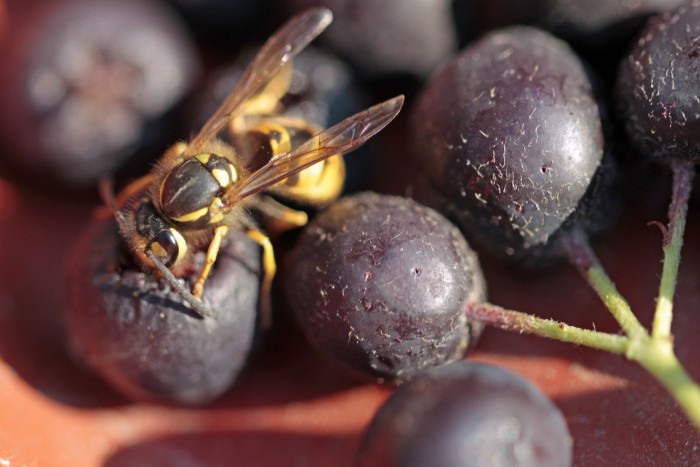 Red Paper Wasp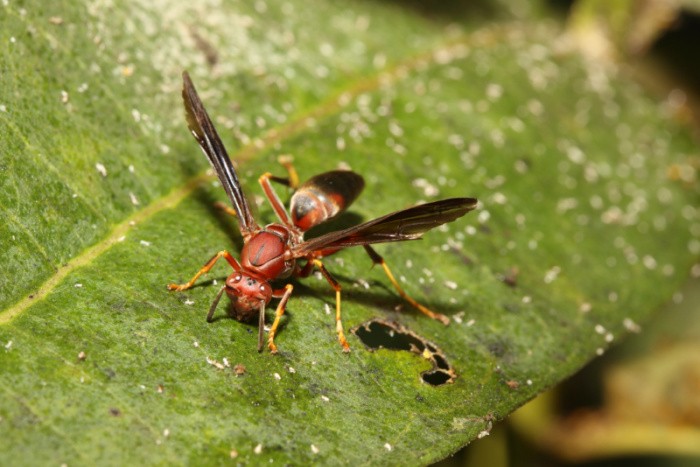 These wasps are all relatively big in size and fast in flying speed, but may differ in color. Some have a red tint to them, while others are brown, black, and even yellow.
There are times when these wasps get confused with other insects, including bees, that can readily sting people.
While bees can sting people, so can wasps, which is another reason people often confuse the two different insects.
Most wasps won't sting humans. However, if they feel threatened, they'll go for it. The wasp's stinger exists for protection.
It uses the stinger to protect itself from prey. If the insect feels like it's in danger, it's going to try to sting anything that gets in its way, so be sure to be careful when you're spending time around these giant insects.
Wasps are known to pass wild yeast from the queen to her offspring when she feeds them. This yeast is then deposited on the flowers of grape plants, which helps the grapes generate the delicious taste and other characteristics of fine wines. Who would have guessed?
Much like humans, these insects can get annoyed with people and other insects around them. If they get agitated, they're more likely to start stinging.
One tip to remember, if you want the wasps to leave you alone when eating outside, about 15 minutes before your mealtime, take a small plate of food, like fruit slices, and place it outside about 20-30 feet from where you plan to eat your meal. This should attract the wasps and keep them busy enjoying their own meal while you have a peaceful meal yourself.
Most Wasp Species Only Sting When the Nest is Threatened
Because there are thousands of different types of wasps, it helps to know that not all of them will sting humans. The ones that don't sting are relatively easier to be around because you don't have to worry so much about the possibility of dealing with a painful sting that can leave you with pain, irritation, and swelling on the body.
If you feel like a wasp is chasing you, it's likely because you're close to its nest. The wasp will try to sting if it feels like someone could potentially disturb the nest and cause harm to the eggs and other adult wasps living in the colony.
Final Word
Wasps are large flying creatures known for their fast speeds and ability to sting if they feel like they're in danger. You might find these insects flying above your garden.
If you were worried that they might destroy your crops, it's good to know that they're great at pest control because they prey on caterpillars and other insects that can cause damage to your crops. They are one insect you should want in the garden since they help reduce the other insect populations.
Now that you know more about these wasps, including what they prey on and how long they live, you can decide if you'd like to keep them in your garden or not. May God Bless this world, Linda
Copyright Images: Asian Giant Hornet AdobeStock_113008758 by dule964, German Wasp AdobeStock_372334412 by TwilightArtPictures, Red Paper Wasp AdobeStock_223915383 by Brittney, Spring Daisy with Wasp AdobeStock_200878758 by Yahdi