What Vegetable Seeds Do I Plant In March
These are the vegetable seeds I plant in March in my raised garden boxes because they can handle the cool temperatures where I live. We are hopefully past the freeze temperatures, but Southern Utah has been known to have snow in April. I recently added some fresh soil and some Earthworm Castings Organic Fertilizer I'm so grateful I had a strong young man in the neighborhood to haul the 23 HEAVY bags to the backyard. I had to make two trips with my Honda CRV, but the people at Home Depot rock for loading the bags in the back of my car. Who needs a truck, right?
I bought Miracle Grow vegetable soil in bags that filled all seven raised garden beds. It's such a great feeling knowing I have the soil and it's prepped ready to plant seeds. I only buy Non-GMO Heirloom seeds. I was hoping to support some of our local nurseries here, but they do not sell them so I ordered them online.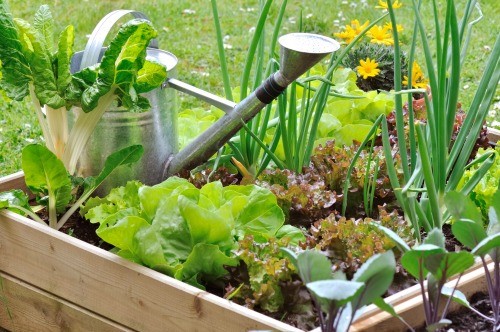 The potato seeds to purchase online are not available yet, but they sell out fast so I will be checking every day for my favorite ones. I purchased my seeds from this company: SeedsNow I'm in Zone 8a for planting temperatures. They have a lot of information on zones so you can check to see which zone you are located in to plant safely. The average last frost for my zone is March 15th, this is why I needed to get my soil prepped this week. Yes, I prepped it last Fall as well.
Plant In March
Basil
Basil will grow just about anywhere. Plant the seeds 1/2 inch deep and about 12 inches apart. These plants can grow very tall, so keep that in mind when planting. Basil grows like a weed so keep on top of clipping the leaves. No worries if you see the top of the plants go to seed, clip them down. I promise they will grow back if the weather is still warm.
Make sure there is no danger of frost before sowing the seeds into the ground. Basil thrives in warmer weather. Basil can be grown indoors year round if desired. Once the plants reach about 6 inches tall start cutting back the tops so they will branch out and produce more leaves.
Beets
You will plant your beet seeds 1/2 inch deep and about 4-6 inches apart with rows 12-18 inches apart. The seeds will germinate in 7-21 days. The temperature required for germination is 50-70 degrees. The plants will grow about 12 inches tall. Once they grow about 4-6 inches high, you will need to thin them to about 1-1/2 inches apart. Beets love cool weather and grow best when the weather is 65 degrees.
Once you see the roots of the beet pop through the ground be sure and mulch around the bases to keep the beets from becoming tough. The greens are ready to eat in about 35 days with the beets themselves take about 60 days to grow from the date of planting.
Bush Green Beans
I buy bush green beans because they are easier for me to handle when I pick them. I plant the seeds directly into the ground when the weather is about 75 degrees. Beans do not do well in wet cold weather. They are subject to mold, just giving you the heads up here. I plant the beans 1-1/2 inches deep, two inches apart and rows at about two feet apart.
I stagger the bean planting because typically bush beans have a good two-week harvest when fully mature. This way I can have green beans all summer. I "thin" the plants so they produce more beans. They are ready to pick after about 50 days when the pods are strong and snap in half when picked and "snapped."  It's so fun to sit around and "snap" green beans before you pressure can them. Of course, fresh green beans rock!
Carrots
I love love love freshly picked carrots. They are easy to grow in the ground by sowing the seeds in a very shallow row about 1/4 inch deep, and they germinate quickly when you keep the seeds moist for a few days. I space my carrot rows about 12 inches apart and thin the plants as needed to about 2-4 inches apart. I try really hard to space them so I don't waste any seeds, but they are so tiny!! Here again, I stagger the planting so I have carrots all summer, or until it gets too hot here in Southern Utah.
Carrots mature in about 60 days, or when the "crown" of the carrot shows up in the dirt. You can pick them earlier than 60 days if you desire. I like young thin sweet carrots.
Cilantro (aka Coriander)
Oh my gosh, my mouth is watering for fresh Cilantro. Here's the deal with Cilantro, you have one harvest so be sure and stagger your plantings. In late winter we can plant Cilantro about 1/2 inch deep every 30 days so you have a continuous crop all summer. The seeds can germinate at 60 degrees, which is awesome for Southern Utah. Space the seeds about 8 inches apart and they will germinate in 10 days. I love seeing the little sprouts!
You can pick the leaves as soon as you see the plants are large enough to harvest. Please remember that some Cilantro will grow to be about 2 feet tall. Once it goes to seed, replant after harvesting the leaves. You can harvest the entire plant. I like to break off or cut the leaves as they grow. Once the weather gets too hot, the Cilantro will not do well.
Cucumbers
I decided to plant seeds this year directly into the ground rather than transplanting some seedlings. The weather is pretty good right now so I planted the seeds 1/2 inch deep and 24 inches apart. They will germinate in about 7-21 days depending on the weather. We need the temperatures to be 75-85 degrees.
One plant per square foot works really well. Here again, I buy bush cucumber bushes because they are easier to handle in my raised beds. This is crazy, but cucumbers can double in size in just one day. Pick daily when you see they are ready to eat. They get bitter when they become too large and pithy. One plant will typically produce 10-20 cucumbers each, depending on the kind you buy.
Lettuce
I plant my lettuce seeds about 1/4 inch deep, and I'm here to tell you it's hard because they are so tiny, and I mean tiny. The seeds will germinate in about 7-14 days if the temperatures are 40-80 degrees. Here again, stagger the plantings so you will have never-ending lettuce. Cut the leaves and most will grow back. Make rows about 12-18 inches apart. Clip the lettuce leaves before they get too large and become bitter.
Lettuce does poorly in hot weather so enjoy it while you can when the weather is cooler. If you plant the "heads" closer they will be smaller but are great for small families.
Spinach
I buy so much spinach throughout the year and freeze it whenever I can for my breakfast smoothies. So when I can plant some seeds, I love it! I plant the spinach leaves about 1/4 inch deep and they are very tiny as well. Spinach is a cool weather vegetable. Space the plants about 3-8 inches apart and thin the seedlings when they start to sprout. The seeds will germinate in a range of 50-85 degrees. Keep the seeds in the rows moist and fertilize with a high-nitrogen product.
Spinach will grow back like lettuce, so keep that in mind. Stagger your plantings so you will have continuous harvests.
Let me know what you plant in March, I would love to hear from you. Here's to being self-reliant. May God bless you and your family to grow a huge harvest!
Copyright pictures:
Garden with water can: AdobeStock_64327107 by Coco