How to Grow Sweet Potatoes
One thing that I can't stress enough is to become self-reliant rather than only relying on grocery stores for your food. A backyard garden is a perfect way to start becoming self-reliant, and learning how to grow sweet potatoes is a great first step!
Before you learn how to grow sweet potatoes, it's important to know those sweet potatoes are not grown from seeds but from slips. You can buy slips online, or you can use slips from a sweet potato you bought, or one from your garden.
Why Grow Sweet Potatoes?
Sweet potatoes are one of my favorite crops to grow. Not only are they delicious, but they are healthy and easy to grow. If you aren't sure if you want to grow sweet potatoes in your garden, here are 4 reasons why you should:
#1 Nutritional Value
Beyond being sweet and delicious, sweet potatoes are super healthy for you. Packed with nutrients, sweet potatoes have helped many survive famines throughout history. Take a look at what a sweet potato has to offer you:
Beta carotene- eye health
Vitamin C-healthy immune system
Fiber-digestive health
Manganese- Crucial for healthy bones and absorbing calcium
Potassium- Needed for your heart
Not only do sweet potatoes provide a plethora of vitamins and nutrients, but they have been proven useful in helping diabetics control blood sugar levels and insulin resistance. The nutrient profile of a sweet potato promotes heart health, good digestion, a strong immune system, and enduring eyesight.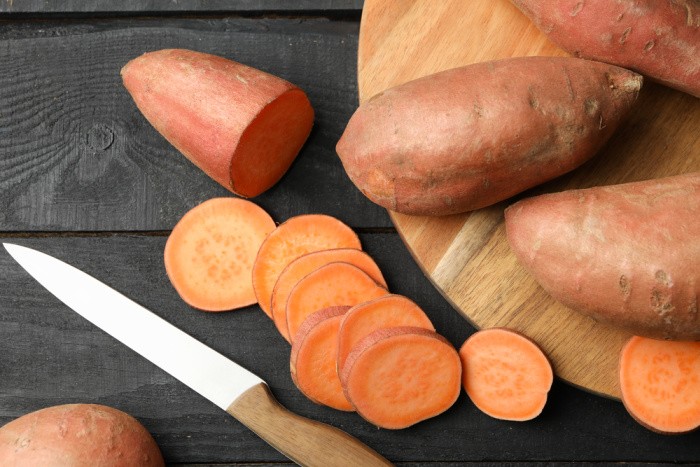 #2 Climate-Friendly
Although sweet potatoes need warm weather to grow, they can grow just about anywhere. If you grow them in climates that remain warm year-round, they make great perennial plants. Additionally, if you grow them in cooler areas, they are productive annual plants.
#3 Easy to Grow
Sweet potatoes really aren't too picky when it comes to growing them. They prefer loose rich soil, but can do well with less. Even though they need regular moisture, they can endure drought conditions and get back to growing once it starts raining again, if that's your main source of water for the plants. A consistent watering routine from your hose or sprinklers adds that confidence the plants will do well. Pretty much the only thing sweet potatoes can't tolerate is cold weather. 
#4 Long Storage
Sweet potatoes are one of the best foods for storage that we can grow, and as a prepper, this is great news! In fact, after harvesting, you can store your sweet potatoes for 3-6 months. This means that if you live in colder climates, you'll have fresh food even during the winter months.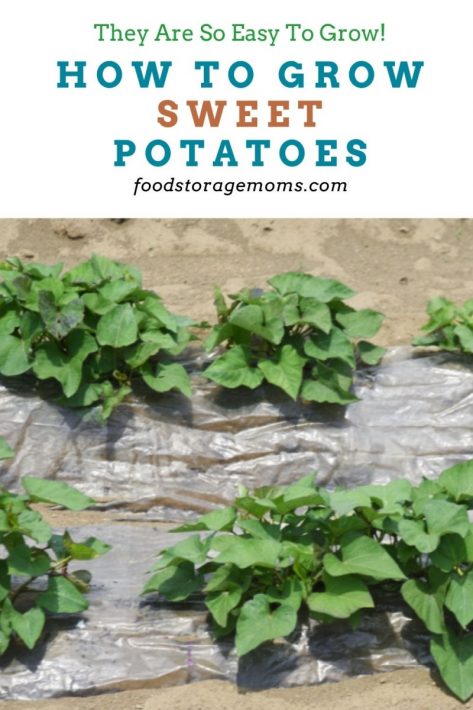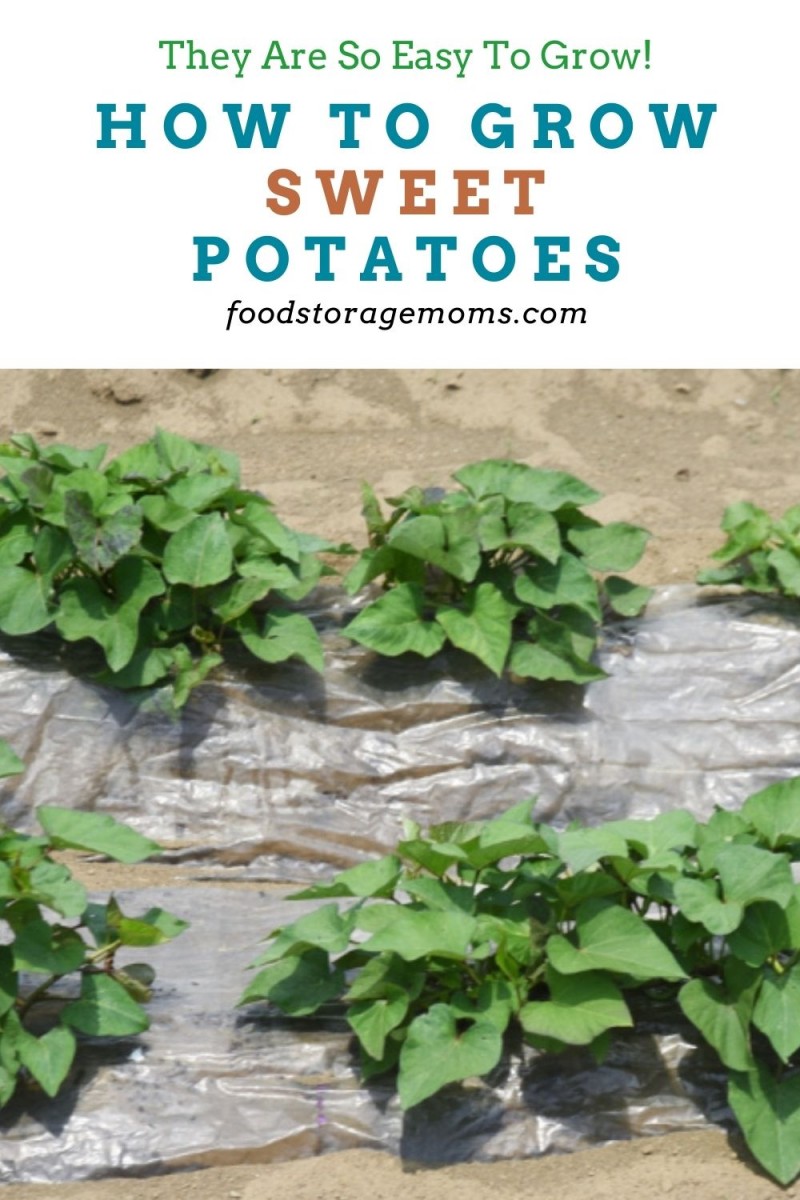 Recommended Sweet Potato Varieties
If you are looking for the fastest growing sweet potato varieties, you'll want one that has orange flesh, but you could consider other varieties as well. Here are some of my recommendations that take 90 -100 days to harvest:
Beauregard– This variety is from Louisiana, but can grow in the northern states as well. It has dark red roots, dark orange flesh, and stores well. It can be harvested in about 90-days. 
Centennial– The centennial is the leading variety in the U.S. Its color is similar to a carrot, and it's a good variety for those who live in the north. You can harvest this variety in about 100-days. 
Georgia Jet– This variety has a red skin with a deep orange flesh. It's an extremely fast growing type for the northern climates and can be harvested in about 90-days. 
Jewel– The jewel variety is a disease-resistant sweet potato. It has a copper colored skin and orange flesh. 
Stokes– This variety is a vibrant purple sweet potato. It's packed with extra health benefits and is great for savory dishes and mashes. 
How to Grow Sweet Potatoes
These plants originated from tropical areas, so it's important to wait to plant your sweet potatoes until the soil is warm. Don't plant them outdoors until the temperature of the soil reaches 60℉. They need soil temperatures of 60℉ to 85℉ to thrive. I actually love the look of the plants as they grow.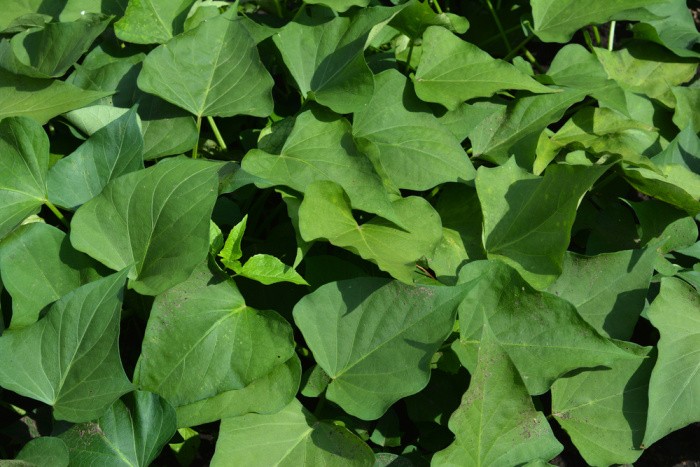 Follow the steps below on how to grow sweet potatoes:
Step 1: Select a Planting Site
First, you'll need to determine where you'll plant the sweet potato slips. Sweet potatoes thrive in average well-drained soil that gets lots of sunlight. 
Sweet potatoes need full sun to part shade. If the soil where you live is too dense or rocky, consider growing them in a raised bed.
In addition to lots of sunlight, choose well-drained soil that is high in organic matter. Sandier soil is better than dense or clay soil.
Step 2: Fertilizer
Sweet potatoes do need balanced nutrition, but they are not heavy feeders. In fact, overfeeding tends to promote the growth of foliage rather than the tubers. To give your plants the best chance, add compost to the beds before you plant your sweet potato slips. Or, you could apply a liquid fertilizer before planting.
Step 3: Plant the Slips
Once you've prepared your soil, it's time to plant your sweet potato slips. Position the slip so that the bottom half is covered with dirt while the top half with all the leaves is above ground.
You want to plant the slips about 12 to 18 inches apart from each other with 3 to 4 feet in between each row. The vines of the plants will spread and fill in, so it's important to give them plenty of room.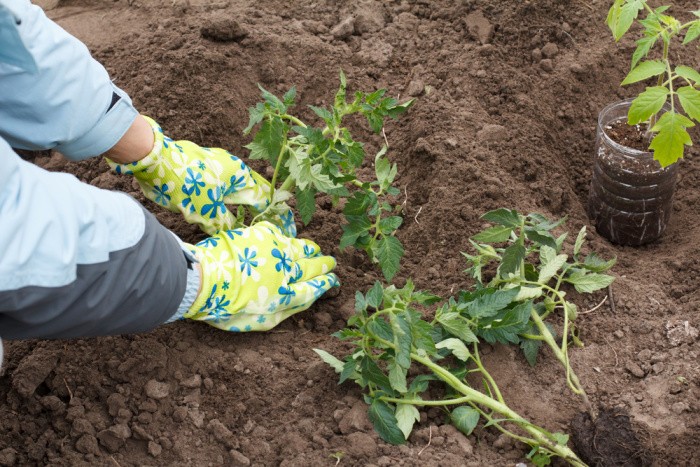 Step 4: Water Your Plants
Once your slips are in the ground, it's best to water your plants with about 1-inch of water. You want the plants to be evenly moist. Continue to water your plants once a week with 1-inch of water. During the final 3-4 weeks, don't water your sweet potatoes unless you are having a dry spell.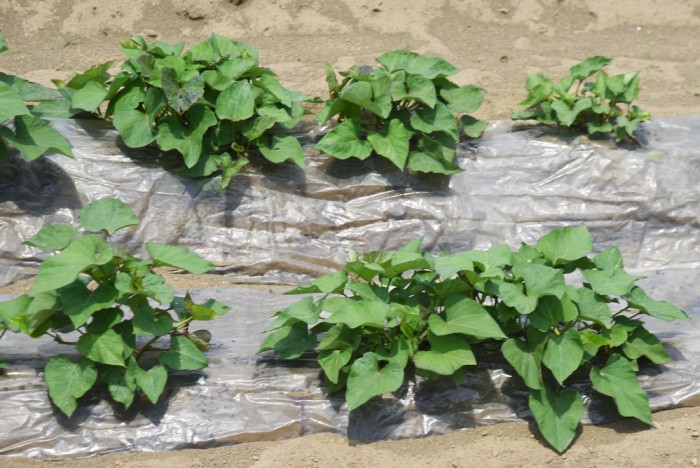 Step 5: Harvest Your Sweet Potatoes
Finally, it's time to harvest your sweet potatoes. Sweet potatoes can be harvested when the leaves and ends of the vines have started turning yellow, which is about 100-days from the day you planted them. 
How to Harvest Sweet Potatoes
When harvesting your sweet potatoes, you want to avoid injuring the tubers. You'll want to harvest your sweet potatoes before the first fall frost. Follow these steps to properly harvest them:
Loosen the soil around each plant. Loosen 18 inches around and 4 to 6 inches deep. 
Then, cut away some of the vines. 
Pull up the plant's primary crown and dig up the tubers by hand. 
Be careful when handling your sweet potatoes as they can bruise easily. 
Shake off any excess dirt, but do not wash the roots.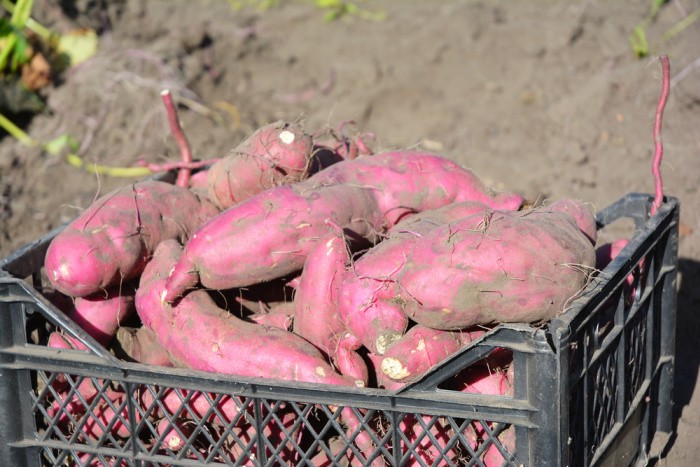 Can I Plant Sweet Potatoes from the Grocery Store?
You can try it, but I wouldn't recommend it because the only way to ensure you have disease-free roots is to buy slips from a reputable seed supplier. Most sweet potatoes grown for consumption are usually planted using purchased slips. 
How to Store Sweet Potatoes
Sweet potatoes can last for several months if stored properly. If you want long-term storage of your sweet potatoes, follow these steps:
Cure the sweet potatoes
This step is crucial if you want them to last through the winter. Simply lay your tubers carefully and let them dry out for 10-days to 2-weeks in an area with high humidity. A temperature of 80℉ to 85℉ with humidity of 80% are ideal conditions for curing sweet potatoes. 
If you want to cure them indoors, you'll want to store them near a running furnace, covered with a cloth to enhance the humidity. 
Brush Off Remaining Dirt
After you have cured the sweet potatoes, brush any remaining dirt off of them. Do not wash them. The curing process dries them out, and you don't want to add moisture to your potatoes. Wash them before eating them. 
Pack them in Boxes
Next, pack them in paper boxes or wrap them in newspaper and store them in a cool, dark pantry or closet. You want to keep them at a temperature of 55℉ to 60℉, if possible. Do not refrigerate them for longer than a few days as they are susceptible to cold injury. 
Sweet Potato Recipes You'll Love:
More Gardening Tips:
Final Word
Now that you've learned how to grow sweet potatoes, let me know if you have grown them, what variety you planted, and how things went? I've always LOVED growing them, but I wish more of my family and friends enjoyed eating them like I do. May God Bless this world, Linda
Copyright Images: Sweet Potatoes Depositphotos_353851994_S, Sweet Potato Growing Depositphotos_464522700_S, Sweet Potato Slips Depositphotos_354754164_S, Cultivating Sweet Potatoes Depositphotos_511999194_S, Sweet Potatoes in Box Depositphotos_365178974_S, Sweet Potatoes AdobeStock_146104119 by WavebreakMediaMicro