How to Stay Organized + Free Calendar
It's almost a New Year and that means it's time to get a little more organized. Why run to the store to spend money to get organized? I have a true treat for you today!
I have a free printable calendar for you! I also have a few tips to help you use a calendar to stay more organized. Keep reading these tips to discover how a printable can help you say more organized.

How to Stay Organized with a Free Printable Calendar
Getting organized may be one of your bigger goals each year. If this is the case, then you may want a few tips to help yourself out. Here is how to stay organized with a free printable calendar. 
If you 100% know that this event is going to happen, then it's safe to say you can use a pen. However, most people do enjoy being able to erase an event that is no longer going to take place.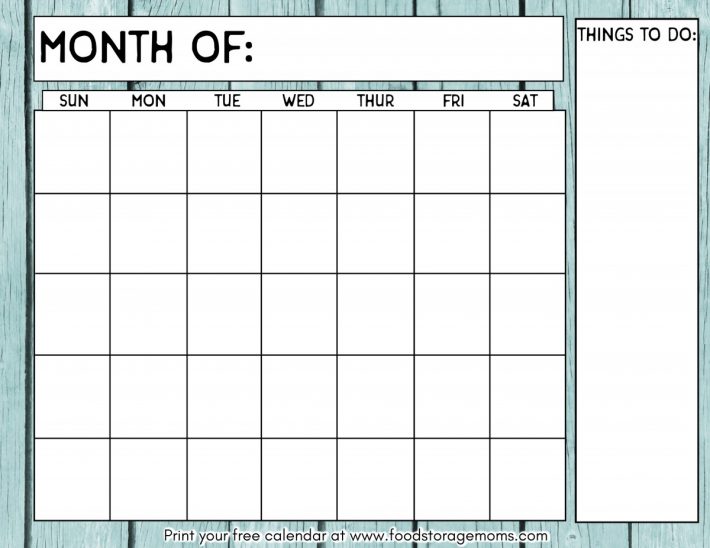 Here is the printable for you to print each and every month each year when you need one. You will print 12, one for each month, they are LETTER SIZE, and easy to print on your regular printer paper every time. You fill in the month and the days for each separate month since they change each year. Grab some cardstock if you have some: Food Storage Moms Calendar
Keep the Calendar in View
You have a better chance of using the free printable calendar when it's in plain view. Put it somewhere that you can see it every single day. You can have a command center in your home and use this calendar to stay organized. I have mine taped to the wall right next to my monitor, so easy to see when needed for reference.
A command center is a place in which a person keeps all of their important information. Doctor appointments, practices, family get-togethers, and whatever else may be going on can be tracked at the family command center.
Write Events Down in Pencil
When you write something down in a pen, it's hard to erase, especially when you are using a calendar. One tip I'd like to pass onto you is to write the events down in pencil. Get a few pencils and keep them close, so that when you need to write something down, you can!
You may want to consider using colored pencils to highlight various events or activities. Use one color for the most critical things to be done, and a different color for those "hoped for" events. Note that having colors may make it more difficult to erase if needed.
Use the Calendar
One last tip for how to stay organized this year, USE THE CALENDAR. Commit yourself to stay organized and use this calendar on a daily basis. I mean, you are going through the trouble of printing it out, you might as well use it!
Save Yourself Some Money
Let's be honest, most people enjoy saving some money! You can print this printable out and enjoy a free calendar year after year.
You can write in the month and the dates, which is easy to do. So, keep this in mind when you're looking for ways to save money this year. Print a whole year's calendar out for free and enjoy it! 

Final Word
I'm looking forward to being more organized during this year and each new year going forward, what about you? I know this calendar is sure to help me stay organized. What tips would you add to this list? May God bless you this New Year, Linda.