31 Tips To Making Bread Like A Pro
Do you love the smell of homemade bread? Well, I will teach you 31 tips to making bread like a pro today. It's easy, I promise. Making bread is magical to most people who are willing to give it a try. I raised my daughters on homemade white bread. I must admit they wanted the bread their friends had that were large oversized slices of a famous brand of white bread.
Well, those loaves were way too expensive and I grew up on homemade bread. It's been a way of life for me. White bread is the easiest bread to make, in my opinion. When I was first married my parents gave me a hand wheat grinder. Well, I was very thankful for it, but talk about work to get a few cups of freshly ground whole wheat flour. Yep, I stuck to my white bread recipe. I used a large silver bowl to mix my bread and I kneaded the dough on the counter.
My girls grew up playing with bread dough like it was play dough when I would stand there making bread. They would work the dough into different shapes and we would bake their creations. After my daughters married my grandchildren soon learned to make those bread dough creations as well.
I saved money for a Bosch bread mixer.  That was the beginning of my efforts to teach friends and family how to make bread. I am on my third Bosch Mixer right now. My second Bosch,  I gave to my daughter and I bought the latest model. I teach classes so I need the newest one to show people. Eventually I was able to purchase a wheat grinder that was electric. WOW, what a difference! I could grind 20 cups whole wheat flour very quickly.
31 Tips To Making Bread Like A Pro:
1. Use fresh flour, if making white bread the flour cannot be older than 6-12 months. I recommend bread flour when making bread because it has more gluten in it. That's the same flour I use for dinner rolls, cinnamon rolls, and breadsticks. Here is my no-fail white bread recipe:
Linda's No-Fail White bread recipes
4 Cups Warm Milk
8 Tsp. Saf Instant Yeast
4 Eggs
½ Cup Oil (I use olive oil)
3 Tsp. Sea Salt
1 Cup Sugar
1 Cup Warm Water
13-14 Cups White Flour
Instructions:
I start with a Bosch Mixer although you could make this in a bowl. I put the yeast, warm water, salt, oil, and sugar in the bowl. I then add the eggs and lightly mix it in the Bosch so the eggs do not "cook". Then I add the warm milk and flour slowly. I continue to add flour until the bread dough pulls away from the sides of the Bosch bowl. I knead for about 7-8 minutes. I place the dough in a greased bowl and cover with plastic wrap. I let the dough rise until double. I punch down the dough and make into loaves and place these in greased pans (I make seven-1 pound loaves). I let it rise once again (using the same plastic wrap) until it doubles and then I bake them at 350 degrees for 27 minutes. I lightly butter the tops of each loaf after baking and remove from pans. White bread by Linda
2. Use only freshly ground whole wheat flour, store the excess in the freezer. I do not care for the red hard wheat flour that's been sitting on the grocery shelves for months. I only buy hard white wheat, it makes a softer bread that's not as strong of a flavor as the old whole wheat bread "bricks".
3. Use fresh yeast, I only use SAF Instant yeast-store in the refrigerator what you will use in the next month-the rest goes in the freezer.
4. Use fresh wheat gluten-store in the refrigerator what you will you in the next month-the rest store in the freezer.
5. Use fresh dough enhancer-store in the refrigerator what you will you in the next month-the rest store in the freezer.
6. I scoop my flour, some people say to use a spoon and scoop by spoonfuls into the measuring cup-nope that's not going to work for me.
7. Use dry measuring cups for dry ingredients.
8. Use a liquid measuring cup for liquids.
9. Get a good bread knife, I am talking about get a very good bread knife with serrated edges. In fact, get two. You can never have too many bread knives ready to go at your house. I just took one into a store to get it sharpened and its on its last leg. Hopefully it will last another few months. I have one of these: Wusthof Classic Ikon 8-Inch Bread Knife, Black
 but I also have one of these: Zwilling J.A. Henckels Twin Four Star 8-Inch High Carbon Stainless Steel Bread knife
 Please note, only cut on wood cutting boards or you will dull your knives big time.
10. Buy a large silver bowl to mix your bread if you cannot afford a bread mixer yet. You will save money by making bread. Typically in one year just by making your own healthy bread at home you could possibly save enough to buy a good quality mixer. Each week put a few dollars in a jar to save for that bread maker. I do not recommend a Kitchen Aid for bread making. I have seen the motors burn out even on the 6 quart ones. I recommend a Bosch, period.
11. Some people use a thermometer for making bread, I do not. I have one, I just don't use it. If you decide to use one, especially if making natural yeast bread, get the the temperature up to 170-195 degrees in the bottom of the loaves. You will need to determine the temperature depending on the size loaves you make. Practice makes perfect. If you are just learning to make bread this might help keep your bread from being under baked or burning the bottoms of the loaves. I only make one pound loaves. The pans are hard to find, but I can't make those large loaves my mom used to make. We don't eat that much bread.
12. This might be an old wives tale but I only make bread on sunny days.
13. Buy bread bags, they are cheaper and fit you loaves perfectly. These are the ones I buy: Inteplast PB054515 15″ Length x 5″ Width x 4.5″ Gusset, Medium Bread and Bakery Poly Bag (Case of 1,000)
 (they are FDA approved) or you can buy smaller amounts:Bread Loaf Bags Pack of 100 with 100 Free Bread Ties!
 (these include ties and are FDA approved as well).
14. Some people say to wait 20 minutes after bringing out your hot warm loaves of bread to cut….nope I always have a slice cut almost immediately upon removing the loaf from the hot oven. Yep, the butter is ready to slather on a hot thick slice. It's what we do at my house. Sometimes I will take a hot loaf to a neighbor because we all know nothing beats hot bread from the oven, right?
15. Place your hot loaves on a rack to cool. I use a cookie rack or whatever you want to call it. The racks will keep the bread from sweating and cool down quicker.
16. I use a small baggie (I put my hand inside) to scoop a bit of butter to coat the top of my loaves while still warm from the oven. I like a soft moist crust.
17. Cover your bread with a wet towel while it rises and it will keep your bread from drying out, sometimes I just use greased plastic wrap.
18. If the bread cracks on the sides it means your oven is too hot or the dough is too dry (I have a squirt bottle nearby when I make bread).
19. Never let your pans touch each other in the oven or the side of the oven, the bread will not bake evenly.
20. You can never knead the bread too much, in my opinion. Doing it by hand takes a long time and can wear you out.
21. If the bread has holes in it after baking it just means we didn't get all the air out of the dough, just punch it down more next time, it still tastes yummy.
22. If your bread tastes like yeast, I call it yeasty, that means we let the bread rise too long (I can make bread in 3 to 3-1/2 hours-start to finish-don't let it sit on the counter too long).
23. If the bread crumbles easily after baking it means we used to much flour or we didn't mix or knead it enough.
24. If your bread is doughy on the bottom it's because we need to get the loaves out of the pans as quickly as possible to cool on racks.
25. If the bread has too much crust it's caused by the oven temperature being too low or we didn't let the bread rise long enough.
26. When I make my no-fail whole wheat bread, I am a dumper. Here is that recipe: Recipe by Food Storage Moms.
27. Store as many of the ingredients as you can in one place like this: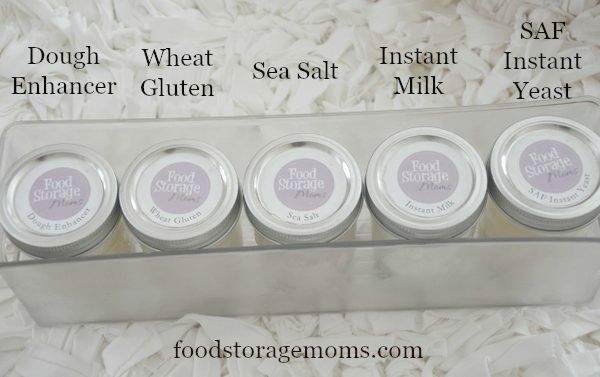 I bought this refrigerator container and put my ingredients in half pint jars with labels. I store these in my refrigerator. I have to streamline things or I wouldn't want to make bread. Okay, I still would still want to make bread, but this makes it easier for me.
28. I punch my bread down after rising and cut it with a pastry cutter: OXO Good Grips Multi-purpose stainless steel scraper & chopper
 into 7 equal portions (white bread recipe) (8 equal portions for my whole wheat bread recipe).
29. I roll the dough portions into a rectangle with my hands or a rolling pin and fold them into thirds then I tuck the ends under and place the loaf into a greased bread pan.
30. If you poke the bread dough with your finger and the impression stays that means the bread is ready to bake immediately. If it pops back up let the bread rise a little longer.
31. Be sure and grease the bowl you are using to make bread by hand so the dough doesn't stick to the side. Consider letting the finished mixed dough rise in that same bowl.
Please let me know if you love making bread as much as I do. I want to hear your tips on making bread. Thanks in advance for sharing.
My Favorite Things: