Bake Bread Three Different Ways In Three Ovens For Survival

I have three ways to bake bread in different ovens for you today. I always like to "practice" using my emergency equipment to make sure all valves work, etc. I use my Sun Oven all year long, I must add. It is by far the best purchase of this type of equipment I have ever made. I would highly recommend buying one. You can camp with it as well. I know church groups that take 8-10 Sun Ovens to use just for their cooking and baking of meals. Remember, with a Sun Oven you must use non-reflective pans. The reason you need non-reflective pans is to make sure you do not reflect the sun off the pans. I could not find any one pound size pans, therefore with the Sun Oven, I use my 1-1/2 pound size pans.
With the Camp Chef, it doesn't matter what pan "finish" you use for that oven. The only thing with the Camp Chef Stove/Oven is you must remove one rack, which is really not a big deal. One thing about this oven, you must keep an "eye" on the temperature. They are a little tricky to keep at the correct temperature. Regardless, I would highly recommend one of these. The stove top (with a griddle) is perfect to cook pancakes, hamburgers, etc. You can bake casseroles, bread, cakes, etc. in the oven below. The Camp Chef can be used with the small propane tanks, as well as the large propane tanks. Additional adapters must be purchased depending on which model you purchase.
Of course, we all have our conventional ovens inside our homes, but I really want to show you the difference in how the baked loaves look. Do I love making bread, but then who doesn't love a hot a slice of bread right out of the oven? My daughters make beautiful loaves….I am quite jealous of them! LOL! I have been making bread for at least 50 years now…wow….and my loaves are not that pretty. But they taste great!
Here are the four loaves. The first being the Sun Oven loaf. The next two were baked in my home oven. The last one on the right was baked outside in my Camp Chef Stove/Oven with propane. Here are the loaves (above) BEFORE baking them in the different cooking devices.
My three favorite ways to bake bread: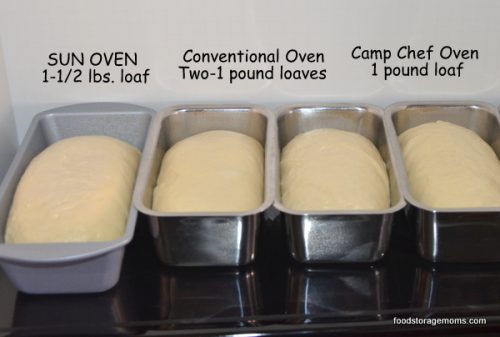 I love to bake bread in my Sun Oven:
Here is the Sun Oven….you cannot go wrong with this one. I use it year round….Sometimes I have two going at the same time.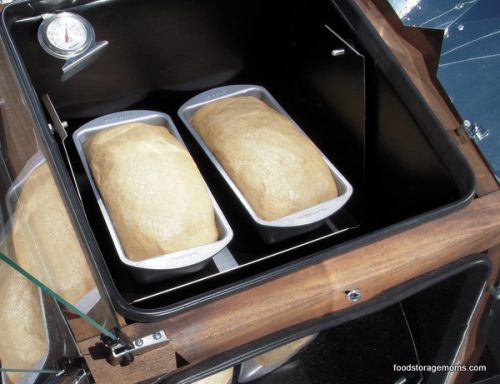 Here is a Camp Chef which is perfect to bake bread: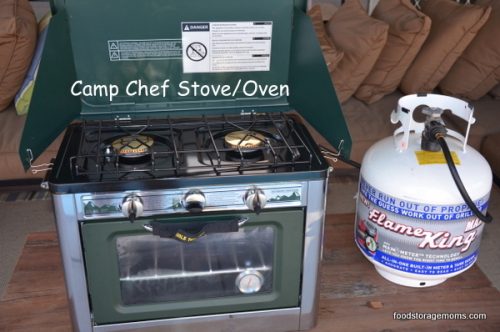 This is the Camp Chef with the large propane tank attached. When you turn to ignite the flame in the oven you need to remove the lower shelf in the oven, open the oven door, as well as opening the stove top.
Here is the loaf of bread baking. You could actually bake three to four loaves at a time depending on the size of the pans. I hope this post gets you excited to be prepared for the unexpected.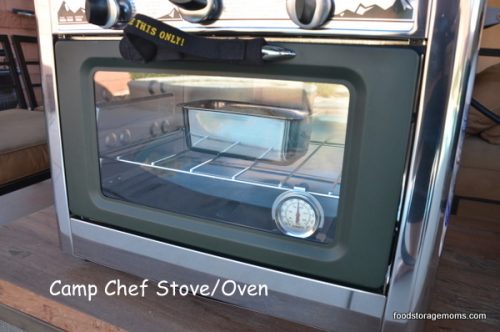 Camp Chef:  Camp Chef Website.
Three Ways To Bake Bread In Different Ovens
Serves: 6-8 loaves
4 Cups Warm Milk
8 Tsp. Saf Instant Yeast
4 Eggs
1/2 cup Oil (I use olive oil)
3 Tsp. Sea Salt
1 cup sugar
1 cup warm water
13-14 cups white bread flour
 Instructions:
I start with a Bosch Mixer although you could make this in a bowl. I put the yeast, warm water, salt, oil, and sugar in the bowl. I then add the eggs and lightly mix it in the Bosch so the eggs do not "cook". Then I add the warm milk and flour slowly. I continue to add flour until the bread dough pulls away from the sides of the Bosch bowl. I knead for about 7-8 minutes. I place the dough in a greased bowl and cover with plastic wrap. I let the dough rise until double. I punch down the dough and make into loaves and place these in greased pans (I make seven-1 pound loaves). I let it rise once again (using the same plastic wrap) until it doubles and then I bake them at 350 degrees for 27 minutes. I lightly butter the tops of each loaf after baking and removed from pans
PRINTABLE bread recipe above: Recipe by Food Storage Moms
PRINTABLE bread recipe: Recipe for two (same recipe above but cut down for two loaves)
This post may contain affiliate links, including Amazon.com. Using links to these sites means I may earn a small percentage of the purchase at no extra cost to you.