The Best Baked Egg Foo Young In The World
This is the best-baked egg foo young in the world, I promise! This is a recipe that's been modified over the years by myself and everyone else in the world. I used to fry the scoops of veggies with the egg mixture in a little oil. I absolutely love egg foo young with the gravy that my mom used to make and we would drizzle it over the fried egg patties. These have a little crunch from the onions, water chestnuts, and celery. If I could make them without meat I would like them even more often.
My husband is a meat lover so I do add whatever extra meat that is cooked, canned or leftover from another meal to the mixture. This recipe is basically a quiche, but with a lot more vegetables and chopped water chestnuts that give it a different flair than a regular breakfast quiche. It's all about the crunch for me. And the gravy, oh my goodness I love the gravy!
This is what it looks like in a 9-inch by 13-inch pan before baking. It is so easy to make and so yummy! The most important vegetables I like to use are water chestnuts, celery, and onions. You then add whatever meat you prefer, or make it vegetarian. You could also substitute OvaEasy eggs for the fresh eggs.
This recipe is great when you have a little meat leftover and some vegetables that need to be used up sooner than expected. These eggs are great for our food storage stash because they are real eggs: OvaEasy Powdered Whole Eggs (3-pack of 4.5 oz. bags)
 If you have chickens and a chicken coop, you rock because you will have fresh eggs all the time.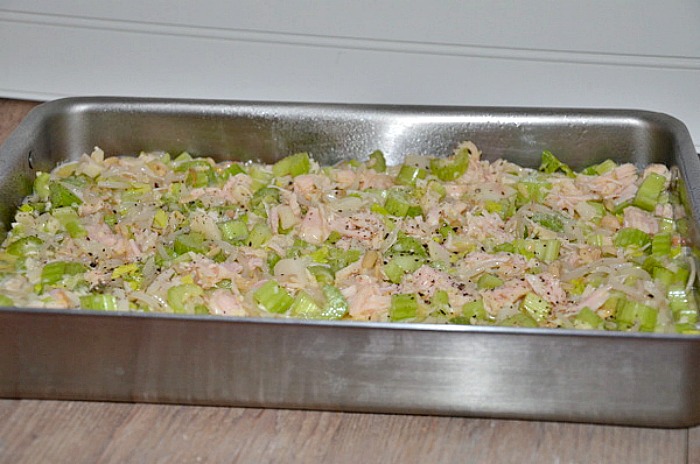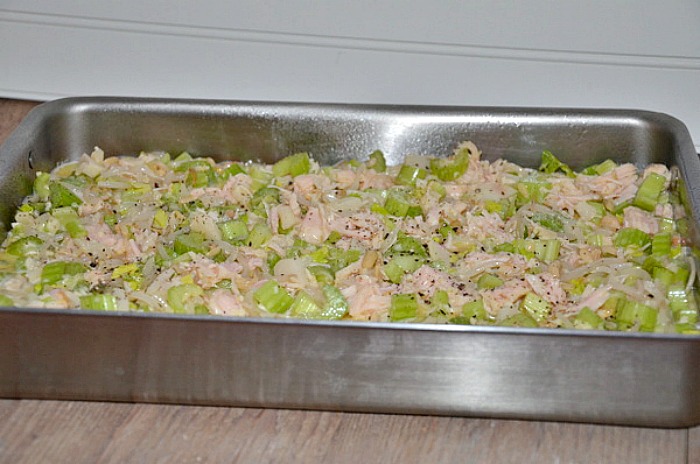 Baked Egg Foo Young
Baked Egg Foo Young by FSM
Ingredients
Ingredients:

8

fresh eggs

2

cups

chopped fresh celery

1

cup

chopped fresh onions

4

tablespoons

cornstarch

1-2

cups

cooked and shredded meat of choice

1-8

ounce

drained can of water chestnuts, chopped

1-14

ounce

bean sprouts drained or equal amount of fresh
Egg Foo Young Gravy
2

cups

of water

2

bouillon cubes or 1 tablespoon Better Than Bouillon

2

tablespoons

sugar

1/4

cup

soy sauce

4

tablespoons

corn starch
Instructions
Egg Foo Young Mixture
Preheat oven to 350 degrees. Grease a 9 by 13-inch pan. Combine all the ingredients and mix together. Pour into the greased pan and bake uncovered for about 30-40 minutes until eggs set as desired.
Egg Foo Young Gravy/Sauce
Place these ingredients in a medium saucepan and whisk until smooth. Bring to a boil while stirring constantly. Serve or ladle warm over the egg foo young.
I hope you try making my baked egg foo young recipe soon! Thanks again for being prepared for the unexpected.
My favorite things:
OvaEasy Powdered Whole Eggs (3-pack of 4.5 oz. bags)
All-Clad 00830 Stainless-Steel Lasagna Pan with 2 Oven Mitts and a Cookbook / Cookware, Silver
6 – 12.5oz Cans Premium Chunk Chicken Breast Packed in Water Kirkland
Set of 3, Sauce Serving Ladle, Stainless Steel, 8 Inch
Goal Zero Torch 250 Flashlight with Integrated Solar Panel