100 Low Budget Meals Anyone Will Love Every Day
Grocery prices keep going up every time I go to the store. I recently wrote an article about some of the Great Depression Era Meals. Wow, thanks so much to all my readers for giving me, even more, ideas to add to the list. Here's the deal, I don't see the grocery prices coming down anytime soon, so today I decided to put together 100 low budget meals anyone will love.
If you are like me I can't wait until my garden is ready to harvest! I save so much money by having a garden! Yep, salads every night, sliced tomatoes, cucumbers, zucchini, etc.
I make my own ranch salad dressing, or just use balsamic vinegar with olive oil. Yummy! I watch for the meat in the clearance area or I don't buy meat at all. I admire people who have access to real grass-fed meat without the antibiotics and hormones added.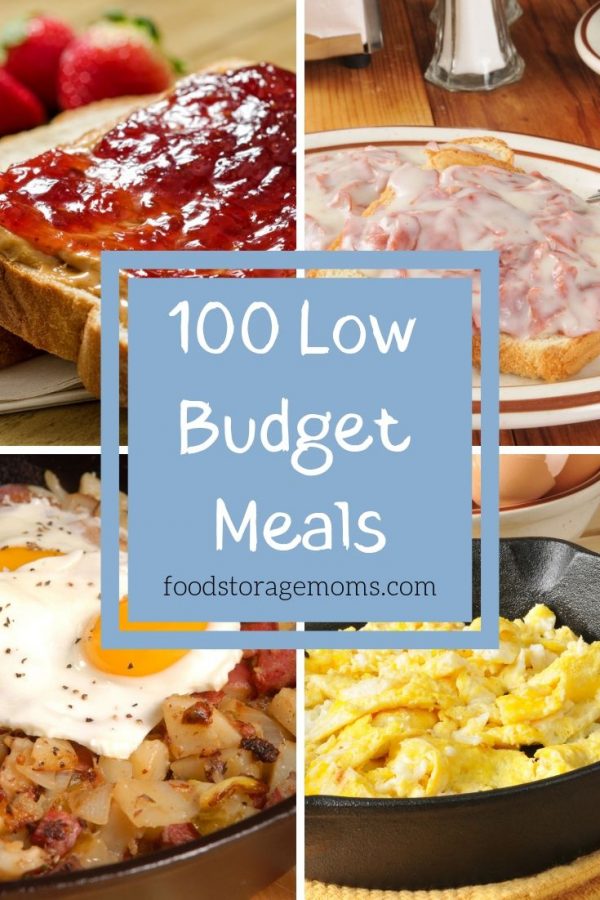 100 Low-Budget Meals
One thing I would invest in is a skillet for these meals. If you can get your hands on a good skillet, go with this skillet. When it comes to giving you 100 low-budget meals, I don't skimp. I tell you about all my favorite breakfast, lunch, and dinner meals. Keep reading to discover them all!
Breakfast Meals:
When it comes to breakfast, you can't skimp! Even if you are on a budget, there are things that you can do to save money and still eat well. You don't need to starve to eat on a budget. Check out these budget meals.
1. French toast and scrambled eggs
2. Cheese toast with fruit cocktail
3. Scrambled eggs and bacon
5. Smoothie with fruits and veggies
6. Pancakes and scrambled eggs
7. Waffles with fresh fruit
8. Eggs in a blanket (cut a whole out of the middle of a piece of bread and replace it with an egg then cook both in a frying pan)
9. Hard boiled eggs and fruit
10. Oatmeal with raisins (super budget meals if you buy oatmeal in bulk)
11. Cream of wheat with hard-boiled eggs
12. Breakfast quiches
13. Breakfast burritos
14. Eggs Benedict
15. Over easy eggs with sausage links
16. Toast and fried eggs
17. Link sausage wrapped up in a pancake
18. Egg baked muffins (baked omelets in muffin tins)
19. Leftover cold pizza
20. Homemade cinnamon rolls with scrambled eggs
21. Cold cereal with fruit
22. Homemade granola
23. Granola Bars
24. Homemade muffins with grated carrots
25. Homemade muffins with grated apples
26. Fried potatoes and eggs
27. Homemade whole wheat toasted bread with canned peaches
28. Hash with eggs
29. Doughnuts with scrambled eggs
30. Bagels and cream cheese
31. Peanut Butter and jelly sandwich
32. Fried Egg and bacon sandwich
33. Biscuits and sausage gravy
Luncheon Meals:
I don't know about you, but lunch is my favorite meal of the day! These lunch meals will keep you on target financially and they are still so delicious! Keep reading to discover the different low budget meals that you can eat every single day.
34. Bagel with sliced turkey and carrot sticks/apple slices
35. Peanut butter and honey sandwich/carrot & peaches
36. Turkey, avocado, spinach wrap with plums
37. Chicken burrito with salsa
38. Almond butter on celery sticks and apple slices
39. Tacos with beans, lettuce, tomatoes, and cheese
40. Sandwich with mashed beans and celery sticks
41. Tomato sandwiches with lettuce
42. Grilled cheese sandwiches with carrots and apples
43. Bean soup with cornbread (soups are super budget meals)
44. Homemade hummus with crackers and apple slices
45. Tomato soup with crackers, cheese, and grapes
46. Smoothies with fruits, vegetables, and chia
47. Egg salad sandwich with sliced pickles
48. Turkey, cheese panini sandwich with tomatoes
49. Whole wheat bread with chopped can of chicken, mayonnaise and carrot sticks
50. Salad with tomatoes with sliced hard boiled eggs and chopped bacon bits with apples on the side
51. Salad with peas, bacon, cheese, chopped eggs and bell peppers with dressing and fruit cocktail on the side
52. Bacon, lettuce, tomato sandwiches with carrot sticks
53. Crackers with chicken salad and fresh grapes
54. Chicken salad with bacon, hard-boiled eggs, and cashews over lettuce
55. Cooked rice and beans with salsa
56. Grilled tuna sandwich with carrots and apple slices
57. Hot dogs with relish, celery sticks and apples
58. Chili hot dogs with grated cheese, apples and carrots sticks
59. Ham salad sandwiches with sliced pickles and grapes
60. Ground leftover roast beef and mayo with carrot sticks and peaches
61. Sliced roast beef sandwiches with celery and grapes
62. Baked potatoes with broccoli and cheese (super low budget meals)
63. Corn dogs with carrot/celery sticks and apple slices
64. Chef salad, lettuce, cheese, ham cubes, sliced eggs, sliced celery, and beets
65. Chipped beef on toast with peas and apple slices (my favorite super budget meals)
66. Macaroni and cheese with green beans and applesauce
Dinner Meals:
I can't forget about dinner. When it comes to dinner, this is one meal that families spend the most time together. You can make a budget meal without breaking the bank. Check out these ideas!
67. Homemade flour tortillas with beans, cheese, lettuce, and fruit cocktail-My favorite tortilla maker: CucinaPro 1443 Flatbread and Tortilla Maker
68. Homemade corn tortillas with the meat of choice, cheese, lettuce and sliced apples ***My favorite corn/whole wheat & spinach tortilla recipes:
Corn-Whole Wheat & Spinach Tortillas.
69. Chicken enchiladas with small salad and fruit of choice
70. Spaghetti with meat sauce over cooked pasta with small tossed salad and fruit of choice
71. Chicken chili with homemade cornbread
72. Vegetarian chili with homemade breadsticks and fruit of choice
73. Lasagna with meat and a tossed salad with rolls
74. Vegetarian lasagna with salad
75. Bowtie-spinach salad with craisins and mandarin oranges and breadsticks
76. Pork loin cooked in a slow cooker, serve with vegetables of choice and fruit
77. Pork chops grilled, served with tossed salad and fruit
78. Barbecued ribs with tossed salad and fruit
79. Barbecued chicken with a tossed salad and fruit
80. Baked chicken with pasta salad and fruit on the side
81. Roasted vegetables and fruit on the side.
82. Homemade pizza with tomato sauce and grated cheese. Add a salad and fruit
83. Homemade calzones with tomato sauce and filling of choice. Add a tossed salad
84. Noodles and tomato sauce with green beans and canned fruit
85. Stew with vegetables and fruit of choice
86. Corned beef, cabbage, and potatoes
87. Chicken and broccoli casserole with fruit on the side
88. Chicken and rice casserole with green beans and fruit on the side
89. Tacos with fried hamburger, beans, cheese, lettuce, and tomatoes. Fruit on the side
90. Chicken enchiladas with tossed salad and fruit on the side
91. Taco salad, cooked hamburger, cheese, kidney beans, lettuce, broken tortillas chips, and Catalina type salad dressing
92. Flank steak sliced very thin (barbecued in foil) serve with grilled veggies and fruit on the side
93. Foil dinners with the meat of choice, carrots, celery, and onions, cook in the oven or on the barbecue
94. Tostadas with beans, grated cheese, lettuce, tomatoes and lots of salsa (one of my favorite budget meals)
95. Spinach wraps with chicken salad and a fruit salad
96. Salad bar, lettuce, tomatoes, grated cheese, chopped ham, olives, grated hard-boiled eggs with a dressing of choice
97. Potato bar with chili, broccoli, grated cheese, sour cream, chopped green onions, and sliced olives
98. Tuna casserole with green beans and choice of fruit
99. Hamburger Casserole with snack ramen and frozen peas with the fruit of choice
100. Turkey breast with homemade dressing, mashed potatoes, gravy, peas, and cranberry sauce
More Budget Meals:
What is the Cheapest Meal to Make?
If you were only able to make one meal, which mean would it be? What is the cheapest meal to make? Some of the cheapest meals you can make are listed here, but sticky rice and black beans and rice are the cheapest.
What Do You Feed a Budget Crowd?
What happens if you're trying to feed a budget crowd? Rice is always a great go to when you need to feed a lot of people on a budget. Soup, pasta, and tacos are also great large crowd food options.
What Should You Eat When You Are Broke?
If you are broke and don't have much to choose from, you may be wondering what you can eat. Beans are a great option because they are full of protein. Oats are another inexpensive option for when you are broke, but also hungry.
Final Word
If you have any more low budget meals please share them with me. Let's pass the information on to everyone you think would enjoy these meals. I thank you for your comments. May God bless this world, Linda