The Best Foods You Need In Your Pantry
I think it's critical we talk about the best foods you need in your pantry. If you have gone to the grocery store lately, you have seen the shelves are not as full as they used to be.
If you watch the news there are various reasons why the shelves as not as full as the last few years. Please don't panic. Let's talk about what we can do to get through this rough patch.
I may come on a little strong today because I feel it is critical we teach our kids and grandkids to cook from scratch. I'll be honest with you, I have never been rich, but I have been poor.
Growing up I didn't realize we were poor. I look back now and can see my mom did the best job raising three girls alone with the cards she was dealt. My mother could cook anything from scratch.
We ate homemade bread, homemade dinner rolls, and the best biscuits on the planet. My mom was a survivor as a single mom doing the best she could, and she did it well. She taught her daughters to sew, cook from scratch, and how to work.
In case you missed this post on how to make a sourdough starter and bread, How To Make A Sourdough Starter + Bread
What You Need In Your Kitchen
The Best Foods You Need In Your Pantry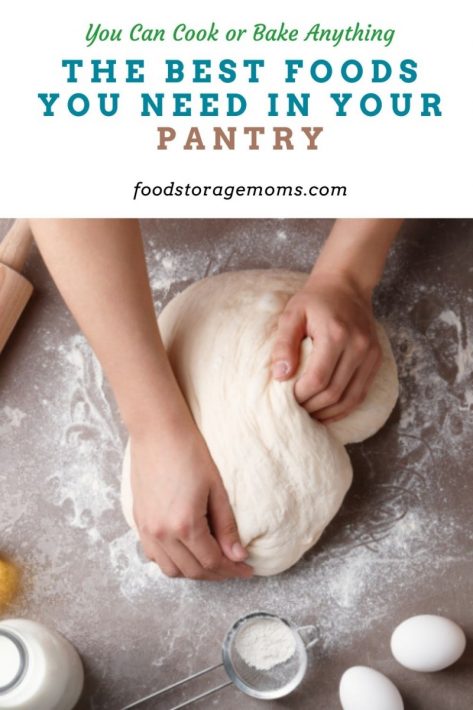 Of course, there are more items we can stock, but today it's about teaching our kids and grandkids how to bake, which I feel is critical.
Baking Supplies
1. Flour (bread, all-purpose, or gluten-free 1:1)
Here's the deal, with this list I have today if you can make tortillas, biscuits, dinner rolls, or bread, you can survive. Please teach your family to make bread of all types. You can serve it with homemade soup to fill the belly.
2. Cornmeal and Maseca Corn Flour (store in the freezer)
Now, there's cornmeal for cornbread, and if we have Maseca cornflour (they make it gluten-free), you can make the most delicious corn tortillas on the planet. In case you missed this post, How To Make Homemade Corn Tortillas
3. Oatmeal
This one is simple, make oatmeal for breakfast, make oatmeal muffins, use oatmeal as filler to stretch ground beef in meals.
4. Yeast
You can make bread, dinner rolls, pancakes, pizza dough and so much more. My favorite is SAF Instant Yeast (please keep it fresh by storing it in the freezer).
5. Wheat Gluten
In case you don't know what Wheat Gluten is, in a nutshell, it improves the texture of whole wheat bread, as well as the elasticity of the bread dough when making it. If you ever had hard red wheat bread made by grandma (we called them BRICKS), you will love this stuff. I only use hard white wheat, it has less protein than hard red wheat but it tastes much milder. Please store it in the freezer to keep it fresh.
6. Dough Enhancer
I use Dough Enhancer in my wheat bread and my white bread, dinner rolls, and my cinnamon rolls. It makes your end product soft and fluffy. It's optional, but I always have it. Please store it in the freezer to keep it fresh.
7. Baking Soda
We need baking soda because it's a leavening agent and helps make our cakes, cookies, and muffins, light and fluffy.
8. Baking Powder
Baking powder increases the volume of what we're baking and lightens the texture. It makes the batter expand and bubble through leavening it.
9. Honey
Honey, need I say more, it's a great sweetener for our whole wheat bread. I love it when I have a cold coming on in warm green tea with a lemon squeeze and a bit of honey. It's perfect on a bowl of oatmeal and spread on peanut butter and honey sandwiches.
10. Sugar
We need it for baking, coffee, tea, recipes, and sprinkled on cereal.
11. Brown Sugar
Brown sugar adds so much flavor to recipes, we can't live without it. AND we can make our own Brown Sugar!
12. Powdered Sugar
When I think of powdered sugar, I think of making frosting and sometimes sprinkling on cookies, candy, and gingerbread!
13. Molasses
My mother used molasses to make her "brown bread." I need to cut down her recipe and share it with you. You can mix molasses with white granulated sugar to make your own fresh brown sugar at the last minute!
14. Cocoa Powder
Oh my, chocolate cookies, hot chocolate, hot cocoa, chocolate frosting, chocolate cake, brownies, and muffins!
15. Chocolate Chips
I can never, ever, run out of chocolate chips. I love to make chocolate chip cookies and eat chocolate chips in a bowl as a snack. Don't forget pumpkin bread with chocolate chips, oh yeah, pumpkin with chocolate, great combination!
16. Raisins
Do you love raisins in some bread, dinner rolls, muffins, and oatmeal? I sure do! Some of my family members are not fond of them, but I will eat them as a snack!
17. Salt
Salt is added to enhance flavors in meals, and most recipes. It's an inexpensive food item to stock. Please remember to not use oxygen absorbers in salt. The salt will become a brick. Keep it dry and cool and it will last many years. My favorite salts are Redmond Fine Salt and Redmond Coarse/Kosher Salt, and Himalayan Pink Salt.
18. Oil
We all need to store oil if we cook or bake. The biggest function of oil in baked goods is to keep your product moist, such as cakes, muffins, or cookies. Plus, who doesn't love to make their own homemade salad dressings? I realize everyone has their favorite oil for baking, cooking, and frying food. I store olive oil, coconut oil, and vegetable oil.
19. Canned Pumpkin
There have been years we couldn't get pumpkin in a can. We need it for muffins, cookies, cakes, and so many other recipes!
20. Eggs (refrigerator)
We all know eggs can provide structure, leavening, richness, color, and enhances the wonderful flavor of our baked goods. Of course, eggs are for scrambled eggs and so many other recipes.!
21. Butter (refrigerator)
Need I say more, we need butter. I freeze my butter in the packages they come in. I stock up when it's on sale. But you can't beat Costco's price on butter where I live. I always buy salted butter, it's my favorite to stock.
22. Milk (refrigerator)
Most people stock their refrigerator with milk, almond milk, or coconut milk. There are so many reasons we all need milk, for cereal, cooking, and baking food items.
23. Cream Cheese (refrigerator)
I always have cream cheese in the refrigerator. I tried freezing it, I didn't like the texture. You can save money sometimes if you buy double packs (2 in a box).
24. Sour Cream (refrigerator)
Well, I confess I love dips and chips. I know, it's not a healthy snack, but at my age, I love them. I love recipes with sour cream, cookies, casseroles, and even a dollop on soup. In case you missed this post, Soft Cream Cheese Frosted Sugar Cookies
25. Evaporated Milk
My mom stocked a lot of evaporated milk. I use very little, but I do like to have about 5 cans in the pantry ready for when I need to make something. The nice thing about shelf-stable evaporated milk is that it stays good for about 2 years unopened in your pantry.
26. Sweetened Condensed Milk
My favorite way to use sweetened condensed milk is for my Caramel Popcorn recipe. I don't overstock this item, but I do like about 5 cans in the pantry to have ready.
27. Nuts (freezer) almonds, pecans, and walnuts, and pine nuts
There are so many recipes where we can use various nuts. If we freeze them, you always have some available when needed. Bonus, they are great snacks. I love pine nuts in salads as well. I buy them once a year at Costco (without the shell). Yes, they are expensive, but you use very little in spinach salads and the crunch is the best!
28. Coconut (freezer)
I actually freeze my coconut to keep it fresh. It's ready when I need it. I have the best recipe using coconut, but this one is my favorite, The Best 7 Layer Bars. There are so many ways to add coconut to a muffin recipe. Sprinkle it on whipping cream frosted cakes, and so much more. Now I want to make a cake!
29.Vanilla Extract
Vanilla adds so much flavor to whipping cream, pie fillings, cookies, and cakes.
30. Spices (cinnamon, ground ginger, nutmeg, ground cloves)
Baking or cooking with spices is critical to make the perfect cookies, cakes, and many other recipes! In case you missed this post, 25 Items I Recommend For Your Spice Rack
31. Cream of Tartar
Cream of tartar helps stabilize whipped egg whites, prevents sugar from crystallizing, and also acts as a leavening agent for so many baked goods.
32. Vinegar
It's used when pickling liquids, making vinaigrettes, and other salad dressings. We use it as an ingredient in sauces, such as hot sauce, mustard, ketchup, and mayonnaise.
33. Pineapple (Crushed or Chunks)
I was reminded to add pineapple, oh, how I love it! You can add crushed pineapple or pineapple chunks to so many recipes. The is my favorite recipe with crushed pineapple, Pineapple Cream Cheese Dip Appetizer
34. Chocolate Lots of Chocolate (thank you Chris)
Dark chocolate-covered raisins, chocolate-covered peanuts, chocolate truffles, peanut butter for cookies with chocolate Hershey kisses in them. Chocolate ice cream, Chocolate M & M's, Dark chocolate for the coconut in the freezer. Chocolate advent calendars. A day without chocolate is worse than a day without sunshine.
Final Word
I hope you enjoyed my thoughts today on the best foods you need in your pantry. So many families know how to bake and cook from scratch, but many don't. Personally, I love to bake and cook, it's my passion.
I love new recipes and new ideas. If you see something I need to add to this list, please let me know. May God Bless this world, Linda
Copyright Images: Bread Dough AdobeStock_274791136 New Africa