What You Need In Your Working Pantry
If you're a beginner prepper, are you wondering what you need in your working pantry? You may have heard the term long-term pantry, which is basically where you store larger quantities of food storage, or items that may have a longer shelf life.
I have smaller containers that I use every week. Well, a 5-gallon bucket of flour or sugar is too much for me to handle these days, so I refill my smaller 2-gallon buckets from the 5-gallon buckets. These smaller containers are not as heavy as the others to haul over to the kitchen countertop as I do my baking, so I appreciate having them. I feel strongly that I need to update this post, please, stock up now.
What is a Working Pantry?
A working pantry is a modest-sized pantry, it isn't too big or too small. Most of us have the space for a working pantry of some sort. In this day and age, anywhere you can store pantry items can be considered your working pantry. A lot of people use open shelving for their pantry. You can also use cabinetry for your pantry. The picture above is part of my small kitchen. I wish it was larger, but it is what it is. Mark and I cook meals in this kitchen and it brings me joy every single day. Please note, most of you know we are trying to get a permit to build a smaller home in Northern Utah.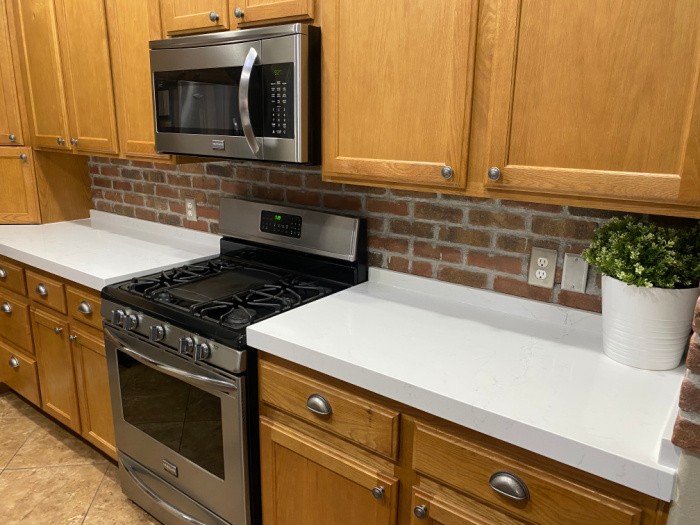 Some of My Favorite Tools:
What You Need In Your Working Pantry
Let's break the pantry down into sections, please tell me items you think I should add to each section. I think we can all learn from each other. Remember that everyone's pantry is different, so this is just my advice. You can always add or take away what you'd like based on your own priorities and cooking preferences. So, let's get started. Thank you to Heidi, Deborah, and Leanne for previewing my list before I had the PRINTABLE made.
I left off fresh fruit and vegetables because we like to buy those items in the season for the best flavor. Plus, if our garden is producing, we'll pick fresh vegetables from our own yard. If not, we can buy items from the local Farmer's Market. In either case, those fresh items will most likely be stored in the fridge, unless we quickly get them canned for pantry storage.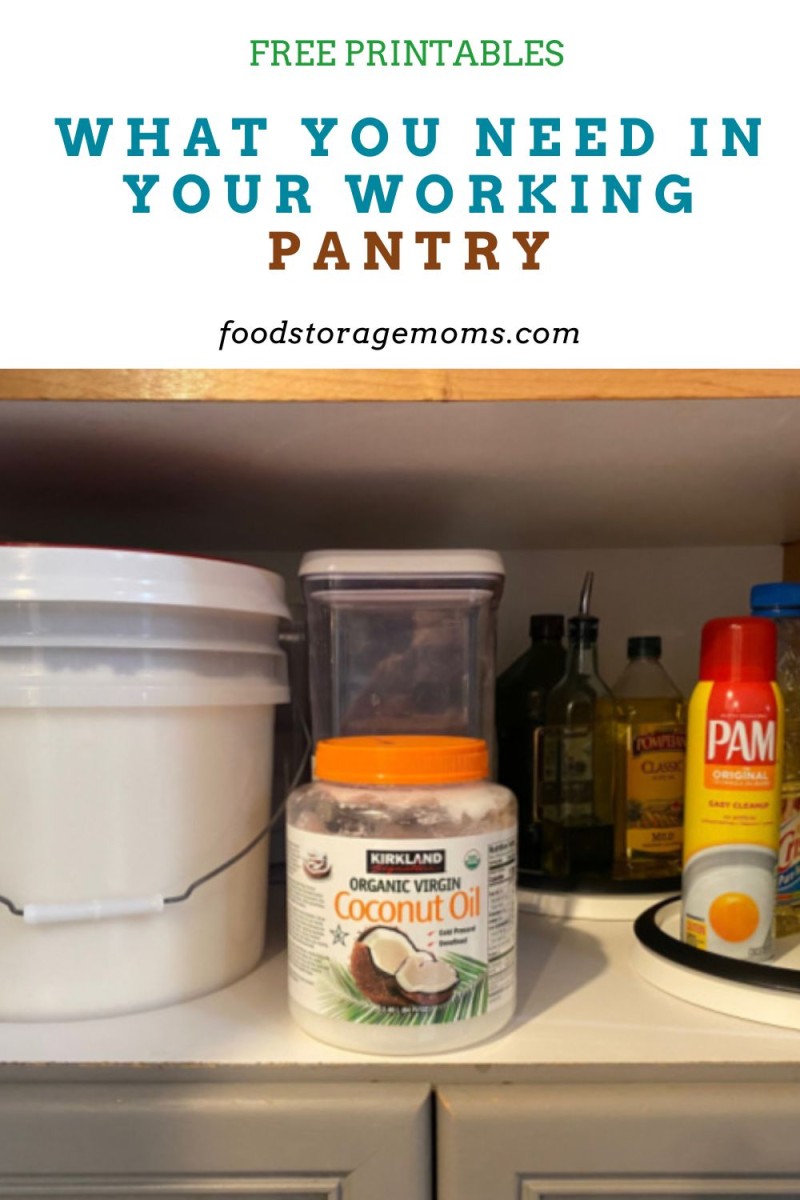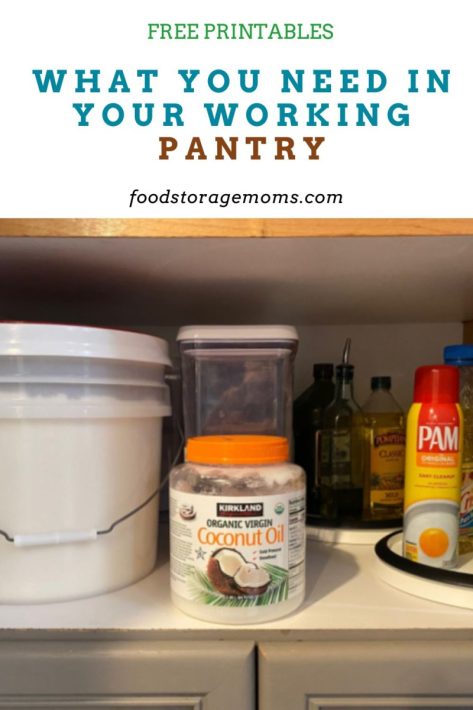 Baking Items:
Sugar
Brown Sugar
Powdered Sugar
Baking Powder
Baking Soda
Salt
Honey
Vanilla
Oil
Instant Milk
Cocoa
Molasses
Sweeteners:
Honey
Sugar
Brown Sugar
Stevia
Non-Calorie Sweetener
Molasses
Your Favorite Oils and Vinegar:
Olive Oil
Coconut Oil
Avocado Oil
Canola Oil
Vegetable Oil
Balsamic
Rice Vinegar
Red Wine Vinegar
Apple Cider Vinegar
White Vinegar
Assortment of Spices and Seasonings:
Salt
Pepper
Cinnamon
Chili Powder
Cumin
Taco Seasoning
Garlic Powder/Salt
Onion Powder
Parsley
Au Jus
Vanilla
Bay Leaves
Sweet Basil
Lemon Pepper
True Brand Lemon
True Brand Lime
Pumpkin Pie Spice
Cloves
Nutmeg
Bulk Food:
Beans
Black Beans
Pinto Beans
Rice
Pasta
Wheat
Flour
Sugar
Brown Sugar
Cornmeal
Oatmeal
Instant/Dehydrated Potatoes
Popcorn
Dairy Items in the Fridge:
Buttermilk
Milk
Eggs
Cheese
Cream Cheese
Sour Cream
Butter
Yogurt
Coffee Creamer
Fridge Stuff:
Salad Dressing
Lemon Juice
Lime Juice
Orange Juice
Pickles
Salad stuff
Spinach
Carrots
Celery
Condiments:
Mayonnaise
Miracle Whip
Mustard
Ketchup
Worcestershire Sauce
Soy Sauce
BBQ Sauce
Frequently Used Fresh Vegetables:
Potatoes
Sweet Potatoes
Garlic
Onions
Tomatoes
Stuff in the Freezer:
Peas
Chopped Onions
Broccoli
Bacon
Beef
Chicken
Pork
Shredded Cheese
Bread
Yeast
Wheat Gluten
Dough Enhancer
Nuts
Almonds
Pecans
Walnuts
Pinenuts
Food in Jars:
Spaghetti Sauce
Pizza Sauce
Pickles
Gravy
Pimentos
Alfredo Sauce
Hot Peppers
Canned Vegetables:
Green Beans
Corn
Carrots
Potatoes
Asparagus
Beets
Peas
Pumpkin
Sweet Potatoes
Diced Tomatoes
Tomato Sauce
Tomato Paste
Bean Sprouts
Water Chestnuts
Olives
Canned Fruits:
Fruit Cocktail
Peaches
Applesauce
Pears
Mandarin Oranges
Cherries
Apricots
Pie Filling
Canned Meats/Proteins:
Chicken
Hamburger
Turkey
Shredded Beef
Roast Beef and Gravy
Ham
BBQ Pork
Spam
Corned Beef
Salmon
Sardines
Tuna
Beans
Pinto Beans
Black Beans
White Bean
Chili Beans
Kidney Beans
Odds and Ends We Need:
Olives
Water Chestnuts
Green Chilies
Canned Milk
Sweetened Condensed Milk
Crackers
Instant or Powdered Milk
Peanut Butter & Jam
Cream of Chicken Soup
Cream of Mushroom Soup
Progresso Soups
Teriyaki Sauce
Sweet Chili Sauce
Coffee
Tea
Hot Cocoa
Paper Products:
Paper Plates
Cold Paper Cups
Hot Paper Cups/Lids
Straws
Plastic Silverware
Napkins
Paper Towels
Garbage Bags
Pet Supplies:
Dog Food
Dog Treats
Dog Chews
Cat Food
Cat Treats
Cat Litter
Vitamins
What You Need In Your Working Pantry
You may be wondering why you need these items in a working pantry. Well, when it comes to your pantry and you are an avid cook, you are consistently using various products and always cooking new and fun meals. So, it makes complete sense to have a list of items that you need to have on hand and easily available.
The next time you go to the store, you can simply grab a few things that you don't have now because you've used them, or they need to be added to your inventory based on a new recipe or changing diet requirements. You can also restock items in different sizes now that you know you'll be using them going forward. A working pantry is a very important part of any household!
My Favorite Recipes To Use With Your Working Pantry:
Free Printable Checklist
How do I create a working pantry?
You start with the basics and keep adding what your family will eat. Please include items you can use to cook from scratch.
Can I count the items in my refrigerators?
Absolutely because they are your refrigerator "pantry," so to speak. We have items that must be stored in the refrigerator or freezer.
Should I include my pet food in my working pantry?
Yes, because they are part of our family and we must stock food for them.
What's the difference between a storage pantry and a working pantry?
In my opinion, they are similar, but one may be much closer to your kitchen and with easier access. Here's the deal, our food storage is our source of food that we'll use to fill our working pantry. It's all about having enough food so you don't have to go to the store as often. You'll, therefore, spend less time and money as you work your storage and meal plan.
How do you stock a pantry for hard times?
If there was ever a time you need to stock a pantry, it is now. Some people may call them a prepping pantry, it's all about feeding your family now, and having what you need in case of an emergency situation.
What is a working prepper pantry?
It's basically a pantry you will fill with everything you need for baking, cooking, and feeding your family. You'll stock, rotate, and replace when needed. Please remember to only fill your pantry with what your family will eat.
What kind of small appliances should I have?
These items don't require electricity:
How can I better organize my kitchen so I can take advantage of my working pantry?
I like my countertops to be as clutter-free as possible. That means I put things like my toasters, coffee makers, mixer, blender, and other small appliances in what some people call an appliance garage, or corner nook. That way they are out of sight, leaving me with as much counterspace as possible.
If you have a small microwave, a breadmaker, or similar appliances, you may not have enough room in a cabinet. You can work around those appliances as you're accessorizing your live-in kitchen area. Just make sure you leave enough room so you've got a real worktop area.
Some people will have a "transition space" like a breakfast bar or dry bar between their working pantry, worktop space, and breakfast area with a table or dining table. Feel free to dress up your kitchen as you develop a kitchen design theme. You don't want your kitchen to have a laboratory look.
What should I use to make my kitchen area more functional and easy to clean?
It seems that most new upgraded kitchens are going with a marble top or quartz top these days. Although they are made of stone, you still need to be careful when handling hot pans and be sure to put a hot pad, towel, or other protection when setting pans right from the oven or stovetop on your nice countertop. Nobody wants a discolored area on their fancy countertops.
I would try to steer clear of tile, since the grouted areas seem to be food stain magnets. We had our Corian countertops replaced with a lighter color quartz material a couple of years ago. The lighter color made the kitchen much brighter to work in. We also had a little higher design of backsplash to match. It tended to dress up the kitchen and they were easy to clean.
We did have a front piece added to help protect the lower cabinets from dents and scratches. We also had two of the solar skylights put into the kitchen and dining area. They added so much extra light and didn't use any electricity, it was awesome!
What kind of interiors and shelving works well for a working pantry?
I have always wanted a walk-in closet style pantry. None of our homes have had kitchens big enough for that approach, even though I've always felt the kitchen and related pantry space are the most important rooms of the house. My kitchen is the first place I visit each morning and the last place before bedtime. I'm constantly working on new recipes I can share with my readers, and I love the feeling of a clean, well-lit, kitchen work area.
Our pantry is the size of an entry coat closet, but it does go from floor to ceiling. We have support rails running along the interior walls, with inch-thick wood shelves with various-sized spaces between them to accommodate a variety of can and bottle sizes. We put the large containers on the floor. I have all my buckets labeled to I don't have to guess what's inside.
Other Things to Consider:
It's nice to have your sink close to your pantry so you can add water and clean up your dishes as you go along. It's nice to be able to do your food preparation with everything close at hand. If your pantry is close, it's a lot easier. The kind of pantry you decide to build or organize will be what works for you. I like the shelves closer together so I don't have to stack cans very tall.
My kitchen is the heart of our home, so to speak. We love to cook together, prep together, and bake together. It's all about teaching our kids and grandkids how to cook from scratch.
It's nice if you have a snack bar because it gives you more room for working together in the kitchen. For me, it's the busiest workroom in the house, and I love it! If you have a dedicated workspace for mixing and prepping, it will make your life so much better.
If your dishwasher is nearby, that helps keep our kitchen nice and tidy as we cook or bake with the family. I love it when dinner is ready, and all the prep dishes are already hand-washed or in the dishwasher.
Do any of you have a form of open shelving in the kitchen? I keep seeing them more and more in kitchens.
It's great to have small hand mixers and large stand mixers, but I'll be honest with you, I grew up with a bowl and spoon. I made everything in bowls with a spoon. I realize we all want some hand-crank type of appliances so meals can still be prepared when the power goes out, but for now, I still use my modern appliances on a daily basis.
Final Word
I hope you enjoyed what you need in your working pantry tips today. It's all about having your own mini grocery store at home. We can teach our kids and grandkids how to cook from scratch and how to make fewer visits to the grocery store. If you have a good preparation plan, you start stocking your home with food items you eat on a regular basis and rotate as needed. May God Bless this world, Linda