25 Items I Recommend For Your Spice Rack
Isn't it wonderful when you can cook from scratch? Today I have 25 items I recommend for your spice rack so you can have an easier time doing that "from scratch cooking." This will be a good start for those who are just beginning to fill a pantry. Please let me know some of your favorites and I will add them to the list.
25 Items I Recommend For Your Spice Rack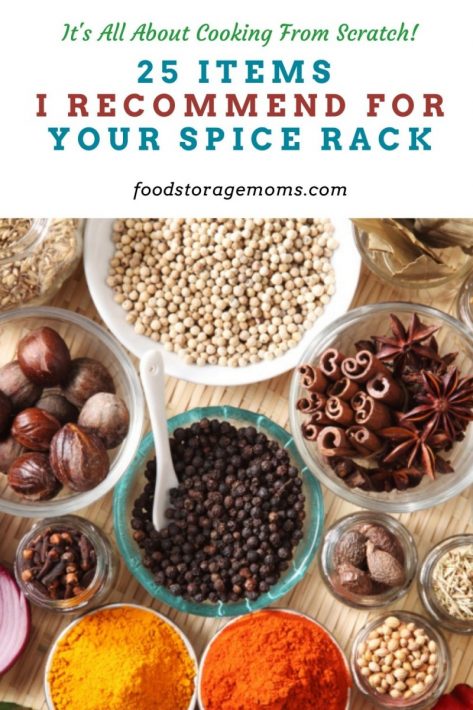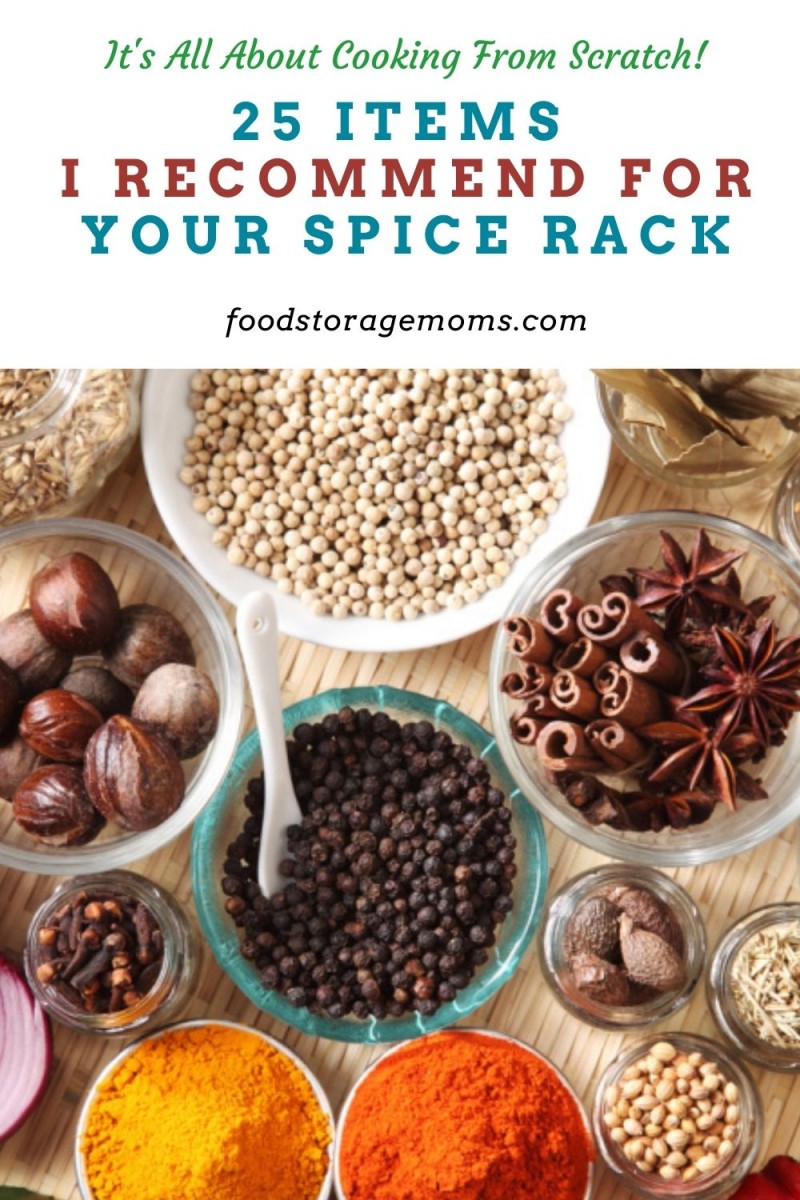 25 Items I Recommend For Your Spice Rack
1. Vanilla Extract and Beans
Vanilla adds so much flavor to whipping cream, pie fillings, cookies, and cakes. And don't forget those vanilla beans for Creme Brulee. How To Cut A Vanilla Bean For Creme Brûlée and Recipe
2. Sugar/Honey/Sweetener of Choice
Nowadays it seems a lot of people are diabetic, for one reason or another. But we still need a sweetener of choice for eating, cooking, and baking.
I use sugar, honey, brown sugar, and granulated Stevia. In case you missed my post, How to Make Brown Sugar, or this post, Sugar: Everything You May Not Know
Here is some information on Stevia, Stevia: Everything You Need to Know, and this post on honey, Honey: Everything You Want to Know
3. Coarse/Fine Salt
We use different salt textures for different dishes. In case you missed this post, Salt: Everything You Need to Know. When I bake my potatoes in the oven to make the outside crispy, I oil the potatoes
4. Pepper/Peppercorns
I love to use a pepper grinder with peppercorns on my cooked vegetables, the flavor is so awesome with freshly ground pepper. Salt and Pepper Grinder Set
5. White Ground Pepper
I had to add this one because I had actually forgotten about white pepper until a reader reminded me about it. I ordered two of the White Ground Pepper containers and gave one to a daughter.
White pepper is typically a bit milder than black pepper so you can add more to your dish, depending on the brand you purchase.
It's perfect for white mashed potatoes, white cream sauces, and even Cream Chipped Beef on Toast/Biscuits because the color is the same as the dish.
6. Seasoning Salt
This seasoning salt is also known as Lawry's Salt, to me anyway. I use it for homemade fries, steaks, hamburgers, roasts, and even some roasted vegetables. Lawry's Salt or Johnny's Seasoning Salt
7. Celery Salt and Celery Seeds
It's great to have some celery salt ready to sprinkle in a soup or stew. If you don't have dehydrated or freeze-dried celery, celery salt is a great option to put just the right amount of celery flavor in your dish.
8. Dry Mustard
I use this when I make my own shrimp cocktail sauce. You take ketchup and stir in some dry mustard, and whisk away. Be careful not to put in too much or it may be too hot for your taste buds!
I add a small to any dish where I want just a little extra kick. It's great when you are making salad dressing as well.
9. Chili Powder vs. Chili Seasoning
I use chili powder in my chili, it is a combination of cumin, garlic powder, cayenne pepper, and sweet red peppers. It doesn't have a thickener in it. They rarely specify the ingredients on the bottle. Chili Powder
Chili seasoning consists of various spices and does have a thickener in the bottle. It's typically ready to add to your favorite chili with very few other seasonings. The chili seasoning is made up of chili powder, paprika, garlic, salt, and other ingredients. Chili Seasoning
10. Cinnamon
Cinnamon is a fragrant bark with a sweet, fruity flavor. Most cinnamon in Northern America is cassia cinnamon. It's perfect for baked goods, quiches, soups, stews, and added to your morning cooked oatmeal.
11. Ground Ginger
Dried ginger has a different flavor than fresh ginger, but nonetheless, it's awesome! It makes the best gingerbread cookies, gingerbread, and many other baked goods. In case you missed this recipe, Gingerbread Cookies: You Will Love These
12. Onion Powder and Onion Salt
By now you probably know I buy bags of frozen chopped onions when they go on sale. All I have to do is cut the bag open and start frying those onions, or I can add them to soups and stews.
But having some onion powder is nice because sometimes I only need the flavor, not so much the chopped onions. It's easy to use and you can sprinkle more as needed for taste.
13. Garlic Powder and Garlic Salt
I love fresh garlic, but sometimes, having dried garlic powder is perfect when you want to add a quick boost of garlic to a dish you are making.
14. Ground Cumin
Cumin is the second most popular spice used in the world, crazy, huh? It has a warm and earthy taste and is best to add when you first start your dish because the flavor will be enhanced as the cooking time increases.
15. Dried Oregano
Nothing says Italian like oregano in spaghetti sauce, lasagna, or homemade pizza sauce. If you love the smell of fresh oregano, you may want to plant some in a mason jar. The Best Herbs To Grow In Mason Jars
16. Dried Sweet Basil
Years ago, a friend taught me about adding dried sweet basil to my homemade soups. It was a game-changer for me.
I have dehydrated my own basil and ground it myself, but I always have a bottle or two of crushed sweet basil in the pantry.
17. Paprika/Smoked/Hungarian/Sweet
Paprika is made from a special blend of red and yellow bell peppers that are dehydrated and ground to perfection. It can be spicy, sweet, or mild. I grew up sprinkling it on deviled eggs. In case you missed this recipe, Classic Deviled Eggs
18. Cayenne Pepper
Cayenne pepper (aka red peppers) is a spicy powder made from tropical chiles. If you want to add a little "heat" to a dish, this will do it. I also use it in my recipe, Quick And Easy Healthy Spicy Nuts Recipe
19. Parsley Flakes
I love the flavor of parsley and having a large jar in the pantry makes my soups and stews taste so much better. I typically buy the large container at Costco because I use a lot of it in the wintertime when making soups.
20. Dried Bay Leaves
Here is another game-changer for soups and stews. I add a whole bay leaf to a pot of soup or stew and remove the leaf when I'm ready to serve the soup or stew to my family.
The flavor is incredible. Bonus, people place a bay leaf in buckets of flour to keep the bugs away.
21. Red Pepper Flakes
This is a must-have in my kitchen. I sprinkle them on pizza after it's baked, add it to chili's, stews, or soups for a little bit of heat to the flavor.
22. Nutmeg
Nutmeg has a sweet, warm, spicy flavor. You can buy it ground or grate it yourself! You will love to grate it, I promise. Just be careful with your fingers on the Microplane. Organic Whole Nutmeg and Microplane Zester/Grater. Nutmeg is perfect for eggnog, cookies, and pies.
23. Dill Weed vs. Dill Seed
The dill seed is the fruit you see on the dill plant. The dill weed is the leaf and stem of the dill plant. You may think dill is just for pickles, but it is used for many other things as well. In case you missed this post, this is one of my favorite recipes, Homemade Bread With Dill
24. Curry
Curry is a combination of turmeric, cumin, coriander, ginger, and chili pepper. It's funny because some people really love curry dishes while others don't like the taste. I love curry if it's mild. My husband doesn't care for any curry dishes. So many restaurants serve delicious dishes with curry.
25. Pumpkin Pie Spice
October and November are the best months to have this spice on hand. If you don't have a container of it on hand, it's quite easy to make yourself. This was my mom's recipe.
Grab a bowl, add these ingredients and whisk away: 3 tablespoons ground cinnamon, 2 teaspoons ground ginger, 2 teaspoons nutmeg, 1-1/2 teaspoons Allspice, 1-1/2 teaspoons ground cloves. Yep, it's that easy to make.
It's pumpkin pie time, and so much more!
Readers Suggestions:
Kay: also add ground cloves for baking (whole cloves too if you make homemade cider) and thyme is used in a lot of my recipes.
Alice: My all-time favorite seasoning salt is Spike. Spike Seasoning
DMWalsh: I'm more of a celery seed person than celery salt. 
Suzanne: I have: Allspice, Anice, Basil, bay leaf, Caraway Seed, Cardamom, Celery Flakes, Celery Seed, Celery Salt;
Chili Powder, Chives, Cinnamon, Cinnamon Sugar, Cloves, Whole Clove, Coriander, Cream of Tartar, Cumin,
Dill Weed, Fennel, Flax Seed, Garlic Powder, Ginger, Herbes de Provence, Italian Seasoning, Lemon Peel, marjoram,
Mustard Ground, Mustard Seed, Nutmeg, Nutmeg Whole, Onion Granules, Onion Minced, Orange Peel, Oregano, Paprika,
Parsley, Poppy Seed, Poultry Seasoning, Pumpkin Pie Spice, Rosemary, Sage, Sesame Seed, Thyme, Tarragon.
Final Word
I hope you enjoyed my post today on the 25 items I recommend for your spice rack! Let's make this list longer, let me know which ones you would add. Life is so good if we cook from scratch and eat at home. May God Bless this world, Linda
Copyright Images: Spices and Seasonings Depositphotos_118359806_S