How to Organize a Walk-in Pantry
Are you simply tired of always trying to ignore the disaster in your walk-in pantry every time you're in search of a particular ingredient? If that's you, I have several tips that will help you get all of that chaotic clutter under control. They'll save you a bunch of time looking and also help you create more storage space for your pantry. Who doesn't need more help organizing their walk-in kitchen pantry?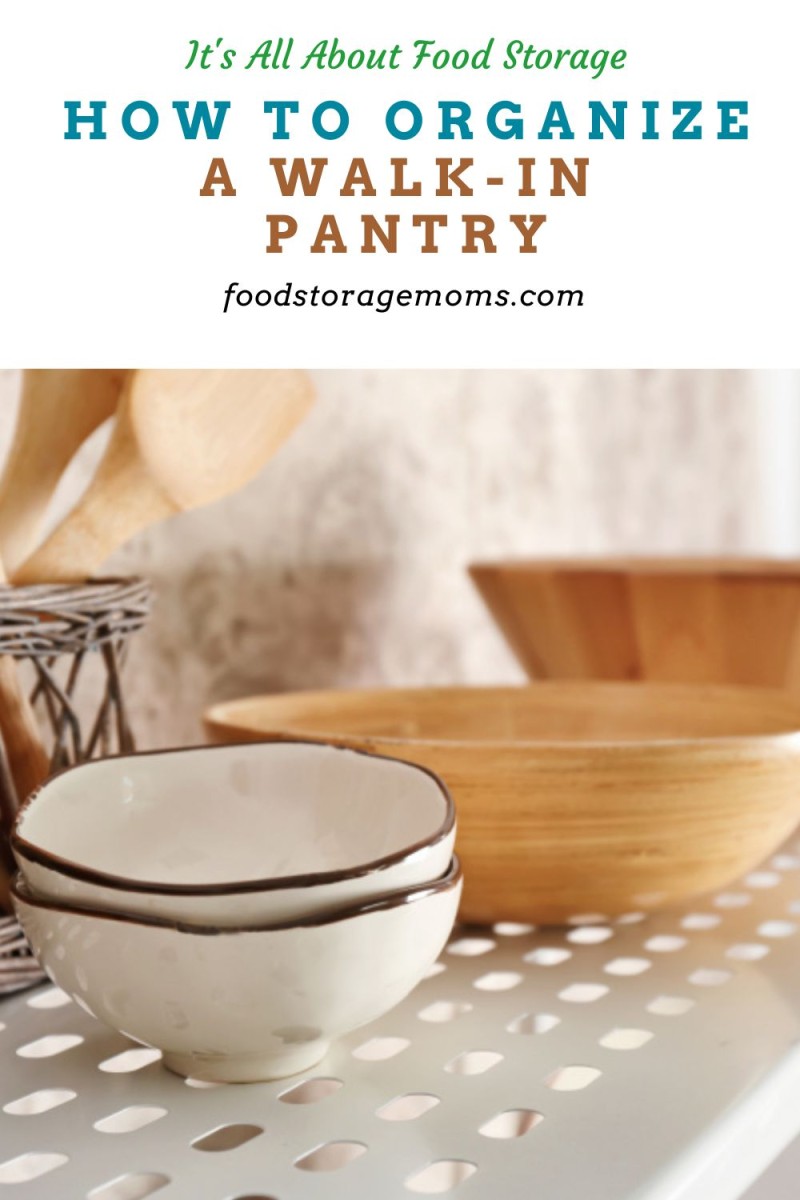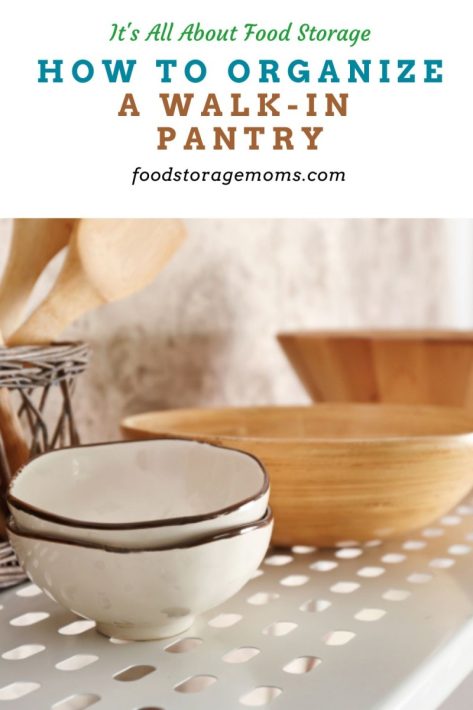 Walk-in Pantry Organization Ideas
These organization tips that I would like to share with you will not only help you get the most out of your walk-in pantry space, but also help you be able to find what you're looking for without having to dig through all your storage inventory. And what's even better, you'll be able to apply some of these organization methods in other rooms around your home. Here are simple ways to organize your walk-in pantry. So, grab your grocery list, and get excited because you're about to learn how to organize a walk-in pantry!
Organizing Dry Ingredients
Cereal boxes and bags of food tend to be bulky and take up a lot of extra space. It also doesn't flow as well as you might like. What I'd recommend is using clear containers that fit vertically in your pantry, along with using a label maker to indicate what each container is holding. You can then re-label the container when you have something different that you'd like to store when the other product has run out.
For those of you with a deep pantry, try placing the taller containers in the back and the shorter ones in front so that it's easier for you to see what you have, and also provide easy access to those shorter items. Pantry shelving, including wire shelves some of us have, is made for organizing dry ingredients, so take advantage of it! 10 Essential Ingredients You Need When Baking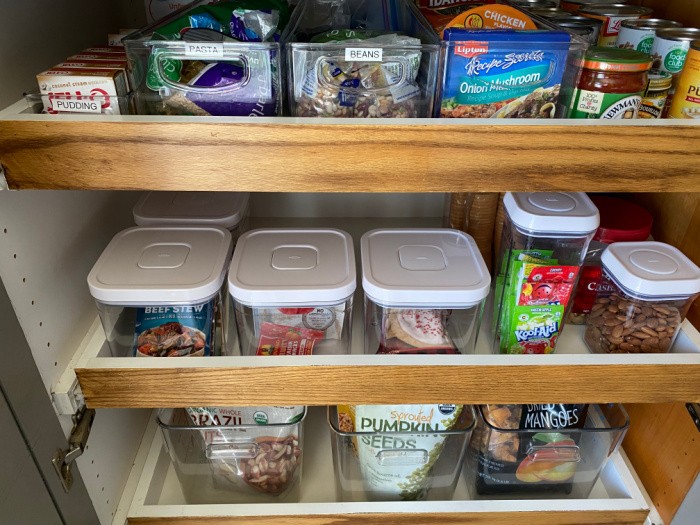 Tier Your Seasonings and Spices
Hunting for a certain spice for a particular recipe is a lot like searching for a needle in a haystack at times. Am I right? One of the best ways to fix this problem is by adding a tier system in your pantry. By tiering your spices, you'll be able to see what you have more easily and get a lot more use out of the products that you already own.
For example, if you want to use a certain spice in one of your recipes but can't find it, just look at the upper level of the tier. Chances are that's where you'll discover what you were looking for! Drawer Spice Organizer (measure your drawer depth, width, and length). In case you missed this post, 33 Essential Spices I Recommend Stocking Up On
There are spice racks that can help you too. Some of us like to organize in alphabetical order based on the name of the spice, while others like organizing by the size of the spice jars. As you can see from the picture, not all jars are the same height, so you'll have to decide what works best for you as you try to make the most of your shelf space.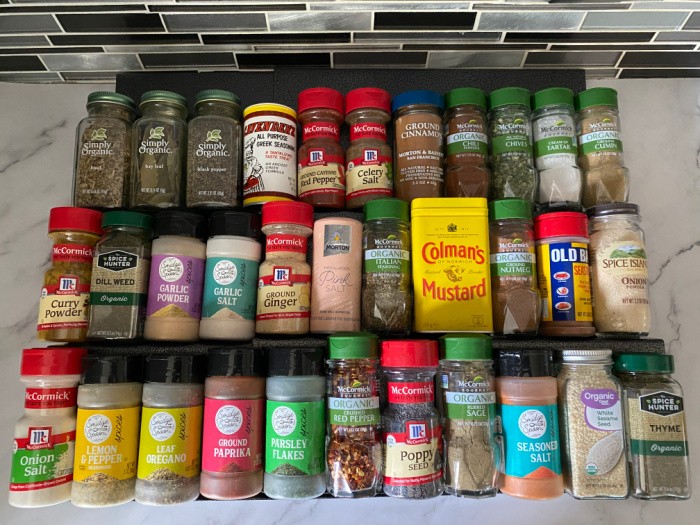 Organizing Non-Food Items
Another great way how to organize a walk-in pantry is by sorting similar categories together. This means grouping things like bags and boxes of pasta together, condiments, canned goods, and even freezer foods if your walk-in pantry has an area set aside for this purpose. Food storage containers work well for non-food items too! 10 Non-Food Items for Home Storage
Organizing Canned Goods
Wire shelving works great when it comes to organizing your canned goods. I like to keep everything separated by likeness. For example, I'll have my canned veggies in one section, fruit in another, and my canned meats in another section. Also, take a quick inventory of what you have. There's no point in holding on to canned goods that your family will never use.
When you head to the grocery store, only stock up on the foods that your family uses on a regular basis and then donate the ones just sitting there to your nearest food bank. You may not want to stack canned goods you frequently use on the top shelf, but don't forget to put other pantry items on that shelf. How to Save Money on Canned Goods
Organizing Your Tea Packets
Are you someone that drinks a lot of tea of all different flavors? If so, those numerous tea boxes are taking up far too much space in your pantry. One quick and easy solution to this is to purchase a rectangular container that's able to fit several smaller rectangular containers in it. That way you'll be able to sort each one by flavor. What to Take to People Who are Sick
Organizing Snacks
Say goodbye to wasted space with all of your kiddo's favorite snacks by purchasing a few deep containers that can help you dump everything in. Trust me, this is one that your little kids will appreciate as well since they'll know exactly where those snacks are stored. It's up to you how you sort them, but I like to have my protein snacks in one, and sweet and salty snacks in another. This will also help save you a lot of time when you go to make your kid's school lunches.
Use a Shoe Organizer
If your walk-in pantry is limited in space like many I hear about, you could always utilize the back of the door to your pantry by hanging a shoe organizer on it. Wondering what you could use it for? It's entirely up to you whether you would like to store your utensils, seasonings, and other kitchen supplies in it. Everyday items can fit inside a shoe organizer to help you organize a walk-in closet. Hanging Shoe Organizer
You can also hang things like aprons, oven mitts, and other items you want quick access to that are taking up space in the kitchen cabinetry. Some preppers will use hooks on the back of the door too. There are also special hangers that will hold things like brooms or a mop so you aren't tying up precious floor space.
Last Minute Walk-in Pantry Ideas
You don't need to spend a fortune on organization supplies for your walk-in pantry storage solutions. The dollar store has all the essentials that you'll need for storage space.
Besides using clear containers, you can also consider storing your dry goods in mason glass jars. Make sure you can get the proper lids for the mason jars you use. My favorite lid size is wide mouth. There have been some shortages of lids in the past year or so.
Lazy Susans are great for the corner spaces in your pantry. I have used these Lazy Susans, 9 Inch Size, 12 Inch Size, and 18 Inch Size
And another great idea is to utilize your vertical space by using a stackable woven basket or plastic bins!
For those of you with younger children, consider placing snack items on the lower shelves for them to reach.
A shelf liner can help you keep your shelving clean in your pantry layout.
I like to keep the heavier bulk items on a lower shelf or on the floor. If you place really heavy items on some shelves I've seen used, you can cause them to bend or even break.
I've generally put a number of my small appliances on shelves in my walk-in pantry, particularly those I don't use as often. I'll put my slow cooker in there so I can keep things like my electric can opener close at hand.
Take an inventory from time to time of how you're utilizing that pantry space. If you have some items like old pots and pans that haven't been used very often, you might want to consider a move to the basement or out in the garage, unless it's time to donate them to Goodwill.
I have a pretty extensive stack of cookbooks to deal with. I keep my most often used cookbook in the kitchen, but the others are on a pantry shelf.
If you end up with an open shelf or two, consider using that space to store some paper goods, like napkins, paper plates, and cups. I've also used my pantry for special items like holiday china, pewter drinking cups, large mixing bowls, and serving trays that aren't used very frequently.
One of my pantries actually had shelf brackets that allowed me to adjust the distance between the shelves. I loved that storage solution option since I could make adjustments for small cans, large buckets, and other configurations. If you're just now putting your pantry together, consider using shelving you can change as needed.
Final Word
No matter what your walk-in pantry situation looks like, these simple organization tips will help make getting prepared for each day a breeze. By taking the time to organize your pantry in an orderly fashion, you'll soon discover that it has become more functional and simple to use. Be sure to try them all out! May God Bless this world, Linda
Copyright Images: Kitchen Counter AdobeStock_176130262 by Africa Studio