10 Essential Ingredients You Need When Baking
If you're just getting started with baking, or you're hoping to expand your baking horizon, there are a few ingredients that every baker needs to have in their home. Every ingredient has an important role to play in a baking recipe, whether it's to add structure, flavor, or to help mix certain ingredients together. By forgetting one simple ingredient, your finished product could wind up being a huge disappointment. Have you ever had a recipe that was calling for an ingredient that you didn't have in your pantry? This is frustrating as well. To keep this from being you, these are 10 essential ingredients that you need when baking.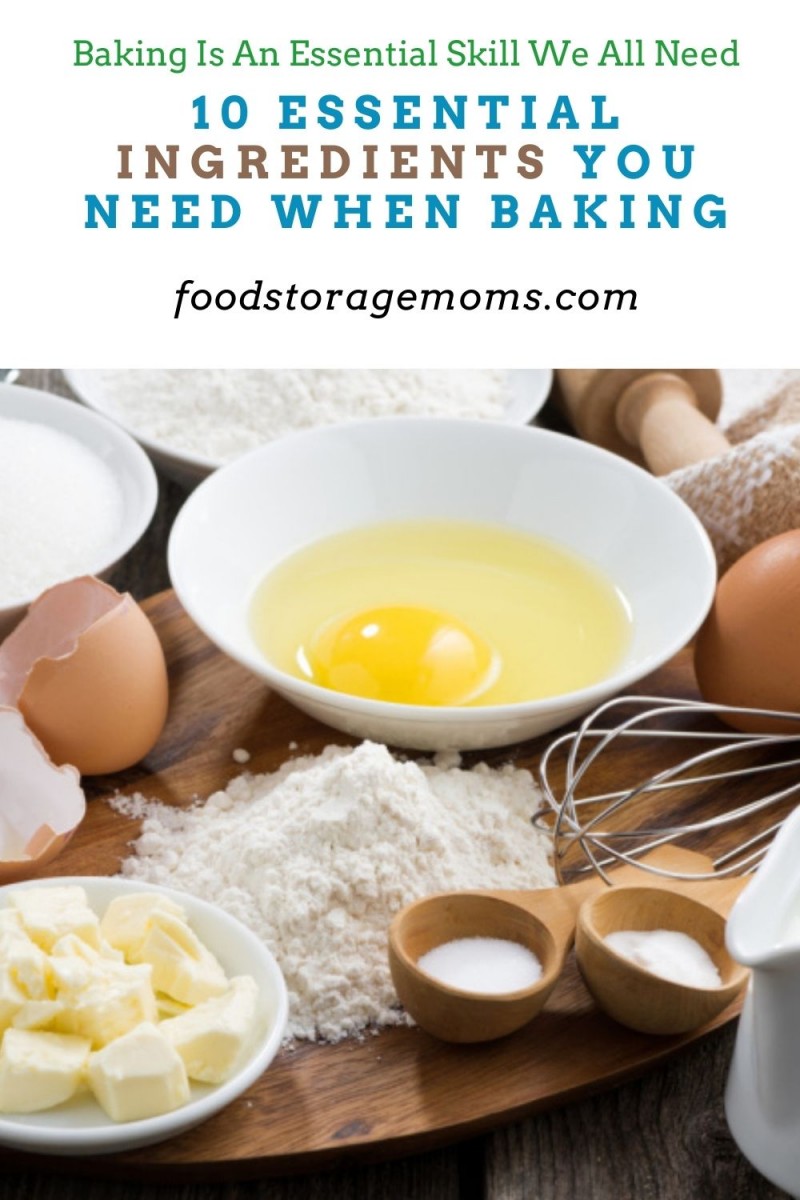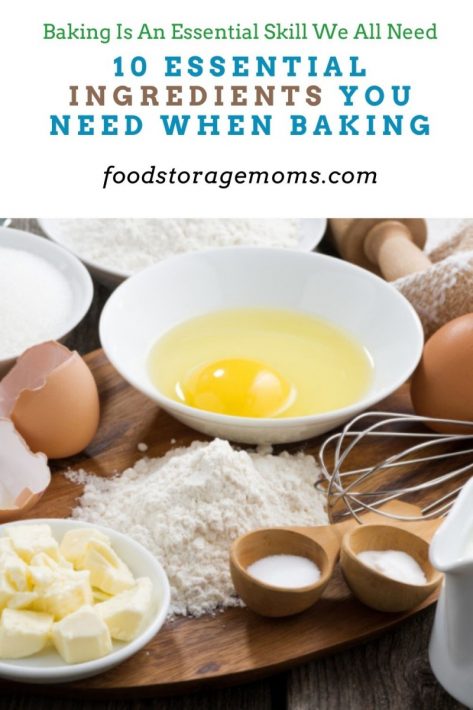 10 Essential Ingredients You Need When Baking
1. Flour
When it comes to baking, there's arguably no other ingredient that is more necessary to have on-hand than flour. It plays a crucial role in the overall structure of your baked goods and how it binds everything together into something so enjoyable. There are also many different types of flour for you to choose from based on your preferences, but All-Purpose flour can be used in almost any recipe out there.
Two of the specialized flour types out there include whole wheat flour and bread flour. For those of you who have gluten allergies, I'd encourage you to go with rice flour. There's even flour that's been ground from nuts, grains, and fruits, such as Almond flour, Coconut flour, Hazelnut flour, and Quinoa flour. In case you missed my post, How To Make A Sourdough Starter + Bread
2. Rising Agent
Depending upon what baking recipe you're looking to make, most of them require some type of rising agent to allow your baked goods to turn out right. When you're baking bread, you'll be needing yeast. In case you're wondering, Instant Dry Yeast is the easiest to work with.
Having baking powder and baking soda in your pantry will also be a must. Baking powder is the most commonly used among the two because it has a delayed reaction and doesn't begin to rise until after it's been put in the oven. Baking soda, on the other hand, works instantly with the addition of an acid. Although it's not used nearly as often, there are still plenty of recipes out there that require baking soda.
3. Fats
Wouldn't it be nice if we lived in a world where our favorite desserts and baked goods didn't have fat in them? We'd all look a little differently, but sorry, fat chance. Butter is typically your number one go-to as a main fat source, but you can also use oils as well. If you're looking for fat that has more of a neutral taste, I'd suggest you go with canola oil or sunflower oil. Some people even use olive oil in the place of butter, but you need to steer clear of the low-quality brands. They'll leave your baked goods tasting bitter after they've been baked. In case you missed this post, 13 Ways to Use Bacon Grease 
4. Salt
For those of you who are newer to baking, you may be surprised to find salt on here. As it turns out, salt is an essential ingredient that helps to balance, and also enhance flavor. While sea salt and thick flaky salts are better for you, they don't mix as well with other ingredients. This is why a thin, fine salt is a better solution.
5. Sweetener
You want those delicious baked goods to be sweet and to taste good. You'll need a few different types of sweeteners to do various things. One of the main ones that you'll want in your pantry is granulated white sugar. Some baking recipes will require granulated brown sugar. There's also icing sugar for icings and frostings. For a healthier sweetener option, some bakers prefer Stevia or coconut sugar. If you'd prefer to stick with a sweetening ingredient that's natural, there's also honey, maple syrup, and agave syrup.
6. Spices
You'd end up with some rather dull cakes, pies, and dessert breads without a pantry loaded with spices. Ground cinnamon is among the most popular, but I'd also recommend that you get ground ginger, nutmeg, ground cloves, star anises, and coriander just to get you started.
7. Extracts
Needing more flavor in your baking batter? Consider adding pure vanilla, almond, peppermint, orange, and maple extracts to your pantry. Extracts tend to be extremely powerful, so be careful with how much you use. Only a drop or two can add an immense amount of flavor to a recipe. It's also a good idea for you to try to stick with natural pure extracts.
8. Cooking Chocolate or Cacao Powder
If you have one or two chocolate-lovers living under your roof, it won't make much sense if you don't have cooking chocolate or cacao powder as part of your ingredients inventory. Cooking chocolate is ideal for melting, while cacao powder is used as a dry ingredient. Whichever you choose, I'd encourage you to spend a little extra to get the good quality stuff, because you will taste a huge difference.
9. Milk or Cream
Milk and cream provide you with a number of different benefits for your baked goods. It adds fat, flavor, and also helps to bind all your ingredients together. Most people use dairy milk, but almond or coconut milk will also do the trick. Creams are another ingredient that you can use, including heavy or thickened cream, double cream, sour cream, and in some cases, yogurt! In case you missed this post, How to Freeze Milk: Everything You Need to Know. In case you missed this post, 10 Uses for Powdered Milk or Instant Milk
10. Eggs
Eggs are an essential ingredient for baking because they help to bind other ingredients, and also to make your baked goods nice and light. Using cage-free, or free-range eggs will result in your dessert turning out better because you're using a better quality egg. Keep in mind that most recipes require the whole egg, while some will want you to separate the egg yolk from the white. This is one of those essential ingredients you need when baking amazing desserts. In case you missed this post, What Can You Use as an Egg Substitute?
Final Word
When you're first getting started with baking, it can be a bit overwhelming with all the ingredients that you need to buy, but with these 10 essential ingredients, you'll be well on your way. Are you still needing more inspiration? These are easy and delicious baking recipes that can help get you started. For all you bakers out there, what are a few other ingredients that you couldn't live without? I'd love to hear from you. What are the essential ingredients you need when baking yummy treats? May God Bless this world, Linda.
Copyright Images: Baking Ingredients Deposit photos_68263187_s-2019