10 Uses for Powdered Milk or Instant Milk

It wouldn't have surprised me at all if you had a wrinkled nose when you read the words powdered or instant milk. While most people have never bothered with powdered milk, thinking that it couldn't possibly compare to their favorite milk brand (which is most likely true), they don't realize how many uses that shelf-stable powdered milk offers them. In case you missed this post, How To Freeze Milk
Powdered milk can be used to make your coffee creamer or even a healthy snack of cottage cheese. It may surprise you that it can even be used for your health and beauty routine. Here are 10 uses for powdered milk or instant milk that you need to know about.
10 Uses for Powdered Milk or Instant Milk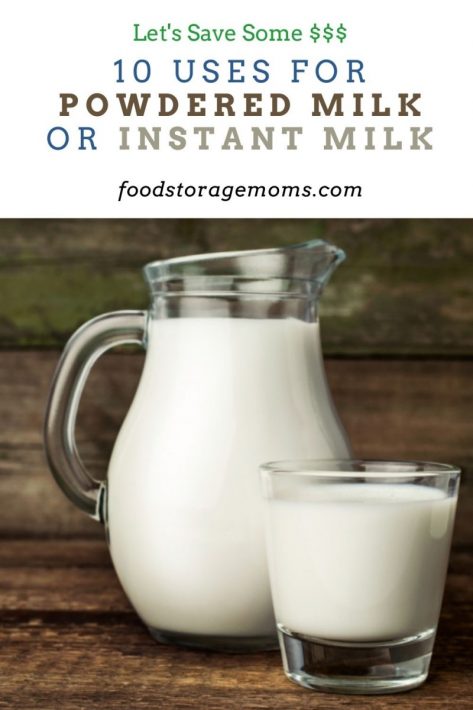 1. Sweetened Condensed Milk
Sweetened condensed milk is an important ingredient for several of your favorite desserts and treats. It's needed for recipes like cakes, pies, cookies, brownies, and so many more mouth-watering favorites.
The next time you're craving for one of these recipes, I'll bet you would have to make a trip to the store for a can of sweetened condensed milk if you didn't know this trick. Check out this recipe for making sweetened condensed milk while using powdered or instant milk to accomplish the task. 
2. Whipped Topping
Shelf-stable powdered milk can also be used to make a whipped topping for pies, crepes, and fluffy waffles. Simply add an equal amount of powdered milk along with ice-cold water and whip it until it reaches the desired fluffy thickness. To reach your preferred sweetness, add a bit of vanilla extract and a pinch or two of sugar.
3. Hot Chocolate
As the fall and winter temperatures start to arrive and your kids come in after a day's work of playing outside, you can be there to welcome them with a delicious mug of hot chocolate. It's so easy to make and only requires 4 simple ingredients. 
The end result is just the right amount of creaminess and sweetness, and you never have to worry about those globs of cocoa mix floating to the top. You can even throw in some of that whipped topping and a handful of marshmallows on top to spruce it up a bit.
4. Coffee Creamer
If you're a big coffee drinker and enjoy a splash of coffee creamer with it, then you know that the creamer that you buy from the store can be expensive. While you might be able to save on other powdered creamers at the grocery store, making your own coffee creamer can save you even more money, and it tastes good too! The best part about making it yourself is that you can make it to your desired taste by adding just the right amount of sugar or vanilla. Here's how to make your own powdered milk coffee creamer.
5. Homemade Oatmeal Packets
There's nothing necessarily wrong with the store-bought instant oatmeal packets that you can buy, but you're going to pay more for them. But if you're in the mood to save yourself some money, why not make your own homemade oatmeal packets that taste just as good, if not better?
6. Curds
Powdered and instant milk can be used to make curds that can then be used for a number of different purposes. Start out by bringing two parts of water and one part of the powdered milk mixture to a rolling boil. Next, remove it from the heat, and add 1 tablespoon of white vinegar for every cup of water that you used.
You'll need to stir the mixture ever so lightly and then let it sit until it starts to separate. Use a sieve with multiple layers of cheesecloth lining it, and then pour your mixture through it in order to separate the liquid. And finally, rinse the curds under some cold water.
7. Ricotta
You just never know when you'll be in the mood for a Garfield-approved pan of lasagna, and chances are, you don't have a container of ricotta to finish the job. Or maybe you're just wanting some ricotta to put on top of crackers or bread? Whatever the case may be, it's very simple to make once you've followed the directions above for curds.
After that, all you need to do is give it a whip and blend the curds until they reach a smooth, creamier texture. Don't forget to add your favorite spices and herbs to bring your homemade ricotta to the finish line. 
8. Cottage Cheese
Another important ingredient that you'll need for lasagna is cottage cheese, but it also tastes good with toast, french toast, or simply enjoyed with pepper or a slice of fruit. Just like with the ricotta, in order to make homemade cottage cheese, you'll start out by making curds.
Once your curds are ready, grab a scoop of them and then stir them along with a small amount of evaporated milk. After that, keep adding small amounts of powdered milk until you reach just the right consistency.
9. Milk Bath
Every once in a while, it's nice to pamper and treat yourself with a well-deserved beauty treatment. Sometimes it's as simple as taking a bath. Milk baths have been a luxurious practice ever since the time of Cleopatra and ancient Egypt.
So the next time that you're in the mood for a relaxing and soothing bath, consider adding this powdered milk recipe to your bathwater. It's known to remove dead skin while hydrating it at the same time, leaving you with softer, smoother skin.    
10. Skin and Face Soothing Treatment
You can also use a powdered milk mixture to create a face mask that moisturizes your skin. It's incredibly simple too! Add a scoop of powdered milk with a small amount of water into a bowl to make a thick paste.
Then use a brush to apply it to your face, or you can use clean hands as well. Allow the paste to dry and then remove it by rinsing. You'll be left with smoother, softer, and healthier skin. The mixture also works great on skin that's irritated, whether it's an insect bite, rash, or sunburn that you're dealing with.
10 Uses for Powdered Milk or Instant Milk
Final Word
There are so many other uses for powdered milk that wasn't mentioned in this post, but this will get you miles ahead of most people when you're in a pinch for one of these ingredients, or maybe in desperate need of softer, moisturizing skin. What are your favorite uses for powdered milk or instant milk? May God Bless this world, Linda.
Copyright Images: Milk in Pitcher with glass Deposit photos_42465507_s-2019