Top Things Pre-Corona That Everyone Misses
It's amazing how much we miss something once it's gone. Whether it's a kiss and a hug from a loved one, grabbing a drink with a friend at your favorite watering hole, or a grocery store visit without the required use of a mask. You may even find yourself missing something that you once spent more time complaining about. The pandemic swallowed up all of these little liberties overnight and then gradually spit them back out at us all mumbo-jumbo. Let's talk about the top things pre-corona that everyone misses.
While there have been a few improvements that followed, such as helping many of us slow down, most of us wish that we could go back to the way things used to be. I'm betting that you may be one of them. Here are some of the top things that everyone is missing following the coronavirus pandemic. In case you missed this post, Asymptomatic VS Presymptomatic Spread of COVID-19
Emergency Items I recommend: Butane/Propane Stoves and Fuel
Top Things Pre-Corona That Everyone Misses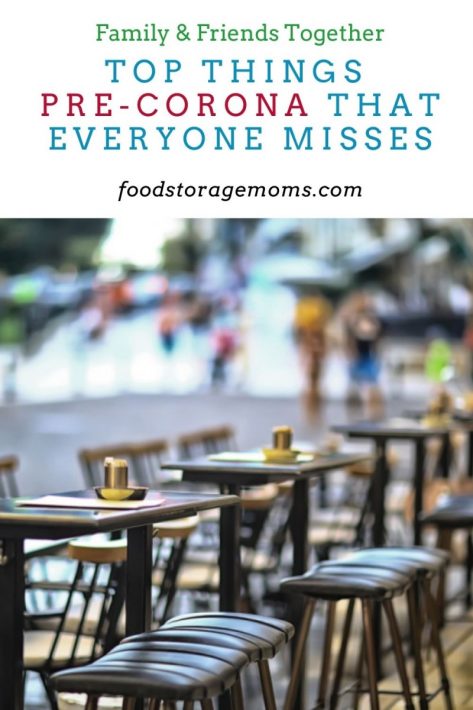 Our Normal Routine
Most of us can agree that we just miss living out our normal routine. When the pandemic began to sweep across our nation, we lost a sense of any control over our lives that we thought we had, along with the comfort of the predictable. Many workers are still having to work from home instead of being able to mingle with their coworkers. We miss even the simplest social interactions. Coffee baristas are still saddened by their favorite regular customers that they haven't seen since before all of this began.
Visiting with Loved Ones
Not being able to visit with loved ones has taken a huge toll on most of us, especially for countless grandparents who have health issues and haven't been able to see their grandchildren all these months. I also know certain individuals out there who are going absolutely crazy because they need to hug someone just as much as I need a cup of coffee in the morning. We've found out that greeting and embracing our family and friends were more important than we realized. I think this is something we all took for granted pre-corona.
In-School Classroom Experience
Back in March, a majority of the schooling across the country was moved to online learning for the remainder of the school year. This was hard on teachers and faculty who missed their students, and even for students who missed being surrounded by their friends. Let's not forget that it was hard on parents as well, where they had to balance their jobs while having a difficult time finding childcare for their kids during the day.
Even though most schools have returned back to the classroom at this point, it's still not the ideal school experience that students and teachers would like. Schools have had to evolve in how they go about doing just about everything, especially in the cafeteria, playground, and after school sports activities that students love so much.
Sporting Events
Wow, what a messy, upside down, wacky year for sports. Can I get an "amen" for all you sports fans out there? Stadiums and arenas didn't have the option of filling their bleachers with noisy and excited fans this year, rather they teased all of us television viewers by filling their seats with cardboard fans instead. Even the summer Olympics were canceled this year. Millions of Americans not only missed out on the sports teams that they love to watch in person, but being surrounded by other fans as well as the traditions that brought such joy to us all.
Grabbing a Bite To Eat
If you're like me, every once in a while you enjoy going out and having a cup of coffee or a bite to eat while getting caught up with an old friend. For several months this was not even an option. Once businesses did start opening back up, there was extremely limited seating, which by the way still continues to this day.
There are many folks who have yet to return to their favorite restaurants and coffee shops because of the possibility that they might get sick. Carry-out and delivery services have exploded onto the scene during this new period that we find ourselves living in.
Working Out and Fitness Classes
A lot of people who have gym memberships or were a part of fitness classes also haven't returned to these types of facilities for similar reasons. There seems to be a lot more flabbiness walking out on the streets recently, myself included. Many athletes and us regular people who wished to continue working out had to reinvent their workout routine, several of them decided to go virtual.
An added challenge is not having the necessary equipment at home like we enjoy using at the gym.
Swimming Pools and Theme Parks
This summer, city swimming pools sat empty and eerily quiet. You may have been one of the many families that decided this was the year that you bought a family pool for your backyard. But if you made the mistake of waiting too long, it was nearly impossible to get your hands on one or the necessary workers to install it. So then you had to find other methods to keep your kids cool during the hottest part of the year.
Theme parks also took longer to get up and running this summer, and when they did, they still had to limit their visitors in order to keep social distancing a high priority. Looking on the bright side, lines were considerably shorter than ever before.
Some theme parks have been able to reopen, but require reservations so they can limit attendance. Be sure to plan ahead and find out what you need to do BEFORE you pile in the car or fly to the desired destination.
Milestones Missed
This one has been especially hard on a lot of us. Thousands of couples have had to make the difficult decision of postponing their weddings until a later date. Family reunions have also been put on hold while many families' holiday get-togethers aren't going to be happening this year. Many people were unable or scared to attend funerals because of the fear of the spreading virus.
Another big challenge is having a loved one get sick or move into an assisted living facility and not being able to visit them when they crave the attention we could provide.
Top Things Pre-Corona That Everyone Misses
Final Word
For most of us, it's the little things that we once took for granted that we miss the most. We were once able to go just about anywhere and do anything without having to worry about harming other people, getting sick ourselves, or just forgetting your mask when it's required.
I miss my normal routine or being able to give someone a much-needed hug. I even dare to say that I miss just having normal daily struggles instead of waking up to coronavirus statistics every morning. What is something that you have had to surrender this year that you miss so much? I sure do miss life pre-corona and I look forward to my normal life returning in due time, whatever that new normal might be. May God Bless this world, Linda.
Copyright Images: Street Cafe No People Deposit photos_376481338_s-2019