What to Take to People Who are Sick
Today it's all about what to take to people who are sick. Can you remember a time when you were terribly sick and someone came to your rescue in hopes of cheering you up? Maybe it was just a quick visit and a small gift that they dropped off, but it meant the world to you. Amazingly, it may even have helped speed up your recovery time. In case you need a Chicken Noodle Soup recipe, here it is.
Now it's time that you return the favor for someone that you care about, but you're currently struggling to find the right thing that would help make them feel better. I'd be more than happy to help you out. Keep reading to discover what to take to people who are sick.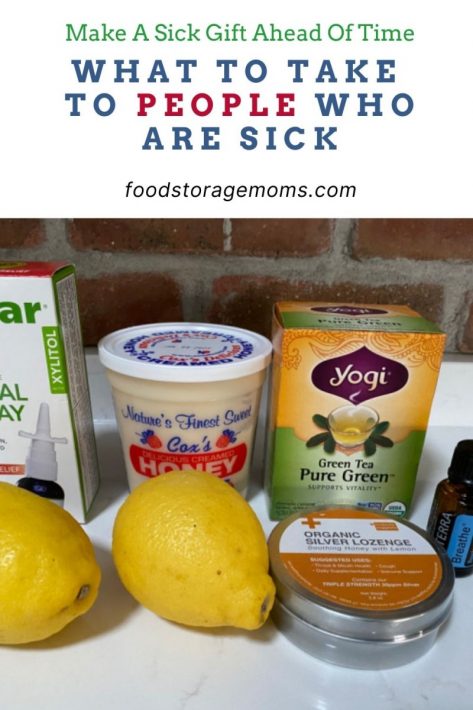 What to Take to People Who are Sick
Whether your loved one or special friend is cooped inside while quarantining themselves from the rest of the world with Covid symptoms, or sick with another drawn-out illness, these are the perfect gifts and gestures to let them know that you're thinking of them. Some of the items are wonderful for making them warm and fuzzy on the inside, while others are sure to have the same effect on the outside. Continue reading to find out what you should take to people who are sick. In case you missed this post, 35 OTC Medications You Should Store
Here are the items in the picture (not the lemons)
I read this article from Channel 4 in Utah, it's a good read. Please tell me what you think. I ordered a bunch of Xlear after reading this. Please stay well, my friends.
My Doctor Suggests Throat Lozenges
Cox's Honey from Shelley Idaho (raw, unfiltered honey)
DoTerra Breathe (I don't sell it, but it's my favorite)
Tasty and Delicious Goodies
Just as long as the sick person in your life is not on a restricted diet, delicious treats and goodies are a wonderful way of brightening their day. Whether it's a box of creamy chocolates or a plate of yummy and gooey homemade chocolate chip cookies, a quick-spell of sugar is sure to put a smile on their face.
There are also healthier alternatives that are also thoughtful, such as an appropriate mug filled with green tea packets and honey, or a delicious fruit basket.
A Few Gift Cards to Some of Their Favorite Places
Nobody ever feels like cooking when they're sick, and maybe you don't have enough time to whip up a casserole? This is why a handful of gift cards to some of their favorite places to eat will be an ideal gift to provide. They won't even be required to get out in order to redeem them, as they can have delivery services bring a meal right to their front door. 
Games and Entertainment
Being sick with not much to do can become boring real quick, especially for those who are confined to a hospital bed. The television in their room will only entertain them for so long before they're needing something else to distract them from their illness. 
Think about getting them a few brain games, such as crossword puzzles or sudoku, to keep their mind sharp and occupied. If they enjoy reading, get them a new thrilling book that they can dive into and get lost in. You could also try a feel-good or inspirational movie that will encourage them. When you're thinking about entertainment for younger people, maybe a coloring book with new colored pencils, a magazine, or an exciting comic book.    
Bring them Something Warm and Cozy
If you know someone who's going to be spending a bit of extra time in the hospital, that gown they'll be wearing in the meantime isn't going to bring them much comfort. Or maybe it's someone you know that won't be able to get out of their home for an extended period of time? 
They'd be tickled pink to receive a cozy pair of pajamas, comfy slippers, or even a snuggly bathrobe to keep them warm. Fuzzy socks or a blanket that they can wrap around them will help combat any cold chills they may be experiencing. Hot-water bottles are used less and less anymore, but they too can bring comfort.
USB Cord
Having a Facetime phone call with a loved one cut short because of a dead battery can be extremely frustrating, especially when you're sick and you need someone to talk to. Maybe your sick loved one already has a USB cord but it doesn't reach far enough to the nearest outlet from where they are resting? Consider this USB cord that reaches over 4 times as far as your typical USB cord, so that they don't have to be put in an uncomfortable position while charging their phone or another electronic device. 
Bathtub Caddy Tray
Many people love to take baths when they're sick, but it certainly would be nice if they were able to bring some entertainment or a glass of their favorite drink into the equation to help with the healing. How about this bathtub caddy tray so that they can rest their tablet on it while they continue watching Netflix uninterrupted. And if they're feeling really mischievous, they can have a snack ready to go.        
A Comforting and Therapeutic Care Package
It's next to impossible to relax when you're feeling under the weather, especially when you're dealing with aching and tense muscles that feel like they're tied all up in knots. You should consider getting your sick friend or loved one therapeutic hot stones that can help ease some of the pain. Head or back massagers would also be a welcome care package gift. And if you want to go the extra mile, essential aromatic oils would also help them to enjoy relaxation during this difficult time.     
Handwritten Message
Sometimes it's the little things in life that touch our hearts the most. A handwritten message of encouragement goes well beyond what any gift or sweets could do, especially if you have just the right words that they need to hear in order to cheer them up.
If it's for one of your co-workers, consider having everyone in the office sign it with you. When it's a child that's feeling under the weather, a nice note from their teacher, along with their classmates' signatures, will go a long way in improving their mood. 
Final Word
There's no good way of putting this, so here goes. Being sick sucks! But a friend or family member that pays a visit and leaves behind a word of encouragement, (and sometimes just the right gift) can be the difference-maker. These are just a few of the many things that you can do for someone when they're under the weather. Do you know of any other thoughtful gifts that say that you're thinking of them? I'd love to hear from you. What do you take to people who are sick? May God Bless this world, Linda.