20 Tips From Grandma to Survive A Depression
Today, I have 20 tips from grandma to survive a depression. We need to be ready, my friends. Have you ever sat down with your grandparents or great-grandparents and listened to their stories of how they survived the Great Depression?
If you have, you've probably learned many ways of coping if a certain financial catastrophe were to happen again. I keep updating and adding to this post. Things seem to be getting worse every year.
Maybe you don't have a family member still alive who went through those, or similar, tough times. You may have no personal knowledge of what to expect and where to start as you try to be self-reliant and prepare for financial challenges.
Here are 20 tips from grandma to survive a depression. She would share these tips with you regarding how her family survived the darkest of times.
Some of My Favorite Tools: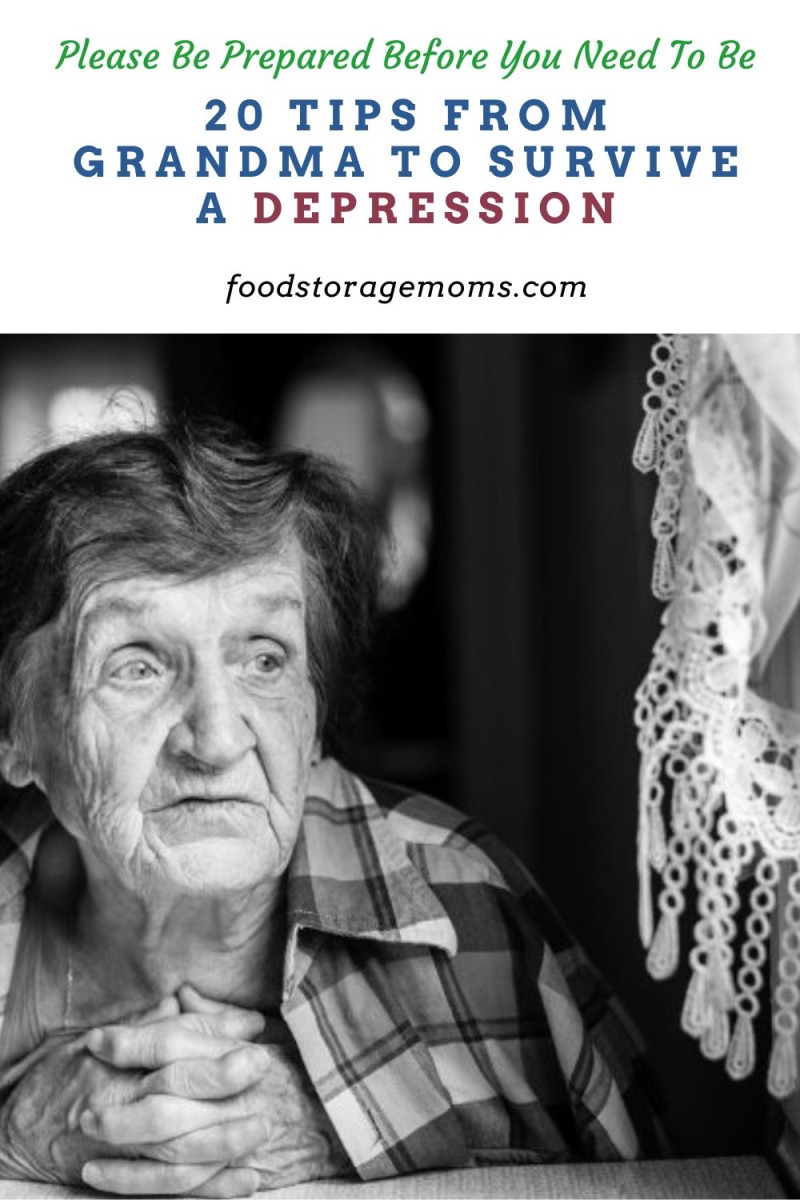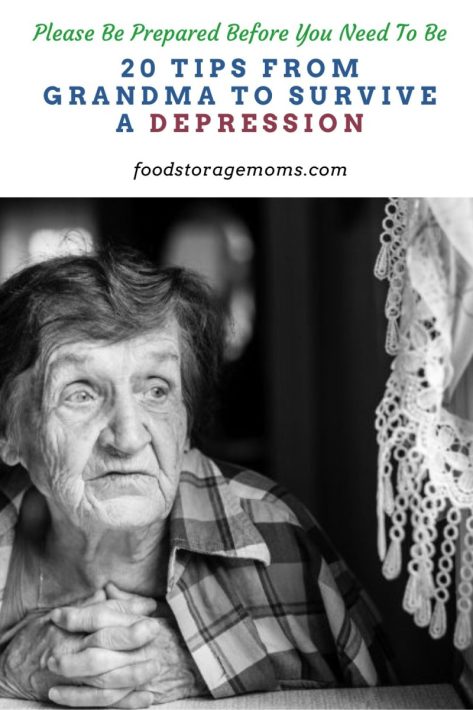 Survive A Depression
1. Use Every Resource
Our grandparents who survived the depression found ways of using every resource available. Today, when a pair of shoes become very worn, we think nothing about trying to make them work and we just throw them out.
During an economic collapse, you might not have that option. You may find yourself preserving resources by repairing them, if possible, instead of buying new ones.
Mark's parents were married in the spring of 1929, so they were just getting started together when Wall Street experienced the stock market crash, banks were failing due to people pulling deposits during a bank run, and investors lost all hope their investments would survive the free fall.
I remember watching Mark's mom gather the paper napkins after dinner for use next time, as long as they weren't too soiled. They tended to keep their cars for longer than I was used to seeing, and although they loved family vacations, they always planned trips by car rather than flying. His parents were used to watching every penny, yet they seemed happy and content.
2. Steer Clear from Debt
Those who've been through recessions would advise you to stay out of debt. If you are already in over your head in debt, put a plan together to try and get out as quickly as you can. While the lenders at big banks currently might be more lenient, when the economy takes a hit, they'll be less forgiving because you won't be the only ones looking for relief.
Do all you can to prevent having to file for bankruptcy. If you have a loan on your home, make sure payments are made on those mortgages since that's a sign you are sincerely trying, and you don't want to put your shelter at risk. Even though you may be feeling some real financial pressure, do your best to get back on top, and don't panic.
3. Start Saving Now
Having money tucked away in anticipation of a financial emergency, and making sure you add to it as often as possible, will be huge. Start saving any money that you can NOW so you're better prepared when a crisis hits. 
There are all sorts of financial instruments to consider, from bank savings and certificates of deposit, the commercial and government bond market, mutual funds, or even the stock market if you feel comfortable doing so. The stock market has seen some hits this year, so stay away from industries that show systemic risk.
You hear a lot about Cryptocurrencies these days. I'd steer clear until that market is more stable and not subject to the scams we hear about in the news. The government's financial regulators really haven't taken on that market at this point, so buyer beware.
4. Learn to Improvise
During the 'Great Depression,' many Americans had to learn how to adapt, and do so quickly, I might add. You shouldn't keep pretending life is going to run the same or as smoothly as it has most of your life. Putting a plan in place and being willing and able to improvise any way you can, will prove very helpful for your success in making it through tough times.
Learning to improvise may include learning to sew your clothes, cooking more meals at home, finding new ways to recreate and vacation, and more. Be creative, you'll surprise yourself.
5. Build a Community
Don't try and do things on your own when the whole world comes crashing down around you. If you don't have people in your life who can help pick you up and work to get you back on your feet, it's time to break out of your bubble and get more involved with your own financial future.
Having a community of family and friends that share a common goal of encouraging and helping others will have a huge impact on morale. You will need family members to help you make it through financial hard times.
You can also learn to rely on financial advisors and your co-workers who are homeowners and family members like you. Your spiritual advisor may also help provide the resources you need to get through the difficult stretches.
Be careful about providing personal and financial information to strangers. Our culture is full of scams and people committing fraud in their effort to take your money or property. If in doubt, follow your gut and go elsewhere to put your hard-earned money and resources to work.
6. Go to Wherever the Opportunity is
When the Great Depression happened, many people were willing to travel to wherever they thought there were new opportunities. John Steinbeck wrote the book 'Grapes of Wrath" which details the lives of families who moved from the mid-west and southern states to California seeking better times and circumstances.
Yes, many found new challenges, but others were able to grow in their new environment. This goes along with improvising which was mentioned earlier.
If you've lost your job and can't afford your home, and you hear there's work in other locations, then you better be willing to consider making that change. We can't get ahead by waiting for the next fiscal stimulus from the government, we need to be self-reliant and look after ourselves.
7. Different Sources of Income
Depending on one source of income during economic uncertainty might not be enough. Over the past few decades, many Americans had to take on part-time jobs to keep food on the table.
You should consider looking into training programs for new employment opportunities. With all the dialogue in Washington about government spending on infrastructure projects like highways, railroads, bridges, low-income housing, etc., you may find yourself fitting into different industries and learning new skill sets.
If you've thought about going back to college or attending a trade school, now might be the right time to "follow your dream."
8. Know Survival Skills
You can't always rely on others to fix and repair things during a financial collapse. You also won't be able to rely solely on the supermarkets to provide meat and other staples for your meals.
As mentioned above, learn how to fix or sew your own clothing, and put meat, fruit, and veggies back on the menu through gardening, fishing, and hunting. Learn basic survival skills. Take control of your own disaster recovery efforts, and learn to stretch a bit.
9. Learn to Barter
When the money's gone, you may have to turn your possessions into bartering tools. If you have valuable basic necessities that people need to survive, that's a huge bargaining chip that's in your favor.
Above, we talk about survival skills. One thing to consider is putting your own skills to work as bartering chips. Maybe you can trade what you know and do with someone who has what you need, and vice versa.
10. Waste Nothing
Have you noticed that grandma and grandpa hardly waste anything? They learned how to do without, so when they had a little of something, they made sure to put it to good use. You see people all around you who feel they need all the latest gadgets, particularly new electronics.
Maybe you can wait for the next generation of iPhone or Android so you can still access Twitter and Facebook. The challenge with feeling the need for the latest and greatest is we can find ourselves in the middle of a global financial crisis and foreign countries, including countries that are our trading partners, won't be manufacturing many commodities, including those phones and other gadgets.
With the conflicts in Europe, and the tensions elsewhere in the world, nothing is guaranteed to be available, so learn to be patient or do without.
11. Stretch Your Meals
The Federal Reserve is trying to get our national inflation levels down, but prices still remain high on so many things, including the food we eat every day. The prime rate announced in New York, and interest rates at the Bank of England in London, continue to go up. It is costing farmers and ranchers more to produce our food, so the costs get passed on to us.
A secret to Stretching out your meals is by adding cheap protein to your diet. Eggs, beans, and rice are cheap solutions that you can add to your meals to make them more filling. You can even preserve dozens of meals to have just in case we end up living through something like the Great Depression again.
12. Stock up on Supplies
Have you noticed how grandma has a stockpile of toothpaste or toilet paper? She does this for good reason. Stocking up on supplies we use every day while there's a good deal will help you be better prepared for a crisis, and not have to do without.
My archive is full of posts that outline ways you can effectively stock up every month. Look for my "What to Stock Up on" series and implement the ideas put forward there.
13. Supplement Your Diet through Gardening
Having a garden through an economy-dry spell will go a long way in providing another source for getting your next meal. Farm work has always been a way of life, even for our great-grandparents. We may need to rely on the skills of that way of life again.
14. Preserve your Food
Preserving food through canning is something that is dying out today. With the right preservatives and canning supplies, building stock for your family to fall back on can be a great option. There may be times when purchasing canned goods at the grocery store is no longer an option and you'll need your own processing of food to make it through the tough times.
15. Search for Different Methods of Transportation
Gasoline might become too expensive or hard to come by during a collapse. Being able to take your bike to work might be the only way you can afford to get there.
For the time being, using public transportation may provide a chance for you to save a chunk of money. We forget how much it costs to have the car in the driveway available for our daily use. We often just think a car's cost is only the car payment, and we forget that fuel, insurance, maintenance, and taxes are all part of the cost of car ownership.
An alternative is to consider carpooling so you can "share" in the cost with family, friends, neighbors, and co-workers.
16. Everyone in the Family Worked
The Great Depression was not friendly to those who were affected. It put young and old alike to work. That means kids found ways of making money to help support their families, and the elderly didn't get to retire as early as they hoped. They simply worked until they were not able.
17. Keeping Your Dignity in Lowly Jobs
People also kept their dignity by working jobs that nobody would want to do. They didn't care about what others thought of them in their occupation. That might mean swallowing your pride and working at a fast-food restaurant or getting dirty picking up trash. There is no right or wrong way to earn money as long as it is legal and has few personal harm risks.
18. Enjoy a Simple Life
The men and women of the 1930s that survived the economic collapse, were given a new perspective on life. People learned how to enjoy life even when they had to go without. Families found joy in doing things together and made do.
19. Keep Morale High
Many lives tragically ended when things got too hard. You have to find ways of keeping each other's morale high in any way you can. Take hikes, bike rides, walks, TV watching, reading, and other simple things to fill your free time and make the most of your circumstances.
Visit extended family, call old friends, go window shopping, and do those fun simple things we did when we were younger and didn't have much.
20. Remember to Live
If a crisis like an economic collapse were to happen again, it would be hard not to put all your worries and effort into simply surviving day-to-day. Somehow, through it all, you would have to find and remember how to live.
Laughing, crying, dancing with your spouse, or playing with your children can never be taken from you. Only if you allow it. Just because the value of the dollar has died, doesn't mean that your family's lives should die with it.
Final Word
These are 20 tips that grandma would share with you to help you to cope with an economic collapse. These survival tips worked during The Great Depression and the Dust Bowl and they will work again.
What other bits of advice would she share with those willing to listen? Thanks for being prepared for the unexpected. May God bless this world, Linda
Paper Towels vs Hand Towels by Linda
Copyright Image: Depositphotos_137857822_s-2019, Grandma AdobeStock_127454363 by De Visu