Fire: How Can I Prevent One In My Home
Your home is meant to be a place where your family feels safe and where wonderful memories are made. So, it can be terrifying and completely devastating if your home were to ever go up in smoke. Hopes and dreams, as well as lives, can be shattered in just a few short moments. Fire: how I can prevent one in my home.
Fire: How Can I Prevent One in My Home
Looking at the statistics, most of the house fires that happen every year are disastrous nightmares that easily could have been avoided. In a number of these situations, careless mistakes and a lack of preparation could have made all the difference.
There are also a few fire-susceptible areas in your home that you may not even have thought about before. Here's more on house fires and ways that you could prevent one in your home.
Avoiding Kitchen Fires
Most fires that take place in a home start in the kitchen, so it's a room that you need to keep a watchful eye on. The grease fire is the most dangerous and hardest one to put out and is usually caused when grease comes into contact with heat.
Never leave a room with food cooking on a stove, or place combustible items too close to where the heat source is. You also don't want to leave cooking equipment and appliances left in the on position.
Keep Your Stove and Oven Clean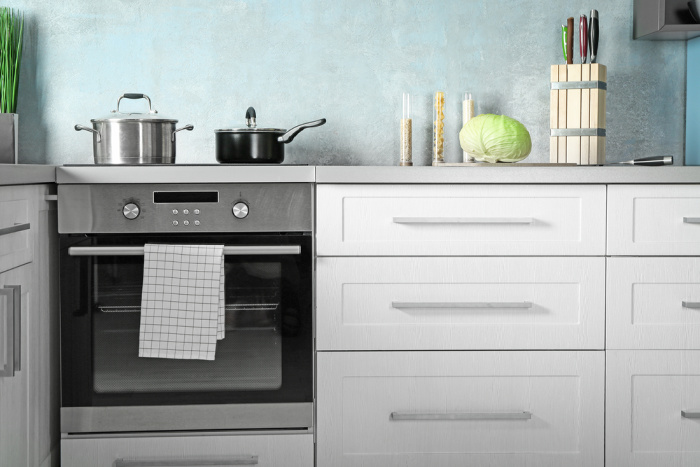 Keeping your stove and oven clean and tidy is another preventable way for keeping fires from happening in your kitchen. That way no food particles can catch fire and there are not any items such as a cookbook near or around a burner that's turned on.  Sometimes spilled oil or grease from cooked food will collect on the bottom of your stove. Make sure you clean these up when observed.
Store Flammable Products Properly
There are certain objects in your home that can easily catch fire because of the combustion caused by being too close to a heat source. Things such as hairspray, cosmetic items, and cleaning supplies all need to be stored in a cool place.
Check Out Every Power Cord
Before you plug a cord into an outlet, make sure that it isn't frayed or has been chewed on by the family pet. A damaged wire or cord is a huge fire hazard. Make sure that it's properly set into the outlet and make sure nothing is sitting on or covering the power cord. 
Maintain Your Dryer
As many as 2,900 fires happen every year due to a dryer lint trap that hasn't been cleaned out properly. I've even been guilty of this one before, but it's an important habit that we should never forget. So every time that you go to use your dryer, make sure to remove the lint ahead of time, or right after you remove the dried clothes. 
Mark and I have had some professionals clean our dryer vents in the back of the dryer, but I must say the lint never ends. I bought this tool to attach to our vacuum to clean out the filter section by the door. I'm not talking about cleaning out the back of the dryer vent, but if yours is accessible that would be awesome. Our dryer vent goes up through the roof, so we hire that out. This is the tool I use to vacuum the lint tray where we empty the filter every day. Doing so about once a month works for us. Dryer Vent Cleaner Tool
Make Sure Your Furnace and Space Heaters are Working Properly
Make sure that you keep up with the air filter on your furnace and that it's inspected annually to ensure it's working properly. Yes, this may mean that you may need to get a professional to look at it. That may sound costly, but a fire in your home could prove far costlier.
Space heaters can be another fire safety issue. Don't allow anything to get too close to them and make sure they are positioned away from flammable objects. Old space heaters are responsible for over 450 deaths every year, so it may be time for you to replace yours.  
Don't Use Candles for Power Outages
Growing up, I can remember my parents always lighting candles when our power went out, or setting out scented candles around the holidays. DON'T do this!!! Every year, candles cause over 15,600 house fires and over 150 deaths. This is because children, pets, and even adults accidentally knock them over, or leave them burning while unattended.
Use the Correct Wattage and Fixtures
When it comes to lamps and other light fixtures, make sure that you use the suggested power wattage that is listed on them for the bulbs you use. Using a lightbulb that provides more wattage than what is recommended can easily overheat and cause a fire. Make sure that your lamps have a secure base so they can't easily be knocked over, and never place anything on top of the lampshade 
Avoiding Fireplace Fires
As cozy as it may be, dozing off while relaxing next to a fire can be very dangerous. If a spark escapes into your living or family room, it could cause chaos in a matter of minutes. Never leave a fireplace unattended and make sure that you dispose of any ash that is left over by placing them in a metal container after the ash is completely cool. 
Carbon monoxide poisoning is another thing for you to be aware of, but unfortunately, you can't smell it. Make sure that your home has a carbon monoxide alarm as well.
Don't Smoke In Your Home
Choosing not to smoke in your home is another smart way of avoiding a house fire. As many as 7,600 buildings are engulfed in flames every year due to a smoking-related incident. If you choose to continue to smoke in your home, at the very least, keep your cigarettes away from bedding, furniture, flammable objects, and also make sure that the cigarette is properly snuffed out in an ashtray. Smoking should never happen in homes that use medical oxygen, as it may cause an explosion. 
Keep Fire Extinguishers On Hand
Your home should have a fire extinguisher on every level of your home, and especially one in the kitchen This way you can put a fire out before it gets out of control and completely obliterates everything in its path.
In our CERT class, we all learned how to have a buddy with us to assist in putting out a fire. I must tell you those fire hoses are very very heavy. That was probably the most exciting thing I learned during our training. You sweep the hose to put out the fire. How To Get Started With CERT
Here are some interesting facts about regular fire extinguishers we have at home, in the garage, or the car. All fire extinguishers are labeled with certain tags to identify which classification of fuel the extinguisher will be effective to fight:
1. Class A Fires: Ordinary combustibles like paper, cloth, wood, rubber, and many plastics.
2. Class B Fires: Flammable liquids like oil, and gasoline, charcoal lighter, kerosene.
3. Class C Fires: Energized electrical equipment like wiring or motors. Once the electricity to those is turned off they become a Class A.
4. Class D Fires: Combustible metals like aluminum, magnesium, or titanium.
So when you purchase a fire extinguisher it is extremely important to identify the type of fuel you suspect would be most common so you can select the correct extinguisher you think may be best for your personal situation to do the job correctly.
Check Your Fire Alarms Regularly
It's horrible to think about what could happen if a fire starts in the middle of the night and there's no smoke alarm to wake you. It happens more often than you may think. So it's extremely important that you check your fire alarms regularly and have a number of them on every floor and room in your house. Most municipalities have codes regarding the number and placement of smoke alarms.
If you live in an older home, or one where the alarms are getting older, consider buying and installing them, or replace the ones that are there. This is a very important part of fire: how can I prevent one in my home!
Final Word
Let's face it, accidents do happen, but using these preventions and preparing ahead of time can greatly reduce the risk of a house fire and losing all your possessions, or even a loved one. I hope this resource called fire: how can I prevent one in my home works for you! May God Bless this world, Linda.
Copyright Images: Burning Home Deposit photos_339406478_s-2019, Kitchen Stove Deposit photos_179864332_s-2019