25 Things Everyone Should Hoard
Today, it's all about 25 things everyone should hoard for an emergency. When disaster strikes, it's typically too late to start planning, making a list, and then heading to the grocery or big box store to pick up your needs. By the time you get there, people could already be out of control, ransacking the shelves looking for foods and supplies that you should have already stockpiled.
With some of the floods, tornados, fires, and extreme drought conditions we've been hearing about, I wanted to update this post I published a few years ago, just as a reminder. I'm sure you all took seriously my suggestions back then, but there's no harm in a friendly reminder, right. LOL
This doesn't have to be you in this type of situation. Be prepared. Take a look at these 25 things that everyone should hoard in case of an emergency. My list may not contain items you feel are important based on your family's needs. Can you think of other things everyone should hoard for an emergency?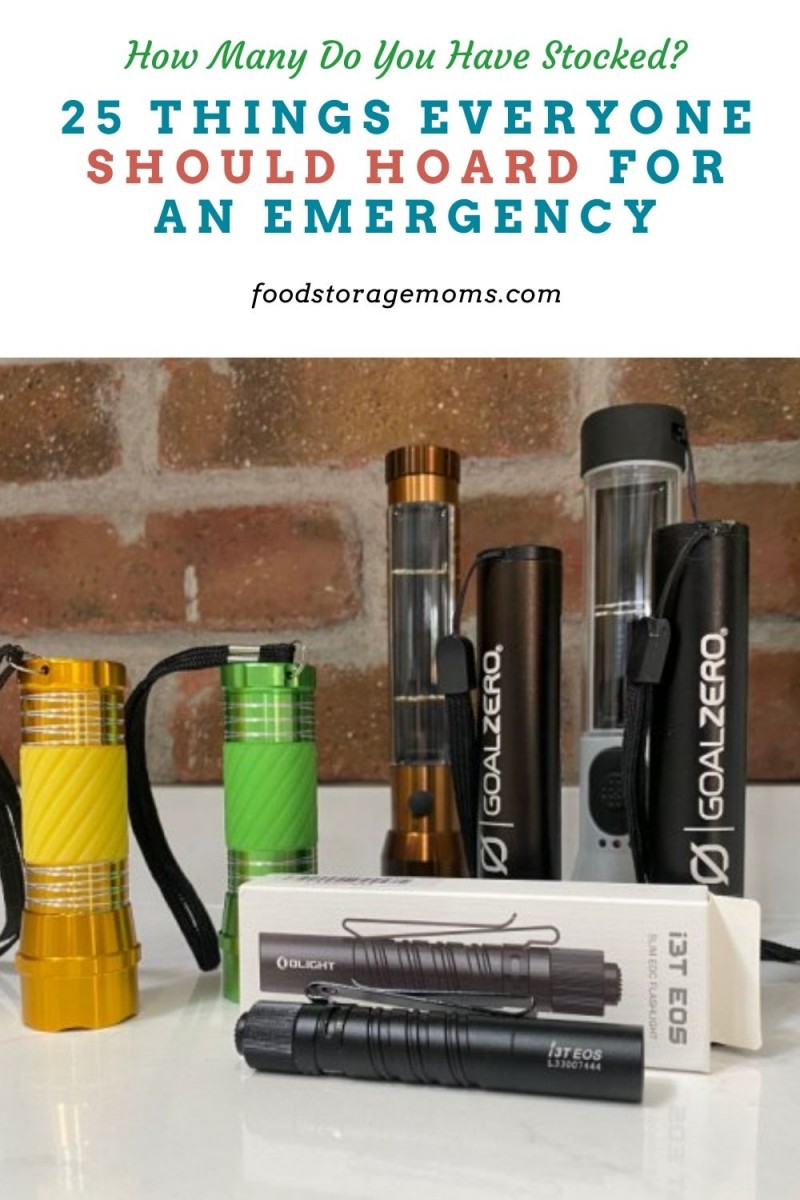 25 Things Everyone Should Hoard
1. Pain Relievers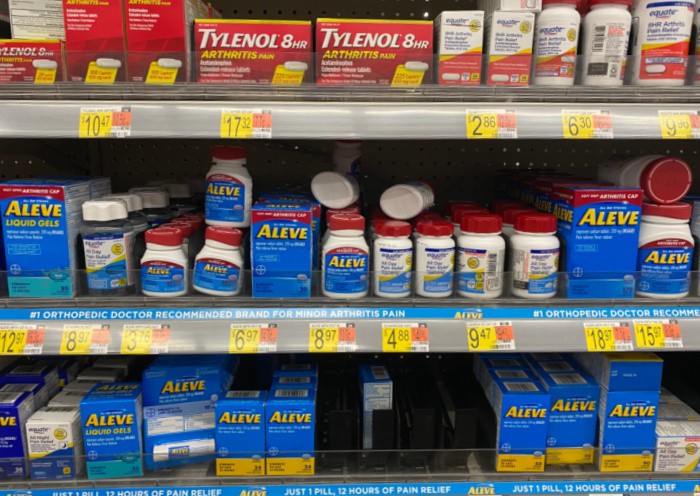 Having aspirin on hand can be useful for relieving headaches and reducing fevers. Applying the cream version directly to burns, scrapes, and cuts can reduce pain quickly too. It even works well on a bug bite or bee sting. If you use Tylenol or Ibuprophen, please stock them and be sure to rotate as needed based on expiration dates shown on the package.
2. Electrolytes
Catching a fever with flu-like symptoms during a crisis is not only bad but can be deadly. Stocking up on electrolytes, such as Gatorade or Pedialyte can help replenish your electrolytes and keep you from dehydrating. We had some family members experience dehydration the past few months. One ended up in the hospital for four days. We must have liquids available when we get sick.
3. Hand Crank Radio
Not being informed during an emergency can be even scarier without the critical information from the outside world. Purchase a hand-crank radio to help with this challenge. How do you make important decisions if you don't know what's going on in your area? The good thing about this solution is that no batteries are required.
4. Multi-tool
Having a multi-tool you can attach to your belt during a crisis could prove to be more effective than carrying around a toolbox full of heavy tools everywhere you go. Most of them have knives, scissors, screwdriver, bottle opener, can opener, and pliers.
5. Firearms or Other Weapons
Unfortunately, bad times usually bring out the bad in people. Having firearms stashed away for protecting your family is important, even if you aren't fond of them. If you are totally against guns, find some other solution or form of protection for keeping your family safe.
It isn't good enough just to have them, you also need some training and practice so you can effectively put them to use. Personal safety is critical since you could misuse the firearm or other weapon and actually hurt yourself or other innocent people.
6. Extra Blankets
Heaven forbid if an emergency were to strike in winter. But if it did, make sure that you are ready. Electricity and keeping your home heated by natural gas might not be options. Make sure to have plenty of extra blankets stored away, just in case.
It's also a good idea to have warm coats, long sleeve shirts, thermal underwear, thick socks, stocking caps, etc. You need enough for all family members, keeping in mind different size requirements.
7. Duct Tape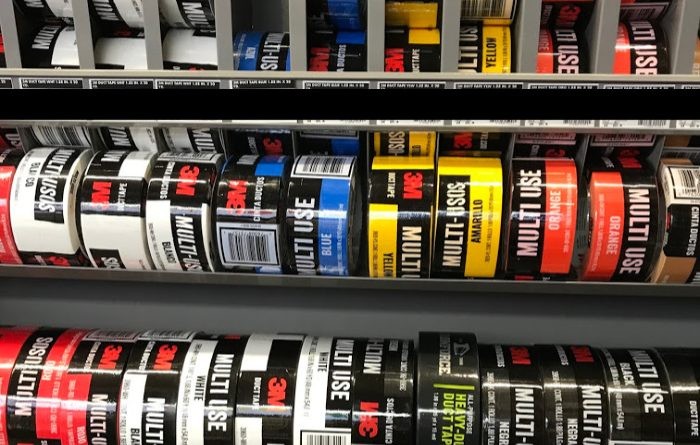 Duct tape has so many uses. You could patch a tent, patch a hose, better insulate your shoes, and so on. Mythbusters (television show) even made a kayak with duct tape and a few pieces of wood. In case you missed this post, Duct Tape: Why You Need to Store It
8. Paracord
Paracord, like duct tape, has many uses. It's much stronger and lighter than typical rope. You can use it to tie sticks together to make a shelter. Paracord can also be used for climbing, a fishing line, a sling, and countless other survival uses.
9. Batteries
You are going to go through a bunch of batteries during the emergency, depending on its severity and the length of time it affects your area. Make sure you stockpile batteries of all kinds while preparing for an emergency. If someone in your family uses a breathing machine or respirator, be sure to stock up on the appropriate batteries. Please look into a solar-powered backup system like a Goal Zero Solar Unit.
10. Flashlights
Having extra flashlights hoarded away will keep your family out of dark situations at night. In my opinion, you can never have too many flashlights. Matt, one of my readers, told me about OLights, you can't go wrong with these. They are now my favorite flashlights. OLight Flashlights
11. Can Openers
Canned food (besides your dehydrated and freeze-dried food) is about the only source of food you will find that hasn't spoiled. So when hard times hit, make sure to have a handy can opener with you. You can never have too many can openers, right? Regular Can Openers and #10 Can Openers. Be sure to have the manual-operated openers besides some electric models since you may have lost power to your home.
12. Charcoal/Lighter Fluid/Campfire fuel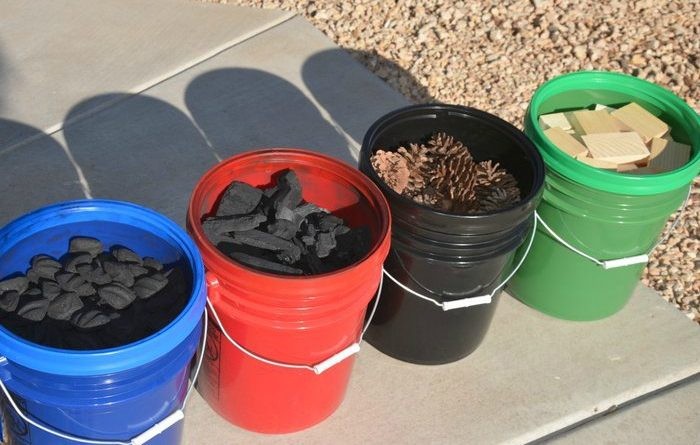 Charcoal is a great way of cooking your food. Be sure to have plenty of lighter fluid or campfire fuel to help speed up the process. Besides charcoal, there are other good options for fuel, so just in case you missed this post be sure to check it out: My Favorite Emergency Fuel To Store For Survival
13. Camp Stove
Camp stoves are not only great for camping but also have available in case of an emergency. They don't give off smoke like a campfire does, keeping you from giving away your location if you feel the need to hide for some reason.
14. Water Filters
Not having clean water to drink will get you sick in a hurry. Have several survival water filter units to keep your drinking water fresh, and be sure to stock up on some replacement filters as well. Water Filters If you have barrels full of water, you need to be sure they have the attachments to get the water out, if necessary.
I put Water Preserver in my barrels and storage tanks since it keeps the water in drinkable condition for up to five years.
15. Hand Sanitizer
Stock up on hand sanitizer ahead of time to keep germs away. You may not have access to fresh water and hand soap available during an emergency, and this is the next best thing.
Over the past couple of years, we all should have become very aware of why it's a great idea to have plenty of hand sanitizer where we can get to it easily.
16. Freezer Bags
Freezer bags will not only store your food and keep it fresh longer, but they work great for storing other things as well. You can even use them like a mixing bowl or for marinating your meat.
We have found the gallon size bags to be the most useful, but the pint bags are great too. Better to have a bag this is bigger than you need than ones where you have limits to the volume needed.
17. Garbage Bags
Garbage bags serve many purposes, not just for taking out the trash. They can be worn as rain ponchos, shelter covers, and human waste sanitation and disposal.
Be sure to follow the guidelines of your local sanitary disposal agencies so your family is kept as safe as possible. And in the event we need a temporary body bag these will have to work.
18. Paper Cups/Plates/Towels
Don't eat like an animal just because it seems like the end of the world has taken place. Eat and drink like a king on paper plates, cups, and paper towels to clean your mug. Please stock up on paper plates, cups, bowls, and plastic silverware.
19. Toilet Paper
Just imagine not having toilet paper during a crisis. Now that's talking about "the end of the world" scenario. Stockpile toilet paper for a much softer, more sanitary way of cleaning yourself. You've seen stores like Costco run out of toilet paper and paper towels from time to time over the past couple of years. Don't be the family that has run out and is in need of this critical product. Janet reminded me about getting a Toilet Bidet, it works well even without electricity. Less toilet paper is needed.
20. Laundry Detergent
Another great item to hoard for an emergency is laundry detergent. You might not have a working washing machine, but you can still clean your clothes the old-fashioned way, with laundry detergent and your two hands. I did a post a couple of years ago in which I highlight some "do-it-yourself" clothes washing machines. In case you missed this post, check it out: How To Make Emergency Washing Machines
21. Shampoo/Soap
Taking a shower every day after a catastrophic event has taken place might not be an option. Yet when someone in your party begins looking at you funny or is avoiding you, at least you collected plenty of shampoo and soap to get the job done. Please stock up on some baby wipes, even if they dry out you can add water to them and perform a critical body area "sponge bath!"
22.Vaseline (Petroleum Jelly)
If you're already in a miserable situation, getting an injury sure doesn't help. Vaseline works great on soothing cuts, burns, and scrapes. I recently wrote a post that outlined a number of ways Vaseline can come in real handy. In case you missed this post, you may want to take a few minutes and read it: 20 Ways to Use Vaseline
23.Tooth Brushes/Toothpaste
Gather several toothbrushes and toothpaste tubes to keep your teeth pearly white on the grayest of days that you can remember. There is no reason we can't keep up with many of those personal hygiene steps we take for granted.
24. Lysol/Clorox Bleach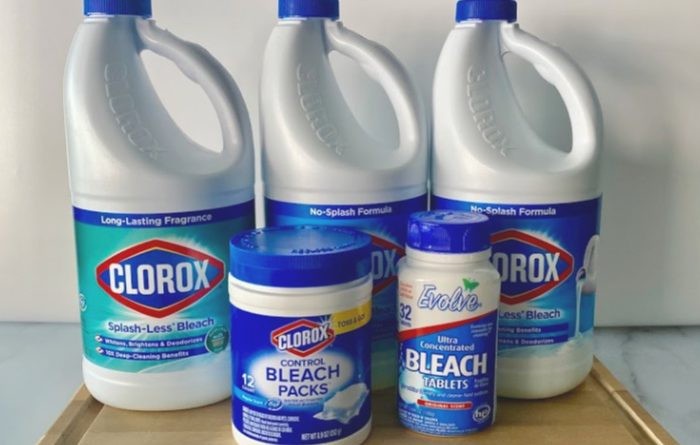 Lysol and Clorox bleach help to kill germs on countertops, doorknobs, and other areas in your home where you want to keep you and your family members safer from sickness. Consider Lysol your new best friend during an emergency.
25. Gasoline/Propane
Having ways to prepare your meals or keeping an automobile running might be tricky without gasoline or propane. When an emergency strikes, you can count on them not being available.
Gasoline should be good for up to 3-6 months or longer if you add appropriate additives. Be cautious where you store it. Never store these in your home or garage. I don't even like having them in my shed. I personally don't store gasoline on my property because of fire danger near our home.
If you do store gasoline, I'd keep it at a minimum like a 5-gallon tank, and consider placing it in a covered area away from the house. I do keep my propane tanks on my back patio sheltered from the sun.
Other Items/Steps to Consider When Storing for an Emergency
Stored water
Apple cider vinegar
Pet food
Purify your water with a filter
Don't forget to check expiration dates
Baking soda
Firestarter
Rice, beans, pasta
Bottles of water
Buckets
Bleach (good for 6-12 months-use for sewage issues)
These are 25+ things that everyone should hoard in case of an emergency. If you've taken measures to prep for the unexpected, what other items would be crucial for survival?
30 Non-Food Survival Items To Stockpile
Things to Stock Up On Before a Hurricane
Final Word
It's a good idea to be prepared for natural disasters in any way you can! While you're at it, make sure you have good bartering items on hand, and check the shelf life of items you're hoarding and storing. These are things we should hoard for an emergency, I promise. May God bless this world, Linda