How to Stay Warm Without Power
We seldom know the moment that our electricity will go out. Should your power ever go out following a freak-winter snowstorm, it would take only a couple of hours before your family became considerably uncomfortable due to the cold. A little while after that and the frigid temperature in your home would be more suitable for an ice hockey team rather than your family. This thought may strike you as funny now, but if the situation were ever to present itself, it would certainly be no laughing matter. We are going to help you learn how to stay warm without power today!
How to Stay Warm Without Power
Would you know what to do in order to keep your family warm until the power came back on? You probably have a few ideas already, but I'd like to share a few more that you may not know about. There are also methods out there that people have used that you shouldn't follow because they could put you, your family, and your home in grave danger. These are things that should, and shouldn't do when trying to stay warm when you're without power. That way you're able to stay warm and safe at the same time. Don't forget HandWarmers, they work.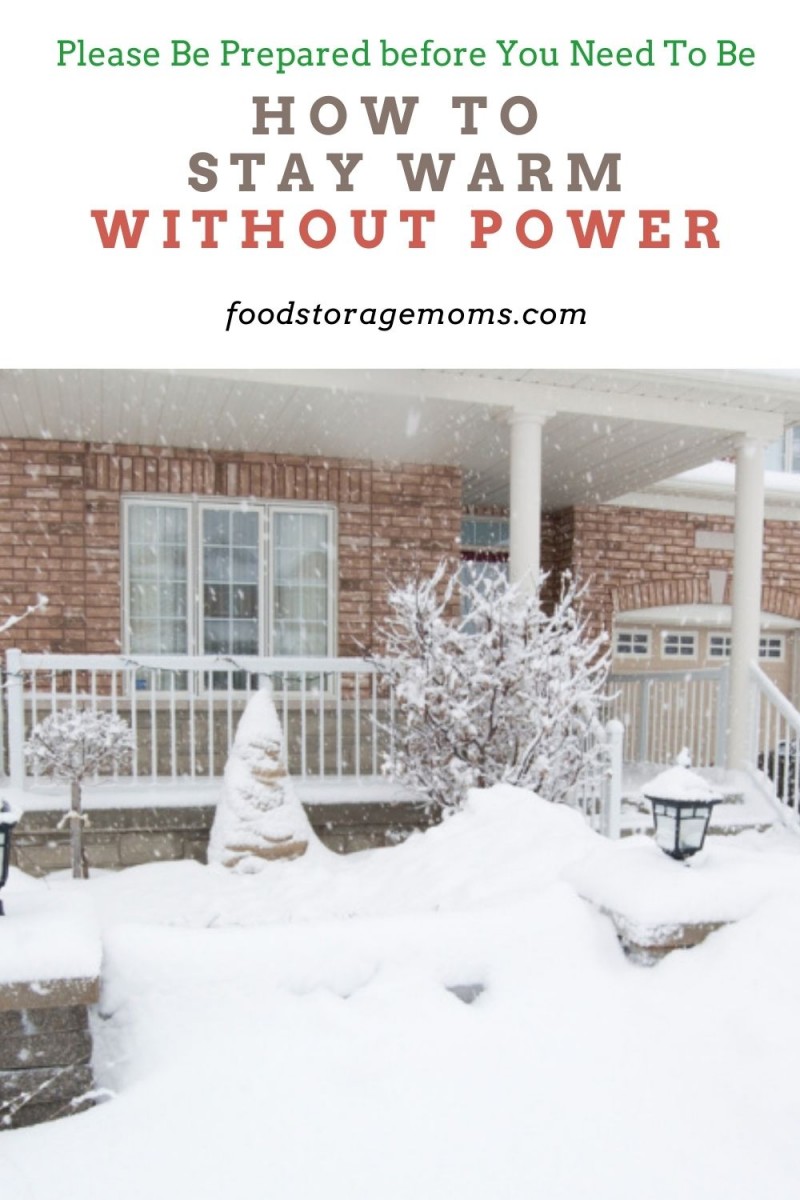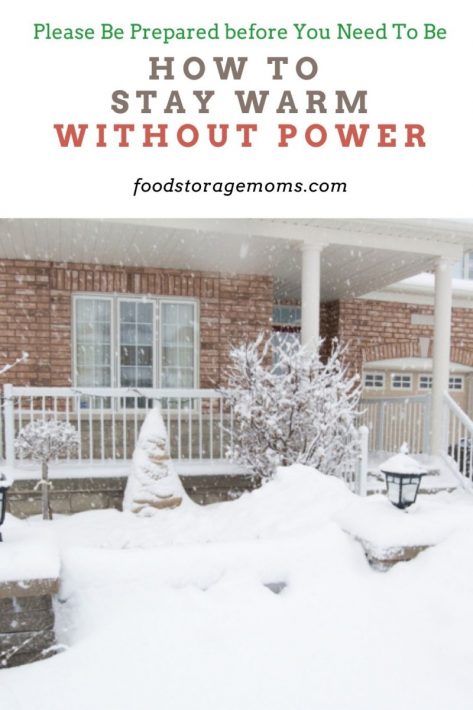 Dress in Layers
By dressing everyone in your family in multiple layers of clothing, the cold won't be as noticeable for you throughout the day. Insulate these layers with a sweater or a rain jacket on top of them. You should also consider rounding up gloves, knitted caps, and wool socks. Trust me, they'll make all the difference.
Stay Warm with Emergency Blankets
Regular blankets will work if that's all you have, but these Emergency Thermal Mylar Blankets work amazing by trapping your own body heat in them so that you're able to stay warm even better. In case you missed this post, 6 Reasons To Store Blankets For Any Emergency
Eat and Drink
This one may sound silly, but eating and drinking can actually help to keep your body warm. That's because food has carbohydrates and fats that provide calories so that your body temperature remains where it needs to be. Consider eating soups and also warm drinks like tea, coffee, or hot chocolate using an alternative heating source.
Close All Curtains and Blinds
As soon as your power goes out, be sure to close the curtains and your blinds over your windows. This will help your home retain its heat for a longer period of time. Don't wait to do this when your house is starting to feel ice-cold. You may want to consider opening the curtains and blinds during the day if is direct sunlight into the room(s) you are using provides some natural heat in those rooms.
Try Using Plastic to Cover Windows
Before covering your windows with the curtains and blinds that you may have, place some type of plastic wrap over your windows. I've tried this one personally and can guarantee that it works wonders during the wintertime, power-outage or not. If you want to go the extra mile, place the plastic wrap over your entryways as well, but this can be a pain if you're using those doors often. Now is the time to stock up on Plastic Sheeting and Duct Tape to close off a room you choose to stay in.
Keep Bedroom Doors Closed
By keeping all of your bedroom doors closed that you aren't using, it will help you regulate and hold on to any heat that your home may have. Also be sure to place a towel in front of each of these doors to trap the heat in the room that you're using.
Set Up a Camping Tent In Your Home
Nestling up in sleeping bags while inside a camping tent will ensure that your family gets a good night's sleep. Your family will stay warm because the tent is a smaller space that's able to trap your other family member's body heat. Another thing to note is the fewer clothes that you wear in a sleeping bag the warmer you'll be. You don't want to get so warm in the sleeping bag that you start to sweat. Setting up a tent in your living room is an experience your kids will never forget and make the experience into a true adventure. Pop Up Tent
Consider the Basement
Most families would rather sleep in their living room during a power outage, which is totally fine, but you may discover that your basement is actually the warmest area in your house. That's because basements usually remain around 50 to 60 degrees. As long as you have good backup lighting and a space that your family can spread out to rest, it's always an option.
Wood or Pellet Stoves
Wood and pellet stoves do a remarkable job keeping certain rooms in your house heated during a power outage. Just remember that a wood or pellet stove needs a stovepipe along with an outdoor vent. One drawback to a pellet stove is they need electricity to run the fans. If you lose power you will need a backup source to run the fans.
Never Bring Your Generator Inside Your Home
Generators are very dependable pieces of equipment to help keep the lights and possibly some of your appliances running in your home after you've experienced a power outage. But for no reason whatsoever should your generator ever be found in your home unless it's solar-powered. Using fossil fuels to run the generator can be extremely dangerous. Generators should always be kept at least 20 feet away from your house when you use them, if at all possible.
Don't Use an Oven to Heat Your Home
Under no circumstance should you ever use an oven to heat your home. This could not only melt your dial settings, but if left on for a longer period of time, it could cause a fire. That includes those of you that have a gas oven because of the possibility of carbon monoxide poisoning that it could cause.
Avoid Using the Front Door
If you have to venture out somewhere, be sure not to use the front door of your home that's usually located closest to the living room. Instead, use your garage door or a porch door if you don't have one, in order to reduce the loss of your indoor heat.
Don't Forget Your Pets
I have to tell you a funny story, Mark and I went to visit our daughter in California at Christmas time a couple of years ago. Well, her furnace didn't work. She had a fireplace that we kept stocking with dry wood. But as you know, fireplaces are not great for keeping a large room warm. I bet we went through $100.00 worth of wood and those paper-covered 3-hour burn logs. They are not very efficient to heat the space, just so you know.
They look beautiful but don't keep you that warm. Lesson learned. We were freezing and our dog was shivering. We ran to a local pet store and picked up a sweater jacket for her. I thought she would balk at wearing it. She wore it every day thereafter. So think about keeping a sweater or jacket type covering for your pet in your car, they work.
Warning About Carbon Monoxide
Please DO NOT use your barbecue in your home to stay warm, it is not safe because it emits carbon monoxide. Propane is another product that is not safe to use in your home, carbon monoxide is odorless and you can't see it. Please make sure you have Carbon Monoxide Alarms close to sleeping areas. Smoke alarms are more common in homes, but be sure and replace the batteries as needed and the units themselves since they do expire over time.
Final Word
These are just a few ways that you can stay warm when your home is without power, but there's plenty more out there that you can try. There are also portable space heaters that you could purchase which use alternative power, but make sure that it's approved for indoor-use and that you follow all of the safety precautions that are listed on the instruction manual. What are some other ways that you can keep your family warm during a power outage? How do you stay warm without power? I'd love to hear from you. May God Bless this world, Linda.
Other Posts to Check Out:
Copyright Images: Small House with Snow Deposit photos_11503779_s-2019