Why is Emergency Preparedness Important?
Many people ask me: "why is emergency preparedness important?" For most of us, we live in America where so many precautions seem to be in place so we may have never really seen devastating circumstances. I've been reading about all those people affected by winter storms on the East Coast that I thought I better update this post from a few years ago.
In America, we have a lot of things set up in the event of an emergency. In fact, compared to other countries we don't have a lot to worry about. Well, it seems that way on the surface.
The truth is that no matter whether we live in America or another country, being prepared for the inevitable challenges based on our location is crucial. Below, you will learn why it's so important to be prepared for an emergency of any kind, but particularly those that are most common in your specific area.
What is Emergency Preparedness?
Emergency preparedness means that if there is a disaster of any kind, you will be better able to survive it. When there is an emergency, you can't always rely on someone else, whether family, friends, your church, or even the government to save you.
Therefore, being prepared means that you have what you need to survive for days or weeks, after an emergency. Being prepared means you have supplies such as food, water, first aid kits, medication, light sources, cooking options, important documents, and more on hand after an emergency.
You don't want to be rushing to the store hoping these items are still available and not wiped out. Trust me, the store shelves will more than likely be emptied in a hurry during a major disaster.
Critical Items To Have NOW:
Batteries (Sam's Club or Costco)
Sun Oven
Dutch Ovens (if you store fuel you can cook or boil most anything in one of these)
Fuel: In case you missed this post, Emergency Fuel To Store For Survival
Water: the most important storage item
Food (store what you eat and those things with a decent shelf life)
First Aid Supplies
OTC Medications (this post now has a PRINTABLE ready for you)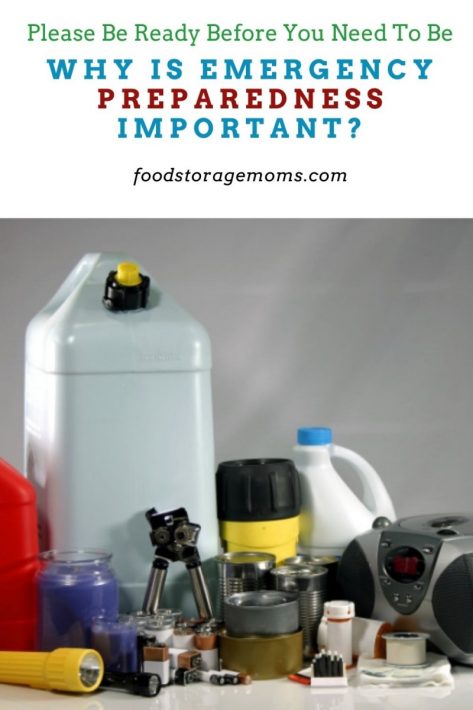 Why is Emergency Preparedness Important?
Emergency preparedness is important for many reasons. The ultimate reason is for your immediate survival. However, even in smaller emergencies, being prepared is important. Here are just a few reasons emergency preparedness is important:
The Weather is Unpredictable
We may have meteorologists who can predict the weather accurately, most of the time, but sometimes they just can't foresee everything. Often weather patterns change quickly and end up bringing more fierce winds, rain, snow, and other issues than anyone expected. Additionally, natural disasters such as forest fires, hurricanes, tornadoes, blizzards, and floods can leave us trapped in our homes, schools, and workplaces where we find ourselves stranded. Heaven forbid, depending on where we are, access could be limited for days to weeks before help can reach us.
No matter where you live, there is likely to be a weather-related threat to the area every once in a while. For example, California deals with earthquakes, mudslides, and fires. The Southwest has extreme heat, monsoons, and dust storms. The Midwest has the threat of tornadoes and floods, and the East Coast must be prepared for hurricanes and related floods.
Some areas have those nasty ice storms. These extreme weather conditions affect everyone at one time or another and can leave you without the ability to get food or water for days at a time, possibly weeks.
Emergency Resources Will Be Scarce After a Disaster
Most people assume that the government and community aid organizations and agencies will help immediately after an emergency. The truth is, in the case of a widespread disaster, there is no guarantee that the government or local organizations will have the resources or the time to help everyone, particularly in the short term, that's when personal preparedness comes in.
Even resources that you expect to be available, such as police and emergency medical personnel, will most likely have their hands full. This means you will need to have access to your own medical supplies, food, and water.
Emergency items that will disappear first include food, water, toilet paper, and first aid kits, among other necessary items. Just to give you an example: When a recent hurricane was headed towards Florida, there was literally no bottled water left on the shelves even a week before it hit.
There Won't Be Water
Our bodies are made up of 70% water. You can only survive for about 3-days without water. We have come accustomed to having clean, running water in our homes.
However, when there are major emergencies and disasters, in most cases you will find water to be scarce. In fact, even if you can get water to come into your home, it may not be clean or safe to drink. Water found in ponds and lakes carries bacteria and will need to be treated and/or filtered.
This bacteria can be deadly, which is why we have water sanitation treatment systems in place. When there is a disaster of any kind, it could be very hard to find clean water to drink and cook with. Please get a water filter you like.
The Effects Can Last Longer than a Few Days
The effects of any disaster can last longer than just a few days. For example, food prices will be going up each year due to flooding during the spring and summer which affects the fall harvests. An October blizzard that killed 80% of some food to be harvested in the midwest caused a number of food shortages across the country.
Although these things happened earlier in the year, we won't see the effects until later. Obviously, when disasters such as flooding and blizzards wipe out 80% of a particular harvest, there is going to be a food shortage of some kind.
We can't even begin to imagine the effects of this food shortage, but I can tell you it will last longer than just a few days.
You May Be Without Power
One thing we have become reliant on is electricity. We use electricity to bathe, cook, heat, and for entertainment. Think about it; how will you cook food on your stove if there isn't electricity?
Even if you have a gas stove, most stoves use electricity to light the stovetop before you use the gas for the flames. Yes, you can start them with a match or lighter for the stovetop, but the oven relies on electronic controls to monitor the temperature settings. If you live in the North, how will you heat your home? Thermostats and fans run on electricity even though your home uses gas to heat it, in more cases.
There won't be someone handing out blankets, firewood, or other ways to keep you warm. The stores could become completely depleted of charcoal, butane, propane, and other ways of heating your food.
You have to be prepared to live without any power and live as they did before the advent of so many modern conveniences. Sometimes you may be without power for two weeks or longer.
People will Be in a Panic when a DISASTER Hits
When something does happen, people often panic. Panic and fear can lead to someone getting accosted or even shot because they grabbed the last case of water from the shelf. This means you definitely don't want to be trying to purchase items at the last minute. We all need to have a plan in place so we are ready when the unexpected happens.
Those who do not prepare will be scared, panicked, and overreacting. This is a common survival mode. You don't want to be one of those people who is in panic mode.
You want to know that you have what you need, your family is safe, and that you don't have as much to worry about and deal with. Additionally, you don't want to have to be going anywhere that could put you in danger when the disaster is in progress or shortly thereafter.
How to Be Prepared for an Emergency
If you are just now realizing the importance of being prepared for an emergency, here are some tips to get you started:
Final Thoughts: Why is Emergency Preparedness Important
Being prepared isn't just something to think about. It's something we all should do. Even if you don't think there will be an economic collapse or a zombie apocalypse, it is always good to be prepared for an emergency situation.
Begin by having emergency essentials that will help you to survive for at least a two-week period. May God bless this world, Linda
Copyright Images: Storm Preps AdobeStock_4533494 by tracyhornbrook