10 Watering Hacks for Your Garden 
Here are 10 watering hacks for your garden today. Are you an individual who loves to garden but lives in a particular region that experiences frequent droughts? Or perhaps you're just looking for practical ways to cut back on watering so frequently? Whatever your reason for conserving water, you'll be excited to know that there are several different methods of water conservation that you can try that actually work. They can save you money, too! Keep reading to discover 10 watering hacks for your garden that will help you get through the summer months using less H2o. 
This is where I buy my garden seeds: SeedsNow. Please learn to garden this year if you haven't before. We must produce some of our own food, however small it may be. How I store my garden seeds: Plastic Photo Container and Label Maker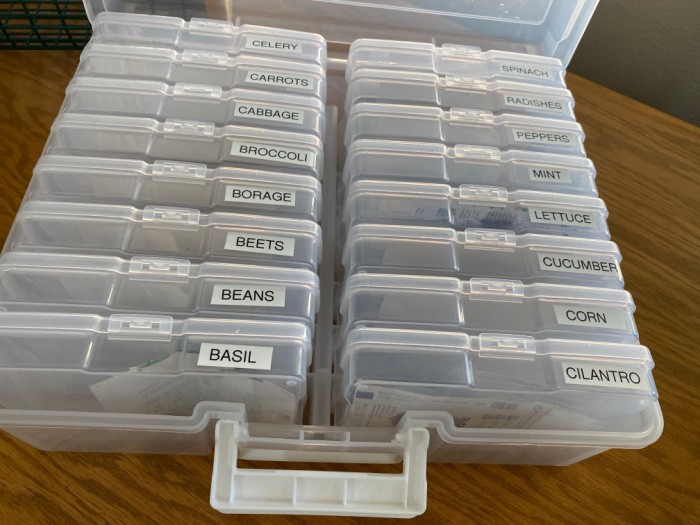 10 Watering Hacks for Your Garden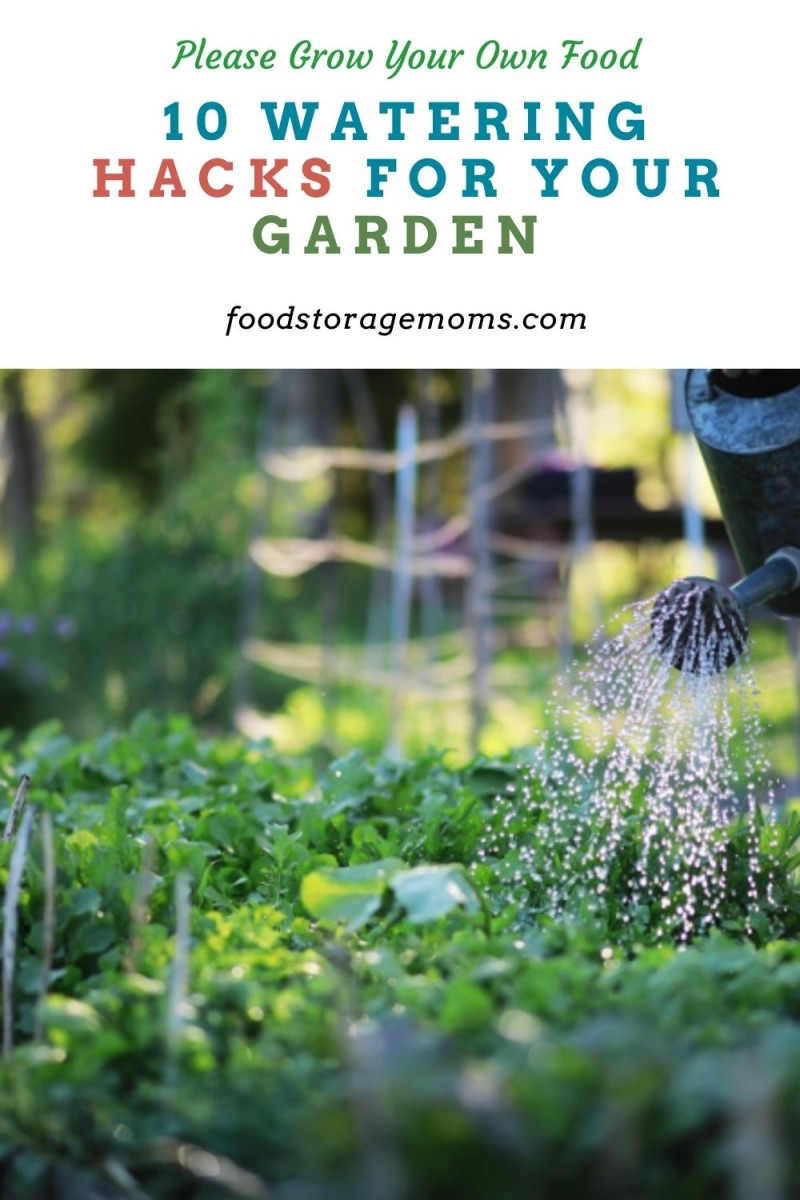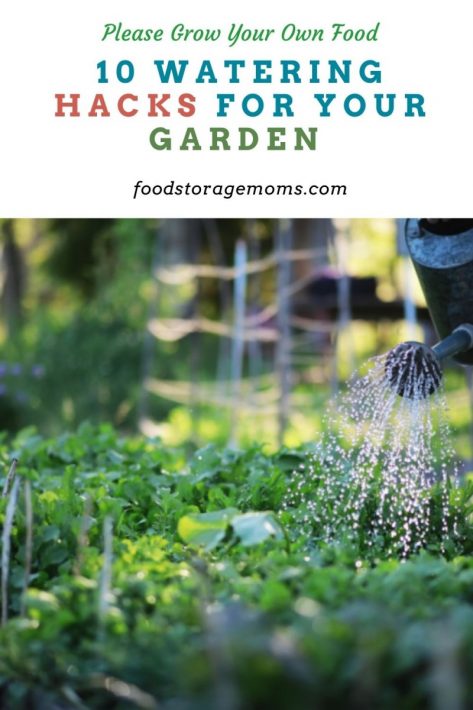 1. Use Nothing but Good Soil
Does your garden soil mostly consist of clay, sand, or rocks? That can be really unfortunate, but I've got good news! Adding several inches of nutrient-rich garden soil to your pre-existing soil can make a huge difference in how often you need to water your garden. That's because it contains organic matter that effectively retains more water while improving drainage. Your plant's roots will also be able to grow much deeper where that moisture may be. 10 Tips to Improve Your Garden Soil
2. Keep the Weeds Out
Weeds can be such a nuisance! And if you don't stay on top of them, they can be one of the main reasons why you're having to water so often. That's right! They'll end up stealing water away from the plants and vegetables that you've worked so hard to grow. Discourage their growth by laying landscaping fabric, mulch, newspapers, or cardboard, along with using a hoe and pulling weeds by hand.  Can I Eat Chickweed: Edible Weeds
3. Lay Down Mulch – Great Watering Hack!
On an extremely hot day, your plants can miss out on up to 70% of the water you give them because it ends up evaporating quickly on top of and beneath the soil. But that's not the case when you've taken the time to lay a few inches of mulch down around each of your plants. 
Mulch actually helps your garden conserve water in a number of different ways, including keeping weeds at bay, cooling the soil temperature, while also improving your garden's soil as over time it blends with the natural soil in your yard. It's up to you whether you go with straw, bark chips, grass clippings, leaves, or even newspaper. This helpful watering hack needs to be done every year.  Container Gardens: Everything You Need To Know
4. Construct Swales in Your Garden
For those of you that have a garden situated on a hillside or slope, building a swale (a shallow channel with gently slowing sides) around it would be a great option for you. Whenever it rains, the water runoff will gather behind your garden and sink down into the soil where your plants will then be able to benefit from it a few days later. It's a permaculture technique that's been around for a long time and is proven to work. Be sure to check out the blue link above to learn more.    
5. Consider Self-Watering Containers
Whether you don't have the time for a huge garden, or you simply lack the space, container gardens are another water-efficient solution you may prefer. As the soil in your containers start to dry up, the extra moisture that's recessed away towards the bottom of the container will then soak up into the soil and reach your plants.  The Best 5-Gallon Water Jugs
6. Use a Soaker Hose
You'll lose very little water to evaporation when using a soaker hose, and even more so if you hook it up to a timer. You have the option of buying a commercial version or making your own by drilling tiny holes into an ordinary garden hose. Just be aware that going with the do-it-yourself approach will take up a fair amount of time.  50 Items You Need In Order To Barter
7. Drip Irrigation
Proven to be over 90% effective, drip irrigation does an excellent job of helping gardeners preserve water. All you need are long tubes that have release points close to your plants. When certain plants no longer need water, simply plug the holes to stop the water flow. The only downside is, your garden's layout may look different the following year, and it can sometimes be difficult to reconfigure emitters and piping.
We had this system in our raised gardens in St. George, Utah. They worked great since we could put the emitters or small sprayers close to the base of each plant. Since they were part of the raised garden boxes that were all 4′ by 4′, moving the piping was easy. 
8. Use an Olla
Another irrigation hack that Native Americans used is the olla. If you don't know what one is, it's a wide clay pot that has a narrow neck to it. You can bury several of them down in the soil next to each of your plants with the tops just reaching out of the ground. You fill them with water once or twice a week and your plant's roots will suck up the water that goes into the soil. 
9. Don't Waste Cooking Water
Instead of always dumping your boiled vegetable water down the sink, why not use it to help water your garden or plant containers? This is not only resourceful, but you're providing your garden plants with minerals and other nutrients. Just wait until it's cooled off before you use it. That's one way to not waste water! This could be effective for a small garden or a few containers.
10. Make Sure Your Irrigation Equipment is Top-notch
A leaking hose or spigot may seem like a very small problem to have, but in just a month's time, you may have wasted thousands of gallons of water, depending on the size of the leak. And that's no exaggeration! Be sure that you keep an eye out for leaks and that you perform regular maintenance on your irrigation equipment when necessary. This includes checking timers, replacing broken sprinkler heads, fixing emitters, and making sure that your water pressure isn't too high or too low. 
These garden watering hacks can make a huge difference in how often you need to water your plants and vegetables in your garden. You'll even be able to slip away on a vacation without as many worries when using some of these tips. Do you know of any other watering hacks that your fellow gardeners would benefit from knowing?
Final Word
I hope you enjoyed my 10 watering hacks for your garden today. Now, more than ever we MUST grow some of our food. If you have a Farmer's Market nearby, you are truly blessed. I realize some of us don't have the ground or the sunshine to grow everything we'd like. That's okay, grow some lettuce in a ceramic pot, beans on a vine, tomatoes in a patio hanging pot, or potatoes in a small bed or container. You can still grow something for your family.
Last year I purchased a couple of AeroGarden units so I could grow some lettuce in my house during the winter months. I was pleased with the results, and so was Mark as we enjoyed fresh lettuce all winter long.
It's the best thing I have ever purchased for growing some of my food. AeroGarden Please sign up for their newsletter so you know when they have sales. Let's all get the whole family involved with growing a beautiful garden this year. The fresh food is so delicious, and working together outside is so fun. May God Bless this world, Linda
Copyright Images: Man Farmer AdobeStock_314255016 alexkich