11 Emergency Foods That You Need
Today, it's all about 11 emergency foods that you need! Never will there be a more critical time to make sure that your family is getting all the vitamins and minerals that they need to stay healthy than immediately after an emergency situation has taken place.
That's because your family may be forced into a survival mode against your will due to circumstances beyond their control, and there's simply no telling how long that period could last. And to be honest, stocking up on junk food and some of your favorite snacks aren't going to cut it because even the simplest tasks will require more energy and mental toughness.
Emergency Items I Recommend: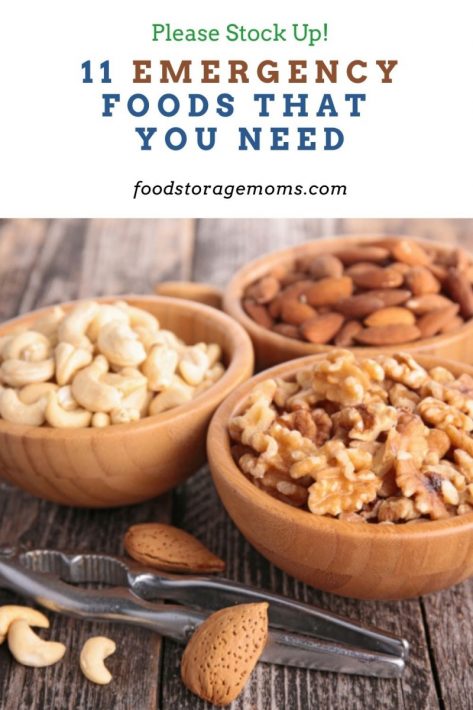 11 Emergency Foods That You Need
While it is true that a lot of preppers out there stock up on processed foods that offer very little nutrition, there are still plenty of other emergency foods to choose from that are good for you. I'd like to take some time to share with you what some of these are. These are emergency foods that will actually make your life better right now!
1. Canned fish
Not being able to think clearly or respond quickly could be the difference for you or one of your family members. Canned fish like tuna, salmon, and sardines are a great source of protein and omega-3 fatty acids. Not only will they help you stay energized, but they can also help improve your mental clarity and focus. The Best Fish to Eat Eating fish on a consistent basis is recommended for all of us even when we aren't faced with an emergency.
2. Seeds and nuts
From time to time, everyone gets the munchies. That can be the case even after a disaster strikes and you need to have a healthy snack that you can fall back on. Seeds and nuts are excellent sources of vitamins, minerals, and healthy fats. They're also a great way to stave off hunger pangs in between meals. How To Roast Pumpkin Seeds
The only downside to nuts is they can go bad and become rancid very quickly if not eaten right away due to their high oil content. Please store them in FoodSaver Bags in the freezer to keep them fresh. Of course, any freezer bag will work. My favorites to stock are pecans, almonds, peanuts, and walnuts. Mark really enjoys cashews whenever he feels the muncheies.
3. Dried fruits
There's a real chance that fresh fruit will be impossible to get ahold of after an emergency. That can be a disaster enough on its own for those that can't seem to get enough of them. Dried fruits are a great source of natural sugars and vitamins. They're perfect for a quick energy boost and can help you stay hydrated as well.
Please invest in a dehydrator, if you can, because you can save so much money by dehydrating your own fruit when it's in season.
Here are the other Dehydrating Posts I have done:
4. Canned vegetables
Canned vegetables are a great way to get your daily dose of vitamins and minerals. I'd strongly urge you to stock up on canned beans because they offer a lot of protein. Just make sure to choose varieties that are low in sodium. My favorite ones to stock are green beans, corn, and potatoes.
5. Whole grain cereals
While some experts will insist that you avoid carbs, not all carbohydrates are bad for you. In fact, your body needs them! Whole grain cereals are a great source of complex carbohydrates and fiber. They'll help you stay energized and keep your digestive system running smoothly.
6. Whole grains
Grains like whole wheat, whole-grain cornmeal, and oatmeal are great sources of fiber and many of the nutrients we need. They'll help you stay full longer and can also help regulate your blood sugar levels. How To Mill Grains & Grind Wheat
7. Protein bars
Protein bars are a great way to get all the nutrients your body needs in a convenient and portable package. But don't just settle for any box that's on the grocery store shelf because the front of the box may be enticing. Be sure to choose bars that are high in protein and low in sugar to get the most energy for your buck.
8. Jerky
Needing a bit of energy? Jerky is a great source of protein and can help you satisfy your hunger without having to eat a lot of calories from meats. Just be sure to choose leaner cuts of meat like chicken or turkey. Making Hamburger Jerky Jerky can prove to be a bit expensive. Consider making your own and saving some money.
9. Dark chocolate
Chocolate lovers rejoice! Dark chocolate is not only a delicious treat, but it's also packed with antioxidants and can help improve your mood. It's also a known fact that dark chocolate is good for your heart. Just be sure to choose a brand that has at least 70% cacao content to get the most benefits and flavor. Is Dark Chocolate Healthy For You?
10. Sports drinks
Sports drinks are a great way to stay hydrated and replenish electrolytes. They're perfect to drink after a strenuous workout or an emergency situation. Although there are mixed feelings on the subject, some families provide sports drinks for sick family members to make sure they stay hydrated when they're losing fluids quickly. Several Ways To Dehydrate Food
11. Water
Last but not least, water is the most important emergency item of all that you would need following a disaster. You can survive for up to two weeks without food but only for about 2 to 3 days without water. Make sure to stock up on plenty of it so you and your family can stay hydrated during a crisis. You need to have at least 1 gallon per person per day for a minimum of 3 a day's supply. I have suggested for a long time to have 4 gallons per person per day so you not only stay hydrated, but can perform needed activities like cooking and light laundry chores.
11 Emergency Foods That You Need
Final Word
So, there you have it, a list of emergency foods that will actually make your life better right now. Be sure to stock up on these items so you and your family can be prepared for unexpected emergencies. You may have developed your own list of "must-haves" to protect your family during emergencies. I'd love to hear your ideas so I can share them with my readers. May God Bless this world, Linda
Copyright Images: Nuts Depositphotos_55254419_S by StudioM