My Favorite Kind Of Food Storage
This is my favorite kind of food storage, when you can stretch a meal from one can of meat, for instance, for an entire family. When my girls were growing up we always had taco Fridays. I bet you can picture what I'm about to say, I would add rice to stretch the cooked 1/2 pound hamburger for six people. Sometimes, I would add leftover hash browns. Right? Well, Pleasant Hill Grain asked me if I would do a review on some of the new food storage items they carry. You may remember that company because I mention them when I'm doing a post on my colored 5-gallon buckets with matching Gamma lids. Yep, that's the company. These opinions today are my own, I will never agree to do a review on items I will not use or eat myself, so let's get started. P.S. I can tell you I love everything they sell on their website. I've been using them to purchase so many products over the years.
These are the items I received, as shown above, for two reasons I will show you a few cans that are open. I wanted to see what was in some of the cans and I'm sure you do too! I have recommended the "Red Feather" butter in a can for years, its butter and It's yummy! I have heard about the "Bega Cheese" from Australia, but had never tried it. It tastes a little like Velveeta cheese, but a little milder. It would be a great treat on crackers after a disaster! Trust me on that one, we will soon get tired of peanut butter and jelly on crackers. Although, that sounds pretty good right now! LOL! If you can't or have no desire to make bread, store a few boxes of crackers that we'll need to fill our bellies with some food. Add some of this meat with some mayo on the crackers, or add it to a casserole and we have a meal.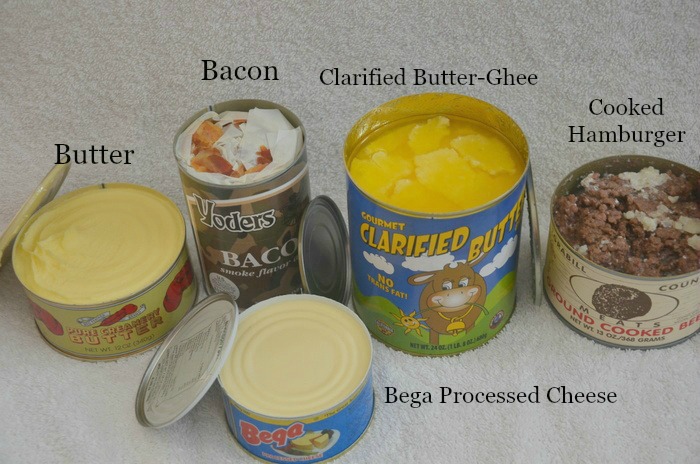 The box came with a note and I quote part of it, "The largest consumption region for canned cheese is the Middle East, but Bega isn't a Middle-Eastern company, it's an Australian company and their cheese is produced in Austrailia. Bega uses the same packaging for cheese that's shipped worldwide, so the labeling and certification is designed to best suit the areas where their products are most popular." I'm using the cooked ground beef shown above in some chili tonight, add some beans, diced tomatoes, and spices and I'm good to go. I have grated cheese and chopped onion with crackers on the side. I love it!
I've seen this cheese available at so many emergency preparedness stores and wondered what it looked like. I was always hoping they had testers of the cheese like at Costco. I would buy it for sure now to add to my food storage stash. Add some salsa with it and bring on the tortilla chips, yummy!
Here's a picture of the bacon right out of the "Yoder's" bacon can. I did a post on Yoder's bacon and compared it to a package of the slightly thin cooked bacon from Costco in the refrigerator section a few years ago. It's the same thing, or seems like the same thing to me. It had the exact same number of slices, yes it did! Awesome, huh? Yet, the can takes up so little space on the pantry shelf (no refrigerations required). You will love some bacon in your food storage for a special treat when the freezers do not work because of a power outage. It makes me want a BLT as in bacon, lettuce and tomato sandwich right now. Everything is better with bacon on it, don't you think so?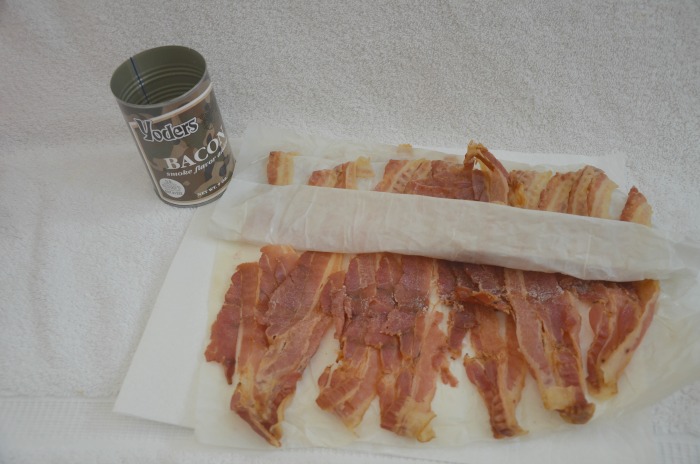 I was really glad Pleasant Hill Grain sent me a can of Ghee-Clarified butter. Here's the deal, I took the classes last year from the USU via the USDA and passed the test to receive my Master Preserver Canning Certificate. I learned how to preserve (pressure can, water bath, dehydrate, etc.) many things. I did learn we cannot can the following items:
Butter or Ghee (clarified butter, because it still has too much fat). Let me explain how you can use this can of Ghee. You can use it to barbecue your meat, saute and fry egg dishes, veggies, and dipping sauces. Use it for baking healthier cakes, pies, pastries, and candy. It has a great flavor on popped popcorn. you can use it in place of 1/2 to 2/3 as much of your regular cooking oils. It's lactose-free and has no trans fat. The ingredients are fresh pasteurized cream.
Bacon, it's not safe, it has too much fat
Eggs
Milk, because of too much fat
I know I have received several emails saying people have links where you can follow on how to safely "can them", sorry, I follow the USDA guidelines. They suggest we do not. I have been canning food for over 50 years and I follow the USDA rules. It's how I roll. I love that commercial companies make it available in a safe way for us to store for future use on our pantry shelves.
The canned turkey and chicken have no water added, only salt and pepper. They would be great in casseroles, or add some mayo for sandwiches. The pork and beef chunks also have no water added, just salt and pepper. I grew up on roast beef leftover meat with mayo and relish, so that can is ready to open for me any day now! I like the size of the cans because I can make the following items and more with any of the canned meats:
tacos
enchiladas
pork carnitas
soups
stews
casseroles
beef stroganoff
pork burritos
chicken burritos
beef burritos
creamed turkey over crepes
chili
You get what I'm saying, the menus are not limited at all. The meats are all cooked, we just add them to any meal, easy peasy. Thank you, Pleasant Hill Grain for giving me the chance to share my favorite kind of food storage with my readers. May God bless you for your effort to fill your shelves with food your family will enjoy eating.