Dehydrated Foods: Are They Good for You?
Dehydrated foods are often seen as being healthier than their fresh counterparts. This is because they contain less water and so have a higher concentration of nutrients. However, there are also some potential downsides to eating dehydrated foods.
One of the main issues with dehydrated foods is that they typically have to be cooked as part of their preparation for consumption. The difference between freeze-dried and dehydrated food is that freeze-dried foods can be eaten right out of the can. If you buy dehydrated food storage in #10 cans, please realize you will need to cook them, which uses water and fuel.
But, hey, they're still needed and one great option as you put together your food storage plan. I use dehydrated potatoes and carrots often. They are great for soups, casseroles, stews, etc. I highly recommend an Excalibur Dehydrator. Excalibur Dehydrator or this one with a timer like I have, Excalibur Dehydrator With Timer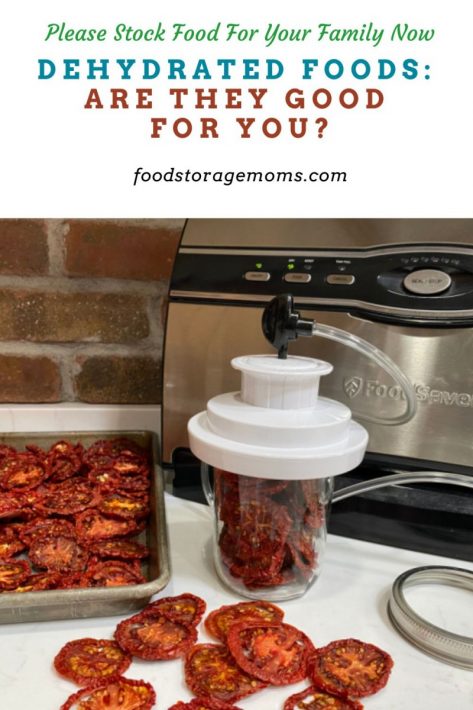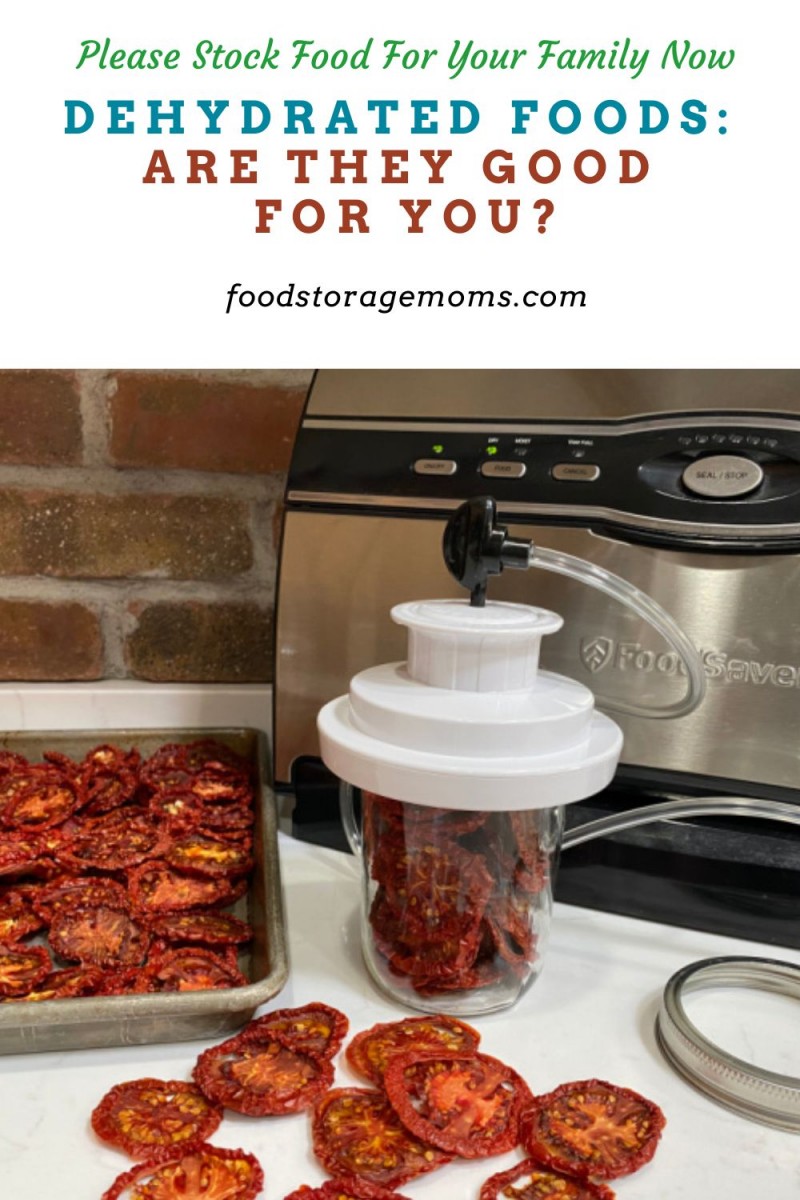 6 Easy Ways to Use Dehydrated Potatoes
What are dehydrated foods?
Dehydrated foods are foods that have had most of their water content removed. This can be done through a variety of methods, including air-drying, sun-drying, and using a dehydrator. Dehydration is a popular way to preserve food because it reduces the risk of spoilage and makes the food easier to store.
Common Foods That Are Dehydrated:
Some common examples of dehydrated foods include:
Dried fruits like raisins, apricots, and dates
Dried vegetables like carrots, tomatoes, and onions
Jerky (beef, chicken, turkey, etc.)
Beef or vegetable stock cubes/powder
Fruit leathers
Granola
Some of my favorite foods to dehydrate…
Should You Eat Dehydrated Foods?
Dehydrated foods can be a healthy and convenient option, but they are not right for everyone. If you're trying to limit your sodium intake, it is important to read the labels of dehydrated foods carefully. Some of these foods can be high in sodium, even though they may not taste salty.
I have several #10 cans of vegetables that have zero sodium. I just want you to be aware and check the labels. It's usually the dehydrated meals that have sodium. Here again, read the labels on boxes, cans, and bags.
Health Benefits of Eating Dehydrated Foods
Dehydrated foods offer many health benefits that are often overlooked. When fruits and vegetables are dehydrated, they lose water weight but retain most of their nutrients.
This means that dehydrated foods are more calorie-dense than their fresh counterparts, making them a great choice for people who are looking to lose weight or maintain a healthy weight. Be sure and read the ingredients.
Easy to Digest
Dehydrated foods are also easy to digest because they have been broken down into their simplest form. This is great news for people who have trouble digesting fresh fruits and vegetables.
Stay Hydrated
Another health benefit of eating dehydrated foods is that they can help you stay hydrated. When you rehydrate dehydrated foods, your body absorbs the water more efficiently than if you drink plain water.
This is because the water in dehydrated foods is already in a form that your body can easily use. So, not only will you stay hydrated, but you'll also get a little boost of nutrients.
Boosts Energy Levels
Dehydrated foods are a great source of natural energy. This is because they are packed with nutrients and simple sugars that your body can easily convert into energy.
If you're looking for a healthy way to boost your energy levels, reach for some dehydrated fruits or vegetables instead of a cup of coffee.
Fights Free Radicals
Some dehydrated foods are also rich in antioxidants, which help fight free radicals in the body. Free radicals are unstable molecules that can damage cells and lead to disease.
Antioxidants help neutralize free radicals, keeping them from causing damage. So, by eating foods that are high in antioxidants, you can help protect your health.
Nutrition Info for the Best Dehydrated Foods
Here is a list of some of the most popular dehydrated foods and their nutritional information:
Apple slices: One cup of apple slices has only 30 calories and is a good source of fiber and Vitamin C.
Banana chips: One cup of banana chips has about 150 calories and is a good source of potassium.
Dates: One date has about 20 calories and is a good source of fiber and potassium.
Figgy bars: One figgy bar has about 120 calories and is a good source of fiber and calcium.
Prunes: One prune has about 20 calories and is a good source of fiber and potassium.
Raisins: One raisin has about 25 calories and is a good source of iron.
Tomato slices: One cup of tomato slices has only 30 calories and is a good source of Lycopene.
As you can see, dehydrated foods are a great way to get the nutrients your body needs without all the calories. So, if you are looking for a healthy snack option, consider dehydrated foods.
Here are some frequently asked questions about dehydrated foods:
What is the best way to store dehydrated foods?
The best way to store dehydrated foods is in a cool, dark place. Dehydrated foods can last for up to a year if stored properly. The safest way to store them is in air-tight containers. If you haven't opened them, keep them stored in the original package/can.
What are some tips for rehydrating foods?
Soak dried foods in water for at least 10 minutes before eating. You can also add dried foods to soups or stews to rehydrate them.
Are dehydrated foods healthy?
As mentioned in the paragraphs above, dehydrated foods are a great source of nutrients and can be just as healthy as fresh foods.
What are some common uses for dehydrated foods?
Dehydrated foods are often used for meals as people go camping and hiking because they are easy to transport and require no refrigeration. Dehydrated foods can also be used in recipes that call for fresh fruits or vegetables. Many recipes have liquids that will rehydrate the food as part of the preparation/cooking process. In other cases, you'll need to rehydrate these foods first, and then add them to the recipe as directed.
Are dehydrated foods good for prepping?
Dehydrated foods are a great addition to any prepper's pantry. They are easy to store and can last for years, depending on the brand you purchase and how they are stored. Dehydrated foods can be used in a variety of recipes, so they are versatile as well.
What are some common mistakes people make when dehydrating foods?
One common mistake is not drying the food long enough. This can cause bacteria to grow and make the food unsafe to eat. Another mistake is not storing the dried food properly. If you are dehydrating your own fruits and vegetables please "condition" the food before storing it (see below).
How to Condition Your Fruit or Vegetables after Dehydrating:
If you live where it is HUMID: "To condition the fruit, take the dried fruit that has cooled and pack it loosely in plastic or glass jars. Seal the containers and let them stand for 7 to 10 days. The excess moisture in some pieces will be absorbed by the drier pieces. Shake the jars daily to separate the pieces and check the moisture condensation." https://nchfp.uga.edu/how/dry/pack_store.html
If you live in the DRY DESERT: I set my fruit and vegetables on my countertop for 5-7 days. Ten days is even better to make sure everything is dry before using your FoodSaver unit.
In case you missed this post, Dehydrating Tomatoes and Tomato Powder I love dehydrating tomatoes, I add them to my salads after the garden is finished for the year. If your tomatoes are sweet, dehydrated tomatoes will be sweet as well.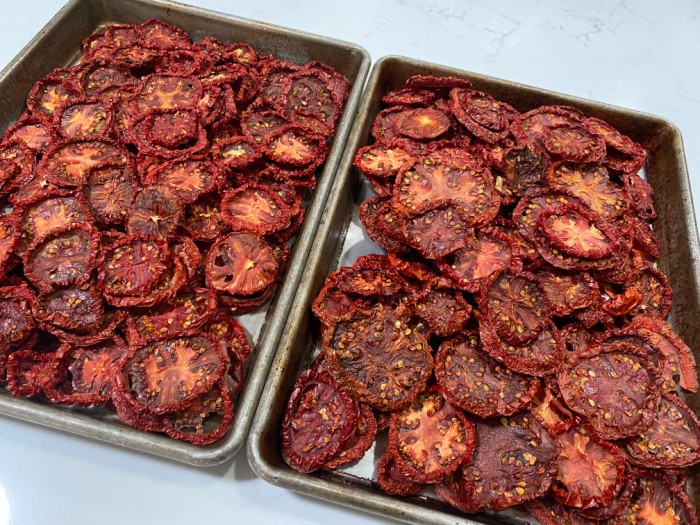 What are some other tips for dehydrating foods?
Be sure to wash all fruits and vegetables before dehydrating them. Cut the food into the same size pieces as best you can so the pieces will dry evenly. Dry the food on low heat to prevent it from browning or cooking. Store the dried food in an airtight container to keep it fresh. It may seem hard, but dehydrating foods at home is possible!
More Tips on Dehydrating:
Final Word
Dehydrated foods are a great way to preserve fruits, vegetables, and meats. By following these tips, you can enjoy dehydrated foods that are safe and healthy. Don't be discouraged, give it a try. If you have a garden, this is a great way for your family to enjoy your harvest all year long. Make sure you dehydrate foods that your family will eat, you don't want any of it to go to waste. May God Bless this world, Linda