How To Host Your Family And Friends
Can you use some help on how to host your family and friends visiting your home? Mark and I live about halfway between a major city and the happiest place on earth, Disneyland.
We love to share our home with people who are taking road trips so they can save a few dollars on hotels, motels, and a few meals. It's really quite easy with the tips I'm sharing today. My home is very small, keep that in mind. Just think about the memories!
With summer coming I hope you can use some of these tips I have used for about 14 years now. I want to enjoy my time with my company and make it comfortable for my guests. Mark and I do not have any family living nearby, so when we bought this house I set up some rules for our guests that would visit.
Bedrooms
This is one of our simple bedrooms ready for our guests. It has 56 gallons of water stored under the bed in WaterBricks. You can't see them but that's how I live. I'm a prepper, but you know that by now.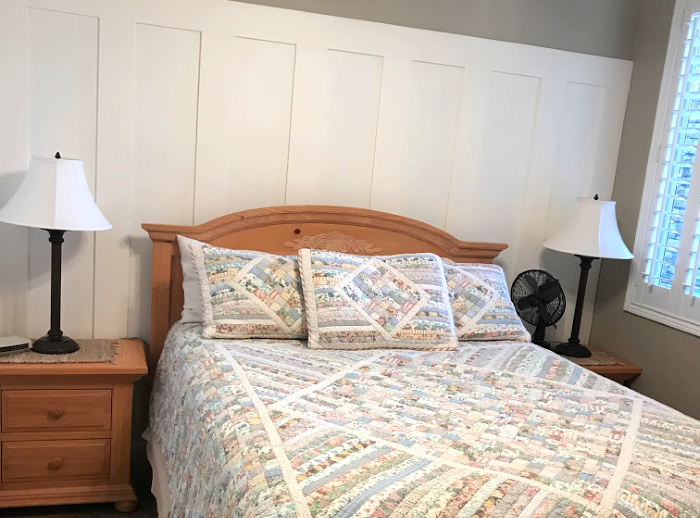 Buy Good Mattresses
Before we bought this house one of our friends mentioned to us "make sure you buy good mattresses" or your guests may wake up cranky. That was the best advice EVER! We didn't buy the top of the line, but we didn't go cheap. Best decision we ever made. Our guests feel welcome and love our mattresses.
Invest In Good Sheets
I must confess I'm a sheet brat and I own it. Have you tried Jennifer Adams Eternal sheets and pillowcases from Costco? They are priced well below the cost on her website, just giving you the heads up. I no longer look at thread count, if they are scratchy I can't sleep. Enough said. Buy right the first time.
I can wash the used sheets, dry them and fold them to put back in the closet container labeled "sheets." Every guest room has a container in their closet labeled "sheets." It's awesome, I promise.
Two Sets Of Sheets For Every Bed
Let me explain why I buy two sets of sheets for every bed in my house. I have nine beds available to sleep on. One King size, 2 queen size, and 2 triple bunk beds. When people arrive the sheets are clean and ready to sleep on.
The previous guests are expected to change the sheets before they leave, that's my rule. I can't change all the beds after my guests leave. But I can clean the bathrooms, vacuum, and wash the floors, that's it.
The reason I do this is so my next set of guests can come late and their beds are ready. You gotta love it, the table lamp is on and it looks welcoming.
Pillows
This gets tricky because we all like our own pillows. Some people have neck issues or back issues. I buy the pillows at Costco that are 2 pillows for $6.00.
I didn't spend a lot on them and if they get soiled or whatever, I can toss them. If they are washable that's a bonus for me. I'm a clean freak and I know it.
Quilts or Blankets
After my guests leave I wash every single quilt or blanket used. That's how I roll. I want my friends and family visiting to have clean everything when they arrive the next time, does that make sense?
Bathrooms
Both bathrooms are stocked with extra toothbrushes, toothpaste, disposable shavers, toilet paper, shampoo, and conditioner. It's nice to have those monthly womanly items placed in cupboards just in case our house guests need them.
After my guests leave, I clean the bathrooms, tub, shower, mirrors, and floors. A fresh bar of soap is replaced after each group leaves so it's fresh for the next group. I put a clean 4-gallon bag in each garbage can in both bathrooms.
The cupboards are stocked with paper towels. We only use paper towels for our guests when they wash their hands. Bath towels and washcloths are placed on the countertop or in the cupboards ready to be used for showering. Being a good host is important to me, I love having guests.
Meals
I hope you can use some of these very simple tricks to prepare meals for your friends and family.
Bacon-Cook Ahead & Freeze It
I prefer cooking the bacon ahead of time, I cut the slices in half, so it looks like I have a lot of bacon. Have you seen the post on how to bake it in the oven?
After baking it, I place the servings I will serve for each meal in quart size freezer bags and freeze them. It's all about budgeting for each meal. Baking Bacon In The Oven
When ready to serve the bacon, I place paper towels on a plate and microwave them to heat through. Or you can reheat it in a frying pan, either way, it works. Keep in mind I want to enjoy my guests.
Egg Bakes Are Awesome
This is one of my favorite ones, but I have many. I love making these along with my Mickey Mouse pancakes (waffles) for everyone.
Easy Breakfast Casserole by Food Storage Moms
Ingredients
8

slices

of bread (tear into bite-size pieces)

2/3

pound

of Velveeta cheese (cut into pieces)

4

cups

milk

8

eggs

pinch

of salt

pinch

of dry mustard

1-2

cups

grated Mozzarella cheese to put on the top of the casserole when you bake it.

One package of Jimmy Dean sausage (small size cooked and drained)

6-8

slices

of cooked bacon (crumbled)
Instructions
Butter a 9 by 13-inch pan and place the bread cubes in the bottom. Beat the 8 eggs, then add the milk, thoroughly mix together. Add the salt and dry mustard to the egg mixture. Now, pour this egg mixture over the bread cubes in the pan. Place the cubes of Velveeta cheese over this bread and egg mixture. Cover with plastic wrap and place in the refrigerator overnight.

Cook the sausage and bacon separately and drain the grease. When cooled, place in the refrigerator until the next morning. Remove the plastic wrap the following morning. Preheat the oven to 325 degrees. Take the cooked sausage and bacon and press down into the casserole. Sprinkle the grated cheese on top. Bake uncovered for 1-1/2 hours or until eggs are set.
Here's Another One
I love having a few recipes to make for my guests, I make them the night before and bake them early in the morning.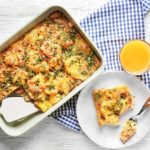 Mom's Egg and Sausage Breakfast Casserole
Ingredients
12

slices

white bread (crusts removed and cubed)

3

cups

grated cheese

1

pound of sausage cooked (we buy Jimmy Dean Maple)

4

eggs

2-1/4

cups

milk

1/2

teaspoon

dry mustard

The next two ingredients you save for the next morning when you bake it:

1

10 3/4 ounce can cream of mushroom soup

1/2

cup

milk
Instructions
Grease a 9 by 13-inch pan and place the cubed bread in it. Sprinkle the grated cheese on the top of the bread cubes. The next layer is the cooked sausage spread evenly over the cheese. Beat the eggs, the milk, and the dry mustard and pour over the sausage layer. Place the covered casserole in the refrigerator overnight.

The next morning preheat the oven to 325 degrees. Then combine the soup and the 1/2 cup of milk together and pour over the casserole. Bake at 325 degrees for one hour covered with foil. Remove the foil and continue baking for another 30 minutes or until the eggs are set.
Breakfast Add Ons
Orange juice, milk, coffee, hot chocolate, chocolate milk. Fresh fruit is awesome when you cut it up the night before so it's ready to serve. Life is so good when you "break bread" with friends.
Lunch Ideas
I like to purchase some sliced meat, cheese, lettuce, and rolls, and bread of all kinds. Add some potato chips, watermelon, and pickles, we're good to go. We can make bean burritos another day, hamburgers, hotdogs, tuna, peanut butter, and jam sandwiches.
Life is good when you eat at home or take your sandwiches in a cooler for a hike in the beautiful Southern Utah red hills. Add some carrots, celery sticks and life is good.
Dinner Ideas
We love cooking together in the kitchen so eating out is not our idea of fun. Just make a huge tossed salad every night with homemade soup, creamed chip beef on toast, lasagna, tacos, spaghetti, pulled pork, or Sloppy Joes.
Paper Plates and Cups
I stock paper plates, cups and napkins, so we rarely have a lot of cleaning up so to speak. We use my regular silverware but none of us want to do a lot of dishes, so paper works.
Final Word
I hope my post today on how to host friends and family inspires us all to bring the family together, cook together, and eat together. And having fun together. May God bless this world, Linda