How To Cook Bacon In The Oven
When I learned how to cook bacon in the oven, it was a game changer for me. Everything tastes better with bacon in it, on it, or around it. I love cooking bacon outside wearing an apron (Levi fabric) in cast iron, complete with the grease splattering everywhere.
Then I read where you can bake it in the oven. Now the grease stays contained inside the pan and within the oven. I'm updating this post from 2015 because I'm hoping some new readers will see you can cook bacon in the oven and save lots of the fuss.
I no longer have to put foil everywhere to protect my stove from grease splatters! My favorite bacon is from Costco, I buy the thick center cut slices and cut them in half before baking them. Now, you don't have to cut them in half, but I have done this for years to feed more people with less.
No one questions a 5-inch slice of bacon in my house. That's how we have always cooked bacon. I added my Bacon Wrapped Jalapeno Snacks recipe below. They are so yummy!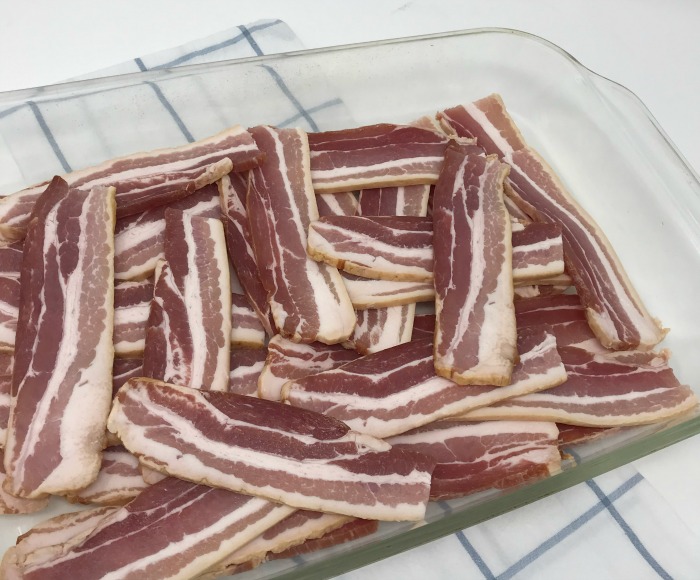 Do you love to go camping? Whenever I think of cooking breakfast outside in the mountains I can almost smell it cooking!
I love bacon and it tastes good on just about everything! Mark and I have bacon, tomato, and lettuce on sandwiches all summer. Thank goodness for my garden! I love egg salad sandwiches with a slice or two of bacon on it!
What is Bacon:
We all know that bacon comes from a pig. It comes from the side of the pig. It's cured and smoked before it arrives at the grocery stores. You can get bacon in different widths. You can buy them 1/32 inches thick which give you about 32-35 pieces per pound.
If you buy the 1/16 inch thick you will get 18-20 slices per pound. You can also buy bacon slabs, then slice it to your preference of thickness. The flavor of the bacon will depend on a few things. Each farmer buys the feed for their pigs from different places.
Different breeds of pigs taste a little different too. Of course, some bacon is flavored with maple (my favorite) and other flavors. I like the mesquite flavored ones as well. Each company will smoke and cure their meat in different ways. I think this is why we all prefer different brands.
We can also buy pre-cooked bacon which is a little more expensive, but sometimes the convenience is worth it. I prefer the thicker slices, so I watch the ads for my favorite brand to go on sale. Then I freeze it, lots of it. Yes, people look at me a little strange with all that bacon in my basket.
I can't wait until my fresh tomatoes start producing this summer. BLT's here we come!
Nitrates:
I have read articles that nitrates are bad, then I read articles that say they are okay. I have read that turkey bacon is worse than regular bacon. In order to make turkey bacon taste like real bacon, they add a bunch of additives. Who can we believe? I am going to enjoy my bacon, it's not like I eat it three meals a day. I will follow the adage to "eat everything in moderation," yes I will go with that one.
How To Cook Bacon In The Oven:
Put the strips in single layers on a cookie sheet with the sides lined with foil and bake in the oven at 400 degrees until desired crispness. My thick bacon takes about 30-40 minutes. If your bacon is thinly sliced it will cook much faster.
UPDATE: I now cook my bacon in glass cake pans (less splatter), no foil. After baking, I remove the strips and place them on paper towels on top of a plate. I let the glass 9-inch by 13-inch pan cool and then add a tablespoon of dry dishwasher soap and let it soak. It's easy to clean using this method.
Other Options To Cook Bacon:
1. Just fry it in a pan (cast iron works great)
2. Cook it in a Dutch oven outside with charcoal-(fabulous)
3. Microwave it-layer it with paper towels and keep turning the large plate-watch it constantly
Crispy Baked: Crispy Breaded Baked.
How many ways can we use bacon:
1. Fry some bacon and serve it with eggs and toast.
2. Baked bacon is so easy, as you can see above.
3. Do you crumble bacon in salads?
4. I love it crumbled on top of a pizza.
5. Have you tried it wrapped around water chestnuts?
6. Cooked and crumbled in omelets.
7. Cooked and crumbled in quiches with or without a crust.
8. Wrapped around asparagus and baked.
9. Bacon, lettuce and tomato sandwiches.
10. Serve with scrambled eggs, and avocado.
11. Mark loves it with eggs, sunny-side up and some wheat toast.
12. Wrapped around a filet mignon, and barbecued!
13. Wrapped around a pizza (saw this one on TV).
14. Put on cheeseburgers (my grandkids' favorite).
15. Cook it in a Dutch oven-cook it outside-can't you just smell it?
16. I have a few casseroles that call for some bacon.
17. Bacon in chicken wraps.
18. Cobb salads.
19. Stuffed with cream cheese inside baked mushrooms.
20. Fried rice with bacon.
21. Sliced Brussel sprouts stir-fried with garlic, red pepper flakes, and bacon.
22. Corn Muffins served with bacon and eggs.
23. Spinach salad with bacon (balsamic vinegar).
24. Quesadillas with cooked bacon, cheese, onions, and tortillas (fold in half).
25. Breakfast burritos with lots of salsa.
26. John's comment: "You forgot shrimp wrapped in bacon and my favorite, jalapeños stuffed with shrimp or cheese wrapped in bacon."
27. Jackie's comment: "There is also bacon brittle, chocolate covered bacon and bacon jam to add to your list."
Bacon Wrapped Jalapeno Snacks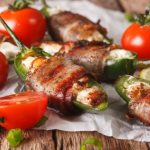 Bacon Wrapped Jalapeno Snacks by Food Storage Moms
Ingredients
8

ounces

cream cheese (softened)

1/2

cup

Mozzarella or cheddar cheese (shredded)

12

jalapeno peppers cut in half lengthwise (remove the seeds very carefully with gloves)

12

slices bacon (cut in half)
Instructions
Preheat the oven to 400 degrees. Grease a foil wrapped cookie sheet. Combine the cream cheese with the shredded cheese of choice and mix until smooth. Scoop the mixture evenly into the jalapeno halves. Wrap the bacon halves around each of the 24 filled jalapenos. Bake on the cookie sheet for 10-15 minutes or until the bacon is crispy.
Final Word
I hope you enjoyed learning how to cook bacon in the oven today. What is your favorite way to cook bacon? I would love to hear any tips you have!
I have to share this article about curing your own bacon: Home Cured Bacon by The Backyard Pioneer. I love his website and you will too!
Prepare Your Family For Survival by Linda
Copyright Images: AdobeStock_117384863Moving Moment