I have really wanted to learn how to dehydrate hamburger jerky. I asked my friend, Kendra to help and we decided to just go for it. This was our first experience making any kind of jerky using a dehydrator. Kendra's kids even helped us mold the jerky! We need the items pictured below plus the hamburger meat that is at least 93% hamburger minimum to be safe. The 85% hamburger at some the stores will not be safe to make because it has too much fat.
We have a friend by the name of Kim D. Well, Kim gave us this recipe a few months ago (her friend's recipe) and I have been dying to make it!
Hamburger Jerky Ingredients:
You add the hamburger and you are ready to make it!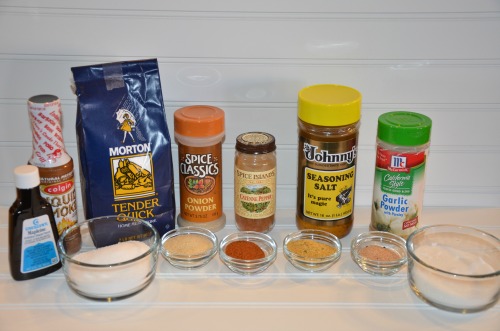 Molded Hamburger Jerky Ready To Dehydrate: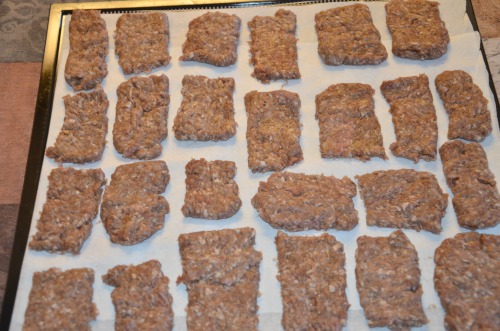 How to Dehydrate Hamburger Jerky
1/3 cup Sugar
1/3 cup Liquid Smoke
4 Teaspoons Garlic Powder
4 Teaspoons Onion Salt
2 Teaspoons Cayenne Pepper
2 Teaspoons Season Salt
2 Teaspoons Accent
2 Tablespoons Maple Flavoring (The flavoring you use to make pancake syrup)
1/2 Cup Tender Quick (Home Meat Cure Salt)**Salt not only helps pull the moisture out of the meat, but it also acts as a preservative. )
5-8 Pounds Hamburger (IT MUST be 93% Lean Ground Beef or leaner to dehydrate safely!!!)
Instructions:
Mix it all together and roll between wax paper or parchment paper. We rolled the meat out to about ¼ inch thick and used a pizza cutter to cut the shapes. Place on clean parchment paper and place in a dehydrator (Kendra and I both have chosen to use the brand Excalibur after months of research). The Excalibur has a jerky "button". We set the timer for 8 hours. You will find each dehydrator has a different temperature. Please check the temperature of your oven of choice. My research showed the temperature needs to be 140-170 degrees. My Excalibur dial shows 155 degrees.
*Please note if using game meat you need to add 1 pound of ground beef (93% lean).
* If you don't have a dehydrator you can use your SUN OVEN or your kitchen oven. When using your Sun Oven be sure and follow the instructions enclosed with the Sun Oven. The key thing is DO NOT clamp the glass cover shut. Place the glass lid ON TOP of the screw clamps. If you use your regular oven set the temperature at 165-170 degrees (70-80 degrees C). You can use a couple of spoons to keep the oven door ajar. Since temperatures, humidity levels and the thickness you make your meat are so different there really isn't any set time. I say watch, watch, rotate, rotate and make sure the pieces are not touching each other. The meat will shrink. The time can be 4-12 hours. If you have a convection oven turn on the fan.
Remember this is not commercial jerky made with preservatives. Do not store in plastic bags (they tend to accumulate moisture and encourage the growth of bacteria). I am storing mine in quart jars with an oxygen absorber and placed in the refrigerator. You can store this for about 2 weeks in the refrigerator or two months or longer in the freezer.
Place The Hamburger Jerky In The Refrigerator or Freezer:
This is how we store our jerky before placing in the refrigerator or freezer. My husband went fishing last week and one of his buddies brought some jerky to eat while out on the lake. Well, I guess the jerky was as hit and didn't last too long. He mentioned he wished he'd brought some of our Hamburger Jerky to share with his two fishing friends. Sounds like I need to make some new batches of hamburger jerky for future fishing and other outings. Seems like most people like jerky and the various spice flavors available can add some fun flexibility to how you make yours. One great advantage to this popular treat is the extra protein you get. Seems like this will prove to be a more healthy treat than what most of us grab between meals. Give this recipe a try this week. We hope you enjoy making this as much as we did! It is so yummy!
YouTube: You Tube by Food Storage Moms.