25 Lunch Ideas On A Budget
Do you sometimes need some new lunch ideas? I sure do. It seems like I fix the same things day in and day out. Well, I really wanted some new ideas, and I found these awesome lunch ideas on a budget!
It's all about saving money when we fix meals of any kind. Please tell me which one is your favorite! Let's teach the world to cook from scratch, there's nothing better than a homemade meal.
Lunch Ideas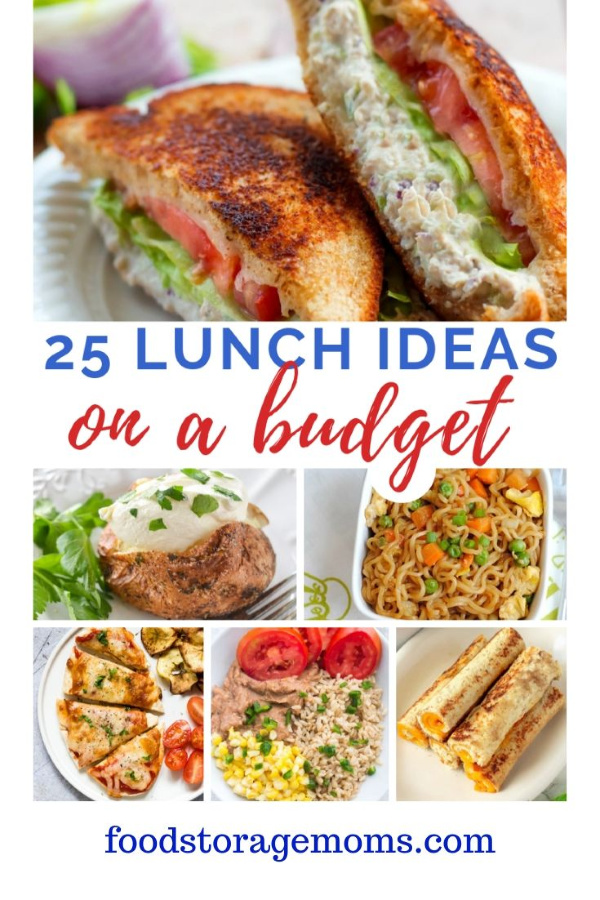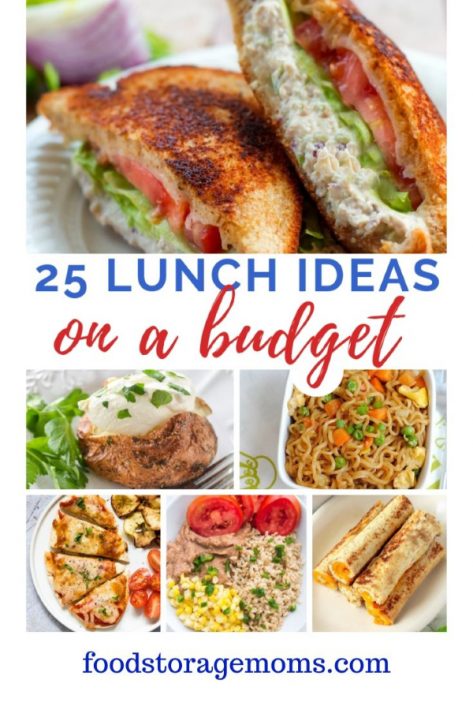 Quick + Easy Ramen Vegetable Stir Fry – A Cultivated Nest – Use a package of Ramen to make a healthy filling dish! It's perfect for a great lunch on a busy day!

Chili Cheese on Toast

– Crunch & Cream – This 10-minute lunch recipe is packed with flavor, thanks to the spring onions, red and green bell pepper, and chili peppers.

5 Mins Air Fryer Pita Bread Pizza

– Recipes From a Pantry – Put that air fryer to work for lunch! With just 5 minutes and 3 ingredients, you can have delicious pizza ready for lunch without breaking the budget.

Lemon Garlic Pasta with Parmesan

– Candy Jar Chronicles – It's as easy as cooking spaghetti! The garlic, lemon, and parmesan blend together to create a perfect sauce.

Broccoli, Cheese & Ham Pockets

– Miss in the Kitchen – Handheld lunches are always great for on-the-go! You can make these ahead of time with just 4 ingredients and reheat them for a super quick lunch.

Corn Dog Muffins

– Eating on a Dime – Make these frugal Corn Dog Muffins for an easy lunch that everyone will enjoy.

Spaghetti Grilled Cheese

– The Kitchen – Use those spaghetti and garlic bread leftovers to make a delicious spin on a grilled cheese sandwich!

Mexican Three Bean Salad

– Valerie's Kitchen – This versatile three bean salad is delicious all on its own, tossed in a big green salad, or stuffed inside tortillas with grilled chicken or shrimp.

Sweet Potato Skillet

– Super Healthy Kids – Sweet potatoes are a great swap for meat in this yummy skillet lunch. You could throw this on a tortilla, too.

Chicken Salad Melt Sandwich

– Bunny's Warm Oven – Whip up some chicken salad with leftover chicken and turn it into a delicious melty sandwich.

5 Minute Vegetarian Mexican Burrito Bowl

– Brooklyn Farm Girl – This vegetarian burrito bowl includes rice, refried beans, corn, tomatoes, peppers, and salsa. It's ready in just 5 minutes!

Easy Canned Tuna Pasta

– Salt and Lavender – You don't need to have much in your pantry to make this recipe. It's quick, healthy, and comforting!

Pizza Rolls

– What Lisa Cooks – Pizza is always a hit! You can make these ahead of time and reheat for an even easier lunch. They'll go great with a salad!

Ham & Swiss Sliders

– Flavor Mosaic – Serve a crowd with these hot ham and Swiss Sliders. It's the garlic dijon butter sauce that really makes them!

Open Faced Tuna Melts

– Food Meanderings – I bet you already have the ingredients you need for this easy recipe!

Buffalo Chicken Wraps

– Easy Family Recipe Ideas – These wraps are so good, and perfect for a summer lunch. They have all of the flavors that your favorite chicken wings have, but are more filling and much healthier for you.

Instant Pot Two Bean Soup

– This Ole Mom – Pull out the Instant Pot for this frugal, yet super delicious bean soup!

Classic Tuna Egg Salad

– Hearth & Vine – Use some basic ingredients you likely already have at home to make this classic tuna egg salad recipe. It's great on toast or eaten plain.

Chicken Noodle Soup for One

– Baking Mischief – Just because you're on a budget doesn't mean you need to eat canned soup. With one pot and twenty minutes, you can have fresh chicken noodle soup for one!

Air Fryer Baked Potato

– Courtney's Sweets – Thanks to your air fryer, you can have a delicious baked potato for lunch! They're so filling and cheap!

Tortellini Chickpea Pasta Salad

– Moneywise Moms – This is an easy vegetarian meal that's filled with fresh flavors. It'll become your new favorite cold lunch!

Easy Thai Chicken Salad with Canned Chicken

– Low Carb Yum – With some canned chicken, you can have a quick and easy Thai chicken salad. It's so simple to prepare!

Grilled Cheese Roll Ups

– Midget Momma – This is a fun version of the classic grilled cheese sandwich. It's a super easy lunch that anyone would love. Serve with some tomato soup for dipping.

Pizza Bagels

– Drugstore Divas – Make your own bagels (using just 2 ingredients), and then throw together pizza bagels with whatever toppings you have on hand!

Easy Bean Burritos – A Mind "Full" Mom – These burritos are made with refried beans and taco seasoning for a quick and easy lunch.
Final Word
I'm all about fixing meals on a shoestring, and I think these lunch ideas fill the bill. Let's keep on prepping by storing water, and extra cans of food. Please be safe and stay well. May God bless this world, Linda