10 Things They Don't Teach You in School
These are 10 things that they don't teach you in school that they probably should. Whichever public schooling that you received when you were younger, you developed a grasp for math, English, science, art, music, and more while learning to get along with others at the same time.
You probably even practiced emergency drills and learned a different language or two somewhere along the way. In case you missed this post, Homeschooling: Would It Work For Your Family?
Let's be honest though, there are many of areas of instruction where the schools failed us when it comes to preparing us for adulthood. A few of us even had to find out the hard way and learn valuable and tough life lessons on our own. Even if you're now a full-grown adult, it's never too late to learn some of those things.
10 Things They Don't Teach You in School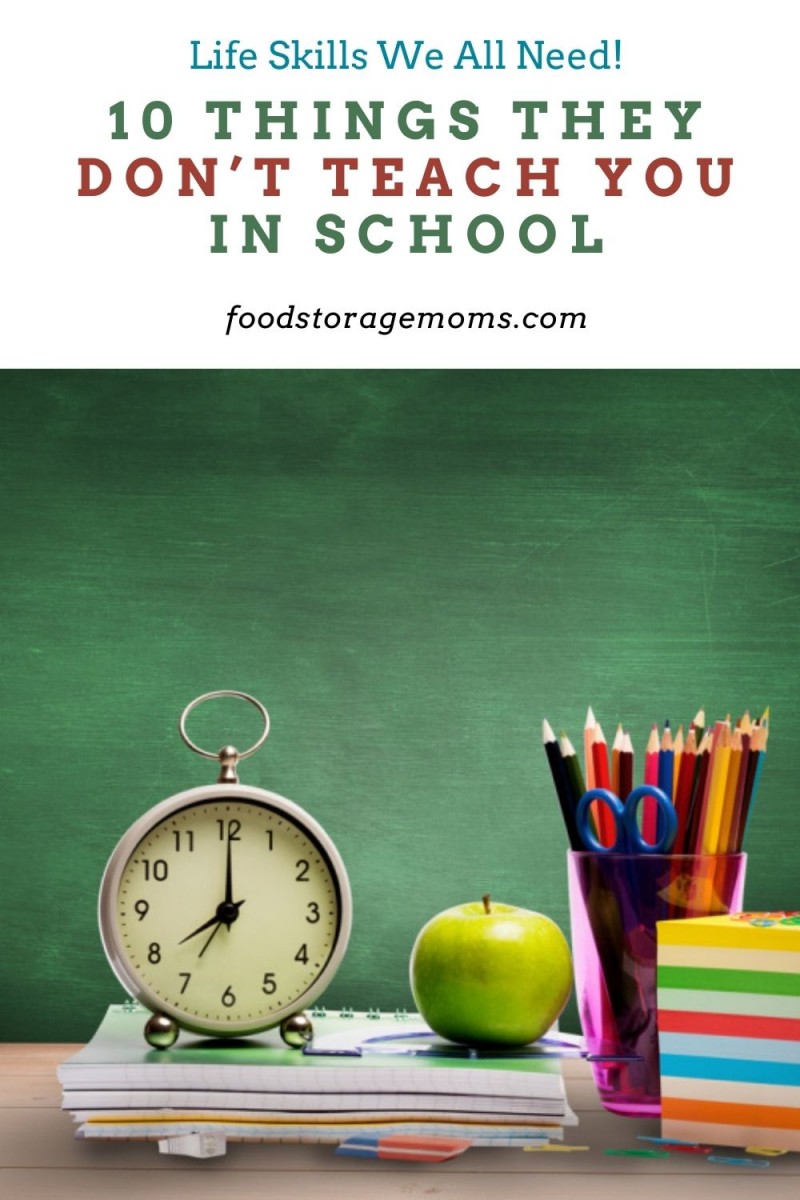 1. Banking
I think that it's safe to say that a vast majority of High Schools across the United States don't have banking as any part of their curriculum, and that's a darn shame. Think of all the grown adults today who would be better off if they had learned how to balance a bank statement early on.
Many students have had to find out by making some significant financial mistakes because not even mom or dad took the time to teach them more about this important subject. These are basic banking practices that students and adults need to know how to do:
Open a checking and savings account
Understanding interest rates for both deposit accounts and loans
Avoiding withdrawal fees
Filling out a deposit slip
How money orders work
Choosing the right bank/credit union
Learn to NOT use credit cards 
2. Creating a Budget Based on Income
Creating a budget that's based on income also has to do with banking, but it's one that I believe deserves a category all its own. Sadly, many adults don't know how to set up a budget to track their spending and help them get their lives back on track.
Not only does a budget help people manage their money more thoroughly, but it also helps them save more for their future. Here's more info that may help you.
3. Filling Out a Resume
Congratulations, if you went to one of the few schools in the country that helped teach you how to fill out an attractive resume. Mine sure didn't. A resume is about selling yourself, leaving an impression on businesses that they don't want to let an opportunity like you pass them by.
Here's how to write a great resume even if your schooling neglected this important early step of your adulthood development.
4. Preparing for a Job Interview
Preparing for a job interview and knowing how to sell yourself is another area that's important to be able to do. Again, most schools fail in this area too. Interviewees need to know how to:
Do research ahead of time about the company and how their education and experience may be useful
Dress appropriately
Answering their questions correctly with helpful examples
Asking follow-up questions about the position you're applying for to show your general interest
5. Completing Your Taxes
This is one that makes absolutely no sense why it's not been taught in schools today. After all, almost everyone has to pay their taxes when they grow up. It can be pretty intimidating, even for those that have been filing them for years. There are free online programs like TurboTax to assist people, but it would be great to already know terminology, how to properly recorded possible deductions, and how deductions and dependents play into tax calculations.
Schools need to begin educating their students, or at least briefly explain the forms that they will need in order to complete their taxes, such as their W-4, W-2's, 1098's for mortgage interest and property tax, 1099's for other income, 1099 NEC if are self employed, and other critical information.
6. Public Communications Skills
Most of us in high school took a speech or debate class where we had to get up in front of the class and discuss or persuade about a particular topic. While there may have been some feedback from the instructor, he or she probably didn't cover all of the public speaking skills that you need in order to thrive in the workplace, church, civic clubs, and other places that require public speaking.
This also the need to be able to communicate your ideas, needs, and challenges in the workplace with co-workers, supervisors, and customers.
For those of you who would like to advance those skills, these are a few examples that you may find helpful and help with your anxiety of getting up and talking in front of others.
7. Posting Appropriately on Social Media
Schools, and especially parents, need to do a better job of discussing this subject with their students. After all, there are negative implications that usually follow when people post inappropriate information or pictures of themselves, whether it's them smoking, drinking, or something else that should remain private.
Unless someone steps in, these same students will then grow up, not having respect for themselves or for others. It's my understanding even employers are looking at social media outlets when determining if you are a "perfect fit" for a job application. Sometimes future employers may not like what they see on your social media platforms.
8. Writing a College Paper
There are certainly English classes and writing classes in high school that try to prepare students for what will be expected of them in college. Yet most teachers put more emphasis on how to write a good paper, instead of the things that you shouldn't include like questionalbe subject matter.
For those of you who don't necessarily know what sticks out like a sore thumb to college professors when they're grading your paper, here's How Not To Write a College Paper.
9. Survival Skills
Unless you were in boy scouts, girl scouts, or a close relative took you camping when you were younger, there's the real likelihood that your survival skills are limited. It's sad to realize that you didn't learn a minute of it from the classroom. Nobody really knows when they may need survival skills to get them and their family through a dangerous situation.
10. Finding Resources Following an Emergency
While most school systems do a good job teaching children and students about taking shelter during an emergency, how to effectively exit a building on fire, and practicing drills year after year, once they're adults they still don't know where they can find resources to help them get through whatever emergency that they may face.
If they don't have friends or family to assist them to help them get back on their feet, they may not know where to turn. Here are a few resources that you can look into when a natural disaster or other types of emergency has taken place, or better yet, to prepare for before the event takes place.
10 Things They Don't Teach You in School
Related Topic: 30 Pioneer Skills We Cannot Lose
Final Word
These are 10 things that schools don't teach that some of you (including me) would have benefited if we had learned them in the classroom. Buying a home, planning for retirement, and learning about investments are a few other notable areas where instruction would have certainly benefited us. What are some other important areas that schools don't teach that maybe they ought to? I'd love to hear from you. May God this world, Linda.
Copyright Images: School Supplies Deposit photos_84446982_s-2019