Tips for Surviving the National Parks (If Lost)

You're on a family vacation while visiting one of America's great National Parks and you decide to visit one of its trails. Somewhere along the way, you get off the beaten path because your curiosity gets the better of you. But after a while, you realize that it's starting to get dark. You then head back in the direction of where you thought the trail was, only to discover it's nowhere to be found. You pull out your phone only to realize that it has zero reception. Panic begins to set in. The vacation that was once harmless and enjoyable has now turned into something dangerous and extremely frightening. Check out these tips for surviving the National Parks, if lost.
Mark and I live about 25 miles from Zion National Park so I was really excited to talk about the beauty and the danger of hiking in our beautiful National Parks. I hope you enjoy the pictures, life is so good with beauty all around you.
Related Topic: When You Go Hiking Make Your Contact List For Survival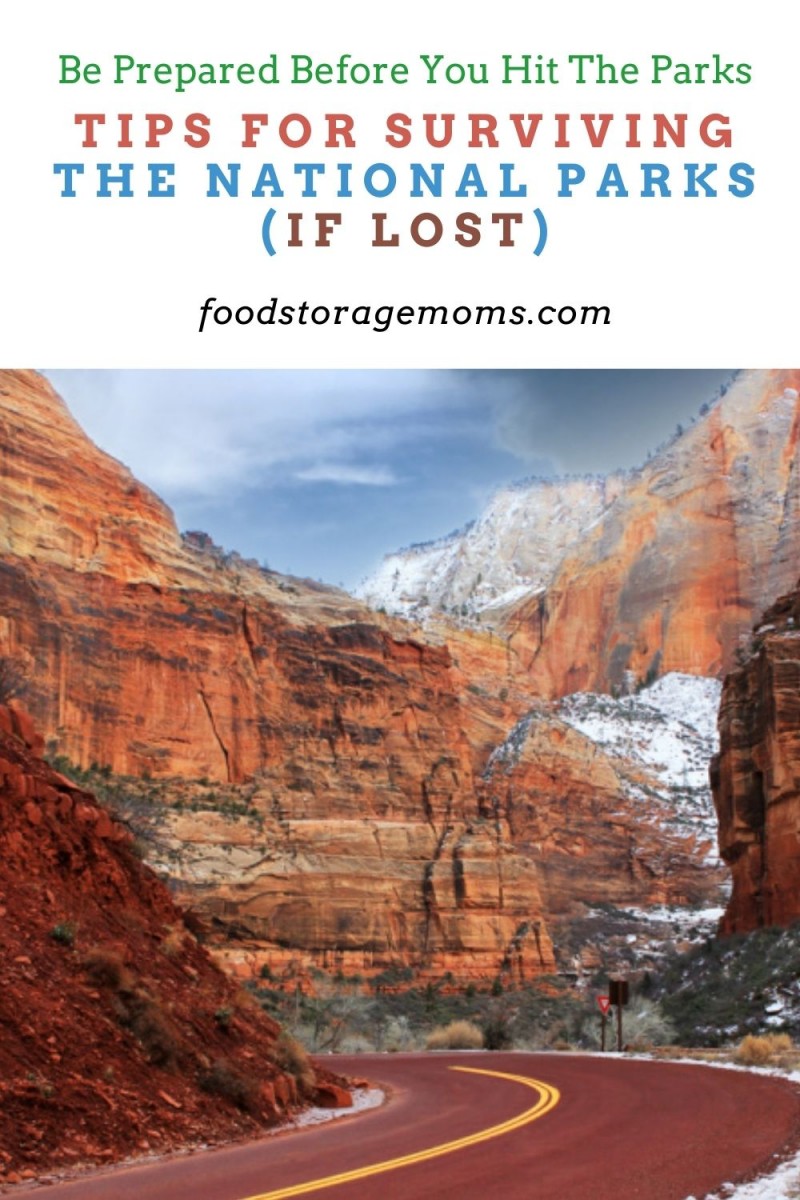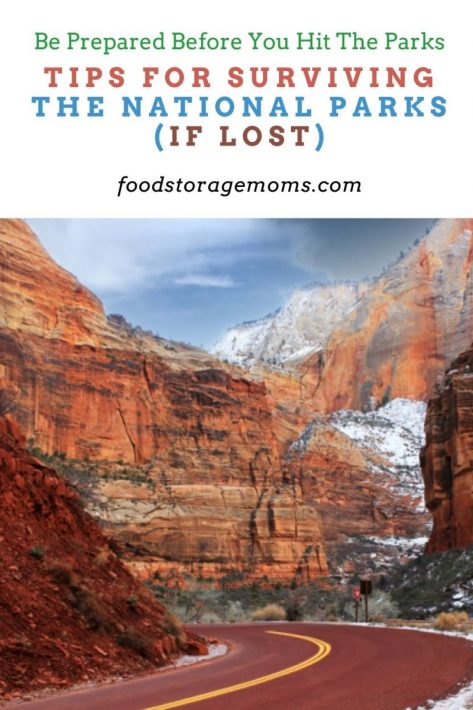 Tips for Surviving the National Parks When Lost
National Parks have been proven time and time again they can be deadly, and fatalities take place in them more than you may realize. Although these parks are undeniably beautiful and wonderful places to explore with your family, they can also be dangerous and unpredictable at times.
In fact, there are more than 1,000 hikers that get lost, and an average of 312 deaths that occur in them every single year. So it's nothing to joke about it. Being lost is no laughing matter.
As it turns out, day hikers are far more likely to get lost and end up in a critical situation than backpackers because they simply aren't prepared for such a situation. Here are a handful of tips for surviving if you ever find yourself lost in a national park. CNN National Parks Death Numbers
Don't Go Alone
The first rule that should never be broken when visiting a National Park, is that you should never discover its features alone. Doing so is only asking for trouble. Dangerous situations even happen to the most experienced of hikers. What would happen if you were out hiking and you got trapped underneath a dislodged bolder? It could be days or weeks before someone would find you, and you would dehydrate or starve to death by then.
This is a picture of Zion National Park near me. This picture is called the "Narrows" and you have to hike to get there. Usually, the park rangers require you to register before you begin your trek, and they often have to limit the number of visitors by requiring groups to make a reservation during peak tourist season. As you can see from the picture, the narrows looks much like a tunnel in some sections, and other sections have sheer cliffs on both sides, making it impossible to get out along the way. Things are compounded by the fact that water is present along the trail, prompting you to cross the stream numerous times, and even having to climb down waterfalls along the way.
It is critical to carefully check the weather, not only near the narrows area, but upstream too. If there is any chance for a significant rainstorm during your trek period you should plan on a different day. There have been many times that hikers in the narrows have been swept downstream, and in some cases, deaths have resulted from sudden storms that fill the stream and the whole narrows section with flows that can't be negotiated or survived.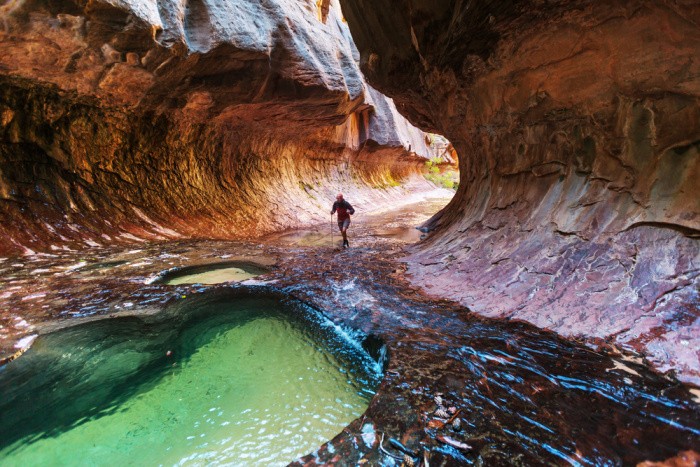 Tell Someone When You're Visiting
By taking the few extra seconds of picking up the phone and calling someone close to you and letting them know what your plans are for the day, it could very well end up saving your life. Share with them which park you're visiting, what vehicle you drove, who's with you, which trail you plan on following, and when you expect to return.
Bring a Backpack with Essential Supplies
Bringing a backpack with the appropriate supplies will also be a lifesaver. These are some of the essentials that you should always remember when you head out hiking:
Plenty of food, snacks, and bottled water
Portable water filter (Lifestraw)
Whistle and bells (to alert others and keep wildlife away)
Map of the area
Good pair of hiking shoes
Extra socks
Warm clothing
Blanket
The picture below is also from Zion National Park, and shows an area known as "Angel's Landing." I'm glad my granddaughter, Taylor, told me AFTER the fact that she had climbed this trail. Can you see the drop off on the right? Hikers travel 2.4 miles (one way), everyone goes up and down the same path and have to hold onto the same chain. You may wonder, how can they pass each other? The answer is, very carefully, holding onto the chain. The time required is 3-6 hours, in good weather. Access is restricted when the weather is not safe to hike. The numbers of hikers are limited as well. The hike is fairly strenuous and not recommended for small children, those with health issues, or for those afraid of heights. The elevation change is 1500 feet from the start to the top.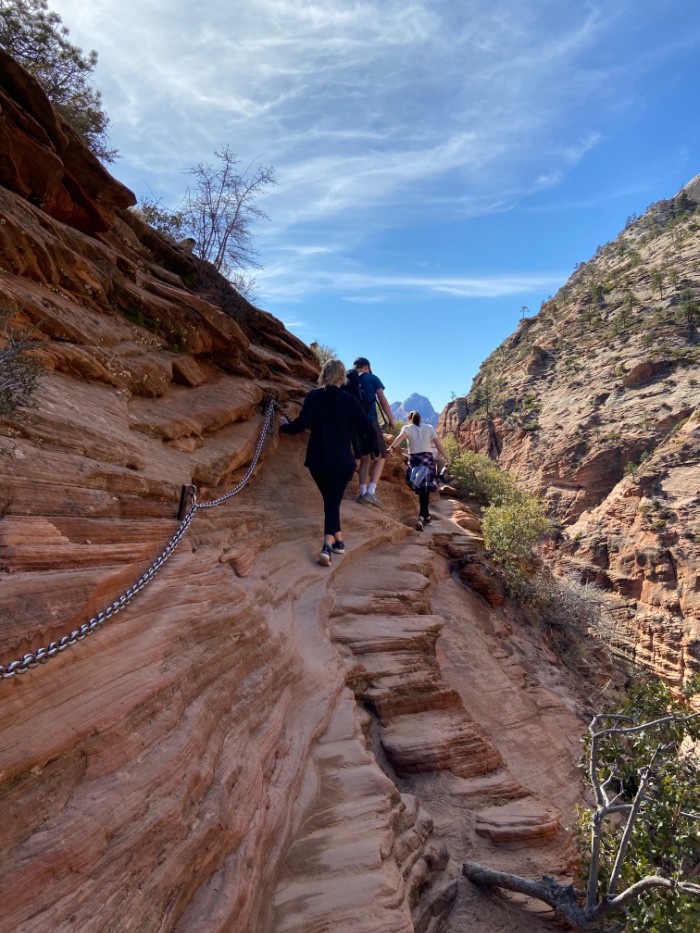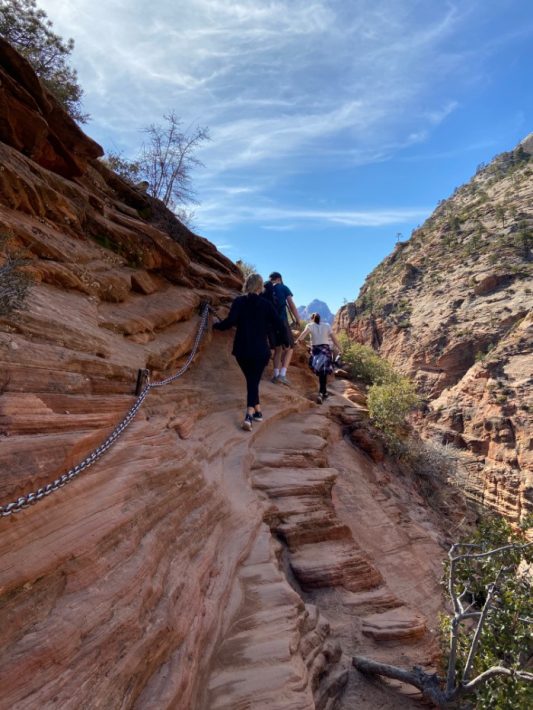 Don't Panic
This is generally what happens once someone realizes that they're lost, but this isn't going to help you improve your situation. It's best to do your best to stay calm and try to keep a positive outlook. You certainly don't want to start wandering aimlessly walking in every direction, so the moment you realize that you're lost, stop, stay put, and think things through.
Try to remember any landmarks that were close by that you would recognize. Retrace your steps. Pull out your compass and map that may help you when you notice any major features that would help you figure out where you are. Are there any noises that sound familiar to you? Don't set out unless you have a good idea of which direction to head. If it's dark, seriously consider staying put until morning. If you have a reliable flashlight consider the risk of trying the trail, or using the blanket to find a reasonably comfortable and safe place to hunker down.
GPS Units
From John: GPS units can be purchased fairly inexpensive and since they do not rely on cell service, they are effective anywhere you can get a view of the sky. Won't work in the narrows or other close areas but will work close by. We have several but our favorite is a Garmin 66i which has inReach satellite capability and mapping download ability. Download maps of where you are going to be and have them with you. In an emergency, yours or someone else's, you can contact emergency services for assistance and rescue as required. A backpack with essentials is absolutely necessary. Just a few simple things can mean the difference between life or death.
Stop and Rest
As soon as you're starting to get tired, be sure to stop for a break. Don't make the mistake of waiting until you're running on fumes and completely exhausted. You may not be able to get back up again. Now's also the perfect time for you to get a bite to eat to help replenish some of your energy and give your body enough time to digest your food and recover. Be sure to pace yourself based on time of day, distance to be traveled, weather, degree of difficulty of the trail, and your physical condition.
Drink Plenty of Water
Making sure that you get plenty of water is also one of the most important things that you should be doing during this time. Without enough water in your system, you'll become dehydrated and have a difficult time performing the simplest of tasks. Your judgment may become impaired. These are a number of symptoms that you need to look out for that indicate that you're becoming dehydrated:
Very thirsty
Dry sticky mouth
Dark and very little urine
Headaches
Muscle cramps
Dry, cool skin
Hopefully, you've packed plenty of water bottles with you, but if not, that portable water filter that I mentioned earlier will work with almost any water source that you find. It will filter out most parasites and bacteria that may be lurking in the water.
Don't Travel in the Dark
When traveling in the dark you may not be able to see cliffs, huge drop-offs, wild animals, slippy or rocky spots in the trail, and other dangers that could all prove harmful to you. So don't set out in the dark unless you fear for your life by staying put. Instead, find a place where you can seek shelter for the night and get as much rest as possible. If it's cold out, you may need to start a fire to provide you with warmth.
Avoid Walking During the Hottest Part of the Day
When it's the middle of summer, the heat can be excruciating in certain areas of the country and you could become dehydrated rather quickly. It's best to seek shade or shelter during this time, just like wildlife does.
Instead, try and travel earlier in the morning and later in the afternoon when it's not so hot out. If you refuse this precaution, at the very least, slow your pace to one that's more comfortable in the summer heat. Be sure to wear a hat, sunscreen, and light-colored clothes to try and stay cool.
Fix Problems When They are Small
Ignoring a small injury or avoiding fixing a problem by choosing to push through the pain is only going to make things worse. That small throbbing pain in your foot could turn into something far more painful if left unattended, along with a recovery time that will take longer. Stop and try to fix the problem before it's a big one, if at all possible. Small First Aid Kit and Moleskin for Sore Feet and Pre-Cut Moleskin for Blisters
Tips for Surviving the National Parks (If Lost)
Final Word
For the 318 million people who visit any one of America's National Parks each year, your chances of getting lost or seriously injured are extremely low. Yet that doesn't mean that it couldn't ever happen to you. Should you find yourself lost when out hiking in one of them, these tips will greatly increase your chances of being found alive.
These are also tips that I would encourage you to pass along to your children and other family members as well. What are some tips for surviving the National Parks you'd like to share? Plus, what is your favorite National Park you have visited? May God Bless this world, Linda.
Copyright Images: Zion National Park Deposit photos_19083297_s-2019, Zion National Park Narrows Deposit photos_89868566_s-2019