Food Banks: What You May Not Know
Did you know that before the Covid-19 pandemic that 37 million people in the United States Struggled with hunger? Food banks helped both adults and children meet their food needs. But, the pandemic only made it worse…
Food Banks: What You May Not Know
Today, more than 40 million people are food insecure. This means that food banks must supply more food to those in need than before the pandemic.
With food prices increasing, food banks having to ramp up their inventory, and more people struggling, it's even more important that you stock up on food and supplies for your own family.
However, if you are struggling, there is no shame in using a food pantry or food bank to get the food your family needs. Here's what you may not know about food banks:
Food Banks and Food Pantries are Not the Same
Food pantries are government or non-profit organizations that distribute food to people in need. Food banks, on the other hand, are warehouses that store food donated by manufacturers, retailers, and growers. Food banks then distribute the food to pantries, soup kitchens, and other agencies.
In other words, food pantries give out the food, and food banks supply the food, in most cases.
There are More Food Banks Than You May Think
The Feeding America network is the largest hunger-relief organization in the United States. They have a network of 200 food banks and 60,000 food pantries and meal programs. This means that no matter where you live in the United States, there is probably a food bank or food pantry near you.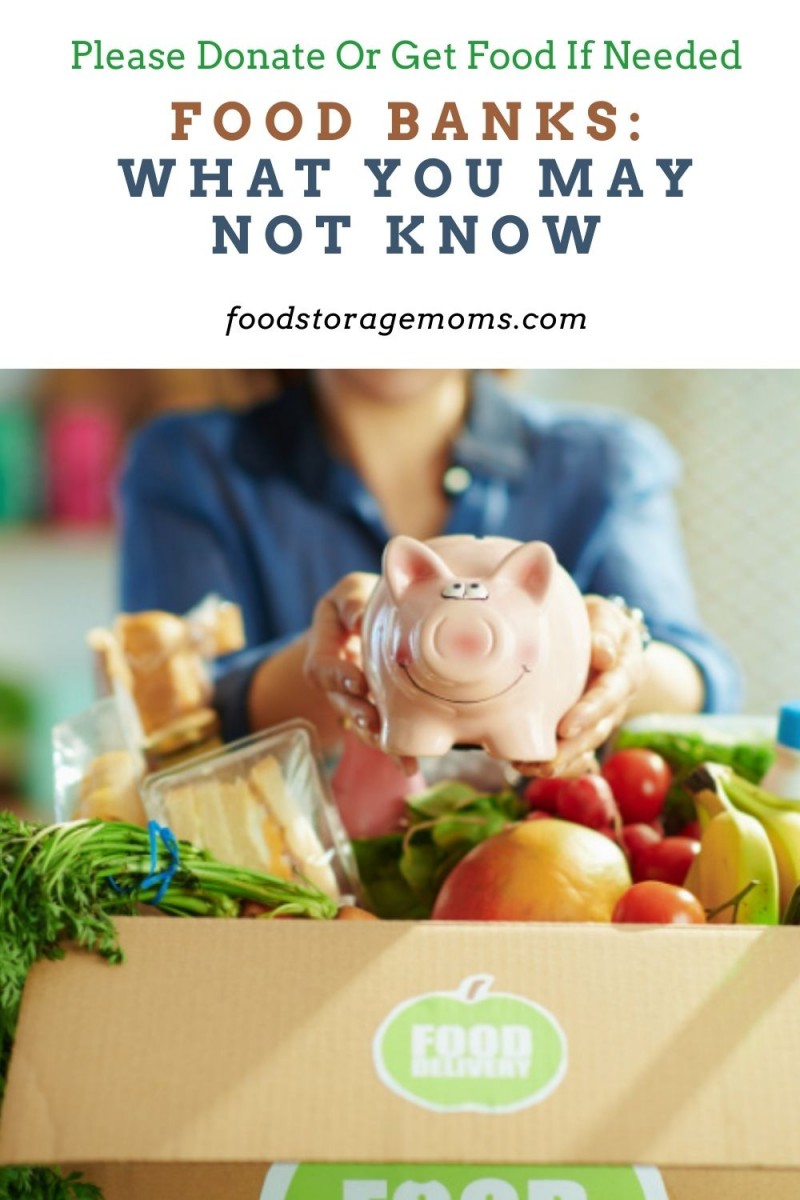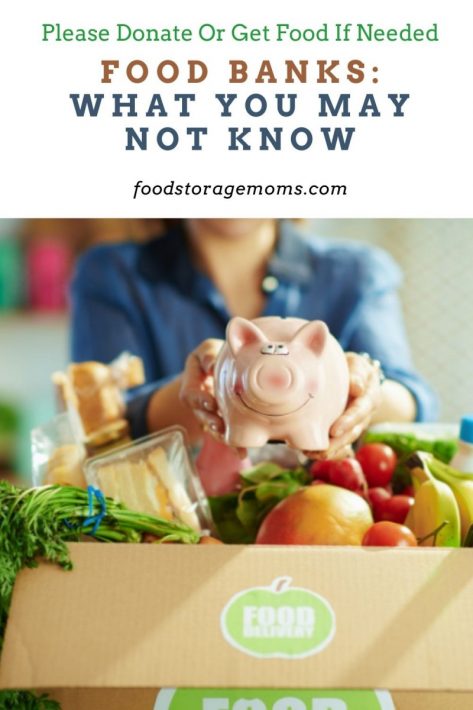 You Don't Have to Be Unemployed or on Food Stamps
Food banks are available to anyone who needs them, regardless of employment or food stamp status. All you need is a photo ID. The food bank provides a safety net for those who need it most.
With no requirements on who can use their services, they serve anyone – from children in urgent danger of hunger, to seniors living on limited retirement funds.
Most Food Banks Have an Online Portal
If you're not comfortable going into a food bank, you can often find an online portal where you can request food. The food will then be delivered to you. In fact, you can fill out an application on America's Virtual Food Bank website and have food delivered directly to your door. These resources may be different based on location, so check out what's available in your area.
There are Food Banks in Every State
No matter where you live, there is a food bank that can help you. Food banks are located in every state, as well as Puerto Rico. To find a food bank near you, visit Feeding America's website.
Food Banks Provide More Than Food
In addition to food, many food banks also provide other resources, such as:
Hygiene products
Baby formula
Diapers
Clothing
School supplies
They Have Special Programs for Seniors and Veterans
There are food banks that have special programs for seniors and veterans. These programs make it easier for these groups to get the food and other essentials they need. For example, the Food Bank for New York City has a Homebound Delivery program that delivers food to seniors who can't leave their homes.
You Can Donate to One
If you're not in need of a food bank but would like to help, you can donate to one. Food banks always need donations, whether it's food, money, or time. To find a food bank near you that you can donate to, visit Feeding America's website. Near our home, one of the grocery stores has large bins close to the entry doors so people can donate their non-perishable food items on their way out, or bring things from home to donate.
Money Donations Go Further Than Food Donations
When you donate money to a food bank, they can use it to buy the food they need in bulk. Many food banks and pantries have access to lower-cost supplies than you or I. This means the cash donation goes further than you might think.
For example, The Food Bank of Eastern & Central North Carolina reports that $10 donations provide 50 meals for those who need it most. Additionally, they can also use monetary donations to pay for things like transportation and storage.
You Can Volunteer
If you have some extra time, consider volunteering at your local food bank. Most food banks are always in need of volunteers to help with tasks such as sorting and packing food, conducting quality control, and distribution.
What Food Banks Need
Food banks have said that a cash donation goes further than a food donation in most cases, but if you can't donate cash, they take a variety of items to help those in need.
What to Donate:
If you want to help your local community, here's what food banks need the most right now:
Soups– Hearty meals like chili or stew are needed for those with food insecurity.
Canned meat– Things like chicken, tuna, ham, and even Vienna sausages.
Canned vegetables– Potatoes, collard greens, corn, carrots, spinach, and peas can all be helpful.
Canned fruit– Individual fruit cups are also accepted. Just make sure there are no damages to the container.
Spaghetti– One of the cheapest and easiest meals for those in need is spaghetti with sauce.
Rice– Any rice works, including the 90-second rice packets.
Instant Food– Things that only require water to make such as mashed potatoes, biscuit mixes, and instant oatmeal are helpful.
Cereal– The food bank is asking for healthier cereal choices, if possible.
Peanut butter– Any nut butter works, especially crunchy.
Spices– Seasonings and spices like cinnamon, oregano, basil, salt, and pepper are rarely donated.
Snack items– Things like Cheez-its, graham crackers, animal crackers, juice boxes, applesauce, and granola bars are great snacks for kids.
Infant Items– The food bank needs formula, infant cereal, diapers, and wipes for infants.
Toiletries– Toothbrushes, soap, toothpaste, lotion, shampoo, conditioner, pads, tampons, and chapstick are needed as well.
GLUTEN-FREE– If possible see if there are items that are GF for those with special dietary health issues.
No or Low-Sodium Cans of food– There are a lot of people who must restrict their salt intake, it would be wonderful if they could pick up those items they need with less salt.
What Not to Donate:
Although these storage centers appreciate all donations, there are a few items they just can't accept. These items include:
Anything that needs to be refrigerated.
Homemade food.
Glass or plastic jars of baby food.
Expired food including canned goods.
Food without a label.
Damaged food or packaging.
Perishable foods, such as fresh fruits and veggies.
How to Start Prepping
Although donation banks and food pantries are great resources, they are not always reliable sources for your food needs. What happens when they run out of food and donations? Make sure you are prepping and stocking food, now! Here are some ways you can start:
Final Word
No one should have to worry about where their next meal is coming from. Food banks provide a vital service to those in need. If you or someone you know is struggling, reach out to a food bank near you. But, my best advice is to stock up on food and water before you get to a point where you are struggling. Food banks are a great resource, but they are not always reliable.
I hope this article has opened your eyes to what food banks do and how you can help. If you have any questions or comments, please leave them below. I would love to hear from you! May God Bless this world, Linda
Copyright Images: Food Box AdobeStock_473328457 by Alliance