How To Use A Lodge Dutch Oven And Love It

Today, it's all about how to use a Lodge Dutch Oven and love it! I mean really love using it. My husband received an email in a group message asking about Dutch ovens. The question she asked was "what Dutch oven brand should I buy and can I use it indoors as well as outdoors"? Here's the deal, I grew up with Lodge cast iron products from the time I was very little. My mom always had the brand called Lodge. I was not paid or given any product from Lodge to write this post, just in case you were wondering. My mom fried eggs, bacon, cheese and so many things in her Lodge cast iron fry pans. You can actually cook with a Dutch oven outside with just charcoal, for instance. You can also bake something in your Dutch oven in your conventional oven inside your home.

MY LATEST VIDEOS
I would not recommend cooking with cast iron on a glass top stove. I finally got a gas stove so I don't have to worry about scratching the glass top anymore. I would love comments if any of you have used cast iron pans on your glass top stoves. I was always afraid it would damage it. I have used them for years until we bought this house and we have always had a gas stove. I love cooking with gas here in Southern Utah because our electric bill is outrageous!!! If you take care of your cast iron it will truly last a lifetime.
Let's talk about the size of a Dutch oven to buy. I prefer the 6-quart because when the pot is full I can lift it very easily. The 4-quart a good size as well. The larger the capacity, the heavier they become. A really strong guy could prefer a larger 8-quart size. The lid is a 12-inch lid on both the six and eight-quart Lodge Dutch Ovens. The 8-quart is deeper and can cook more food for sure, but would be too heavy for me to handle.
Charcoal Starter Canister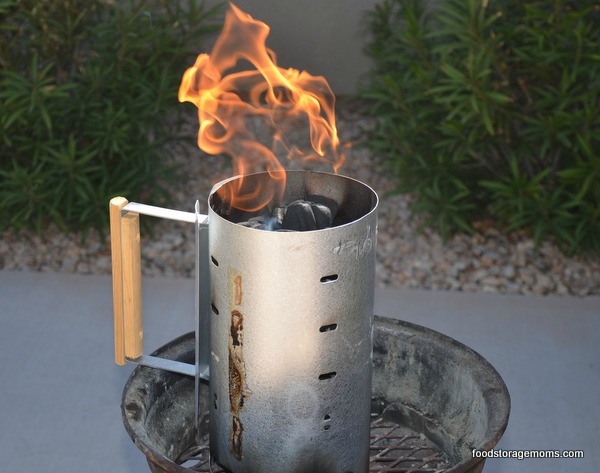 I thought I would show you how I get my "charcoal" going with a little newspaper and this fire-starter canister. It costs under $20.00 and I have had it for years. You place it in a safe location. Next, you take some loosely made newspaper balls or small twigs and place in the bottom of the canister. Next, I place charcoal on top of the newspaper in the canister. Then I use a match or butane fire starter to light the newspaper on fire. I wait until the charcoal looks half black and half whitish….this means its almost ready to use on the top and bottom of the Dutch oven. I have a 12-inch Lodge Dutch oven with a lip on the lid and it's my favorite for cooking with charcoal on the top and bottom. It's great for stacking Dutch ovens as well. Weber 7416 Rapidfire Chimney Starter
Lodge Dutch Oven Stand
I recently showed the Dutch oven stand my brother-in-law, Duane S. made for me. Dutch Oven Stand post.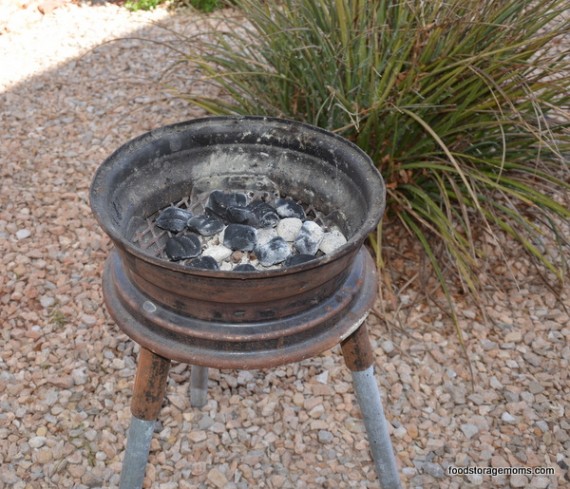 I Counted Out Too Many Charcoal Pieces
Well, I got distracted, which I often do, and put more than 24 charcoal pieces in the fire-starter canister. So of course, we used all of the charcoal anyway. The rule of thumb is to put the same number of charcoal pieces under and on top of the Dutch oven as the size of the lid. So 10 pieces below and on top if using a 10-inch Dutch oven, 12 pieces below and on top if a 12-inch Dutch oven, etc.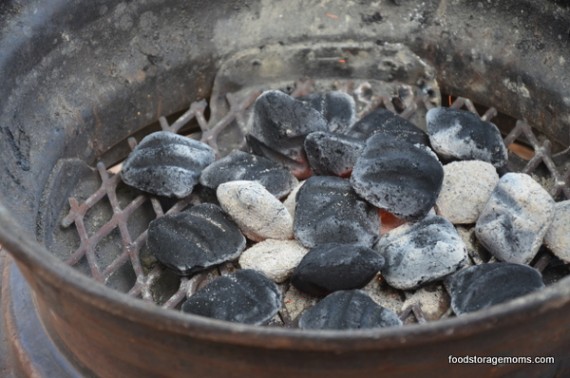 Here the charcoal is ready to put the Dutch oven on top of the hot charcoal.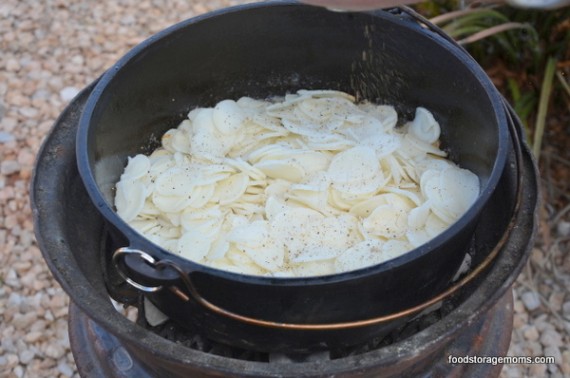 Melt Butter In The Hot Dutch Oven
I melted a half cube of butter in the bottom of the oven before placing these potatoes in the hot Dutch Oven. These are dehydrated potatoes that I soaked in tepid water for 45 minutes and drained off the water.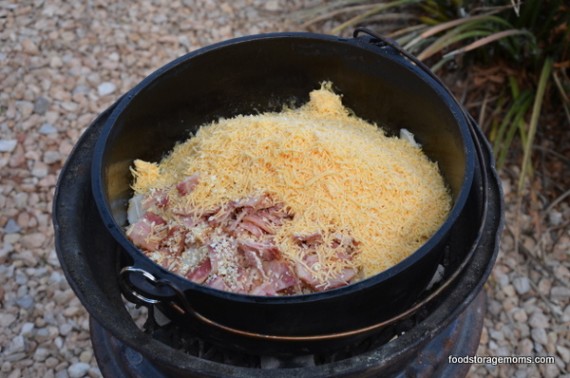 Here I placed some pre-cooked bacon cut into pieces, some freeze dried onions (not reconstituted) and lots of freshly grated cheese.
Here is where I put the hot charcoal pieces on top of the lid. See the lid lip-I like these for this kind of meal. You can buy some LODGE Dutch ovens without the lip…but this one is my favorite oven. Remember, I lost count on the charcoal so I just threw the remaining charcoal on top. It still works.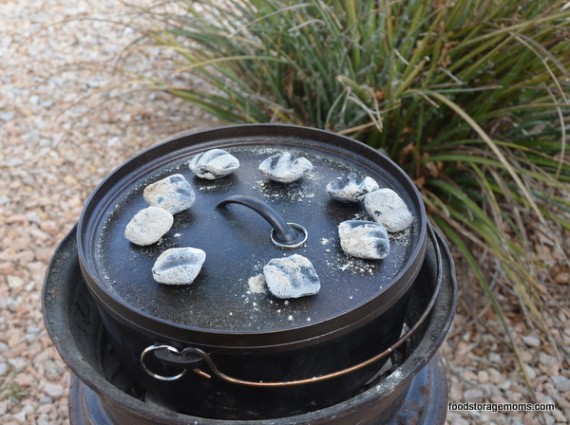 Here is the finished meal…fabulous…I think it took about 20-25 minutes.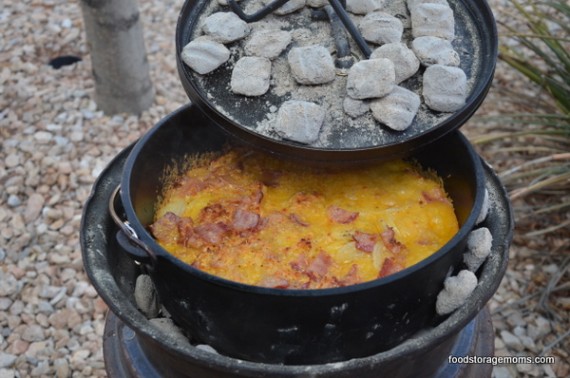 Dutch Ovens Last For Many Years-If Cleaned and Stored Properly
Dutch ovens can provide many years of reliable service if properly cared for.  This includes proper cleaning once the cooking is done. The best approach is to remove any food that may be stuck to the sides of the oven.  It may require putting some water in the oven while still on the heating source and heating the water until it is near the boiling point.  Using a sponge or plastic scrubber you scrape the food from the sides.  Try not to use anything that may scratch the surface. Always stay clear of using any kind of soap product since it can damage the special coating on the oven surface.  Rinse the oven with clean warm water.  Towel dry the oven and allow it to then air dry.  Once the oven is dry reheat it until it is hot to the touch and then remove it from the heat and apply a thin layer of vegetable oil to fill the pores.  Once cool enough, wipe the oil off with a towel.  It is also suggested to leave the lid slightly ajar so the Dutch oven is properly ventilated during storage.
You'll find with continued use that over time the Dutch oven will need additional care which may include the stripping and re-curing process.  It could be that your Dutch oven actually gets rusty or takes on a rancid odor.  You will treat the oven as if you just purchased it and want to cure it for future use.  Many people find it most convenient to heat the oven over an outdoor propane stove.  Make sure that ALL the surfaces are given the opportunity to get hot.  Turn up the heat on the propane stove and then carefully reheat all the surfaces such that they are "smoked" for approximately five minutes.  Remove the oven from the heat and then rub all the surfaces with some steel wool until clean using hot running water at the same time.  Wipe the oven clean and dry with paper towels and then allow the oven to air dry.  Once totally dry,  you then will re-season the unit like you cured it prior to placing it in service the first time.
If you have access to a self-cleaning oven you could place the Dutch oven in the self-cleaning oven during a cleaning cycle in place of using the propane stove heating source.  The other steps would be the same.
Take good care of this unique cooking tool and enjoy those delicious meals for many years to come. I hope this tutorial on using a Dutch Oven makes you realize how easy these are to take care of. You can also purchase disposable liners for your Dutch Oven, or line them with aluminum foil to make them easier to clean.
PRINTABLE Lodge Dutch Oven time and temperature chart I put together after getting permission from the company: Dutch Oven Chart
Readers comments:
Janet:
I use my Lodge for cooking over the wood stove. Works well.
I check out the Lodge website sometimes and just dream…… Lodge Manufacturing Company.
My favorite things:
Lodge L8SK3 Cast Iron Skillet, Pre-Seasoned, 10.25-inch
Lodge LPGI3 Cast Iron Reversible Grill/Griddle, 20-inch x 10.44-inch, Black
Lodge L12CO3 Camp Dutch Oven, 6-Quart
Lodge L10CO3 Cast Iron Camp Dutch Oven, 4-Quart
Lodge P14P3 Pro-Logic Cast Iron Pizza Pan, 14-inch, Black