Salad In A Jar Using a FoodSaver
About a year ago Kendra and I did a YouTube showing our readers how to use a FoodSaver for various items. I showed how to make a week's worth of salads in about an hour. This might seem silly at first, but let me tell you why I make my salads this way. First  of all I don't seem to have enough hours in a day, like everyone else in the world. So for me if I can just make 5-7 salads in a quart jar and suck the air out of them so they last almost 10 days…sometimes 2 weeks, then my dinner planning is cut in half, almost. I make something each night to go with a salad and dinner is ready in no time.
This is what I pick up each week if my garden has stopped producing:
Lettuce, celery, small bell peppers (red, yellow, orange) and grape tomatoes (they last longer). This might seem like a boring salad, but when I serve it I sometimes add broccoli or cauliflower, etc. I make different salad dressings to give a different twist to the salad each night. If you have a large family then you might want to make 2 quart jars for each dinner. I think there are a lot of single moms or working moms that could use a tip like this to save them time when they get home from work. I wash and cut everything with a Zyliss plastic knife. I do not cut the tomatoes.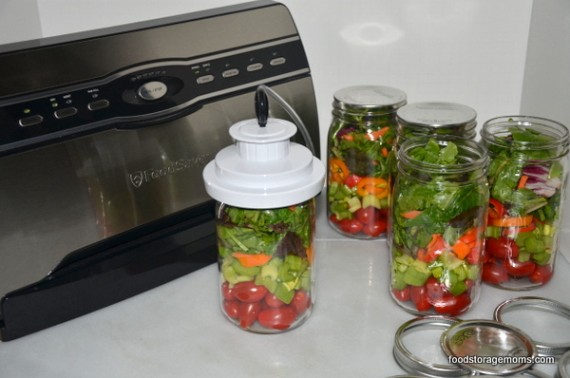 This FoodSaver can actually save me $$$$$ in the long run because I bag my own cheese to freeze in quantities that work for me instead of the store. I bag my own brown sugar and seal in bags. I seal nuts and freeze them to keep them fresh. The list goes on and on…..please leave me a comment if you use a similar machine or way to stretch your grocery money…..
My awesome friend, Julene reminded me we both seal candy and chocolate in the bags. LOVE it!
The "cap" or jar sealer comes in sizes for regular or wide mouth jars. You basically use the regular sealing lid and place the white attachment on top and use the accessory tube to remove the air out of the jars…..it hums until the air is removed. LOVE it!
Here is the YouTube I mentioned above: https://www.youtube.com/watch?v=ZuJyYum4d14