This is my favorite Cowboy Caviar Recipe! This recipe is from my friend, Kathleen. Whenever we have a neighborhood get-together she brings a bowl just for me. Yep, just for me. She knows I love it. Just a small bowl to eat all by myself. She brings a large bowl for the rest of the group.
The reason I love this recipe so much is that I have almost all the ingredients in my pantry. The other items like tomatoes and Cilantro are always in my garden. I keep all the different canned goods in my pantry so I can make this recipe all summer. You can make it with different beans and serve it with different kinds of chips. I can actually eat it just as a meal. The great thing about this recipe is that it is a healthy and tasty treat.
It seems so often the meals that taste the best have sugar or other things to add flavor that really aren't good for you. Not with this tasty recipe. We can eat this and feel good about it. My husband would want a piece of meat with it. I could easily be a vegetarian. I just bought some meat at Costco and I tell you the prices just keep going up. So, my family is eating less meat and more beans, quinoa, rice, and lots of vegetables.
Depending on where you live, this recipe is called Cowboy Caviar or Texas Caviar. It's a really popular recipe to take to a tailgate party or your next family reunion. There is something about the combination of blackeye peas, beans, corn, avocados, a red bell pepper, onions, cilantro, and fresh lime. I use an Italian Salad dressing drizzled over the ingredients.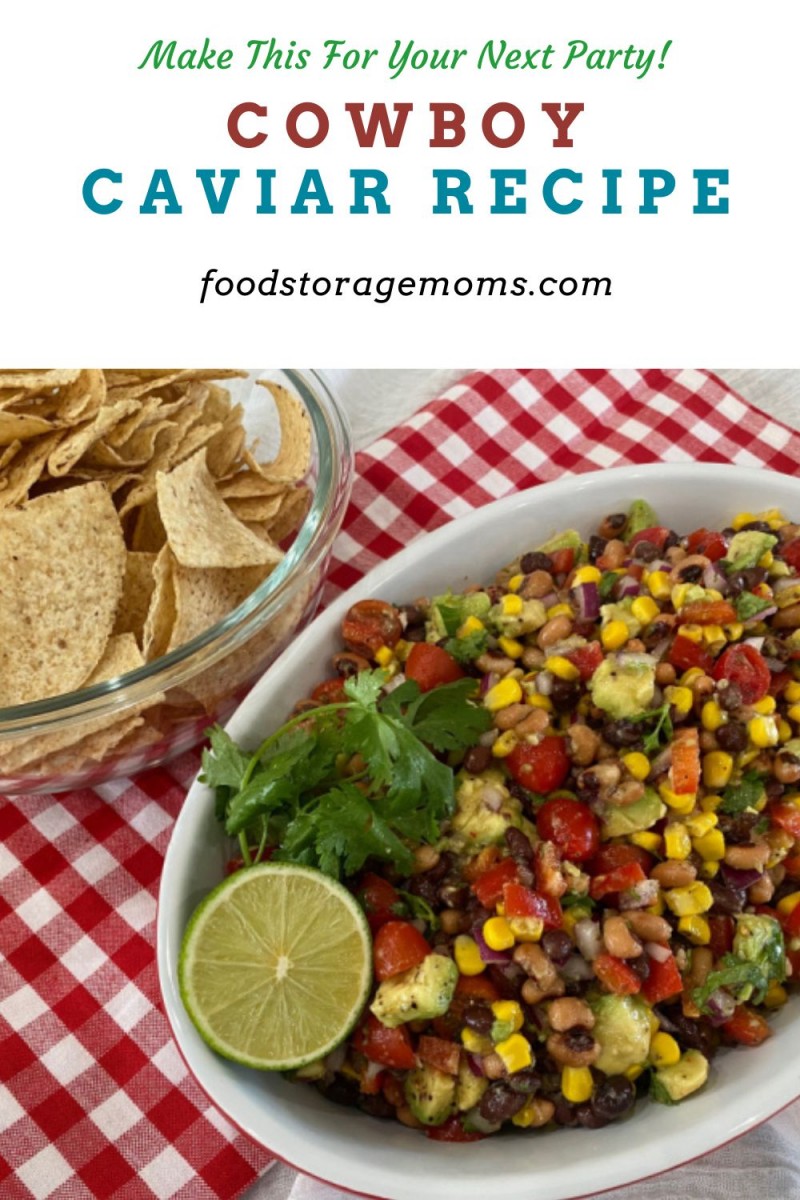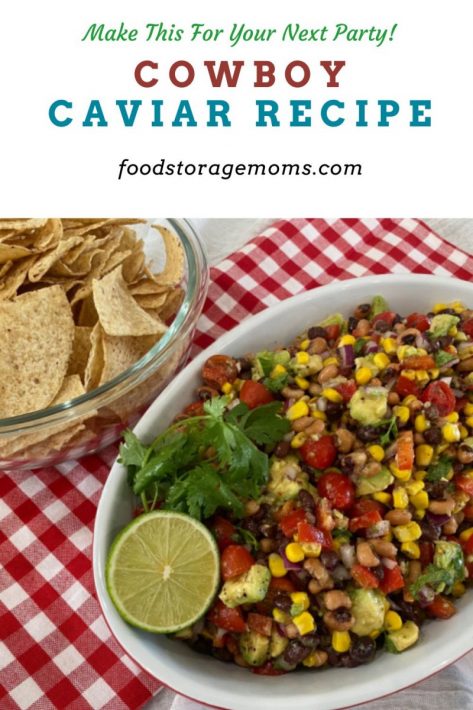 Items You May Need In The Kitchen:
Measuring Cups
Large Mixing Bowl
Cowboy Caviar Ingredients
Blackeye Peas: they have a dense consistency and a full, earthy flavor. They are used when making many dishes like salads, soups, stews, and even some casseroles. dry black-eyed peas can be sprouted as well.
Black Beans: when black beans are cooked they have a creamy texture with a slightly sweet flavor.
Corn: we have all had corn on the cob with melted butter with salt and pepper. Well, frozen corn, fresh corn, and even canned corn go well with many spices. It's perfect in salads, salsa, casseroles, as a side dish, soups, and stews. It has a sweet unique flavor most people love.
Cherry Tomatoes: Most cherry tomatoes are sweet and full of antioxidants. They have thinner skin types and are juicy in the center, they are perfect for salads and salsas.
Red Bell Pepper: All bell peppers add a variety of health benefits to any meal. They are good, freshly cut, sauteed, or added to scrambled eggs! Red bell pepper is my favorite one for salads and salsa. They have a sweet tender taste that melts in your mouth.
Sweet Purple Onion: Purple onions are somewhat milder than their counterparts, the yellow and white onions. This makes them popular for eating raw in salads and salsas.
Avocados: They are earthly, creamy, and spread like butter! They are packed with vitamins, minerals, and healthy fats.
Cilantro: You either love or hate it, right? I love Cilantro! The tender leaves add a stronger version of parsley with a tangy citrus flavor.
Fresh Limes: Lime zest or lime juice will enhance so many fruits and vegetables. It gives salsa that extra boost of flavor we all love.
Italian Salad Dressing: Italian salad dressing is a simple oil and vinegar vinegarette that's easy to make from scratch or use a dry package to make it. It adds flavor to salads or salsa.
Salt and Pepper: both spices add flavor and help to bring all of the flavors together.
Tortilla Chips: The corn tortillas are crispy and ready to scoop any salsa!
Cowboy Caviar Recipe
Step One: Gather the Ingredients
Gather your ingredients so you're ready to make the recipe. I used a dry mix to make the Italian Salad Dressing. Do you love fresh ingredients as much as I do?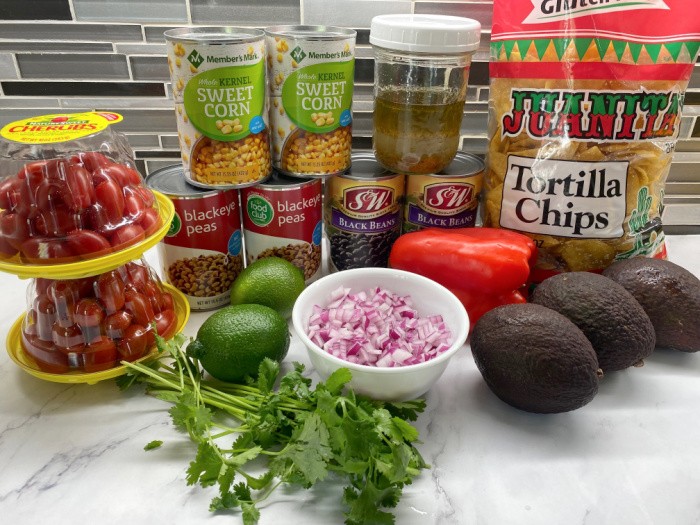 Step Two: Drain Corn
Drain the cans of corn.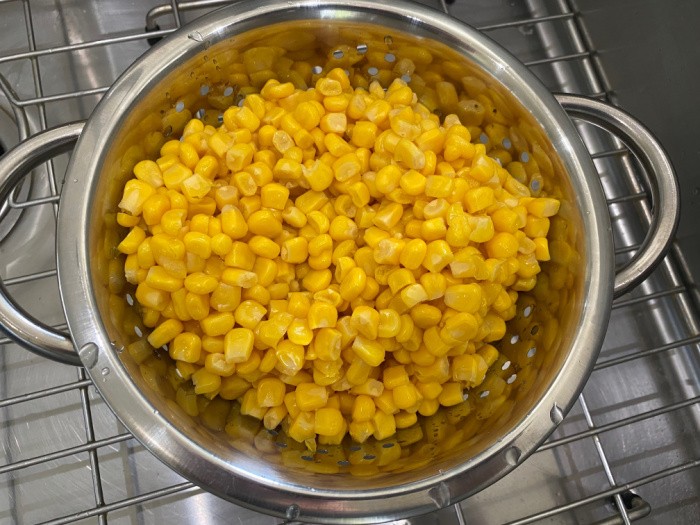 Step Three: Rinse Beans
Rinse and drain the black beans.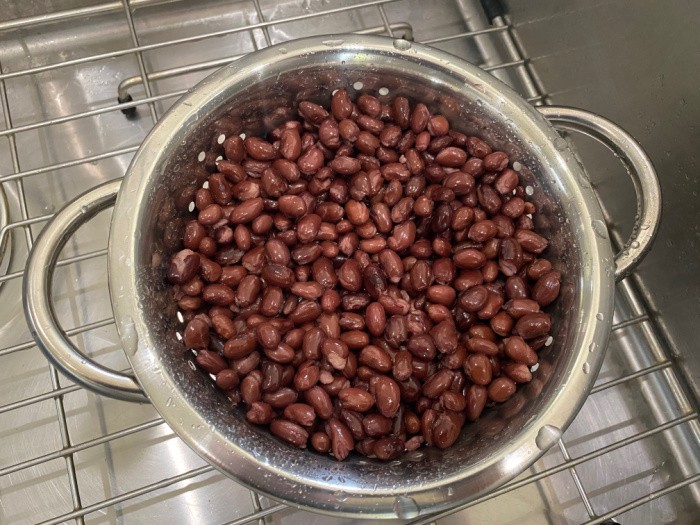 Step Four: Rinse Peas
Rinse the blackeye peas and drain them.
Step Five: Rinse Tomatoes
Rinse the cherry or grape tomatoes and then cut them in half.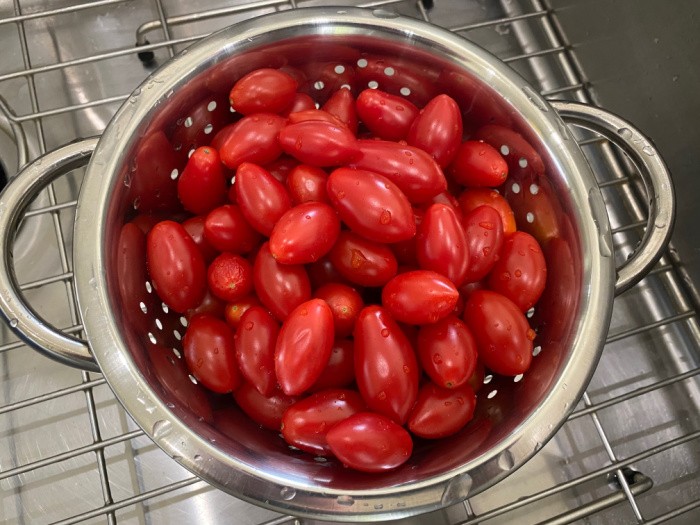 Step Six: Combine Vegetables
Grab a large bowl and combine the blackeye peas, black beans, corn, and chopped purple onions.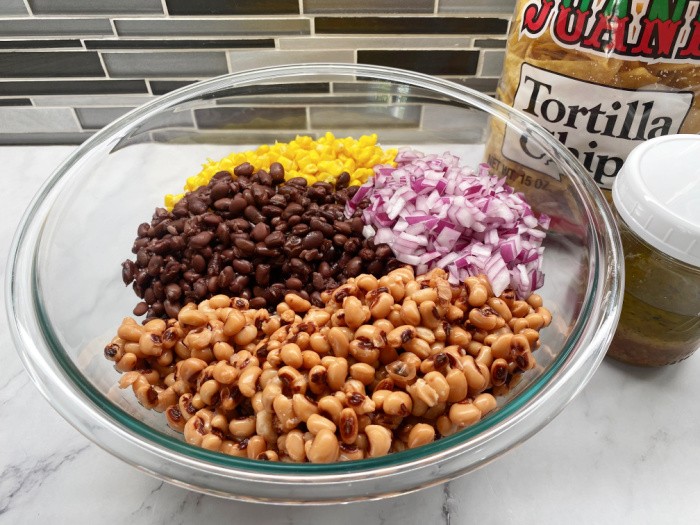 Step Seven: Add Tomatoes
Now, add the sliced tomatoes to the bowl.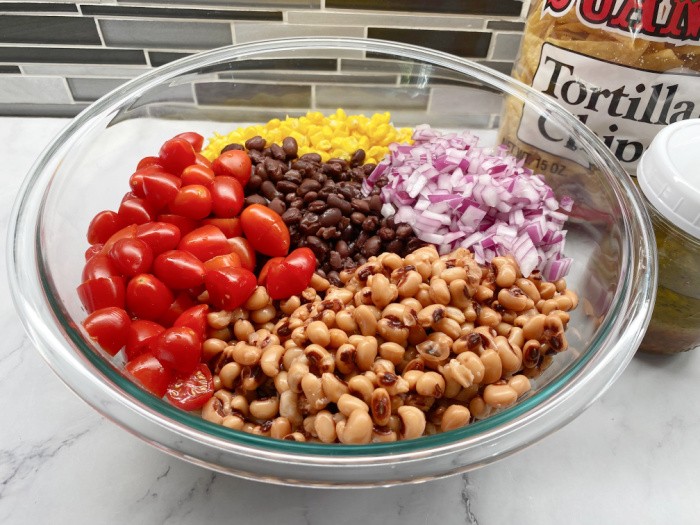 Step Eight: Add Peppers
The next step is adding the chopped red bell peppers.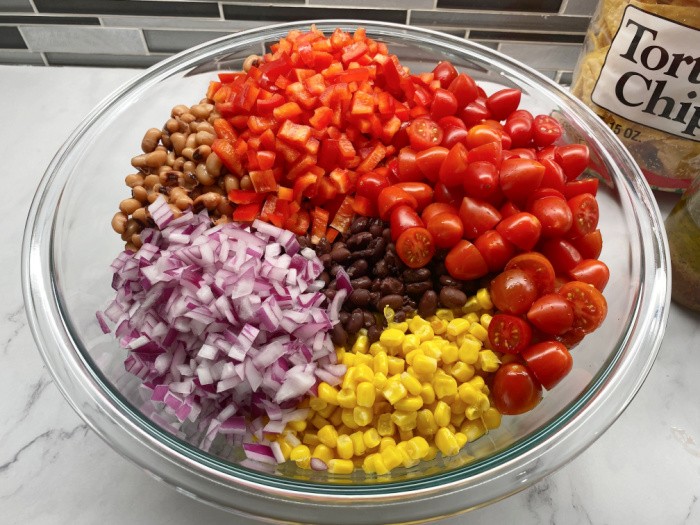 Step Nine: Drizzle Juice
You can use bottles of lime juice or fresh limes to drizzle over the salad. Add the chopped avocados.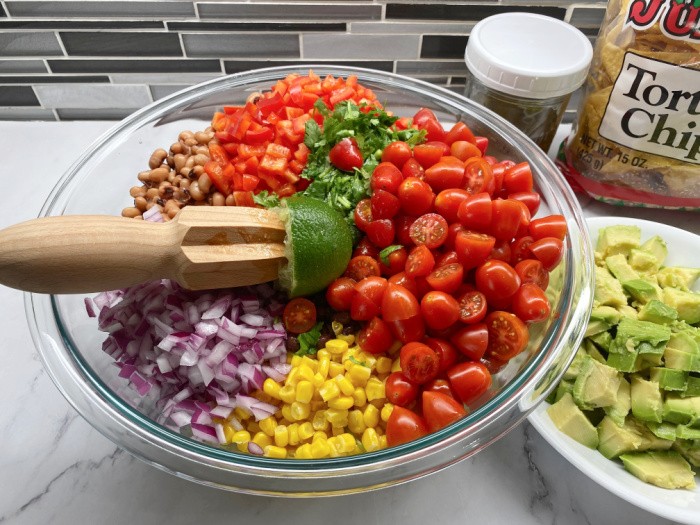 Finished Product
Pour the Italian Salad Dressing over the ingredients and stir until covered. Add salt and pepper if desired. Serve cold with tortilla chips.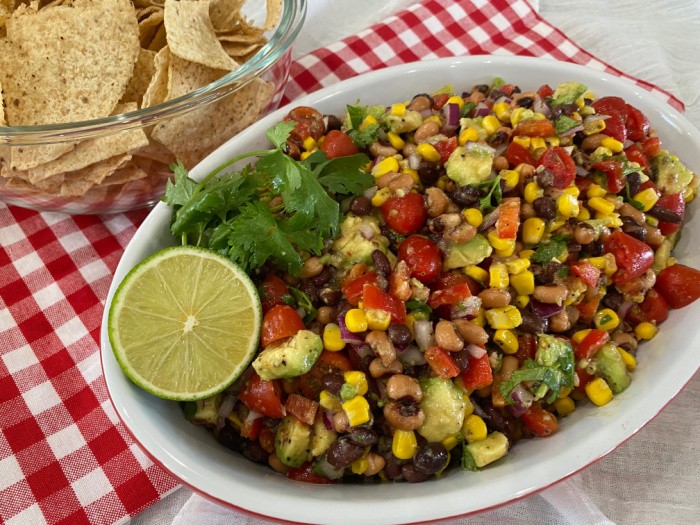 Cowboy Caviar Recipe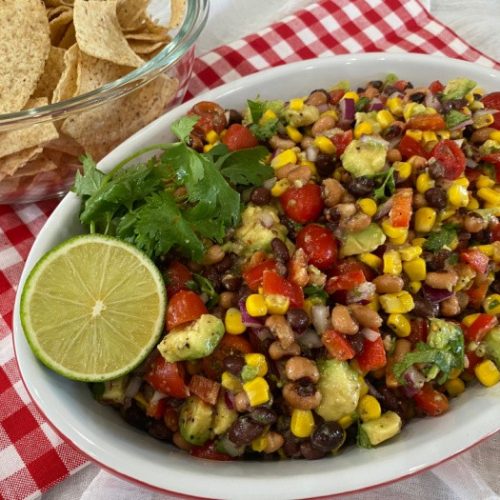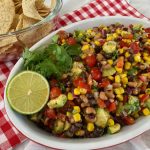 Cowboy Caviar Recipe
Ingredients
2

cans of blackeye peas, drained and rinsed

2

cans of black beans, rinsed and drained

2

cans of corn, drained

2

cups

tomatoes chopped

1

red bell pepper, stemmed, seeded, and chopped

1/2

cup

diced sweet purple onion

3

avocados-pitted, chopped

1

bunch cilantro-chopped

2

fresh limes juiced

Good Seasonings Italian Dressing Packet-prepared, or just make it yourself as a vinegar and oil dressing

salt and pepper if needed

1

bag of Tortilla chips
Instructions
1. Grab a large bowl and layer the blackeye peas, black beans, corn, chopped tomatoes, red bell pepper, purple onions, avocados, and cilantro.

2. Drizzle the lime juice over the salad.

3. Make the salad dressing as directed on the packet.

4. Pour the dressing over the ingredients in the large bowl.

5. Salt and Pepper if needed.

6. Serve cold with tortilla chips.

7. Great as a side dish, too!

8. Please store leftovers in the refrigerator for up to 3 days.
How do I store the leftovers?
I store the leftovers in an airtight container in the refrigerator for up to 3 days.
Can I freeze this recipe?
I wouldn't recommend freezing it because the fresh vegetables would become soggy and mushy. Fresh is best.
Why is it called Cowboy Caviar?
It's my understanding after a little research, I quote Wikipedia, "That around 1940 by Helen Corbitt, a native New Yorker made it. She first served the dish on New Year's Eve at the Houston Country Club. When she later served it at the Driskill Hotel in Austin, Texas, it was given its name, "Texas caviar," as a humorous comparison to true caviar, an expensive hors d'oeuvre of salt-cured fish roe. It has also been called cowboy caviar."
What is Texas Caviar made of?
It's made with a combination of beans, tomatoes, peppers, and onions. They serve it over fish, as a dip and as a freshly packed salsa.
Can it be made ahead of time?
You can make it up to 8 hours ahead of time before serving it to your family or guests. I love it the next day as well, but the avocados get a little mushy. I think it still tastes great. Here again, fresh is best.
Can you water bath or pressure can this recipe?
As a Master Canner Preserver, I can't recommend canning this safely. Please make it fresh when you want to serve it.
What can I serve with this recipe?
Tortilla Chips
Refried Beans
Barbecued Steaks
Barbecued Chicken
Tossed Salad
Flour Tortillas
Final Word
I hope you try making this Cowboy Caviar Recipe, I think you will love it. You can add or skip the ingredients you like or don't care for. It's that simple. Here again, it's all about cooking from scratch, and this recipe is so good, my friends! May God Bless this world, Linda