10 Things You Can Do With Expired Food
As a prepper, there have been times where the food I have purchased has expired. It seems like a waste of money to just throw out expired food, especially when you are preparing for any kind of SHTF scenario. Instead of just throwing it out, there are other ways you can use it.
What is Expired Food?
For this post, we are going to discuss expired food, but not rotten food. Expired food is food that is past its expiration date, use-by, or sell-by date. Keep in mind that there is a certain amount of time between when food expires and when it actually goes bad. This in-between time is the perfect window of opportunity for you to put expired food to good use.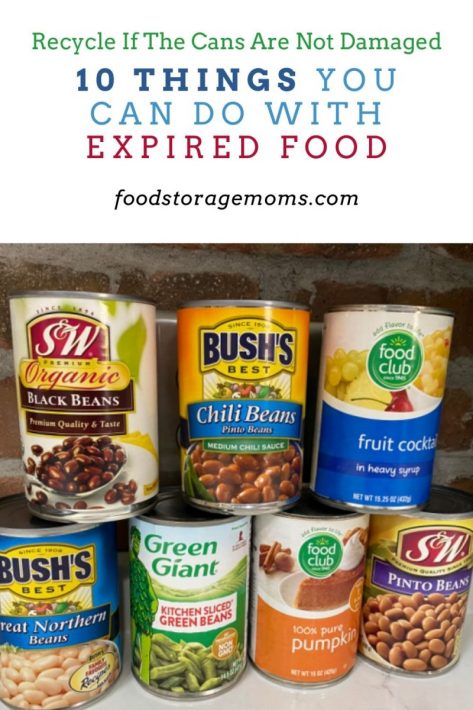 Is Expired Food Usable?
You are going to have to trust your senses a little bit to determine if food is old but still usable or just downright rotten. If the color or texture is drastically changed, just throw it out. If it smells bad or rotten, then you need to throw it out too.
Things You Can Do with Expired Food
Obviously, knowing what to do with your expired food depends on what kind of food you have that is expired. Most people are taught that when something is bad to pitch it in the trash, but a prepper knows there is always something you can do. Here are 10 ways you can still use your expired food:
#1 Use it as Fertilizer
One thing I highly recommend is that you are self-sufficient. This means that you have a garden of some kind. When we are solely reliant on the grocery store for our food, we won't know how to make our own if there is no grocery store. When you have a garden, you usually need fertilizer, but instead of buying it from the store, you can make your own. Start a compost pile where you can put scraps such as eggs, vegetables, coffee grounds, and other organic materials.
#2 Feed it to the Animals
We used to always give scraps to the pigs, chickens, and dogs. Food that was in the fridge a little too long but wasn't rotten was given to the outside dogs. Keep in mind, you don't want to give rotten meat to your dogs or cats since it can make them sick. You will want to check the food for mold or bacteria before giving it to any animals.
#3 Turn it Into a Cleaner
Some foods, such as Mayonnaise, actually make good cleaners when they are expired. In fact, mayo has an oil content that really shines up stainless steel. Additionally, lemons and limes make excellent garbage disposal cleaners.
#4 Use it as a Cosmetic Face Mask or Exfoliant
You may not want to eat expired food, but some foods can be better on your face than a face cleaner. Here are two things you can use as a face mask or exfoliant:
Greek yogurt: Greek yogurt is full of lactic acid which helps exfoliate dead skin cells. Simply mix 2 tablespoons of yogurt and 1 tablespoon of honey in a bowl. Then, apply it to your face. Let sit for 15-minutes and wash it off.
Coffee: In addition to putting it in your compost, you can use coffee as a face exfoliator, too. It is packed with antioxidants. Simply mix stale coffee grounds with a little bit of milk to form a paste. Then, apply it to your face. Let it sit for 20-minutes and rinse.
#5 Use Spoiled Milk in Baking
So, instead of chucking your spoiled milk, use it in baked goods such as making bread, muffins, and cakes. In fact, spoiled milk can be used as a buttermilk substitute. Do not use it past 1-2weeks expiration. Here are a few recipes where you can use your spoiled milk:
For more information on Sour versus Spoiled milk check out this link: Healthline
#6 Revive Brown Sugar
How many times have you opened your brown sugar only to find it hard and unusable? Don't throw it out! Instead, revive it with a blender. You may need to add a few drops of water to help break up the clumps, but even if your brown sugar is past its expiration date, you can soften it up in the blender.
#7 Keep Stale Bread
Obviously, stale bread isn't very tasty to eat, but it is great to use as bread crumbs. Instead of buying bread crumbs at the store, make your own. Simply pulse a few pieces of stale bread in your blender, add a bit of salt and pepper, and use it as a breading or in your meatloaf. You can also make bread crumbs with stale cereal or crackers.
#8 Turn Your Avocados into Shampoo
Nobody wants to eat an avocado past its expiration date, but you can use it to clean and moisturize your hair. Smash up the avocado into a bowl, apply to wet hair, and then wash it out like you would your normal shampoo or conditioner.
#9 Turn Expired Veggies into Vegetable Stock
Wilted vegetables can be placed in the freezer until you can turn them into vegetable stock. Once you make them into a stock, you can then can them for a longer period of time.
#10 Keep Your Canned Goods
Most canned goods have an expiration date for the quality of the food, not necessarily the safety of the food. In the United States, the Department of Agriculture says acidic foods have a good quality for 18-months, and other canned foods can be good for 5-years. Basically, canned foods are fine to consume even after their expiration date. They may not always taste the greatest or have much nutritional value after the expiration date, but in most cases can be safely consumed up to 5-years after the date.
Botulism in Canned Food or Expired Food
One concern with canned food is botulism. We typically see this in home-canned food, not what is bought from the store. Please follow the USDA guidelines for home canning. When in doubt, throw it out! Here are a few reasons you should always throw canned food out:
The can is leaking, has bulges, or is swollen.
It looks damaged or cracked.
The container spurts liquid or foam when you open it.
If the food smells bad, looks discolored, or is moldy.
10 Things You Can Do with Expired Food
Final Word
Rather than throw expired food out, see if you can use it in another way. If it is rotten, please throw it out! What other ways have you found to reuse expired food? Please share with us in the comments below! May God Bless this world, Linda