15 Pioneer Skills We Must Learn Today
I have 15 pioneer skills today that hopefully will help save you money and teach others to be prepared for the unexpected. I believe we are very close to an economic collapse, this happened back in 2005-2008. This was the most recent one. There have been many over the years, but this one is still in many of our minds today. The house prices were inflated when people became greedy and it came back to bite them in their pocketbooks. Some made out like bandits, so to speak. But we all know people who lost their jobs because building and/or selling homes stopped dead overnight. This caused a ripple effect that brought on financial challenges for millions.
Here's the deal, our economy has to build homes, it impacts every aspect of our economy. People need housing permits, concrete to build basements or foundations, lumber, tile, cabinets, carpet, the list goes on and on. We need plumbers, electricians, you get the picture. We need the housing market to be strong but not overly inflated. It will always plummet at some point, as "corrections" take place. History repeats itself as we've learned over the years.
We have all heard that interest rates are going up. I have to laugh because they are still great rates right now. I remember in 1983 building a home and Mark and I were so happy to lock in a rate of 10%, YIKES! Today's home interest rates are still really low.
I remember when I owned my mortgage company and I had two computers side by side, one for working on loan applications and one for watching the stock market. If the rates trickled up, people slowed down buying homes. If the rates were low people refinanced or bought a bigger home if their family was expanding. Some of my smartest clients downsized to pay off their homes quickly.
I was also a realtor for 12 years so I know a lot about housing markets. I am still very active watching how much homes are selling for and how much the seller paid in concessions. Concessions mean the seller pays closing costs or repairs.
I have always encouraged people to sell their existing home before they purchase a second one, even if the numbers show they qualify for both homes. You never want to own two homes if the market crashes and you cannot sell one of the homes. Of course, you can become a landlord and rent it out and let the renters help make the mortgage payment.
The economy is so unsettled I am anxious to remind people to learn at least these 15 pioneer skills. We need to be ready in case we lose a job, a family member becomes ill who can no longer work or care for the family, or a family member dies unexpectedly.
We need to store water, food, and cooking fuel at the very least, my friends. Here is my 15 pioneer skills list to hopefully help you save even more money. In other words, get your affairs in order.
15 Pioneer Skills
1. Make Cloth Toilet Paper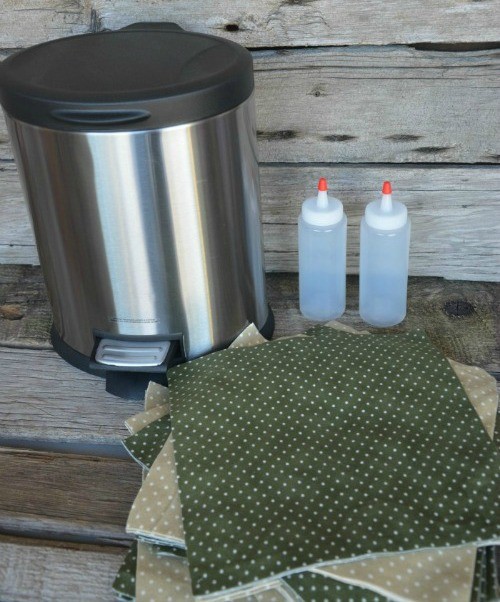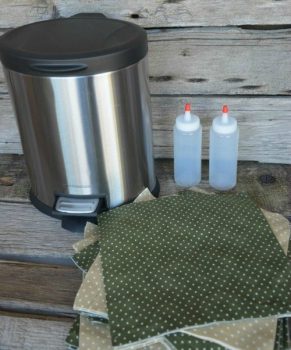 I know, I can hear you say, "there is no way I am going to do that!" Well, we may have no other choice. I highly recommend cutting flannel into 7-inch squares. I cut hundreds into 9-inch squares, but I think smaller is better. You can buy new flannel or cut worn out nightgowns, or go to local thrift stores and start cutting squares from shirts or nightgowns. If you can serge them, that would be awesome.
You can also save phone books, or use leaves. I have a lot of TP stored, but when it's gone the stores may be empty.
2. Monthly Homemade Menstrual Supplies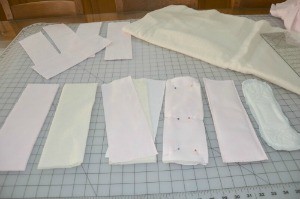 I wrote a post on making your own menstrual monthly supplies. Trust me, there is a neighbor that may need these. Oh, I can hear some young girls say, "no way!" Well, if the stores are closed, you will use them or it's going to be very messy, girlfriends. Pattern For Menstrual Pads
3. Make Elderly Diapers
As much as we hate to think about this, there are a lot of elderly people that are affected by incontinence. I know you can buy some reusable adult diapers, but you can also make some with diaper fabric. I have purchased some, just because I have some neighbors that may need them should we have a grid down. And we will. Please be prepared for it. If the stores are open the shelves will be empty very quickly. These are washable Adult Diapers
4. Buy or Make Baby Cloth Diapers
Cloth diapers will be critical to have on hand. My daughters grew up with cloth diapers and waterproof pants. They make really awesome ones now that are washable. Yes, you will have to hand wash them when we lose power but, hey, everyone wants to be comfortable, even our sweet babies or toddlers. They have fancy ones or just buy these inexpensive ones  Cloth Diapers and Waterproof Pants and Diaper Pins or Fancy Pancy Diapers
5. Ditch Paper Towels
Here's the deal, the kitchen is one place that is very easy to use cloth "paper" towels, you may save hundreds of dollars per year by making this switch. I like a certain one because they are thin diapers but thick enough to absorb the liquid. Cloth Towels will change your life. yes, you must wash them, but I wash whites almost every other day, so that works for me. These are cheap and wash and dry by hand easily. Just another one of my 15 pioneer skills that work by saving us money.
6. Learn To Sew and Quilt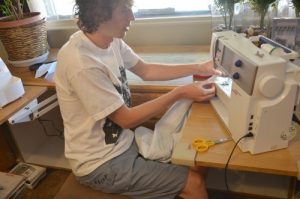 I'm grateful my mother taught me to sew, I started out with an apron. Easy peasy. I grew up taking sewing classes at school that sharpened my skills even more. I also learned to cook at school even though I was already cooking from scratch at home. I always learned a new technique and I will be forever thankful for those patient teachers.
I have purchased sewing machines for my daughters and some of my grandkids if they wanted to take sewing lessons. I don't live near any of them, but when we do get together I will always teach them a new trick or two on the sewing machines. This grandma was so proud when she learned one granddaughter was making bobbins, that may sound like a small thing but it's not. If the bobbins are "squishy" they will not work. So to hear one granddaughter making several bobbins out of different colors of threads was music to my ears. Proud grandma here.
Please note, be sure and get your sewing machine serviced, cleaned and oiled at least yearly. It should last a lifetime. You can oil it yourself, between servicing. If you know how to sew please teach others and if you feel so inclined take sewing lessons. If you have a good machine anyone can sew, I promise.
The picture above is my oldest grandson, Jake. He wanted to make his own pajama bottoms. He said, "grandma lets make our own pattern." We then made our own pattern, gotta love it.
Did your mother or grandmother piece different shapes of fabric together to make a quilt? I know my favorite all-time quilt was one my great-grandmother made with strips of fabric I recognized from dresses my mom made for me. I call it a treasure, hand sewn together and then hand quilted.
7. Sharpen Your Garden Skills
Please learn to plant at least potatoes, anyone can grow potatoes, I promise. Get good potato seeds, preferably Non-GMO ones. You can plant them non-stop over and over. Plant, grow, harvest and start another planting of potato seeds.
If you can take some garden classes that would be awesome. I have learned to grow a garden by trial and error. But, I never give up. I will try year after year until I learn how to work with the soil where I live. I have had a garden for over 60 years now. I learn something new every year.
Please don't wait until next year to "learn to grow a garden," it will be too late. Start this year, and grow whatever your city weather can tolerate. I can almost taste my fresh tomatoes. I'm waiting to put them in the ground when the last chance of frost is passed.
8. Wash Clothes by Hand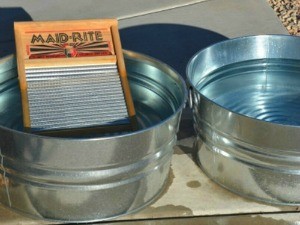 I have talked about having the equipment to wash your clothes by hand. You can use a bucket or washtub. Please be prepared to be able to wash clothes before we lose power for days, weeks or months. The laundromats will not be working if we lose power. The bathtub is not a smart idea because if the sewer lines do not work, the drains in the tubs will not work or they may back up.
Please get a clothesline or wooden clothes rack to dry your clothes. Don't forget the clothespins, you will need them.
9. Make Laundry Soap
This is a really easy way to save money and use one of my 15 pioneer skills at the same time. It's almost comical how cheap it is to make. Here is my recipe:
1 Fels-Naptha Bar-grated either by hand, food processor, or salad shooter. You can use your own favorite bar of soap, but I've found the Fels-Naptha Bar is very effective at getting out stains.
1 cup Borax Detergent Booster
1 cup Super Washing Soda (not regular baking soda)
Put these 3 ingredients in a blender to blend and grate the Fels-Naptha even more. After doing this it will look just like the store purchased detergent, but will not include all the "fillers." You will use less product per load and will have less "bubbles." Remember, just having bubbles doesn't mean clean…..I use 1 teaspoon per load. I have an HE-High Efficiency washer and it works great!
PRINTABLE recipe: Homemade Laundry Detergent or Soap by Food Storage Moms
10. First Aid Kits and Healing Skills
Oh, I love first aid and healing myself. I have a great Medical Handbook that I highly recommend. If we have a disaster and the pharmacies are closed and the hospitals are over-flowing we must have some first aid supplies at our house. If we have a pandemic, we must be prepared with essential oils or over the counter products we are used to using. Here is my First Aid Kit List, you can add your own favorites to my list. Survival Medicine Handbook
11. Baking Bread
You do not have to buy a book on how to make bread. I have all of my no-fail bread, cinnamon rolls, dinner rolls and so much more on my blog for FREE. I feel God has asked me to share my bread making skills with others. This is my all-time biggest posts on making bread Linda's No-Fail Bread Recipes Here's the deal with making bread, if you have FRESH ingredients you can make bread, I promise. Oh, and my cinnamon roll recipe is the best in the world, enjoy!
12. Cook from Scratch
Please learn to cook from scratch, the drive-throughs will not be open or available if we lose power or the ability of the food trucks to deliver food to the grocery store chains or restaurants.
Learn to make a white sauce, beans, rice, pasta dishes to name just a few meals. Browse my entire website, I cook from scratch and have since I was very little. Here is my White Sauce that's very easy to make.
Here is a list of 101 Budget Meals by Linda
When the power grids go down in the US we will be in big trouble. Our country is not prepared to handle a grid down. I am so tired of a few of our government workers telling us our country is resilient. We are not. This country is totally unprepared for a cyber attack and/or grid down. It would take 20-30 years to replace or repair our old decrepit power substations. PLEASE read Ted Koppel's book "Lights Out" don't be fooled into thinking we are going to be alright, we are not going to be.
13. Cooking Outside
If you can start a fire, please store some matches, you will need them. If nothing else, learn to cook outside with a Dutch Oven over charcoal briquettes. You do not have to buy several cooking devices to prepare meals outside or even to boil water. One Dutch Oven will work. Please store charcoal briquettes without lighter fuel in airtight containers. Lots of charcoal. I prefer the 6-quart bucket size because it's easy to lift because it's smaller. Please look at the lid on the Dutch Oven, this lid makes it easier to put charcoal on the lid when cooking. Lodge gave me permission to make this printable Lodge Dutch Oven Cooking Sheet: Dutch Oven Chart
14. Canning and Preserving Food Safely
I am going to caution you about reading what is being taught online concerning canning and pressure canning food. Some will tell you certain food items are safe to can, they are not. I'm not going to argue with anyone, I have my Master Canning, Preserving Certificate from our state extension service. It was a fun class and I even learned a few new safety items for canning.
Here is the only book I recommend for canning or pressure canning food (be sure and check with your local county extension service to see if you can take the classes for canning safety):
15. Learn to Use Tools
The time to learn to do carpentry is now, not next year. If we can learn to work on cars, tractors, trucks, etc. the door is wide open to be self-reliant. If you have tools to cut tile, hammers, screwdrivers, wrenches, please teach your offspring how to use them. Build a shed, finish a basement, learn to do plumbing, electrical work, life is good if you can repair your own washing machine. These 15 pioneer skills can carry you through any disaster, I promise.
Final Word
This is a short list of 15 pioneer skills, how many do you know? Can you teach others? Do you have skills you think need to be added to my list? Let me know and I'll pass them along. Please be prepared for the unexpected. May God bless you and your family.
My book: "Prepare Your Family For Survival"
Copyright pictures:
Covered Wagon: AdobeStock_173076754 by BJphotographs