How to Organize Your Favorite Recipes
There is nothing worse than finding a really good recipe and then you have nowhere to put it. I've been trying to store recipes for years. There comes a time when you need to put a day or two aside and just spend time organizing your favorite recipes.
Since I've been collecting recipes forever, I am going to walk you through some of my favorite organizational steps. Here is how to organize your favorite recipes.
I have four daughters and several granddaughters and I asked them if they wanted a collection of my recipes to add to their recipes. So, I bought 12 binders (3-inch ring binders) and these awesome Recipe Dividers.
Then I bought several boxes of page protectors and we all worked together to share our recipes. I have granddaughters that will want the recipe binders as well. We will continue to share recipes with each other.
How to Organize Your Favorite Recipes
The first step in organizing your favorite recipes is to go through your entire collection. Get rid of what you no longer want. Remember we're only organizing the recipes you want to keep.
Organizing your favorite recipes will be a lot easier when you get rid of the junk. Learning how to organize your favorite recipes now will also save you a ton of time later.
1. Print, Use Page Protectors, and Add to Binders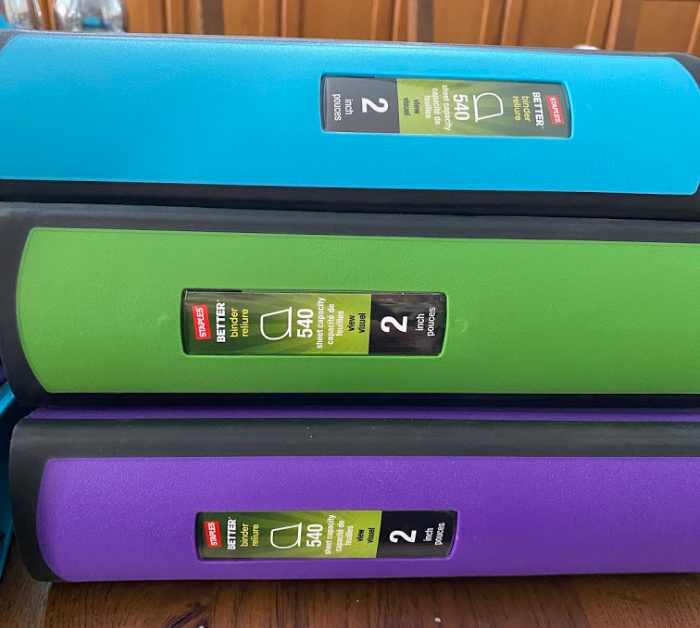 I'm actually in the process of doing this for my kids and grandkids. I firmly believe that my recipes are a legacy that I get to leave behind for my family. Taking the time to print, using page protectors, and add to binders is the way in which I'm choosing to organize my favorite recipes.
I'm also printing all of the recipes from my blog and adding them to the binders. All of my favorite recipes are on my blog, so it only makes sense that I add them to the list. 
I can bet you guessed what color I want, yep, it's the purple one. I bought some of the binders at Staples in St. George, Utah. But I also ordered some online 2-Inch Better Binders and found there are many colors to choose from.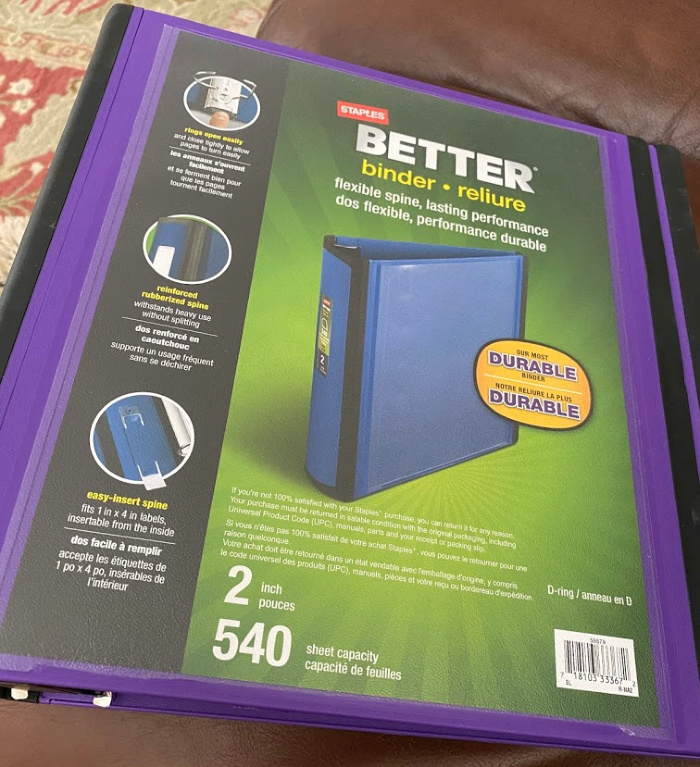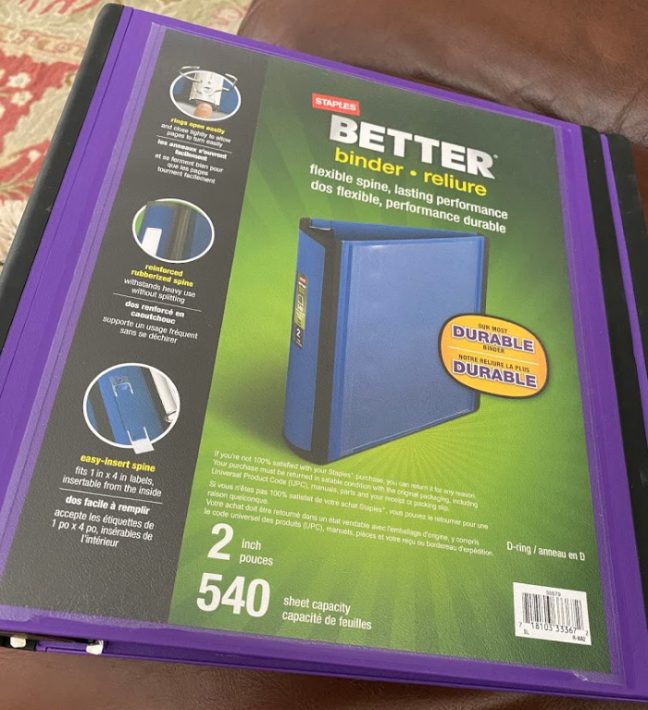 I bought these Page Protectors and these LONG Recipe Dividers ( I LOVE these-you can see the tabs) and I started printing recipes and copying all the recipes we want to save for future family members. I tried to get the page protectors at Costco, but they didn't have any here in Southern Utah.
2. Write the Recipes on Recipe Cards
It's important to realize that recipe cards are not dead. In fact, they are still a really awesome way of organizing recipes. Every time you find a recipe that you truly love, don't be shy about writing it on a recipe card and adding it to your collection.
Recipe cards are popular because they don't take up a lot of room and they're super easy to organize. The key is making sure you organize as you go, so you don't have a huge pile of recipe cards that you don't know what to do with.
3. Recipe Binders to the Rescue
This is my husband, mark, helping sort and fill the plastic page protectors. This has been a HUGE job, but it is so worth it. I wish I had done this with my mom and my siblings.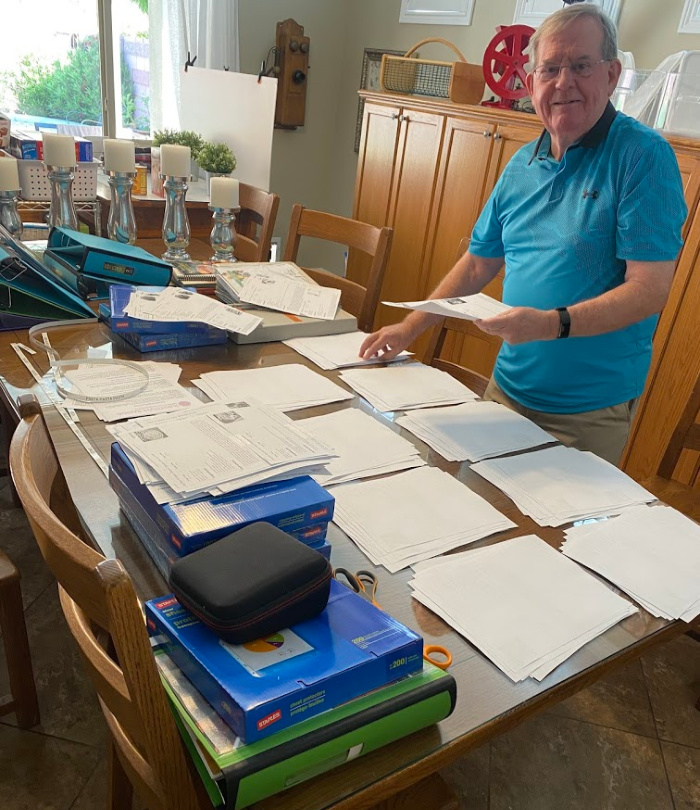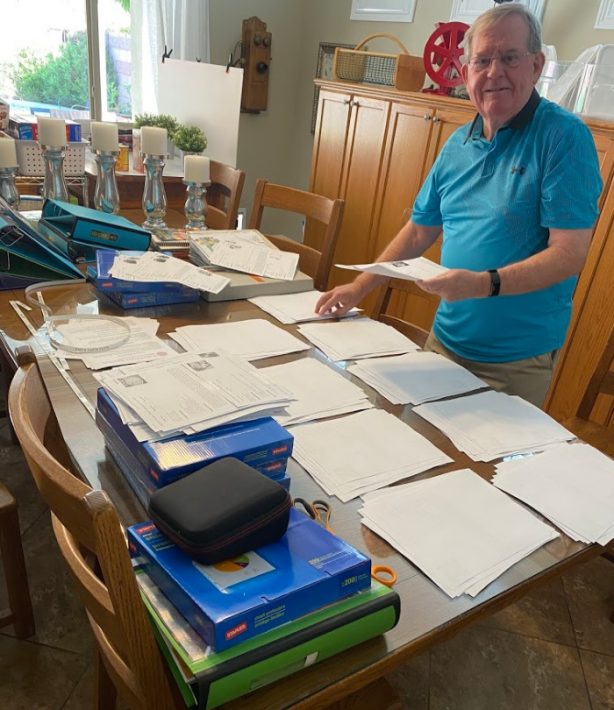 If you do a lot of recipe collecting and need to get super serious about recipe organization, then binders are the way to go. The type of binder organization I am talking about is organizing one type of recipe in the right section of each binder.
For example, you might put bread recipes into one binder. You might put meat recipes in another binder. This will REALLY help you to stay organized and on top of it all. It really all depends on how many recipes you want to organize.
4. Recipe Flip Stand
One of my favorite inventions for organizing your favorite recipes is known as a recipe flip stand. This works for your most favorite recipes, but not everything. You can easily add the recipes and keep the stand on your counter.
The stand allows you to easily flip to whichever recipe you want to see. Plus, there are 10 tabbed dividers and 24 sheet protectors.
5. Recipe Book
While this may take some time to transfer all of your recipes over, it'll be worth it in the end. A leather recipe book is perfect for adding all of your favorite recipes for future use.
Plus, it's in a safe spot because the recipe book is so sturdy. If you're just starting to collect recipes, this may be an excellent route to go.
6. Recipe Card Protectors
Sometimes you get the opportunity to get organized and make it easier on yourself. If you already have your favorite recipe cards and just need a way to protect them, grab these recipe card protectors. You can organize your recipes and keep them as protected as you possibly can.
7. Don't Forget the Recipe Box
Something that is still very prevalent today is something known as a recipe box. This is where you store all of those recipe cards passed on down from generation to generation.
Recipe boxes can easily be stored in your cabinet or on a shelf. Something like this shouldn't be forgotten because it truly is such an easy way to organize your favorite recipes.
I hope these 7 tips help you learn how to organize your favorite recipes. You'll enjoy being able to tackle this project sooner rather than later. What's your favorite way to organize your recipes?
What are the Best Ways to Organize Recipes?
I think that's a matter of opinion. It's nice to know that you can try different organizational methods. Go through each one of these ideas and see what works best for you. You'll enjoy being able to find an organizational approach that works best for you! 
How Do You Organize a Loose Recipe?
Well, if you have a loose recipe, there are several ways that you can organize it. Create a recipe binder, recipe scrapbook, recipe box, or recipe holders. Pick which way you enjoy organizing and go for it.
Final Word
I don't know about you, but I have a ton of recipes that I love. Don't wait until it's too late to start organizing those recipes. As I mentioned before, it's an awesome legacy to leave your recipes to your loved ones.
Use these tips to learn how to organize your favorite recipes. Whether you're doing it for yourself or for your family, it's a great project to get started on. May God Bless this world, Linda.